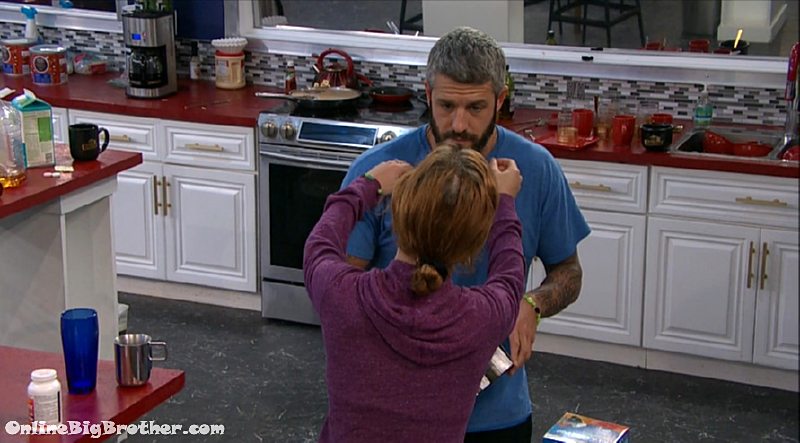 9:44am Matt and Raven
Matt – Paul said they want to backdoor Kevin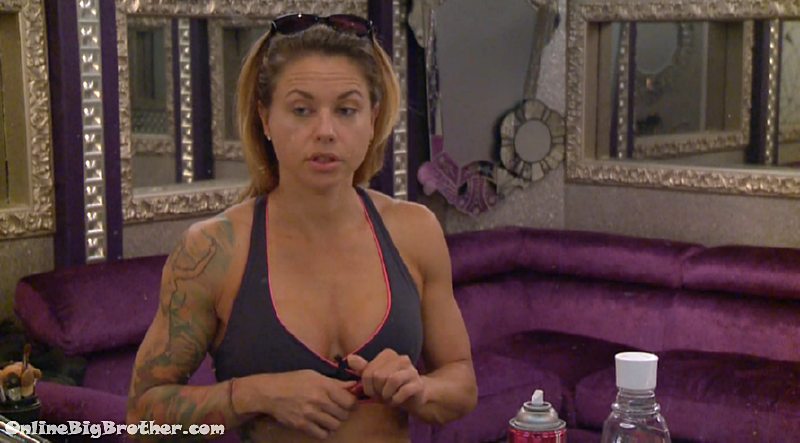 9:50am Christmas morning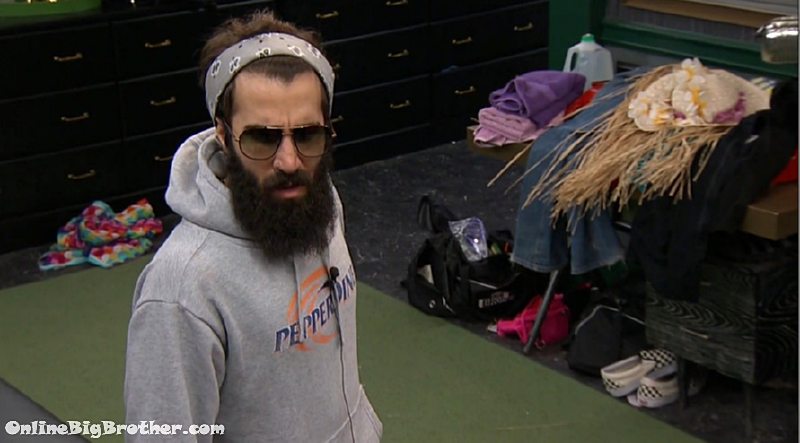 9:52am Paul, Alex and Kevin
they can't figure out why production is "so aggressive" with them waking up at 9.
Alex – the tree
Paul – no one is going to f*ing grab the tree.
Paul – maybe nominations..
They speculate that maybe there's an eviction Sunday.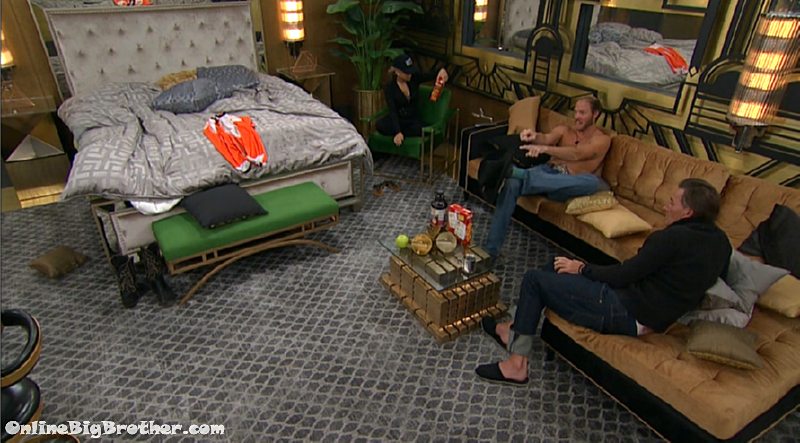 10:00am HOH Jason and Kevin are chatting
Paul comes into the HOH
Jason – anything you want in here is yours
Jason goes on about how nice it is to have a HOH room.
Paul points out that Matt and Raven are showering downstairs
Alex comes in "It smells like too much axe"
Paul leaves
Jason tells Kevin that he doesn't have to worry about him or Alex.
Jason – if I was you today..
Production – THE TREE OF TEMPTATION HAS SPRUNG BACK TO LIFE ONCE AGAIN
Alex says the tree is stupid..
Alex runs down to see if anyone will pick it.
When Alex comes back she says nobody took an apple.
Jason wonders why Raven and Matt haven't set up camp in the HOH like they've done with everyone else.
Alex says it'll happen. Xmas told her it took until day 2 for her. They just don't want to f* with Jason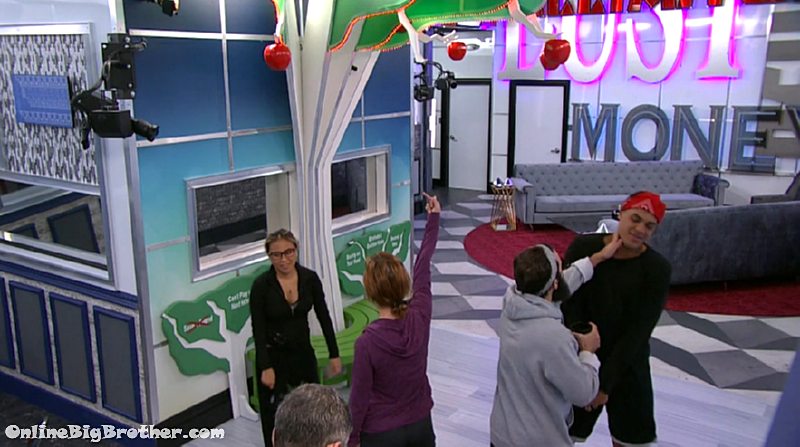 10:06amtree lighting up no takers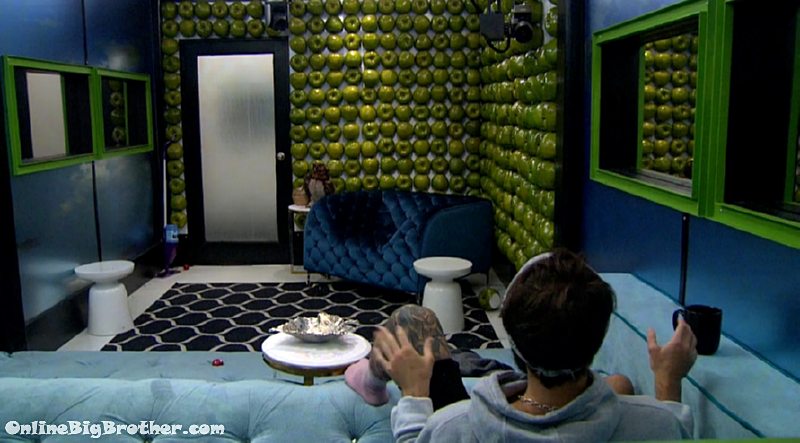 10:07am Paul talking to the camera
Paul claims to throw the HOH. "In other people's minds Alex and Jason are unstoppable, in their minds they needs me to help them take out Alex and Jason"
Paul – Alex and Jason I wanted them to see that they can beat me.. if I beat them.. they might think f* Paul we have to take him out
Paul says he's been feeding both sides Jason/Alex, Matt/Raven trying to get a distaste for Kevin.
Paul says Matt and raven think Kevin is the target. Alex and Jason thinks Matt is the target. paul says whoever from the Matt and Raven pair is left on the block will go home.
(Feeds flip…)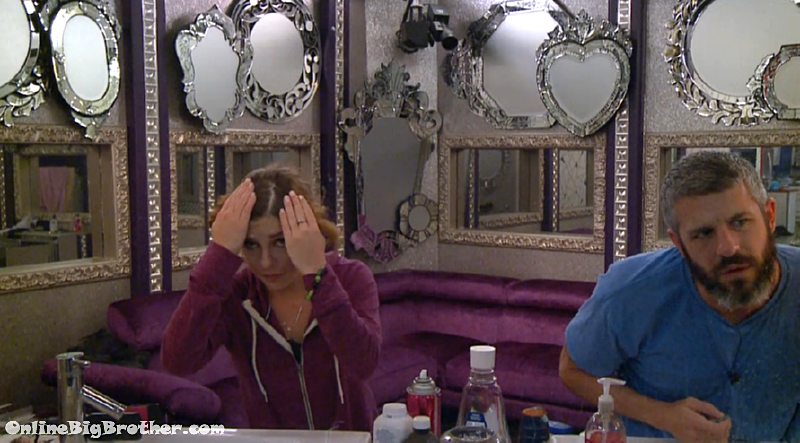 10:14am Bathroom Matt and Raven
Matt is b1tching that he played a much more loyal and clean game than Mark and didn't deserve to have 2 votes against
They call the tree "pendant of poo"
Matt says at first they were told the tree would turn on and they wouldn't know. Now they warn them, it's because nobody cares about it and they all think it's "GUMPY"
Raven – should we talk to Paul
Matt – yeah probably (we need to know what to do for the next hour)
10:17pm Raven, Matt and Paul
Paul says the 2 nominations are going to be one of them.
Raven says the whole house will be after him
They go on about how much Kevin is annoying them.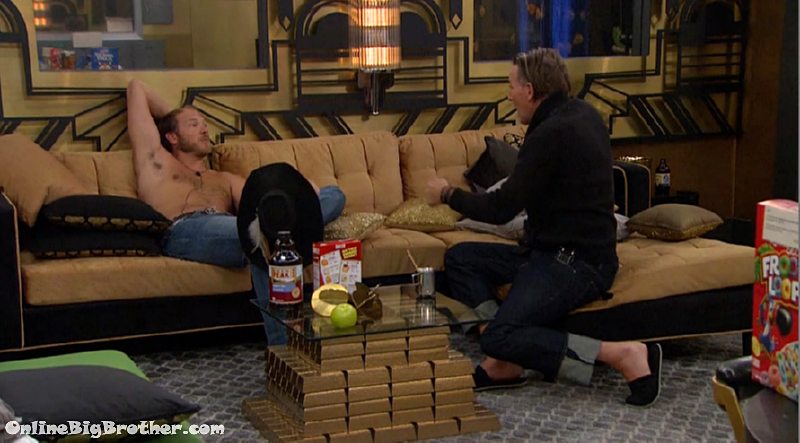 10:24pm HOH Jason and Kevin
Jason tells him he was a bit pissed Kevin dropped so quick in the hoh. Kevin says he's had major wrist surgery and mobility issues in his wrist. It really hampered him during the competition.
Jason and Kevin agree they would rather have had Mark in the house over Matt but Alex and Paul were scared of Mark. Kevin wishes he would have told him he was voting out Matt, Kevin would have done the same and let Christmas break the tie.
Jason says they know he voted to evict Matt but they don't know who the second vote was.
Jason suspects raven and Matt were going to backdoor Alex.
Jason tells him to keep being cool and keep acting like he doesn't know what is going on.
Kevin says there's nobody left in the house to work with unless he works with Josh and Christmas "No f*ing way"
Jason boasts that he could have stood in that hot dog all night.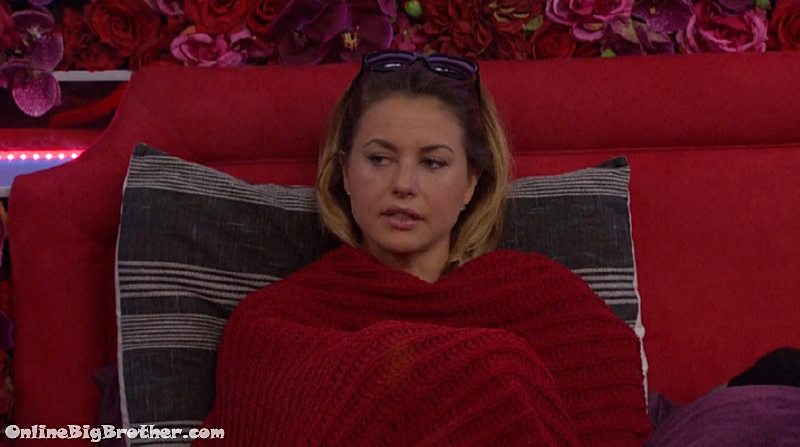 10:38pm Xmas, Josh and Kevin
Xmas says they were woken up early because of the tree. "This is not a tree of temptation this is a tree of bad things"
Xmas asks Kevin "Did you sleep well, lonely, missed your buddy"
Kevin – WE;re cool I went up there today.
Xmas says it must have been hard being HOH in the beginning because you had to hear everyone "yapping.. trying to figure out who was lying" (imagine having to nom 5 people week 1 )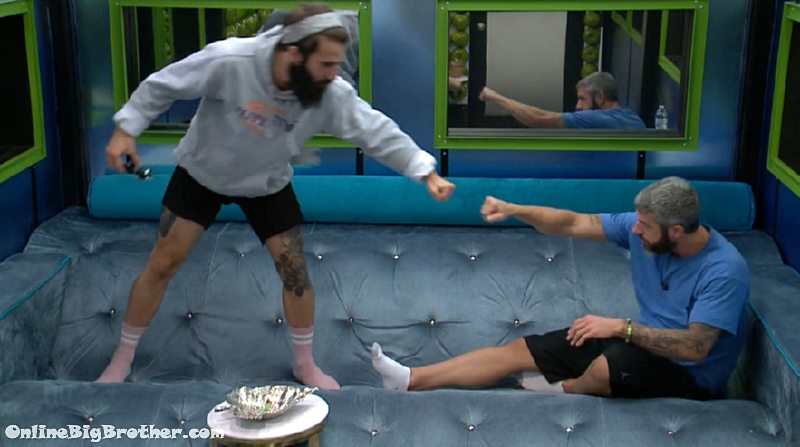 10:52pm Paul, Matt and Raven
Paul – I feel f*ing good
Matt – I do too..
Matt says it's clear to him that Alex and Jason have no inkling that they are together
They go on that jason can't compete in the HOH next week
raven – if Jason wins Veto do you think he'll use it
Paul – YES absolutely that's the point
Raven leaves
Paul – I'm not picking up anything weird
B2MEN – I'm not either.. I just want to make sure Raven doesn't go up.. I'll go up
Matt says the only way he can win is against Josh
Matt – I want Raven at least to final 2 she can win this game.. she needs it..
Paul says there's no way he can win because he's a vet.
Matt agrees with his point (KRAKEN)
Matt – her best chance of winning is us in the game.. she's not going to beat Jason and Alex.
Paul says he's going to freak out if he's on the block but he feels good that they'll be OK.
Matt – I won't freak out I've been up there before..
Paul – I'm a little bit more enticing to people
Matt – you're a better competitor than I am and you've played this game before
Paul – if it's you and me up there at the end of the week I'm going home
Matt – I don't think so dude..
Paul – Hommie I'm a realist
Paul leaves on his way out
Matt – those are really cute shorts man
Paul – thanks pal
Donations help keep the lights on. If you would like to support the site please consider donating.
Links to the ranking system
Rank your house guests here
For those of you that like Statistics here are some expanded reports.