| | | | |
| --- | --- | --- | --- |
| POV: | Tyler | Next POV: | Aug 11th |
| POV Used | YES | POV Ceremony | Aug 13th |
| HOH: | Haleigh | Next HOH: | Aug 16th |
| Noms: | Kaycee Rockstar and Angela Kaycee | Have Nots | |
Big Brother Spoilers Rocks thinks she's staying.
A real easy way to support the site if you are an amazon shopper is to make your purchases through our link. You pay the exact same thing but we get a small % commission. It doesn't cost you anything and helps us out.
Amazon Canada
Amazon USA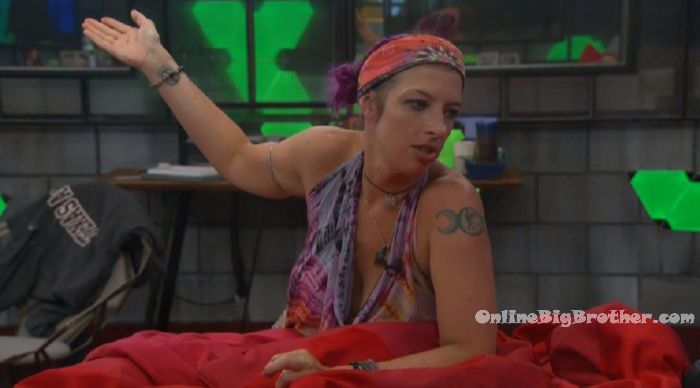 8pm HOH room. Fes, Scottie, Haleigh and Rockstar. Talk of piercings in the HOH room. Rockstar – can you imagine that this was all that was left of the show? (She points at the spy tv where Tyler and Angela are in the kitchen.) Scottie – as apposed to me going I can see you ear piercing. Fes looks at the spy tv and says her n!pples are hard. Scottie – they're always hard. Fes – she was running outside in the blazing sun and her n!pples were hard. Haleigh – that's what happens when you get a b00b job. Scottie – you've never noticed that? Fes – I don't just stare at b00bs all day lone. Haleigh – Its hard to miss. Mine aren't. Scottie – Are yours fake? Haleigh – yes. Scottie – what was your reason for doing that? Haleigh – everyone made fun of me. Scottie – for what? Haleigh – for looking like a boy. For having a boy chest. Scottie – how much did that cost you? Haleigh – 6 grand. Rockstar – I got mine when I was 25. Haleigh – I'm still paying mine off.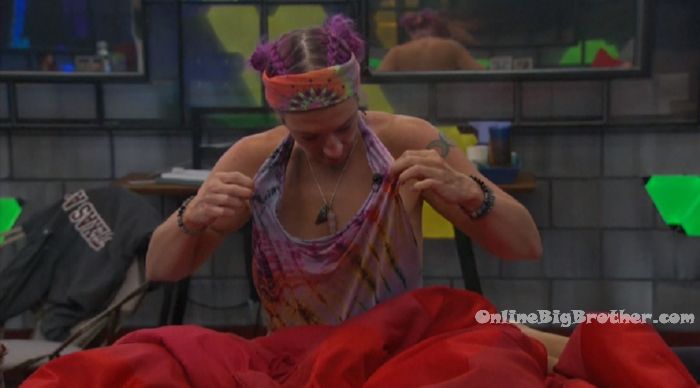 Rockstar – I like Brett much better without Winston. Haleigh – me too. Everyone does. Scottie – I think Winston was an enabler. Rockstar – I would like this entire cast a lot more without Angela. Scottie – well you've got yourself an HOH to win. Rockstar – I do. I've got to stay here first.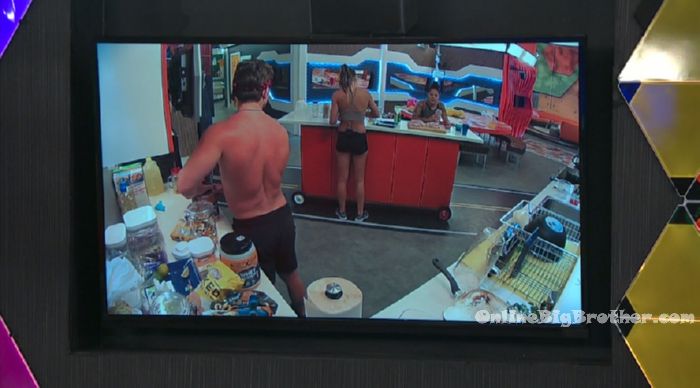 9pm Backyard. Sam and Rockstar – I built up a lot of hope in Tyler using it on me. Sam – well don't read into it too much. I think it was the.. exactly what he said .. the last week garbage. Rockstar – but that had nothing to do with me. Sam – I don't think so. Rockstar – I know we can't go back in time but I literally showed him the answer. He wouldn't have even been up there. Sam – did you tell him that? Rockstar – yeah. Sam I wish I hadn't just showered, I would roll around on the ground with Brett. (stretching). Rockstar – I feel pretty betrayed by Tyler. Sam – why? Did he give you his word? Rockstar – yeah, when we were up on the OTEV thing.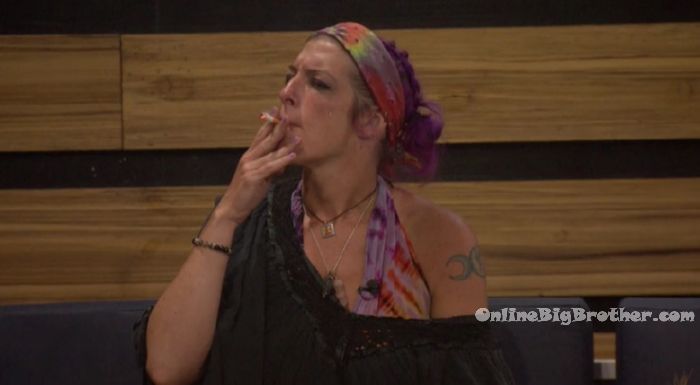 Watch the NEXT WEEK of the Live Feeds for FREE! Click here for your: 1 Week Trial
9pm – 9:15pm HOH room. Fes, Scottie and Haleigh. Haleigh – She's (Rockstar) the one that should be out there trying to get peoples votes. She's so confident in Sam's vote but Sam voted against her last week and put her on the block. There are a lot more places she could be focusing her energy than in my room. And she leaves her dishes up here. I'm f**king getting annoyed.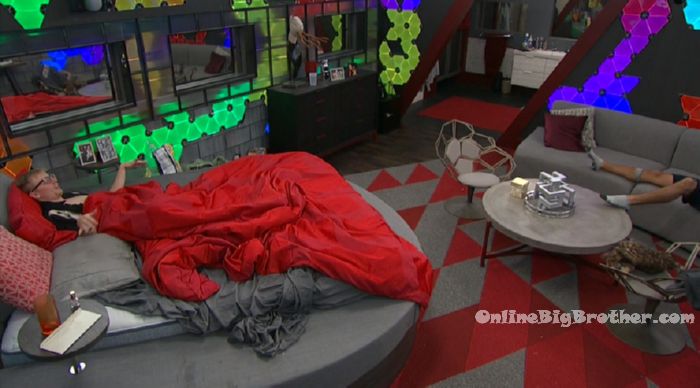 9:30pm Hammock. Rockstar and Haleigh. Rockstar – its very counter productive but I keep replaying the veto in my head. Haleigh – very counter productive. Rockstar – we could trust Scottie if we knew who flipped votes but we still don't know that. Even if Fessie was like look I need to tell you something. I'd be like Okay, lets move forward. But we don't know so that's what makes me nervous. And I don't want to be nervous about our friends. Haleigh – but we won't know. Rockstar – I totally trust you, Sam and oddly enough I trust Brett. Was it just for Brett. Haleigh – yeah. Maybe one of us has a deal with him. Rockstar – Okay well that makes me feel slightly more comfortable. Haleigh – Both flips have been for Brett. Rockstar – Brett said he liked seeing the fight in me and commented on how everyone thinks we have a final two so maybe that's something we could explore. Haleigh – I think its a good idea and you should definitely take the deal.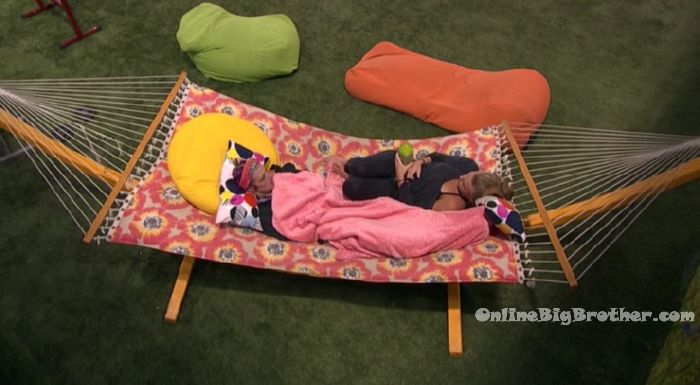 9:45pm – 10:20pm Hot Tub time! Brett shows off his tan lines. Brett – I could be the coppertone baby. Haleigh – I'm in a bad position right now. So you've felt like this for several weeks? Brett – yeah. Haleigh – I'll be surprised if I make it another 3 weeks. If I am here for top 5 I will be shocked. Very shocked. I don't know things change so much everyday. Its just hard when you have one of the biggest competitors (Tyler) coming for you. The chat turns to talking about random things.. Sports games, relationships, etc.
10:30pm HOH room. Fes and Haleigh. Fes – Its further down the road but I was thinking about it because you are so close with Scottie.. maybe someone else will take a shot at Scottie but if I win HOH within the next 2 weeks I might take a shot at him. Haleigh – no, we have so many more people to take out. Fes – who? Haleigh – Angela, Tyler, Brett. Fes – Tyler – isn't coming for me. Brett okay. I would backdoor Tyler, yes. Scottie is just sneaky man. Okay so go down the list. Haleigh – I'm not going down any list with you. Fes – why? Haleigh – you're starting to piss me off. Fes – why because I said Tyler isn't coming for me? Haleigh doesn't answer and gets into the shower.
10:40pm – 11:20pm Fes – me saying Tyler isn't coming after me .. I know he's coming after you.. I'm not saying.. I just said a comment. I just said he's not coming after me. I didn't say he's not a target. Haleigh – you're saying he's not coming after me so he's not a target. Fes – that's the same thing with me and Brett.. you're good with Brett but I'm not good with Brett. Haleigh – yes you are. Fess – If I'm not good with Brett, then you shouldn't be good with Brett. If Brett's in this game, then he has to go. Haleigh – okay but don't say Tyler's not coming after you like he doesn't need to go. Fes – no of course he needs to go. Haleigh – Brett isn't coming after you. Fes – okay if Brett wins who does he put up.. Me and JC. Haleigh – no. Fes – he doesn't put up Sam, Angela, You .. who does he put up? Fes – Tyler and Scottie are close they're picking each other over the alliance any day. Haleigh – that's not true. Scottie said if he get the shot he will take out Tyler. He said he's not good with anyone coming after me. Fes – I like Scottie.. the thing is if it walks like a duck, quacks like a duck .. its a duck! We've been here 55 days and a lot of sh*t isn't adding up. I don't want to get f**ked. Haleigh – neither do I .. how do you think I feel with the number one person coming after me. Fes – okay we'll go after Tyler. Haleigh – I just want to be on the same page. Fes – I just need to win HOH. Its embarrassing I haven't won one in 6 weeks. I know Tyler is coming for you and we'll take care of that. However me having an okay relationship with Tyler is beneficial for both of us. Maybe then he doesn't put us both up together so that I can take you off the block. Fes – I agree that Tyler goes before Scottie.
Haleigh – Scottie (code for the diary room) asked if you were a good kisser. Fes – Scottie asked that? You're lying. Big Brother – you're not allowed to talk about your diary room sessions with other house guests. Fes – they're on it tonight. What did you tell Scottie. Haleigh – I said no. Fes – they're smart though.. they picked up quick. Why hasn't Scottie asked me? Big Brother – FES!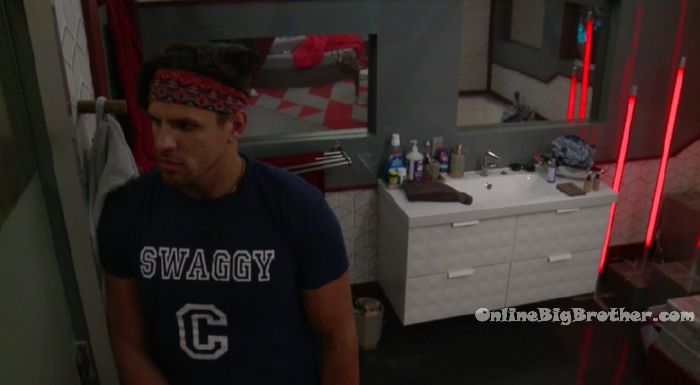 Fes watching Haleigh shower..

12:06am Backyard Rockstar and Sam. Rockstar – they just made me feel really good about myself.. because I was thinking I really did do good in that competition.. that was a hard competition and I shouldn't beat myself up about it. I keep going back and forth. I keep thinking how stupid it was what I did but then I think about how awesome I did what I did. I'm reminded of how impressive that was. Thinking about my kids watching and being like NOOOO!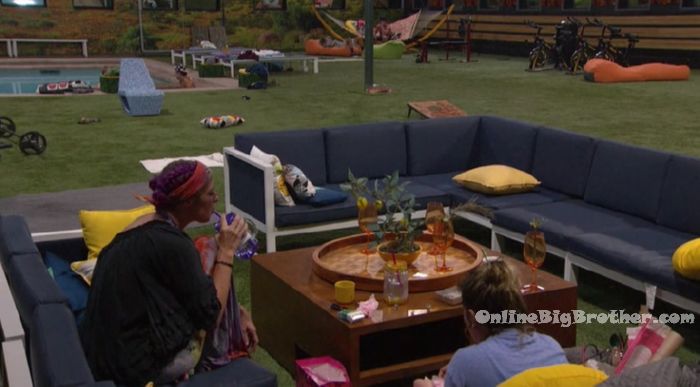 12:15pm Hammock. Brett, JC and Tyler. Brett talks about all about his jobs .. selling security software, modeling, personal training, a waiter at events, etc.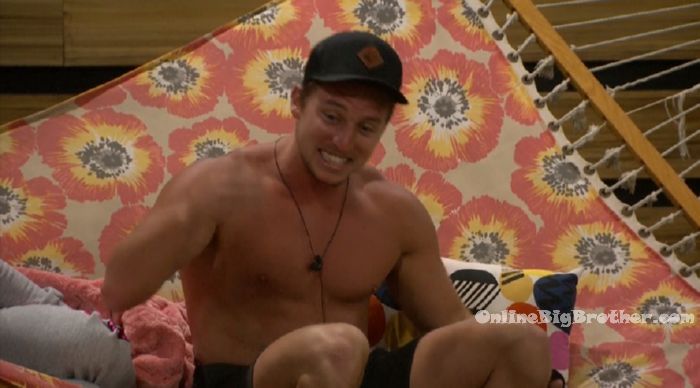 1:33am Bedroom. Brett, Angela, Tyler. Brett – I said Rockstar expect the unexpected what if you and I were at the end together? Angela – no you didn't! What did she say? Brett – she was like that would depend on somethings but she was like yeah you're right. I am open to anything. That would be crazy. Angela = this is perfect. Brett – I was like you're the OG in this house. They all laugh. Angela – you need to think of an alliance name now. Brett – it was incredible. I thought you guys would get a kick out of that. She literally thinks she's safe. Its like Rachel all over again. I was feeding it. I went to give her a hug and she whispered in my ear – that spoiled pretentious little b***h! And I was like yeah, this sucks! Angela – she says different versions of that to everyone. 've gotten princess and what is the other one its starts with a C.. Brett – oh its a bad one.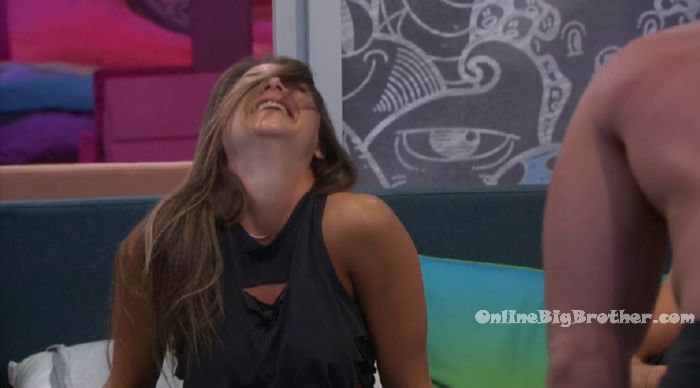 2:35pm HOH room. Rockstar and Haleigh. Rockstar – I think we're going to pull this off. Haleigh – I really hope so. I just feel like we can't catch a break! (You just won the hacker comp last week and now HOH) Haleigh – I am making it a real sob story so that America will give us a power. Rockstar – Okay great. I love it. Haleigh – honestly they're not really the bad guys they're just boring. Rockstar – that's true, they're not .. they're just lame. Haleigh – It would be the most boring show. What are we going to watch Angela run laps around Tyler as he lifts weights? And then what is their conversation going to consist of? Rockstar – hey did you ever go here in Hilton Head? Haleigh – just kidding. Their really nice people but.. they need to go. Rockstar – they need to go and we need to stay. I am like really!? Haleigh – what is a show without us? We are the backbone of this television. Rockstar – We are the most intriguing cast members. Without us there would be no show. Haleigh – they hate us.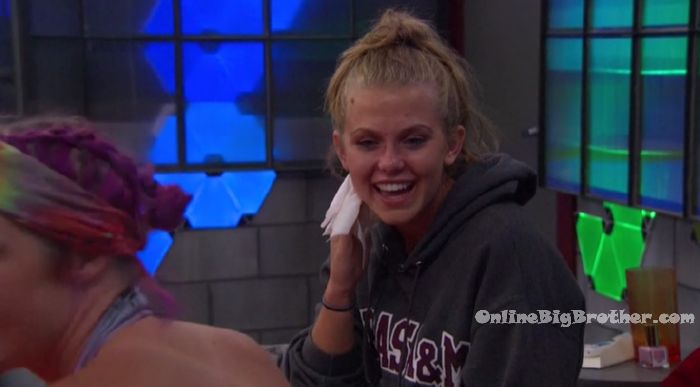 3am Sam making a flower and dream catcher…

4:35am Sam heads to bed. All the house guests are sleeping..
Donations Really do help keep this site keep running round the clock. If you like our content please consider supporting us. Any amount is greatly appreciated!
Rank the houseguests!
Easiest way to Rank the house guests use link below