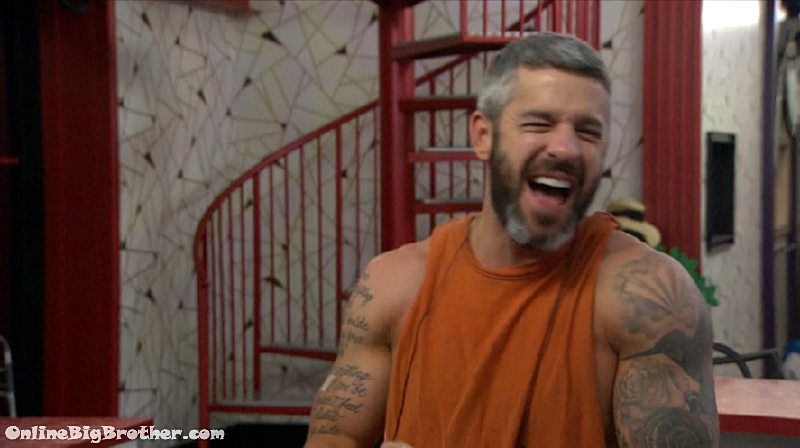 Feed subscription lets you go back and re-watch everything we post here CBS All Access Live Feeds with a FREE 7 DAY trial.

9:37am The early birds are up..
Talking about Drinking 40's (which is beer to them..)
They don't like the fact that 40's get warm.
Matt's solution.
Matt- I have much better luck just flasking it
Matt – you drink hard liquor
Cody – I stopped.. I woke up in the hospital once with a IV..
Cody says he can handle beer fine but hard liquor makes him too drunk.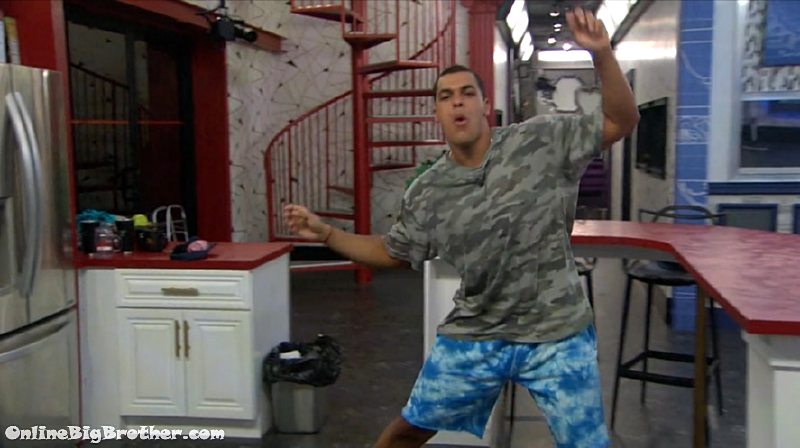 9:52am Meatballing
Josh singing "Cup of Coffee.. Cup of Coffee.. Coffee.. Cup pf Coffee" #BB19 @DawgsBigBrother pic.twitter.com/Nj1nvHFRQQ

— OnlineBigBrother.com (@bigbspoilers) July 28, 2017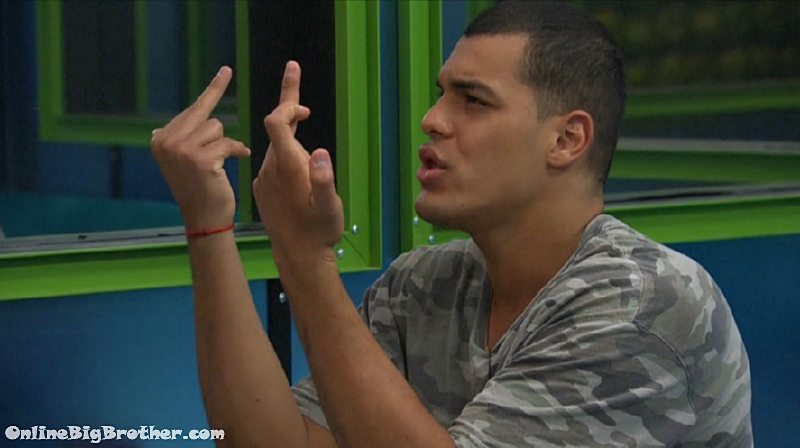 10:05am Josh meatball talk
Josh – What's to tell his family that he's doing great.
Josh – Feels really good that people are seeing that I am loyal that I keep my word that I will have their back.
Josh – Quite frankly they had my back this week
Josh – Moving forward.. Umm.. I gotta a lotta love for Paul and Christmas they've had my back, they've looked out for me, at the same time I look out for them.
Josh – I have their back when they need me I'm always going to be there
Josh – Jason's the F*ing man.. Kevin is Kevin..
Josh – whatever Paul's got planned I'll go to bat for him.. I know he's got my back and he'll do what we need to do to get a huge target out this week.
Josh – I'm just in a good place, I just want to dance, listen to music.
Josh – The meatballs are still going to be meatballs I still don't like them. The girls hopefully they stay out of it.
Josh – I don't like fighting with girls I don't like arguing with girls, I don't like going back and forth with girls
Josh – If I do get in a argument with Cody or Mark I hope Jessica and Elena can stay out of it. I don't want to be arguing with a girl to be honest with you
Josh mentions how "they" (mark, Cody, Jessica, Elena) were campaigning against him last week.
JOsh – when they saw that I stayed they all want to be friendly and nice. Mark is like truce let's go back to the old ways
Josh – No F* buddy.. If I would have left you wouldn't have said by to me you woulda been happy I left.
Josh – you woulda been living the Big brother Dream well guess who's living the Big Brother Dream this guy right here and i'm not going to be friends with you quite frankly.
Josh – beside that you guys already know the house has 2 public enemies
Josh – well four.. Cody and Elena.. Hopefully we get one out this week
Josh – moving forward I need to play my cards right, I need to continue to stick with the people that have had my back.
Josh – for once I feel good
PRODUCTION – HOUSEGUESTS must be awake between the hours of 10AM to 10PM. NO napping houseguests. WHAT do you not understand about please! WAKE UP!
Josh – today is my last day on slop I am the happiest man alive
Josh – I'm going to eat a pepperoni mac and cheese pizza
Josh – I've dropped 25lbs
Josh – your boy needs food
Josh – I need a steak, I need some pizza, some cookies.. I need some ice cream.. I need to pig out for a night then go back to eating clean tomorrow.
Josh – 14 days on slop, Handle it like a champ hate the spikes.. Back aches are horrible..
Josh – I can't stand the smell of sleep anymore it makes me vomit..
Josh – F* the MEatballs..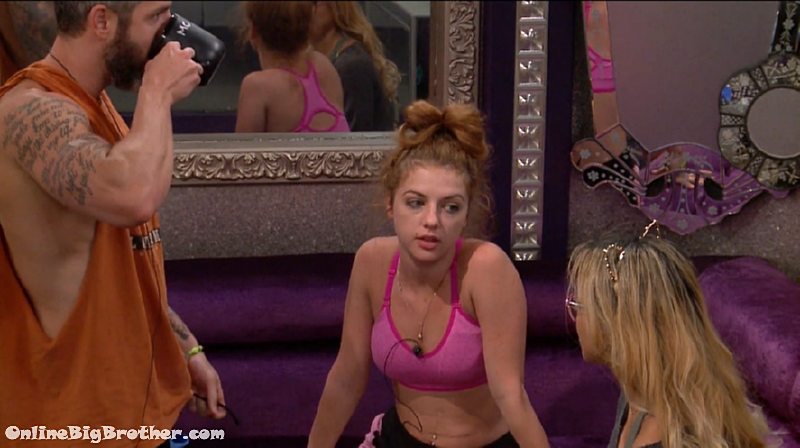 10:28am they've been told about the Temptation competition
The temptation competition
For the next 3 weeks BEFORE nominations the houseguests will be tempted to participate in this challenge. For the First time in Big Brother History The Houseguests will get to choose weather or not they want to compete. The winner of this competition will be safe for the week but like all temptation participating com,es with consequences. The houseguests that finishes last becomes the third nomination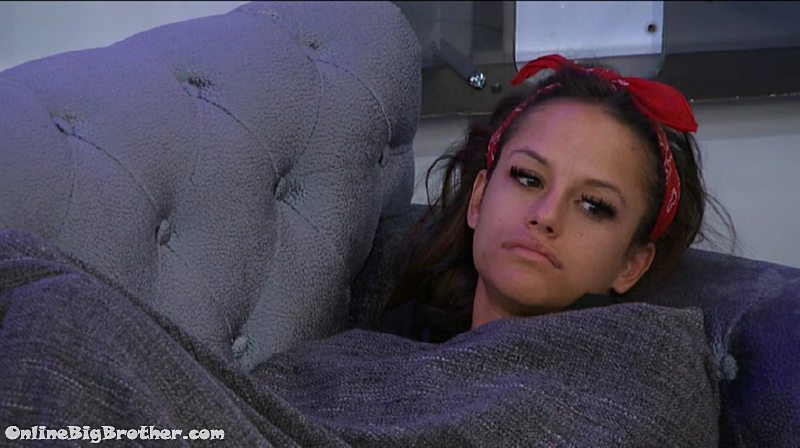 10:30am Jessica tells Cody to not participate in the temptation competition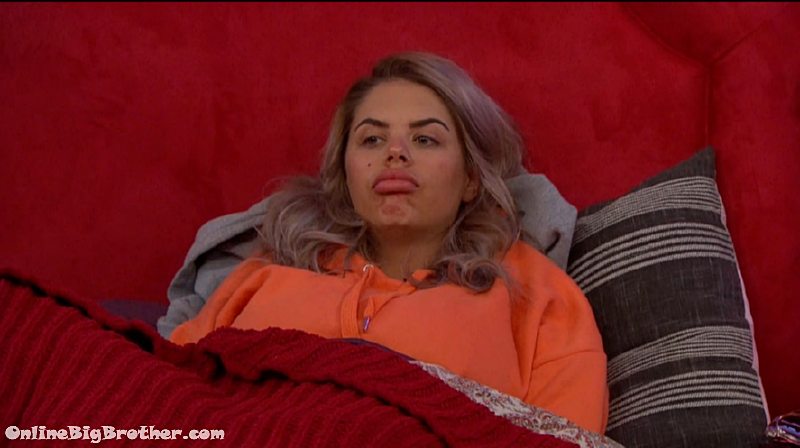 10:36am Elena and Mark
Mark is saying if you participate in the Temptation competition and come in last you automatically get to play in Veto.
Elena says this might mess up Paul's plan.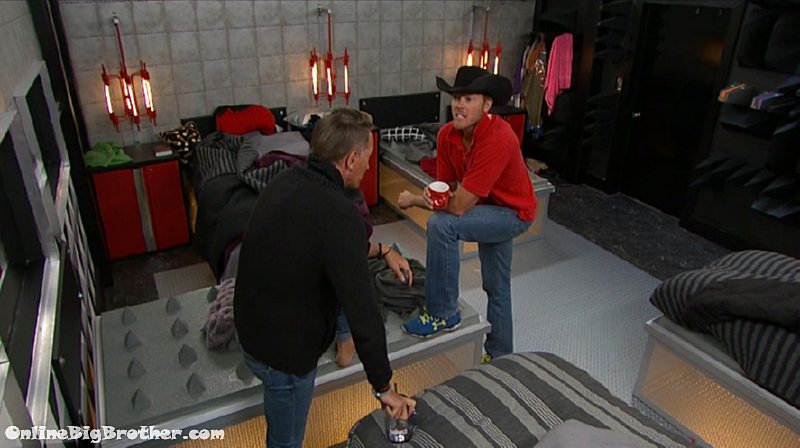 10:52am Kevin and Jason
Jason says the temptation competition is tonight at midnight
Kevin says he's not going to compete
Alex and Paul come in.
"Cody's going to compete"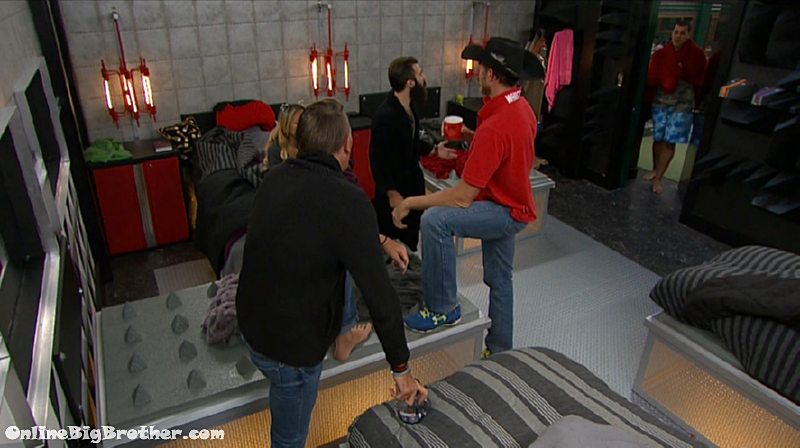 Josh comes in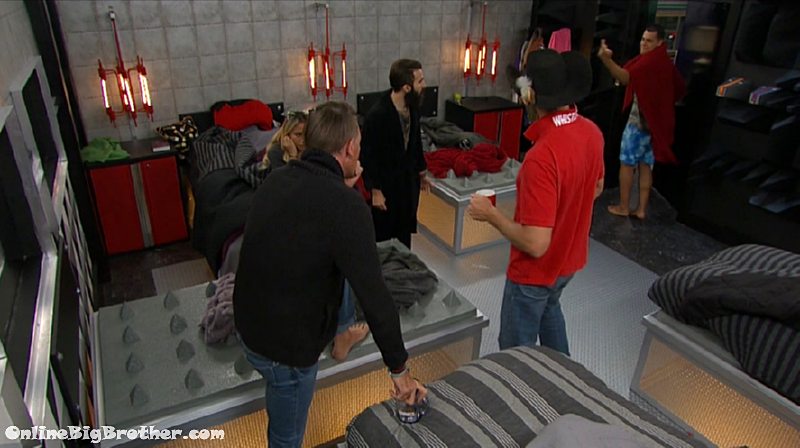 Paul – Josh get the fuck out for a second (that's your bud Josh)
Josh finger him
Jason – they're playing because they don't have the safety
Jason – I'm guaranteeing you they are full of f*ing sh1t
Jason says he's going to compete in the temptation challenge so no one else wins it.
Jason – I'm going to do it because I'm not going to lose
Alex – I'm going to FOR SURE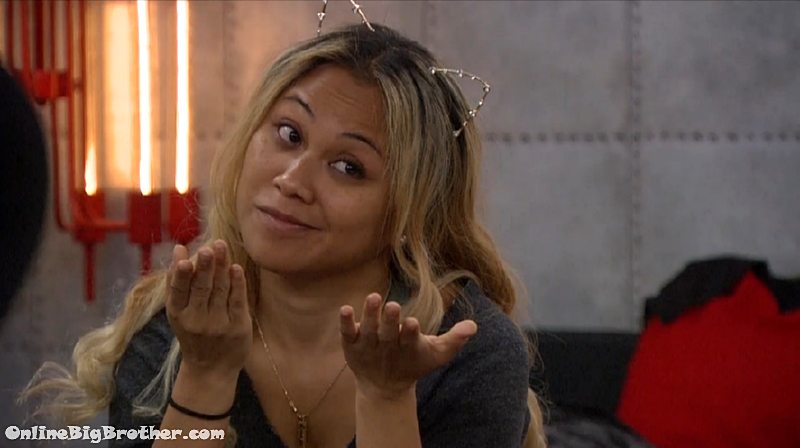 Mark comes in says if Josh wins..
Kevin says the house will have to collapse for Josh to win
they talk about Jessica's temptation. Mark says he doesn't know that she has it. Alex is skeptical about this.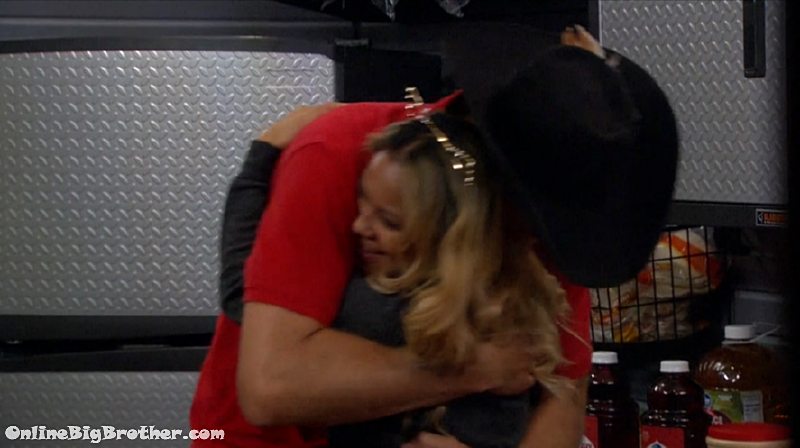 11:01am Jason and Alex
Jason – I'm not going to lose Al.. you're not going to lose Al
Alex – you have to be prepared just in case
Jason – remember you're a cat.. you're a cat..
Alex – this is the safest week for us to lose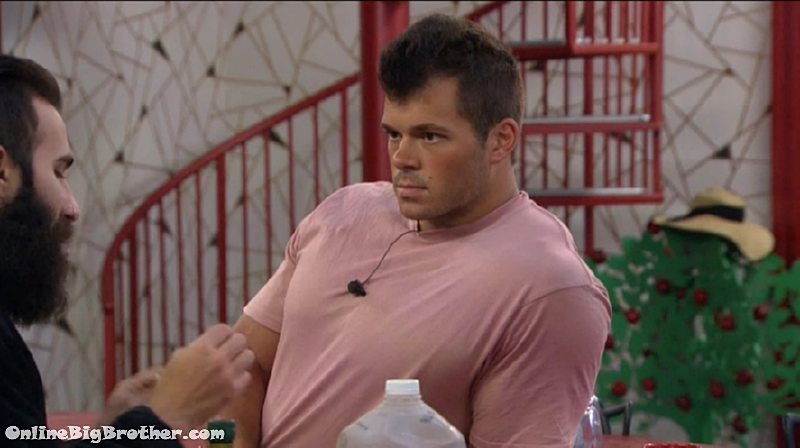 11:03am Paul and Mark
Mark is asking him if there's a chance he'll be a pawn.
Paul says he has no idea who is playing in the temptation competition. Paul thins a lot of people will be playing this week.
Mark says he'll try it
Paul – try it dude.
Paul – is Elena going to play
Mark – no
Paul – NO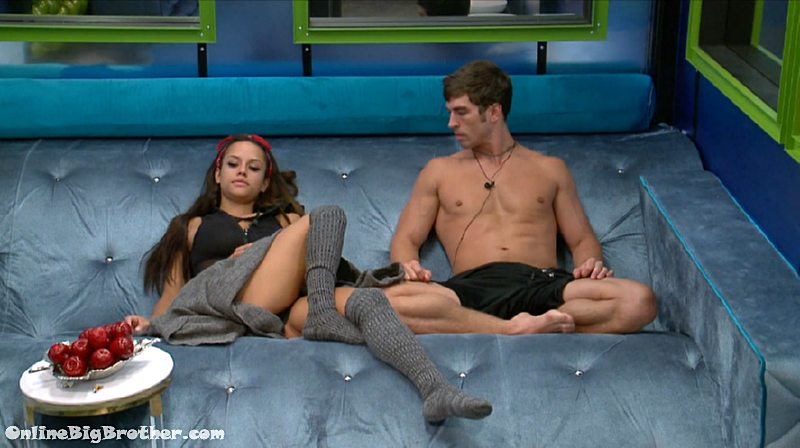 11:07am Cody and Jessica
Planning out what to do so Paul doesn't nominate them cause it'll be a waste of a HOH.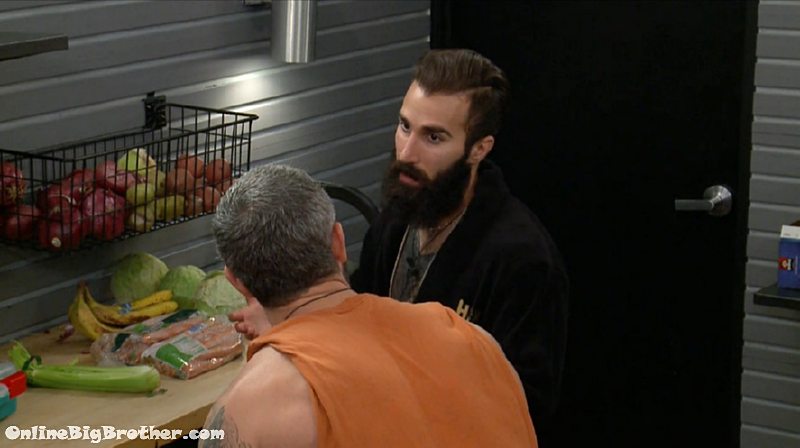 11:09am Matt and Paul
Paul tells him he has to play in the Temptation Challenge. adds that Matt is a stronger competitor than Cowboy.
Boyz2men – I'll do whatever you want me to do (of course you will)
Links to the ranking system
Rank your house guests here
For those of you that like Statistics here are some expanded reports.