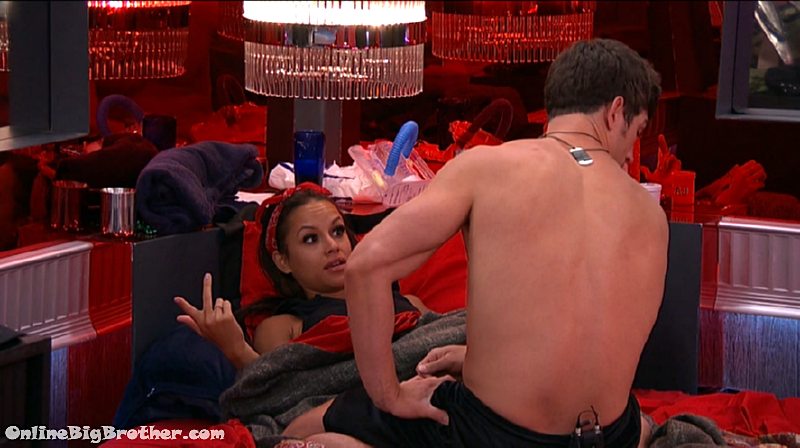 Feed subscription lets you go back and re-watch everything we post here CBS All Access Live Feeds with a FREE 7 DAY trial.

11:15am Cody and Jessica
Jess – if I go to him (paul) with worries right now it's going to raise red flags
Cody – you don't get it
Jess – than explain it to me Cody
Cody – just tell him HEY if you out up Cody you run the risk of wasting your entire HOH
Jess – he's aware of that
Cody – how is he aware of that
Jess – I just told him you and I have safety..
Cody says he's going to end up on the block this week and she'll have to use the HEX regardless so why not play in the tempation competition.
Jess – if he finds out it's a rewind week or anything like that he can.. There's a million ways this could play out
Cody – why don't you tell him that before hand, it's a rewind week if he puts me up on the block.
Jess – I don't want anybody to know it's a rewind week, what is the benefit of that?
Cody – me never going up there
Jessica – telling someone that just won the HOH competition and knows the game better than anybody because that is why he won. So he gets to keep HOH for 2 weeks in a row and still evict you or me
Jess – why does telling him it's a rewind week..
Cody – he won't take that chance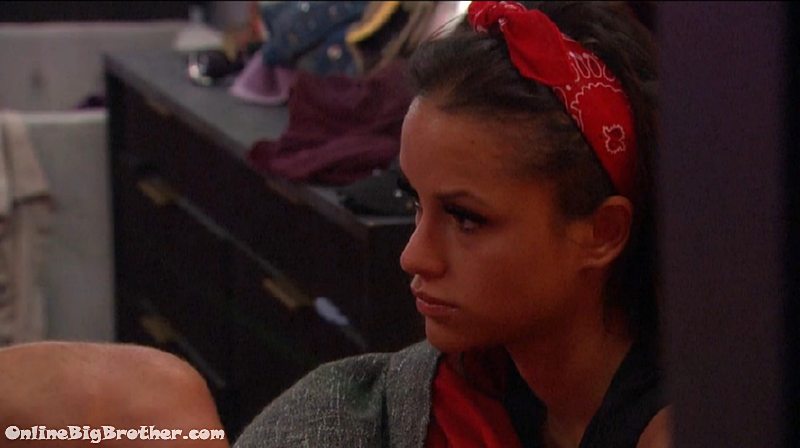 Jess – this is a person that plays a character in a TV show who likes using the tools that the show give him so if he can find a way f* with it he's going to F* with it so do I want him to be HOH for 2 weeks .. NO
Jess – I know exactly what is happening if I go over there to talk to him right now. He'll tell me having this conversation is a waste of time. He'll tell me he doesn't know what to do until after the competition he'll question why i'm so worried..
Jess – that is the conversation you want me to walk into right now.. Then he'll say into his head, well why is she so worried.. What am i missing..
Jess – if he's already asked in the DR if they can be nominated he's already thinking OK I can nominate them but what's the catch where does the safety come into play.
Jess – HE CAN'T KNOW it's a rewind week, he just won this competition he has no problem playing it again
Jess – he will have an entire week to allow people to forget while he still studies.. While he can say that different tattoos were on people's body and f* everybody up.. HE CANNOT KNOW
Cody – I think you consider him more of a mastermind than he really is
Jess – I've been right about most things and I'm going to trust my gut
Cody – I trust you
Jessica says they have to wait and see what paul does. Let them wait, "i have a feeling he's going after somebody and I have a feeling it's not us"
Jess – every time I second guess my intuition I've kicked myself for it
Cody – I trust you intuition ..
Jess – I hate gambling.. And this game is one gamble after another
Cody – I love gambling
Jess – Yeah clearly.
Jess – I don't think you should compete in this competition it's a bad look..
Jess – people that need tha safety might be pissed at you for watering down the pool..
Jess – Jason and Alex are going to compete hopefully one of them wins
Jess – if I felt you were in danger I would do anything I can to prevent it
We have to think logically and come from a position of strength they don't know what the HEX is and we have to use that against them.
Jess – You be the beauty and I'll be the brains
Jess kisses him "I need to go put on makeup"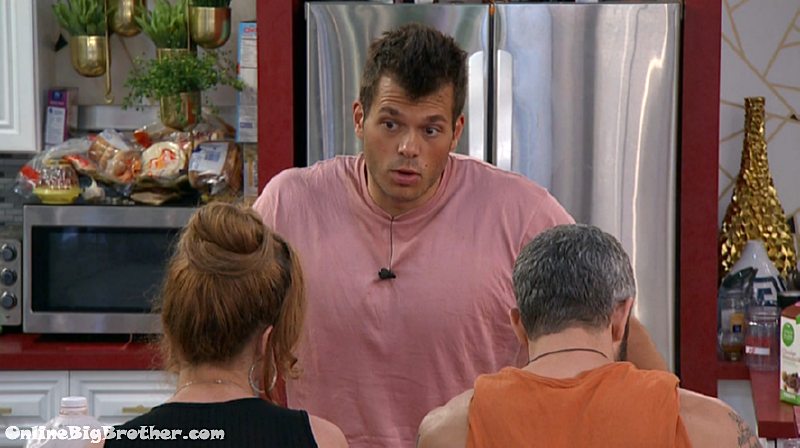 11:38am Mark, Raven and Matt
Mark wants to confirm that they are still good with going to Jury "1 week away"
Raven – Absolutely (Raven might not live another week Mark what a mean thing to say)
Mark is now saying it's a good thing they voted out Ramses because he would have won that HOH.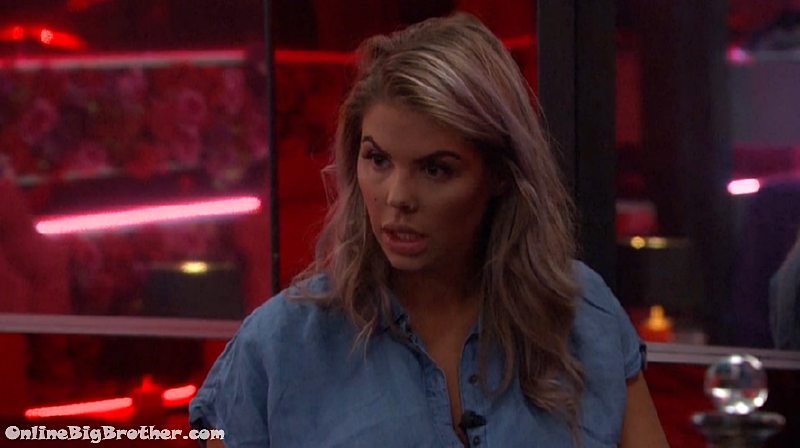 11:46am Mark and Elena
Mark is bringing up talking to Matt about why is she so pissed off at him
Elena says he can come to her to talk
Mark – he's going to
Elena – maybe he can come to that conclusion himself and not have it spoon feed by you.. i'm not saying I'm mad at you i'm just saying
Mark brings up that he told Matt that Elena has been heated.
Elena – In what way have I acted Heated?
Mark – Ok maybe I didn't say heated
Elena – again not mad at you
Elena – they can come s**k my D1** if they want to
Elena – in my mine 4 people in this house lied to my face one person out of the four came up to me and had a conversation about it.. and .. has balls.
Elena – the other 3 are scared of me
Mark – whose the third
Elena – Christmas
Mark – I can't f*ing stand her
Elena – like don't tip toe around me.. don't walk up to me at F*ing touch me
Elena – if we were in the real world that would have been it
Elena – you do not touch me unless you're invited like DON'T touch me
Elena – that honestly Matt and raven trying to touch me is like what I'm the most pissed off at right now
Elena – do you really f*ing think you can walk up to me and lick my face I will smash your head up against the wall if this is real world and you think you are touching me. Like 100% do not. (matt licks her)
Elena – literally livid about it
Mark says Raven and Matt claim the vote was last minute
Elena – they are lying about that
Elena – Raven promise to Jess right before eviction I'm voting out Josh
Elena – what point when we're siting in the same goddamn room
Mark – there's a very good chance I need votes this week
Elena – there's a very good chance I don't give a F*.. about me .. if I need to go home I don't care..
Mark – why are you so pissed off
Elena – I'm not pissed off..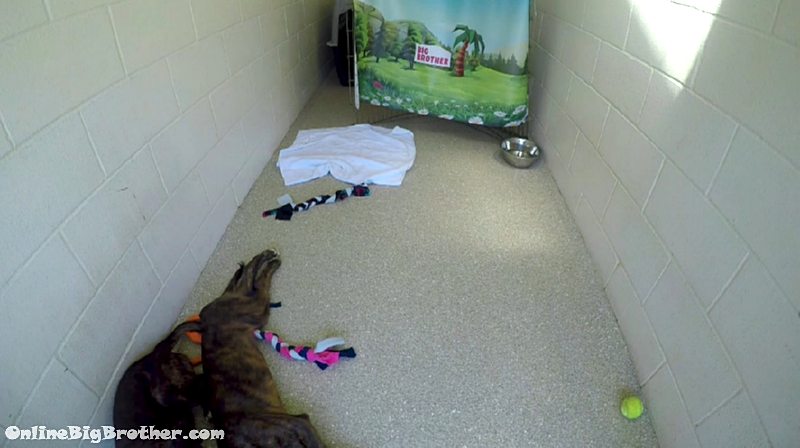 Feeds go to pound puppies..
12:32pm Feeds still on the puppies (bring back the cats)
1:57pm Feeds still down yo
Links to the ranking system
Rank your house guests here
For those of you that like Statistics here are some expanded reports.