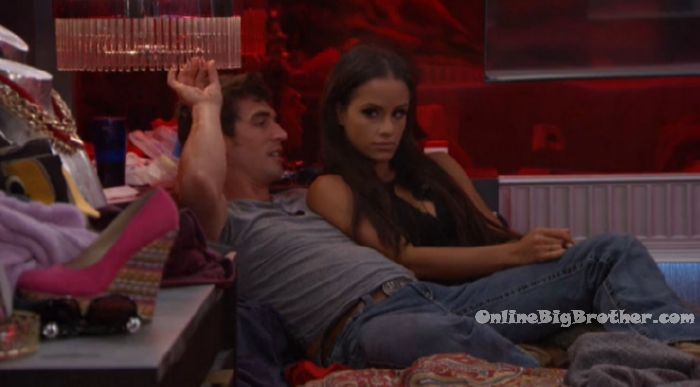 Check out our BB19 Ranking Grid. . rank your houseguests here

9pm Bedroom – Cody and Jessica.
Cody – are you prepared to be a havenot this week? Jessica – I know I was already thinking about it. Cody – you notice how Paul makes a justification for every dig that he makes. Jessica – what's his justification here? He made me a havenot already. Cody – that f**King idiot. Always saying its just a game. Then saying it was personal. Jessica – it doesn't make sense. You don't know what I'm going to do. Don't tell people what you think I'm going to do. How am I personally attacking you right now. Enjoy fighting amongst yourselves because Cody and I are safe. Jessica – I want to punch Raven in the face for the way she lied to me today. Literally just want to cold cock her. She is someone I am 100,000% not being friends with outside this house because all she does is lie, talk sh*t about people and acts like Susie homemaker in the kitchen. Cody – I mean I think she looks like a damn crazy lady. I've never seen someone so crazy in my life. Elena joins them. Elena – I don't know where Mark is .. that's not a good sign. I don't f**king trust him. Jessica – we need to put them on leashes. Jessica – its annoying that Christmas gets this entire bed to herself. Cody – oh by the way, Matt with his f**king fingers up your a$$.. that f**king enrages me!!! Jessica – I know, I know. Cody – you can either have a conversation with him or I can. Jessica – oh god. Cody – because that won't f**king happen again.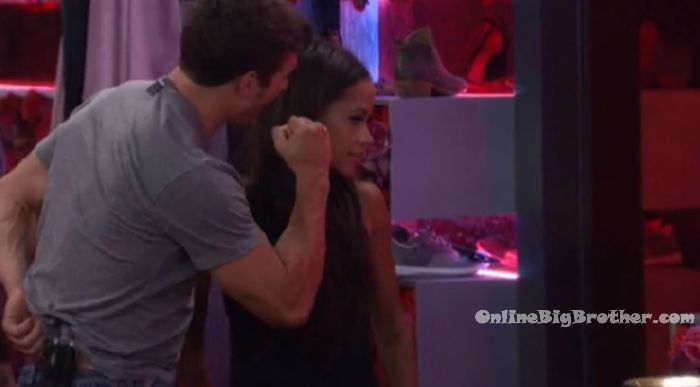 9pm Lounge room – Kevin, Paul and Mark.
Mark – she (Elena) is mad that people lied to her about the vote. I never asked anyone so no one lied to me about the vote. I was just shocked and disappointed because I felt like an outsider. I thought I had a good enough relationship with people. I understand you guys had the votes there was no need to talk about it and ruin it. No need to stir the pot. Paul – exactly! Josh is probably going to get himself put on the block or self-evict. I am not worried about Josh in this game. Look at how he competes. Ramses knew that competition. Lord knows he could have won that HOH today. Kevin – Last week when Jessica won the POV she should have put up someone strong against Josh. Mark – I did not know their agenda. Me and Cody had a connection since day 1 but I did not support what he did. Paul – Jessica said keep your dog on a leash. I have nothing to do with what he does. You genuinely think I would tell him to poke and prod at you Mark. Kevin – no he does that on his own. I think he is making a fool of himself. Mark – I never suggested anybody.. Paul – he is in his own f**king world. Even Big Meech she sucked at competitions. Even if she was the only competing she would still lose.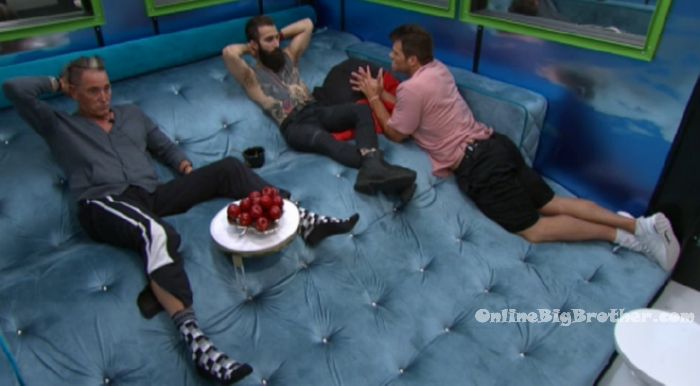 See what they can't show you on TV Try the live feeds for FREE!
9:10pm Lounge room – Mark, Elena, Kevin and Paul.
Paul – so you didn't know about that temptation? Elena shakes her head no.
Paul – how do you feel about it. Elena – I mean its crazy. Paul – I don't think its real. I think she got a temptation. I don't think its that. There is no way you can keep 2 people safe in this game for f**king weeks. If so fact-o, how was she on the block last week?! When I had my pendant you couldn't even put me on the block. If she did have a protection pendant .. she said 4 weeks. That is absolute horse sh*t. Elena – I don't think she said 4, I think she said a few. Paul – they would never give you protection till Jury. THAT IS A FACT!! That is a fact you will never get protection till jury. You cannot get protection till jury. People would say it is rigged. Mark – if that was the temptation, think about what the curse would be. It would be equally as bad. Elena – and she got the temptation before Cody was back in the house. Paul – if you did have a protection like that why would you say it in front of everybody!? And assume that I was going to put you up, when I wasn't. It makes no sense to me. If you had something like that you wouldn't expose it. Kevin – and if you did you wouldn't say anything until you were put up. Mark – you could ask in the DR? Paul – you are not allowed to lie about your temptation. When the temptation gets called out, you have to clarify exactly what it is. This is an attack against me, when I did nothing. I wasn't going to put you all up. Mark – do you know what you're doing this week. Paul – I'm going to have to think about it. I didn't want to win HOH but I'm not safe. Paul explains his reasons for getting rid of Ramses and not telling them. Elena – I at least respect that you were able to be a man and have a conversation with me about it.
9:25pm Bedroom – Josh, Alex, Christmas and Jason.
Alex – next week we really have to turn the tables again and make a big move. Christmas – Jess is up, Mark is up, Elena is up.. whoever doesn't go home.. there are three out of the four that will be gunning for the HOH. Its probably going to be physical so I don't know how much of that I am going to be able to play. Josh – I got it. Next week I'll win the HOH but if we're hanging off the wall.. lets be realistic I ain't going to beat you (Alex). Christmas – if and when they get the HOH again, they won't make the same mistake that they made this week. They will put up two major player and split the house in two. Alex – I think their temptation is different. Josh – I am not buying their temptation. Alex – I just said that! I think she said that for protection. Christmas – they're not going to get safety twice and for two people for several weeks. No f**king way! Josh – you really think America is going to give Jessica protection to protect Cody!!? F**K NO! Christmas – it doesn't make sense. Josh – If I was HOH I would be like f**king it, lets test my luck and see if its true.. you're both going up. Paul joins them and says that Mark and Elena are pretty much throwing Cody and Jessica under the bus. If you really had a power like that and were worried about seclusion why would you tell everyone about it and seclude yourself more?! It doesn't make sense.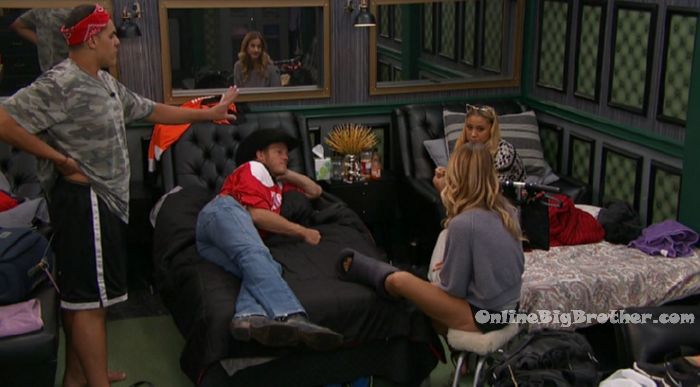 9:50pm Lounge room. Elena and Mark.
Mark – I really want to give you a hug right now. Elena – don't touch me! Mark –
I know you kind of want a hug. Elena – I don't like to be touched when I am pissed. Mark – a big hug!? Elena – no! Please do do not touch me. I am not kidding. I do not like being touched. I literally almost smacked Raven in the face. That is how much I do not like being touched when I am mad. Like that is when I am the maddest right now that she touched me and that Matt was approaching me. Do not f**king touch me! Mark – you are very interesting. Elena – you are not touching me. I am not f**king kidding! Mark – deep down I know you're smiling. Deep, deep, deep down. I can see the smile in your face. Elena – I appreciate your thoughts in wanting to cheer me up but do not touch me. Mark – do you want me to back up? Elena – I would feel safer.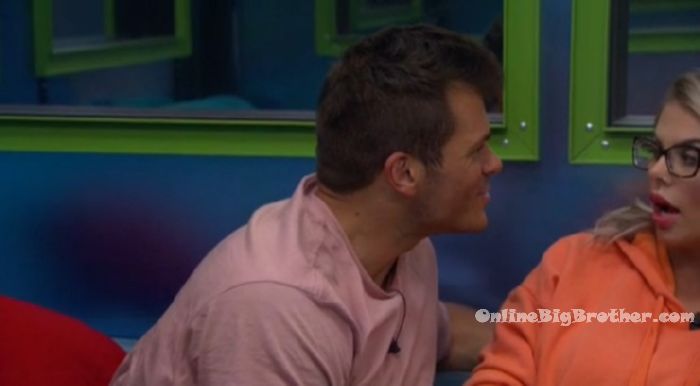 10pm – 10:30pm Lounge room. Paul, Raven, Alex, Kevin, Christmas, Jessica, Elena and Jason are playing mobsters.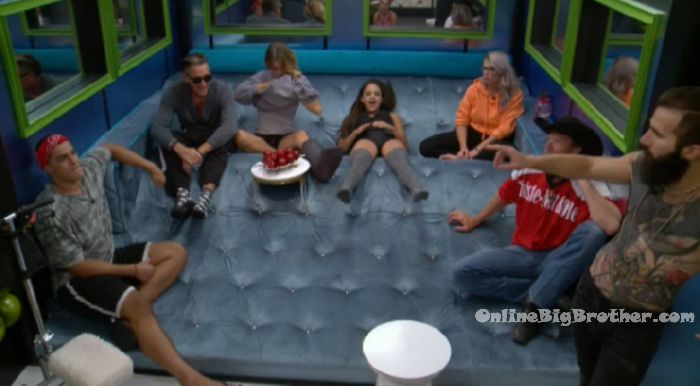 11:05pm Bedroom. Alex, Jason, Josh and Kevin.
Alex – here's the thing next week we have a lot of competitors that are on par or a little bit better than us. Elena is smarter and stronger than she is giving off. Kevin – its time now to actually win things. I knew most of the answers. It ain't like I threw it but I didn't give a f**k. This is tough waters to navigate here. There are only two people before the jury. We you get people out after jury they don't get as mad you know what I mean. You get 1 more person out now that is going to the airport and going the f**k home. The other people will go but they get a $1000 a week to sit in a mansion. The next person out is going to be the maddest person out than anyone. Kevin – next week is like kissing your sister… Alex – kissing your sister .. oh god Kevin!?!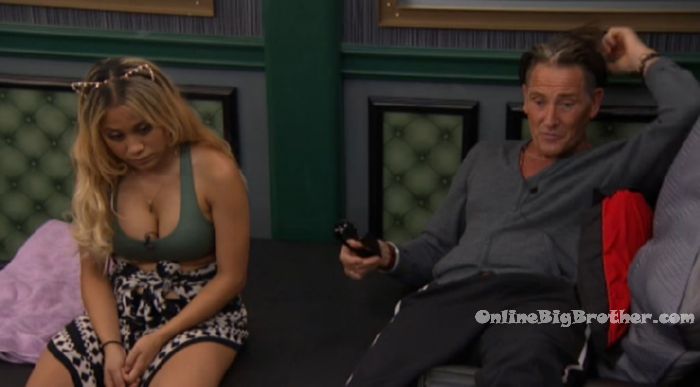 11:13pm Paul gets his HOH room.
Paul reads his letter:
Hi my love,
I am so proud of you and all your accomplishments and remember always stay true to yourself like I know you do. Don't ever change. Words have not yet been created for my love, admiration and pride for you. Well I finally did it, I married Paul. But in true S____ style just before I was getting in the car to go to the church the wind blew my veil into the rose bushes while still attached to my damn head and ripped a nice hole in the back. When I was trying to pull it off the thorns still wearing it down the isle though it reminded me of the last time I was in LA and we took your car for a spin and the car died just like veil and with laughter you have taught me to make everything work and carry on. I miss you so much and have to go through another summer of you not visiting me in Vancouver so I will just hang out Paul Brian because he has everything. Every here missed you so much and is cheering you on and cannot wait to get your crazy Paul energy back in Vancouver. I relive so many fun memories of us and my heart is so full knowing that I get to create new memories of you for the rest of my life and laugh our faces off. I cannot wait to give you the biggest squeeze ever! From me holding you as a baby to us holding vodka bottles and then downing them before you took me to fright nights to scare the sh*t out of me to all your pranks we have pulled on everyone. I could not have asked for a more perfect friend / cousin. I love you, I love you, I love you ..
11:35pm HOH room. Paul and Mark.
Mark – congrats I am happy you won this one. Paul – thanks, this was an important one. Mark – this was huge bro! Paul – now I need to do some thinking. Mark – do you want to discuss anything? Paul – no I'm fine. I already thing I know what I'm going to do. They're (Cody & Jessica) probably going to come up here and try and talk to me. I'll humor them but just the way things went were very bizarre. I am calling bluff though. I am calling mucho bluff. Mark leaves.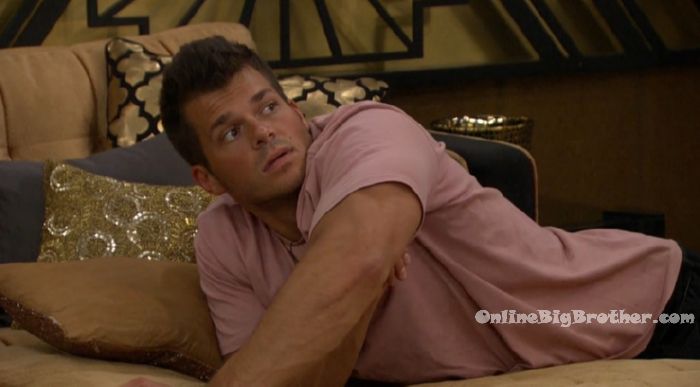 11:36pm – 11:42pm HOH – Cody and Paul.
Cody – I just wanted to get out that thing about Mark. Paul – yeah, lets talk real quick. Cody – when we were establishing stuff.. re-establishing our trust or loyalty in this game. I said to Mark – what are your interests in the house? And Mark said me, Elena and Paul. And I said I dig that. For what its worth, he's always been right there for ya. And that's all I really got to say. I was trying to re-establish some kind of bond with whoever when I came back in this house. Mark was the first one and I was like I've got your back no matter what. What are your interests in the house? You and Elena .. so. Paul – that's awesome. Cody – that's all I wanted to say. Paul – so who brought up the conversation though? It was you? Cody – yeah. Paul – I am just cashing cheques so that stuff isn't weird. Everything you got with them is whatever. Paul – question .. not allowed to talk about your temptation thing? Not at all? Cody – not at all. Paul – okay. Other than that what I did want to talk about .. well I guess you just kind of reaffirmed it as far as re-establishing yourself in this game … I can only do so many things. Cody – I'll figure it out. Everything between me and you is between me and you. But with re-establishing my relationship with Mark I wanted to know what his interests were and I would never attack that you know what I mean. And that wasn't the only reason .. like everything was already done and I gain nothing by doing it again. It would just be a petty thing at that point. I wanted to keep continuing to make bigger moves .. I guess.

Paul – the only reason I was keen on winning was for my safety and this was probably the one week before jury and there is a lot of weird sh*t going on .. on certain ends and I need to fish out. And I think there are certain moves that I will make that will make things come out because I have question marks in a few places and its not something I am willing to disclose just yet for the sanctity of my observations and things that I've been noticing. I know that I didn't win this HOH comp. A lot of people didn't want to win this HOH comp and there is a lot of digging I need to do so whatever happens just don't act. Cody – we're chilling. Paul – there are certain things that I need to come out … so just don't act… just let me do my work. Cody – we're going to chill off to the side. Please do not take anything I do emotionally because I do not play this game emotionally. There are certain things that people might not understand or .. its not that way and I am willing to talk about it after the fact. There are certain things that I do that I do not tell anyone because people are not that textured in the game. Cody – I understand that aspect. Paul – we had a conversation when you came back .. I haven't forgotten that.. just understand that I have a method to my madness and this is day 136 for me and I look at things from a different angle. Cody – whoever you .. the only thing closest to me right now is Jess. Paul – things might not make sense to you at first .. or they might depending on what you're seeing and what I'm seeing but just give me a minute before you hop? Deal?! Cody – deal. Paul – chow buddy. Cody leaves the HOH room. Paul – idiot!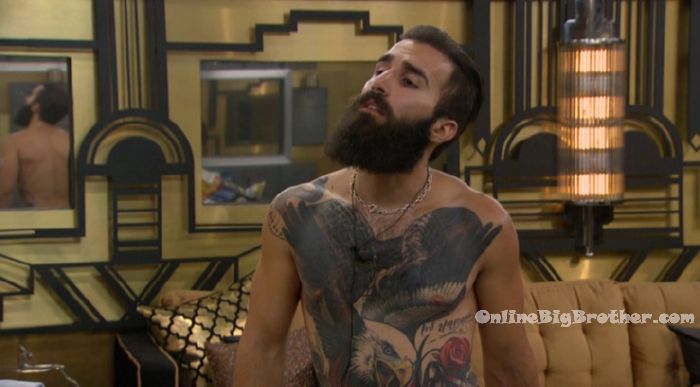 11:50pm HOH room – Matt, Raven and Paul.
Paul – okay what observations have you made? Jason and Alex? They're good right? You don't think there's any backwards? Matt and Raven – no. Paul – alright so Cody came up here and reaffirmed that him and Mark are (tight). Matt – oh yeah, that's nothing we didn't know. We at least need to find out if they're bluffing or if they're for real because I asked him so you can't talk about your temptation and he said nope. Which is bullsh*t because you can definitely talk about it because I had a temptation and I know how that sh*t works. You can talk about it. You just can't lie about it. So now they lied about it and now they don't want to talk about it to not further a lie. Because I had the temptation and I could talk about it as much as I want but production said you cannot lie about it and we will not lie for you. So as long as it does not get revealed nope I just can't talk about it. If you can't talk about it … then how come you just talked about it!? Matt – my question is .. if what she said is true .. what advantage did she gain by saying it right there?! Paul – it doesn't make sense… So what I plan on doing is expose them one way or another … Unfortunately Cody and Jessica making a statement like you did on live eviction about having a certain power and then withholding that information is just something that can't happen .. so if you do have this safety then don't take this personally because you're safe. Right!? But its something we need to know since you can't talk about it so here you go. boom boom! Then Mark & Elena. Raven – Mark and Elena won't talk or look at us. Paul – Mark is just submitting because he's scared. Paul tells Matt and Raven how Elena was calling them fake. Paul – if they make me make a move it will be on my HOH .. and I'll just say Mark and Elena.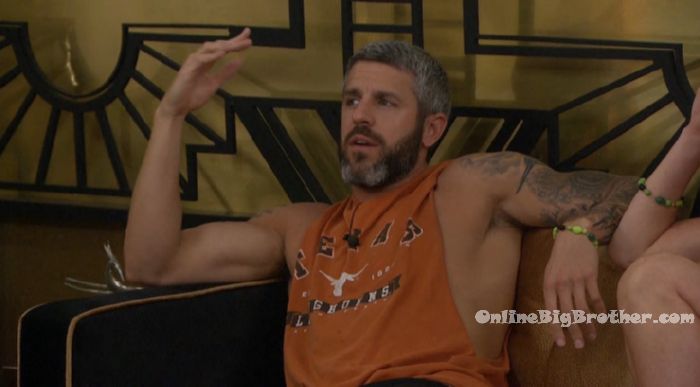 Paul – they (Cody and Jessica) told me so that I wouldn't put them up. Like as a scare tactic. I think she can change one nom. I don't think she can change both.. that's a Coup d'état. Or maybe you can change both but you can;t replace them. Matt – if we wanted to get really grimmy .. we could tell Mark what Elena said about him. Raven – she (Elena) said that if Mark won HOH she would drop him .. not talk to him because she didn't trust him. Matt – something for the back pocket… that's not me but.. Paul – maybe I pull Elena up here and tell her that I might use her as a pawn. Christmas joins them. Paul – what I am thinking.. Plan A – is Cody. What I am thinking is call their bluff. Best case scenario is she has a one nominee thing to keep one nominee safe. She pulls herself off because she has the confidence that Cody would win the veto and take himself off. Another scenario is they pull both of them off, then Mark and Elena go up. Worst cast is they have a Coup d'état.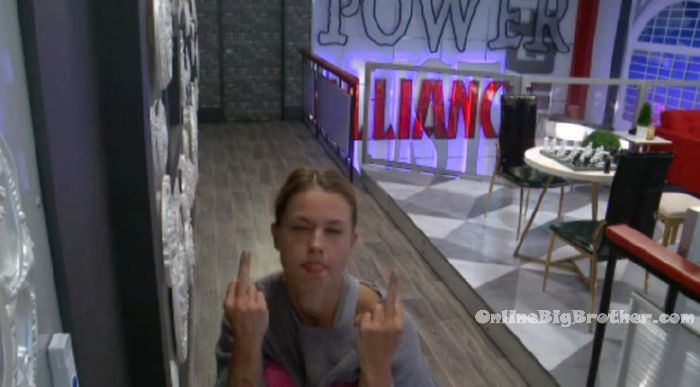 12:44am HOH room. Elena and Paul.
Paul – I hope that you have been picking up my clues. Elena – at this point people are just being weird around me. There is nothing I can do about Mark being attached to him. The things that I tell you are for you. Elena – so I am going to go up tomorrow. Paul – no, unless .. I can going to call their bluff tomorrow. I am going to call it and based of of what information comes from that… You might be a pawn. You might go up but you will not go home. If you truly trust mom. Kook me in the eye's and know that I am doing.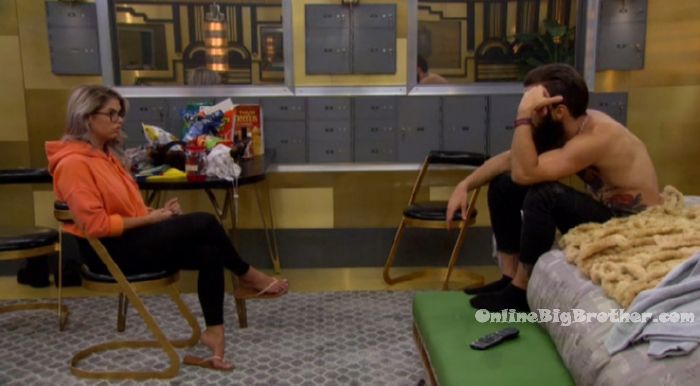 2am Alex scares Josh in the Havenot room.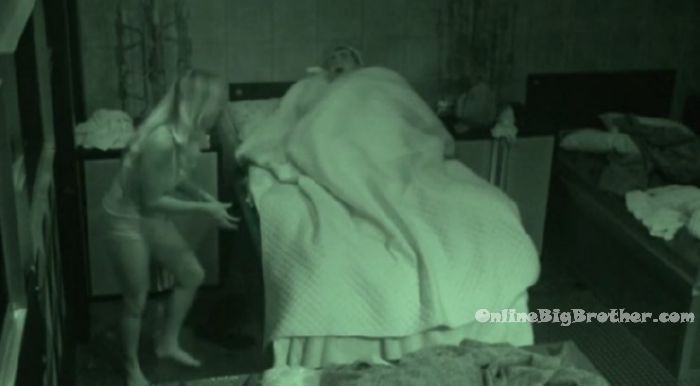 2:30am – 2:40am HOH room – Paul talks to the cameras about his moves / strategy so far. People just listen to me and do everything I say. It still hasn't made any sense for these people to take out the Vet. Crazy! Every single week things have happened the way I wanted to. I'm the puppet-master. Big Brother calls him to the diary room.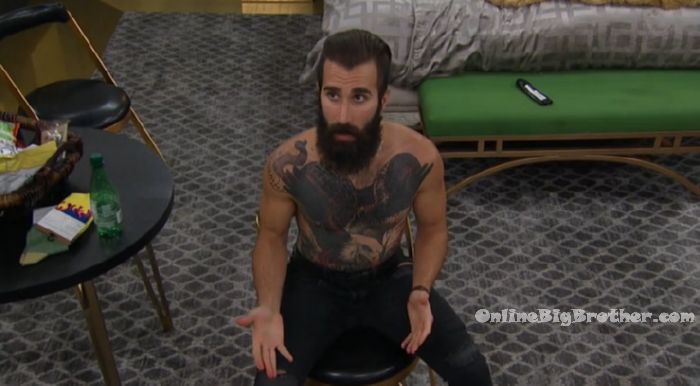 Links to the ranking system
Rank your house guests here
For those of you that like Statistics here are some expanded reports.