| | | | |
| --- | --- | --- | --- |
| POV: | ? | Next POV: | Aug 4th |
| POV Used | ? | POV Ceremony | Aug 6th |
| HOH: | Angela | Next HOH: | Aug 9nd |
| Noms: | ROCKS and Scottie | Have Nots | |
Big Brother Spoilers – The HAcker competition has begun..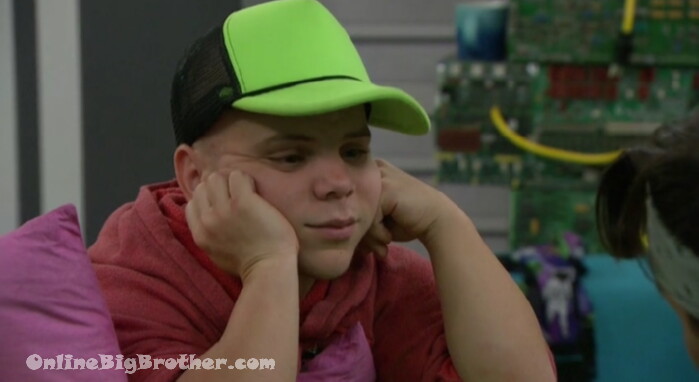 12:26pm Fes and JC
JC tells him Rockstar is the target. She wanted a pawn that wasn't close to her but is still a friend. Jc knew the nominations were going to be ROCKSTAR and Scottie. Jc think sFes likes Haleigh a lot.
Fes – no, why do you say that .. I just want to trust her because i've been working with her
JC – you do like her a lot
Fes – she's 21 i'm 26 (maturity you're 16)
jc – 5 years what the f* .. .it's obvious
JC – why did you use that veto on her.. tell me show me up..
FEs – because at that point I was good friends with Kailtyn and haleigh and I didn't want them to sit next to each other on eviction night
JC says at that point he knew KAiltyn was playing with all of them. Says at that point they were over Kailtyn so "that's not an excuse"
Fes tries to explain..
JC – you are coming up with reasons right now 3 weeks after you used it
JC – just admit it you like her
JC says it's not beneficial for his game if he's in a showmance.
Fes says Bayleigh doesn't think it's JC that flipped and she knows it's not him. Fes thinks they can trust bayeligh.
JC – Bayleigh we can lose her at any moment . .
JC says he has a good social game he always tries to save himself and he throws Fes' name out there too. (to benefit him)
Fes – I hope Hayleigh isn't working with Brett.. .
JC tells him she's not.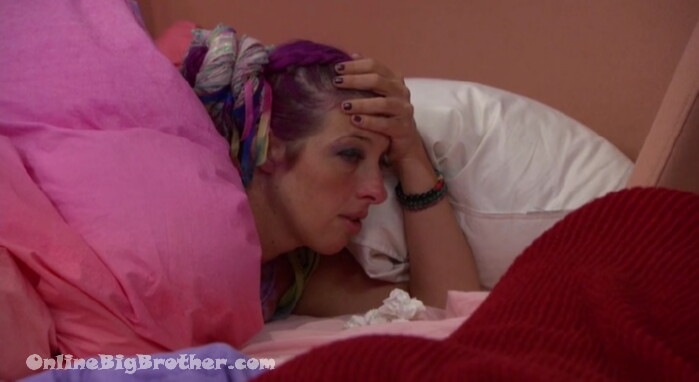 12:35pm Rocks and Fes
Fes tells her the HAcker comp isn't a physical thing she has to get her head in the game..
ROcks cries – If Brett wins this thing he takes my vote away he plays in the veto .. I don't feel positive
FEs – Brett hasn't won a comp ..
FEs adds Brett's odds are 1 in 11
RS – neither have I
FEs – you've gotten close.. twice.. three times..
ROCKS – it sucks..
Fes says the hacker comp gives them another chance.
ROCKS – Can't trust Scottie..
RS – her name wasn't in my mouth the dumb b1tch..
RS – f*ing ridiculous
RS – Spoiled a$$ rich kids keep winning
RS – sorry I'm sensitive
FEs says he's nervous too he's thinking he'll be the replacement nomination
FEs – if something not in our favour happens I get backdoored
ROCKS – win teh veto
Fes – I know but if I don't get picked to play then I get Backdoored hopefully I get picked
Rocks – there's no houseguest choice now..
Fes – they said everyone"s name is in the hat
Rocks – I'm not doing very good at this game I've been on the block 3 times..
Rocks says she doesn't like any of the people in this house.
Rocks – Brett keeps winning.. JC is really comfortable all the time.. Angela.. KAycee they are real comfortable.. Brett keeps winning.. Sam is … working with Brett..
Rocks – Scottie and Tyler are working together they are working with BRett.. the apex of my problems is Brett and Brett won't f*ing leave.. (own it)
Rocks – there's this hacker thing and the f*ing veto.. Scottie could win that and take himself down.. I'm going to try but I've been trying.. I don't mean to sound so defeated.. i'm just… I don't know .. How am I supposed to feel.
Rocks – There's still powers floating around to. Does JC have a power
Fes – that was bullshit he was sleeping and just went along with it. (LOL rocks was certain JC had a power because she asked him once when he was sleeping and he said yes)
Rocks – there's never any time to process in this game.. I'm still upset with what Happened with the Winston Vote.. I thought Rachel was staying. .
Rocks – I tried to win HOH
Rocks says if she wins the hacker competition she's
Would you take me off if you won
Fes – we will have to strategize..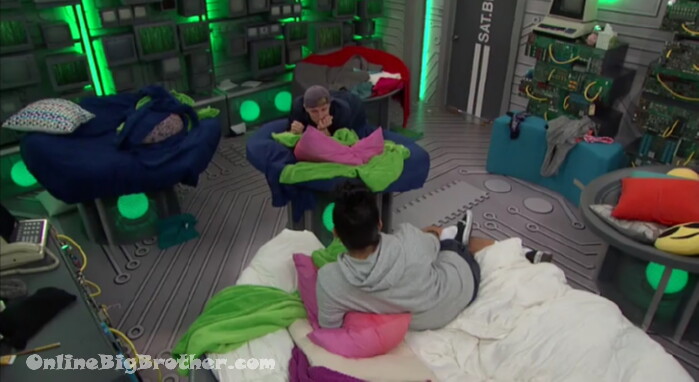 12:54pm Scottie and Kaycee
Scottie brings up Rachel telling him that she had a final 2 with Kaycee, "I don't know if she met too.. which is so f*ing stupid"
KAycee tells him she trusts Scottie way more then the rocks.
Scottie says his name has been in ROCKS mouth like crazy.
Kaycee – that's crazy .. that is why it's scary having someone in the house that just talks sh1t about everyone adn whoever is in power they'll get into their f*ing heads..
Scottie – I can't be so impressionable anymore .. I would believe what everyone told me..
KAycee – it's hard sometimes you get lost in this game.. with the emotions..
Kaycee – Angela is definitely Scottie is the pawn..
Kaycee – she's been wanting ROCKS out since day 1 every since she heard rocks was saying her name
Scottie – OHH hardcore she says alot of names..
Kaycee – I believe it I hear it all the time..
Scottie – yesterday because she doesn't know where the votes are went to Haleigh and my name was the first one that popped out of her
Scottie – and she came to me and said immediately she thought it was Haleigh (You can't make this sh1t up)
They try to unravel all the twists and powers in play this week.
Scottie – it's a shit show
kaycee – keep it interesting (NO)
Kaycee – no sleep
Scottie – till Brooklyn.. it's a song..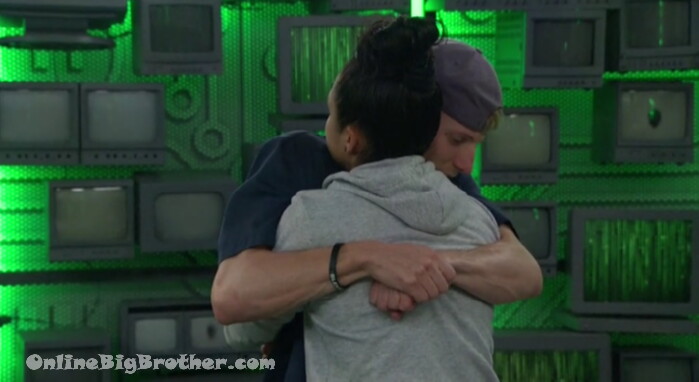 they hug it out..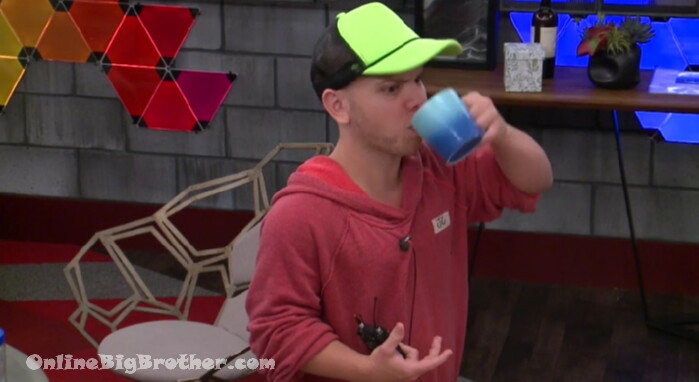 1:09pm JC and Tyler
JC – Fes told me literally right now that I'm the person he trusts the most in this house he's going paranoid or whatever
JC – I don't want him to be that close to Bayleigh
T – he already is
JC says Fes wanted to blow up on Haleigh because Haleigh told Brett she voted for him
JC – I'm like … don't do that.
JC – Haleigh is as weak as you in this game (to fes)
T – ou said that to him
JC yeah..
JC also told Fes that BAyleigh is in Haleigh's head.
JC told Fes that haleigh wasn't 100% with Fes which is stupid for her because he risked his whole game for her.
JC is just trying to steer Fes away from thinking Haleigh is working with BRett..
Tyler says she might try to be working with Brett but Brett isn't working with her.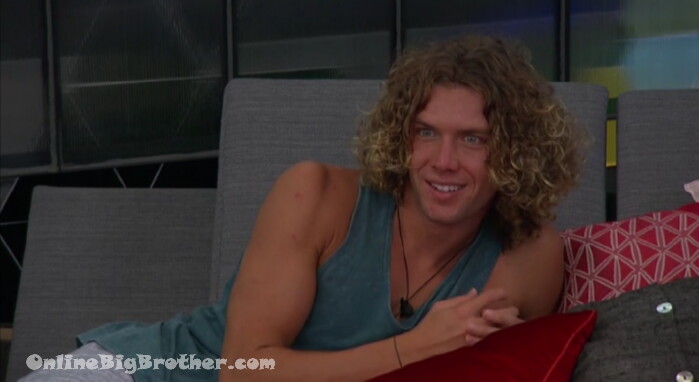 Tyler- Bayleigh told me she trusts me now more than a lot of them because I came to her before the vote
JC claims that he controls fes and if Fes wins HOH he'll be able to put up his targets. Tyler says that is why he doesn't want Fes to go
T – someone else will get him out..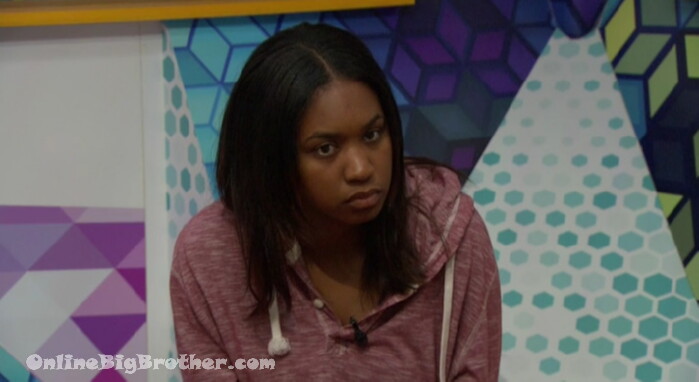 1:02pm Bay and Brett
They're talking about not being good around people that are crying.
B – if I was that upset I would want people to leave me teh f* alone
B – same..
Brett – it's a respect ting for me while other people smother
Bayleigh says Rockstar isn't like that she always says "I'm a koala I want people around me"
Bay – it's hard.. I'm not good at that.. that's how I wasn't raised. .
Brett – you got to figure it out on your own you can't be dependent on people
Bay – yup
Brett – like when Someone's not there how are you going to handle it
Bay – Exactly
Brett – you have to figure it out on your own
Bay – Rockstar like.. literally you are an adult.. you know you are going to have to figure it out
Brett – yeah..
Haleigh joins them
Bay – I'm freaking out about this comp
They talk about the hacker comps. Brett thinks it gives them something to pass the time. Haleigh thinks it'll just breed paranoia. BAyleigh doesn't think a alot of people will use it.
Bay – keep noms the same
Haleigh – if you do change it it doesn't keep you safe all it does..
Brett – stir sh1t up (ewww gross nobody likes that)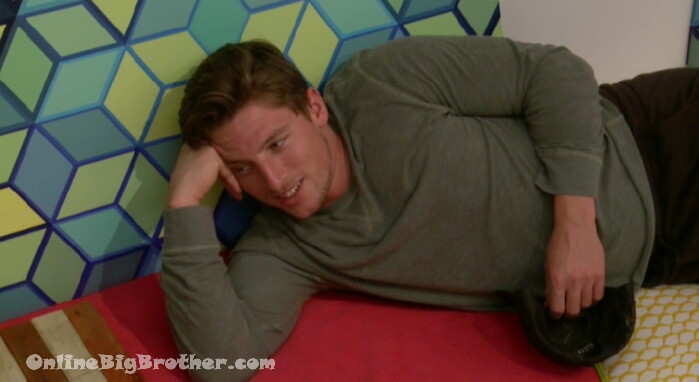 1:56pm Feeds still down for HACKER competition
2:42pm the still down yo
3:42pm NO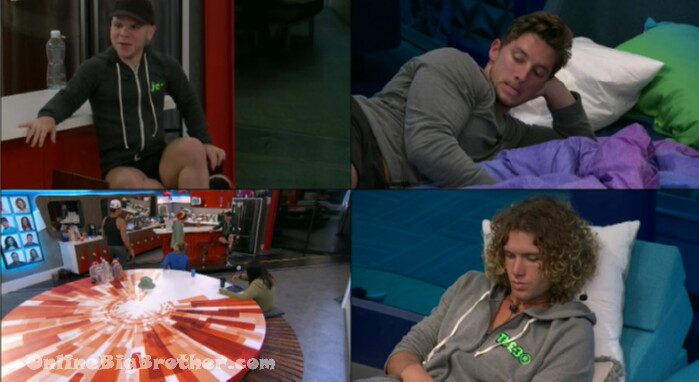 3:51pm Feeds return..
Fes says the hacker competition was stupid.
BRett, Tyler and Scottie.
They agree the person that won the hacker competition won't be telling the HOH..
3:56pm Brett says he's getting tired of staying up so late and waking up early just waiting around
Scottie – you guys were up late last nigh t
Brett – we all were
Scottie – I wasn't
Brett – it was 2 in the morning .,.. I could not get to sleep
Brett – I was wired I tin I drank coffee..
Scottie says JC came out of his Diary session and ask him where everyone was
Brett – yeah it was late then .. dude..
Kaycee and Tyler thinks Brett won the Hacker comp because he yelled the 4 sqores and 7 years ago signal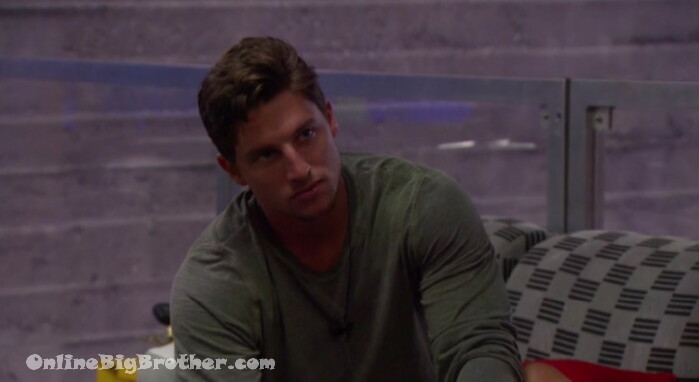 4:18pm Angela is running laps upstairs. Brett is up there with her "I think Scottie got it"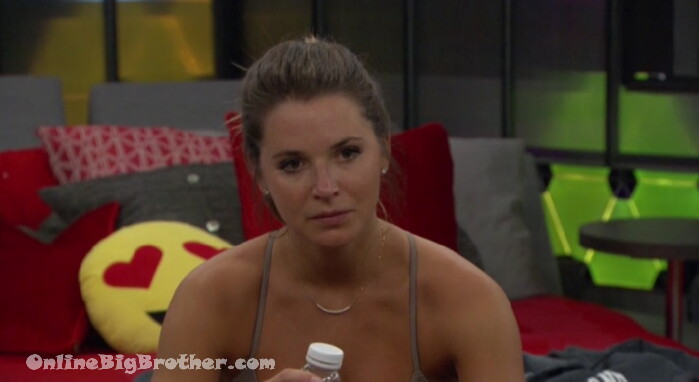 4:24pm Angela and BRett
Angela syas ROCKS wears her emotions on her sleeve she didn't win the hack
Brett thought Tyler had it because he was acting strange.
Brett – I f*ing s*ed I got 1
Angela – I got 2 .. Scottie is a f*ing genius I've been saying this all along..
Brett called into the Diary room
Brett – really hope I don't get put up..
An easy way to support the site if you are an Amazon shopper is to make your purchases through our link. You pay the exact same thing but we get a small % commission. It doesn't cost you anything and helps us out.
Amazon Canada
Amazon USA
Rank the houseguests!
Easiest way to Rank the house guests use link below