Head of Household Winner – ENZO YO!
Have nots – Dani, Tyler, Da'Vonne
Nominations – Kaysar & Kevin
Power of Veto Players are –
POV Host:
Power of Veto holder –
Power of Veto Ceremony –
Safety Suite –
Live feeds —-> Grab your Live feeds here. Try it free.
Rank the houseguests —-> Big Brother 22 Ranking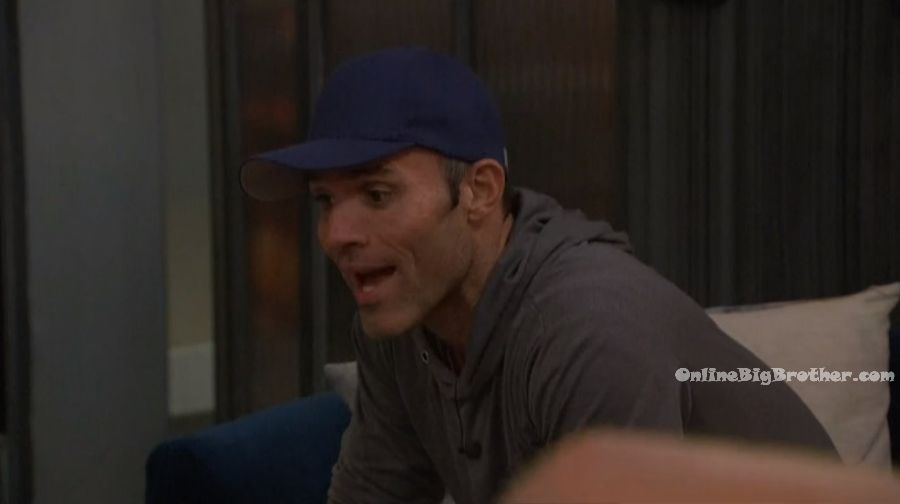 9:25pm HOH room. Enzo and Memphis.
Enzo – man this HOH sh*t is exhausting! Memphis – I never knew. I never won. Enzo – everyone is trying to come up here and pass their agenda. And I am like hold up .. hold up! I won HOH. Memphis – I am glad you felt the same way. I was like I don't give a sh*t about your agenda. Enzo – YO! You win HOH and you do what you wanna do! Memphis – I never went into someone's HOH and did that. Enzo – I just went in and was like I'm safe? Okay .. goodbye! The girls think they run this house and we got rid of three of them already! Memphis laughs – but its so true. Enzo – now all anyone cares about are the votes… I am like I don't give a f**k about who voted for who. Get the f**k out of here yo! Memphis – You put two people up in the mindset that one of them has to go. Figure it out! Enzo – exactly! I like Kaysar and I like Kevin. The whole house is coming up here saying f**king Kaysar .. OKAY! But I can't play in the HOH! Memphis – yeah and you don't get a vote. So what the f**k!? Its not on you anyways. Enzo – its not enough that I didn't put you on the block .. now you want to tell me what to do!? Then I have Ian coming up here and he f**king talked to me for a f**king half hour. He asked me if one of them wins veto who are you putting up. I felt like saying you .. so you better win the POV .. that's what I felt like f**king saying. Memphis – if he asked me one more time what I am up to I am going to lose my sh*t. I'm up to nothing! What do you think I am up to .. I am stuck in this house.. I am not up to anything. I am up to nothing! Enzo – some mornings I'm not in the mood to have people ask me what I am cooking… I'm like dude get your f**king face out of my frying pan. Get the f**k out of here YO! There are too many people in this house.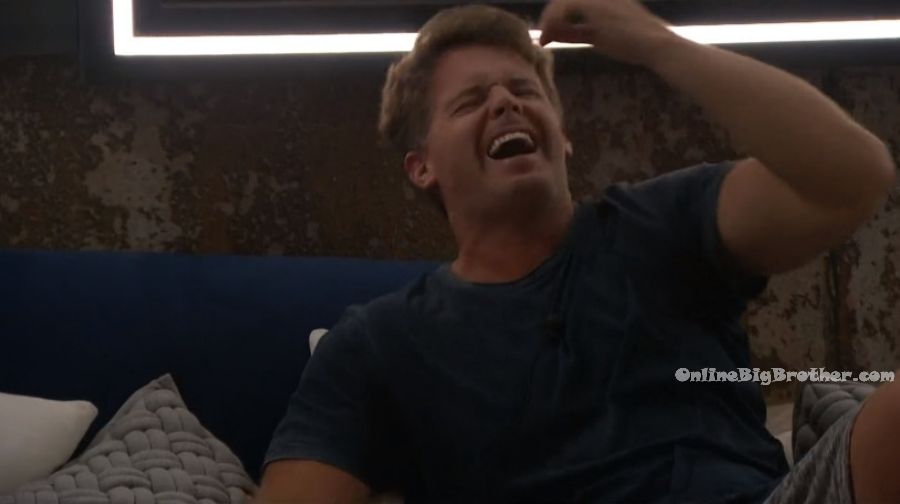 10:10pm – 12am HOH room. Cody and Enzo.
Cody – when someone like Christmas likes you .. that's huge. Enzo – and Day is jealous about that. Bay, all she said is I am with it, I'm with it. Maybe she is talking sh*t behind my back but at least to me she is saying she is with it. Cody – I don't think Bay is like that bro! She was like I don't care who goes … as long as they go. Cody – I've been so f**king lucky ..the first time I had Derrick and now I have you. Enzo – yeah .. you're the only person that knows I might backdoor Ian. I don't know if Dani and Nicole are going to like it. I don't know if the girls are going to like it. Tough sh*t .. like what do you want me to do .. win f**king HOH and then you figure your sh*t out. Like that's it.. I won HOH and you guys got a free week to hang out and listen to music. They talk about the veto. Enzo – I want Tyler in it .. I think that is who I am going to pick (as house guest choice). Dani joins them. Cody – my goodbye message to Kaysar .. You are not a threat Kaysar ..you have played how many times and I have played the game 3 times.. and I've been in here more days than you in one season. Enjoy outside .. see you later. Dani – I actually like Kaysar but he is so bad at this game. Enzo – Bay wants to host tomorrow. Dani – I thought you said she wants to play? Enzo – but now she said that she wants to host. Bay is going to host. I just trust Tyler more than her because Tyler wins sh*t. I think Bay will win something soon at some point but right now the confidence isn't there. Tyler is a f**king monster. And I do not want to win this comp because that's now four. F**k that! Because after this one .. they're going to start saying we need to get rid of Enzo!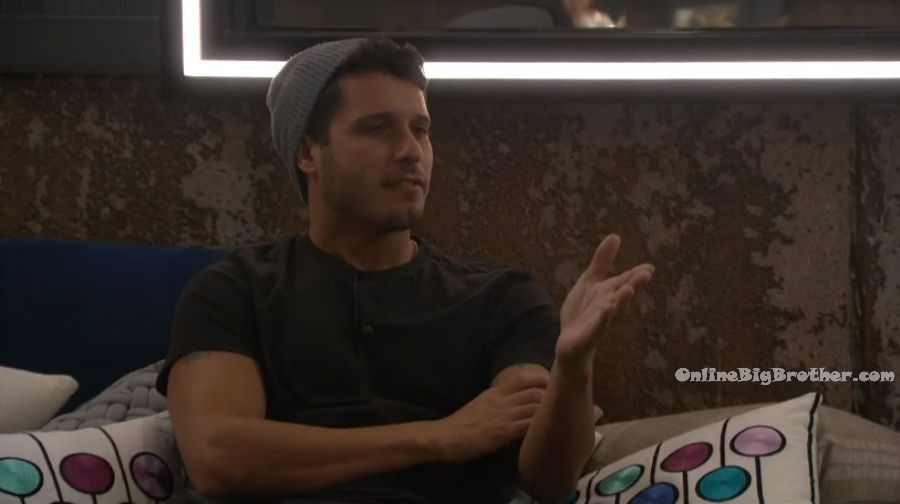 12:05 am
Dani and Cody
Dani telling Cody that them getting Kasyar out is for Cody and Tyler. She knows Kaysar isn't coming after her.
Dani – I hate the slick 6
Enzo – I hate that name.
Dani says that Bayleigh is really getting on Christmas' and Nicole's nerves.
Dani – just little comments
Cody – I try to say nothing when I'm around Christmas. I feel like my personality is one she won't get along with so ai try and stay as quiet as I can.
Enzo called to the Diary room he leaves.
They agree Christmas is loyal, Dani says she has no idea what is going on.
Dani – she will put up Bayleigh and Da'Vonne.. if it's endurance we'll throw it to her.
Dani mentions that Enzo told her he hasn't talked any game with Ian "I said if Kevin comes down put Ian up to scare him"
Cody – you think Ian will stay over Kaysar
Dani – yeah.. you don't think so
Cody – holy sh1t, I would not want to send Ian home now.
Dani – he doesn't want to put up David.
Cody says Enzo has mentioned taking Ian out he wants to send a winner out and it won't be Nicole. Cody says that is Enzo's big move, he's been trying to get Enzo to postpone it.
They agree Bayleigh and Da'Vonne have to go up next week and one of them has to go. During the double eviction Memphis is a perfect target.
Dani – there's no way around it we have to get one of them out next week.
Dani says Bayleigh and Da'vonne will be very mad so they they ave to do it next week
Dani – he's (Enzo) wanting Da'vonne but I'm leaning more to Bayleigh
Cody – I'm leaning more towards da'Vonne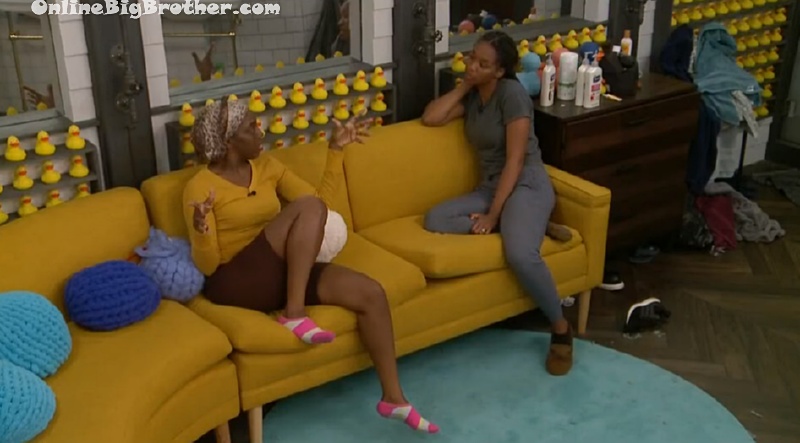 12:08 am Bayleigh and Da'Vonne
Da'Vonne saying that Enzo thinks that their slick 6 is like the new brigade
Talking about side alliances they all have. Da'Vonne mentions that Tyler (or Cody?) has, Enzo, Dani, Nicole, Ian, David, Memphis, and Christmas
Bayleigh – here's the problem if he trips up and wins another HOH he'll have to show his hands.
Bayleigh says when she prays she prays for people to "fall into their own traps"
Bayleigh – YOu can overplay yourself too
Da'Vonne – he's spreading himself thin.
Bayleigh says the jury is going to be bitter towards Tyler if he's good with everyone and has to start cutting people
Da'Vonne – people's feelings are going to get hurt people's feelings are invested this season
Bayleigh says that is why she wants to win HOH next week to get someone out before Jury.
They talk about there being two double evictions this year.
12:20 am Kaysar joins them
Sounds like they got to see the veto competition apparatus or have been given some hints. Da'Vonne asks him if Kasyar is "Flying through the sky"
Kaysar – I have two options.. 'A' I have to freaking win my a$$ is on the line or 'B' if I continue to suck I have to ask you guys for votes to stay
They talk about how close Kasyar got to winning the HOH.
Kaysar – I'm going to start teaching the class in thug-economics.
Da'Vonne – if you win the veto we'll give you the certificate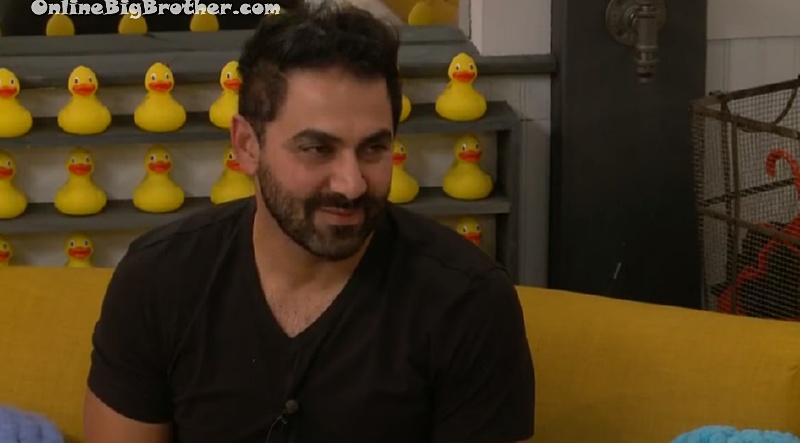 12:27 am
Kaysar – this is the build-up it had to happen this way. I'm going to win the veto then we're going to get HOH one of us will and then we're going to wreck this house.
Kaysar – that's how it's going to happen.
Baylegih – set it all on fire
Kaysar – we're not going to sit back and watch this continues this way
Da'Vonne says this is the Ksyar they like over that "Moopy a$$" Kaysar they've have recently
Kaysar – Moopy a$$? I'm turning it down
Bayleigh – you took 4 days off last week..
Kaysar – I thought I freaked you guys out a little bit. I got too aggressive
Bayleigh goes on that Kaysar needs to find a balance.
They joke that right now Kaysar is "good" but it's midnight and he's only been this way for "3 seconds"
Bayleigh – where was this all day
Kaysar – I've been like this for hours. when was I Moopy?
Da'Vonne- 2 hours ago
Kaysar says nicoleA is an incredible person but she wasn't ready to come back into the game. "it was not good for her mental health"
Kaysar says Keesha had no idea what was going on. he remembers telling her and Memphis that Keesha was going to be nominated and both of them didn't believe him
Kaysar – Cody and Tyler were starting to put something together. Cody wanted to come after me but initially, they wanted to pul Janelle into their alliance but that got f*** up because we played safety suite.
Kaysar – started off Get rid of Kaysar pull Janelle in to take them both out.
Bayleigh asks what made him think that
Kaysar – that first day Cody gave me a different answer than everyone else I felt safe until I had a one on one with him. I went in there and he told Nicole something, Janelle something else and you guys something else. He told everyone he knew who he was putting up. He told Nicole he knew who he was putting up, He told Janelle he would like to work with her one day and she's good. He told me he had no idea.
Da'vonne – mmmmmm okay
Kaysar – he couldn't look me in the eye his eyes were all over the place so I was like this man is lying to me
Kaysar – he gave me this sob story that there are couples in this house and he's in here with nobody
Kaysar adds he noticed everyone was asking him if he was playing in the safety suite but they weren't asking anyone else.
Kaysar retells the story about the first safety suite where he ran downstairs grabbed his card and said "I'm going to play" right after Janelle said she will play as well
Kaysar – I was like what are you doing? she'll literally run into a burning building with me
they laugh
Bayleigh – that's my girl
Kaysar says once he won safety suite, Cody, Tyler and David changed their attitude with him and they wanted to meet him in the storage room "separately trying to make me feel like .. you know we're good right "
Kaysar brings up David being an emotional player. Kaysar tells them a couple of days ago in the bathroom David was yelling and saying to him top 3 isn't good enough he has to decide if he wants to alter the game right now or wait
Da'Vonne – okay
Kaysar – so he believes right now he's sitting third wheel or low man on the totem pole
Kaysar says David is either sitting with "you two" or Cody and Tyle r
Da'Vonne – he ain't sitting with me.. he better not be saying that about us
Kaysar – he's not telling me sh1t but he seemed to be really upset about something
Kaysar – he's a little too emotional for this game.
Kaysar – If I don't win the veto .. I hope I win the veto but worst-case scenario is I will have to turn him
Kaysar – they were trying to put him on teh block this week
Da'Vonne – were they
Kaysar – yes
Da'Vonne – how do you know? who told you that?
Kaysar – I know
Da'Vonne – who
Kaysar – Just trust me .
Da'Vonne – alright.
Feeds start flipping to the conversation in the HOH
Day and Bay keep badgering him how he knew they were trying to get David nominated.
Kaysar says Cody and Tyler are running Enzo's HOH.
Kaysar – this is what else he said.. Why the hell did you put me up I'm a free agent I didn't want him to tie us together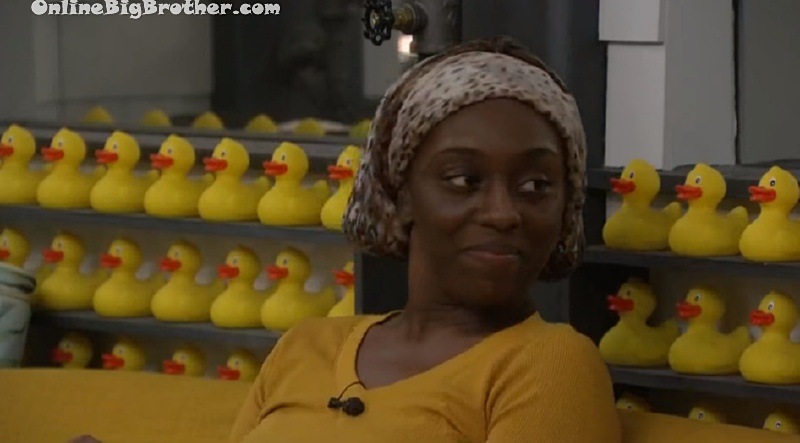 Kaysar – he said no they told me that there's an entire block that has banded together and it's coming after us
Kaysar – Cody ios trying to make it seem like we have an alliance all of us.. and if they don't take us out we're coming after all of them .. that is what he told me this afternoon
Da'Vonne – that's scary
Kaysar – It's obvious. Tyler and Cody know I'm coming after them if I stay. Enzo knows I'm not coming after him
Kaysar – they f***ing run the house
Kaysar says Tyler told him early last week he was safe so he sat back and ran a test. Did nothing and he was safe. "Because they f***ing run the house. I didn't campaign to a single person"
Kaysar mentions Tyler told him it doesn't matter if Janelle campaigns Kasyar is staying.
Kaysar – Ian and Nicole are like this.. I blew up her game when I told her she has something and he's not included. He was pissed at her and that is why they weren't talking that one night
Kaysar – now they're talking again. he (Ian) doesn't want to work with them (Cody/Tyler) .
Kaysar – he asked me if I won HOH would I go after them. I said yes. He's feeding me information
Da'Vonne – are you sure you're not gettin gtrapped
Kaysar – I know 100%, C'mon this isn't amateur hour I'm really good at what I do
Kaysar – He's the one that told me that they were trying to put David up
Bayleigh – he's your leak
Kaysar – Enzo told Memphis he was tired of David.
Bayleigh – where does Memphis stand
Kaysar – Memphis is a free agent he floats around and does what he needs to survive
Kaysar thinks David will go after Memphis adds that Memphis isn't going after Cody/Tyler he'll go after David.
They start talking about Votes.
Kaysar – I need Ian and David, You guys and Christmas and I'll stay.. oh and Memphis I need Memphis
Da'Vonne – you need six this week otherwise Enzo has to break the tie
Kaysar – Memphis isn't the problem I need David and Ian. Ian might not want to blow his cover.
Kaysar mentions Enzo telling him "the powers that be" cornered him "they were saying they're the show they're extremely competitive.. it was obvious he was talking about Cody and Tyler"
Kaysar – he goes they really pushed me to put yo up they said if I don't do this there will be a battle back and Janelle will come back and that side of the house is all working together
Kaysar – implying we all have a formal alliance he's trying to make it seem like that. He said I couldn't say no to them I had to save me a$$
Bayleigh – you're a loose end why not try and tie you up
Kaysar – I told them.. I tried to play that card.. I said listen I'm a free agent
Bayleigh – you and Janelle have already done so much damage to my game you use my name you tell people i'm 100% locked you tell people you have me I've heard people say Janelle said she has you wrapped around he finger
Kaysar – I never said that
Bayleigh – I didn't say you I said Janelle.. you letting people know that I'm locked.. I had to check Janelle on it so now I'm checking you on it
Bayleigh – now we're in the game Kevin is our friend to. So if you run around telling Kevin that you got Bayleigh locked in I'm going to explode
Kaysar – you want Kevin in this because I've heard it both ways
Bayleigh – that's not the point… line it up friends with both .. whose dragged my name through the mud
Kaysar didn't see it that way and he apologizes.
Kaysar – so I want to know do you guys want to do something
Bayleigh – I want you to win the veto that's what I want you to do
Da'Vonne – yeah
Bayleigh – this is the same conversation we have every week.. the do something is do something
Bayleigh goes on that she's already linked to him and Janelle so the other side won't pull her into anything (so why care?)
Bayleigh doesn't want to dig herself deeper so if Kasyar is gone she's the next on the list (Too late)
Bayleigh doesn't want him using her name when he's trying to get votes.
Da'Vonne jumps in "you did use mine"
Da'Vonne – me and David are at odds because apparently you were running around saying Da'Vonen is in 100% locked and she's clipping votes to get David out of teh house
Bayleigh – week 2 with NcioleA
Kaysar – I did not say that though
Da'Vonne – that's what he believes. He says you are responsible for my name
Kaysar – false that is not true.
Bayleigh leaves. They continue to talk about David, "his conversations are hard to follow he's all over the place"
Kaysar now saying that he's not getting votes sounds like nobody will stand behind him so he'll have to win the veto.
Kaysar – the reality is if they already have their own thing guess what.. whether we Officially band together or not they will come up with some f***ing excuse whether you didn't do your dishes this week or you know you didn't talk to me..
Feeds cut when we're back
Kaysar – they act like this is their house this is what I'm trying to explain to you guys I'm not trying to be too aggressive.. YO wake up!
Kaysar – they are coming after me and Janelle first then they will decide. Do you think they will go after Kevin. No whose left?
Kaysar – we are not on the inside.. they don't ask us about our vote when they are voting because they enough of them.
Kaysar says they're not sharing information and it's making it harder for them, "I want us to be toegther.. and I know it sucks because I'm not in a position to make those demands"
Kaysar says the only people he trusts are Da'Vonne, Bayleigh, and Christmas.
Da'Vonne- if you won the veto and came down would they pt up David
Kaysar – yeah
Da'Vonn e- I thought you said he's working with them
Kaysar says some sh1t went down and David is on the outs, "something happened and Cody got rubbed the wrong way"
Da'Vonne says David told them that Cody was the one that shared the information about day Flipping and said that Cody got it from Kaysar
Kaysar – bullshit he's trying to burn me
Da'Vonn e- Cody told David but it stemmed from you
Kaysar – you think I talk to Cody about anything.. do you see how outrageous this all is.. Cody is trying to burn me..
Da'Vonne – Cody never said it..
Kaysar – where's this coming from
Da'Vonne – David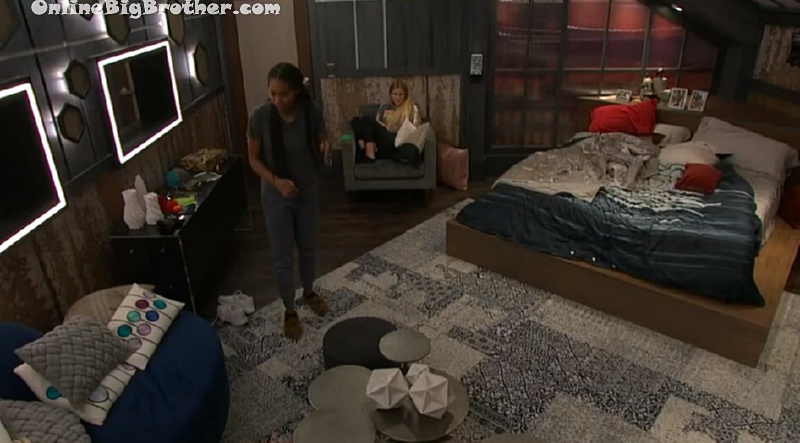 1:23 am Cody, Bayleigh, Enzo and Dani
Bayleigh comes up to the HOH room to tells them Kaysar "has been cornering us for the last hour" (sigh)
Bayleigh – he goes I can't sleep can I hang out with you guys.. I'm like sure it's been 45 minutes
Bayleigh – he said he thought you guys were going to put David up against him he doesn't know why last-minute you guys changed your mind
Bayleigh – and he told us the whole story how he knew you guys were coming after him since day one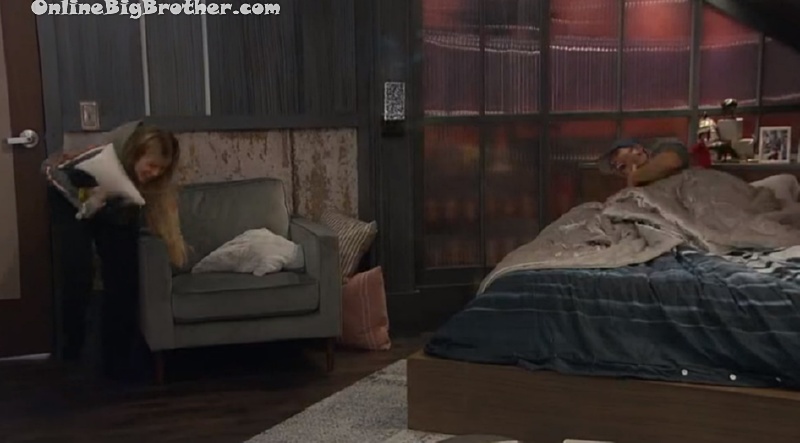 2:18 am Enzo and Dani
Enzo going on about Christmas being a pitbull and how she's going to go off.
They joke about picking Veto players. Enzo will be like "I pick DAYYyyyyvid"
They laugh (HAHAH)
Enzo – f*** yo that will be so great. I hope I don't get houseguest choice"
2:40 am Sleeping yo
9:30 am Memphis is up
Show your support by making a donation.
If you're enjoying our live feed updates this season, please consider donating.
Any amount is greatly appreciated! Your donations go directly to paying the fees required to run this site.