Head of Household Winner – ENZO YO!
Have nots – Dani, Tyler, Da'Vonne
Nominations – Kaysar & Kevin
Power of Veto Players are –
POV Host:
Power of Veto holder –
Power of Veto Ceremony –
Safety Suite –
Live feeds —-> Grab your Live feeds here. Try it free.
Rank the houseguests —-> Big Brother 22 Ranking
4:18pm – 5:21pm The live feeds are blocked for the nomination ceremony. When the feeds return we learn that as HOH Enzo nominated Kevin and Kaysar.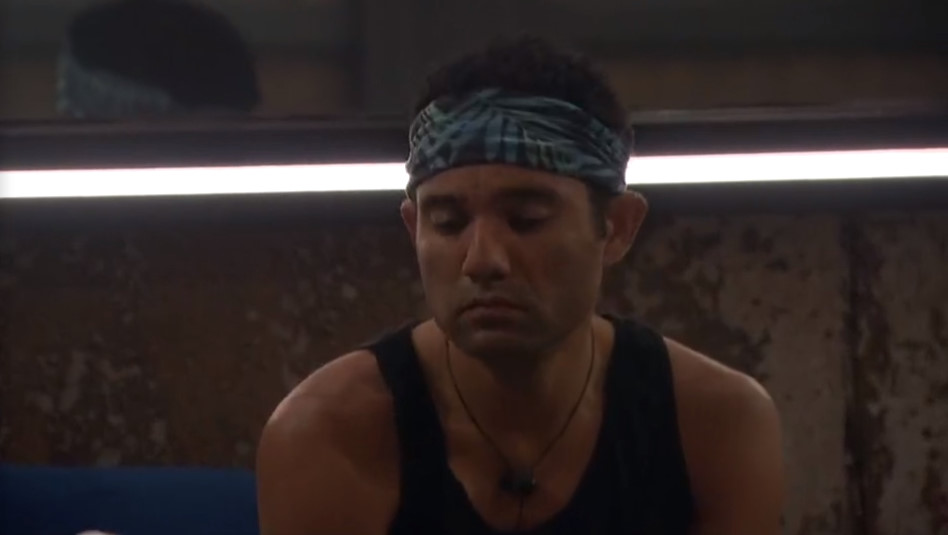 5:20pm HOH room. Enzo and Kevin.
Enzo – I am sorry that you're up there but I've got to nominate two people. You know what I mean. You're safe, just do what you do! That's it! Trust me! Even if he wins the POV, you're safe trust me! You've got my word on that. That's all. I'm sorry. Kevin – I trust you. Ezno – you're safe. There are too many people I like in this house. I've got to put someone up there and no one is coming after you. That's why you're up there. That's it. I hate to say pawn but that's what it is right now. There are too many f**king people in this house. I don't trust anybody. Everyone is a flip flopper. Its good that you came up here. Kevin – is that true about the game talk? Enzo – no that wasn't about you. That was about him. He hasn't talked game to me all season and now today he comes up here and is all gungho. I'm like BRO where was this. Four weeks ago, or two weeks ago or whatever. That was not pointed towards you.. no! Enzo – I did campaign for you to stay and I will not put you on the block again. You're safe! There are bigger fish to fry. You might be the f**king floater that gets to the end. That might be your game. You might do that. Kevin – are people throwing me under the bus? Enzo – no. I don't even know who Kaysar voted for all four times. I try to talk to him and he gives me nothing. That raises a red flag for me. I definitely wasn't one of your targets but I'm not an ally. Kevin – Enzo you are an ally for me. Enzo – you're not a target. You're safe. I trust you and I promise you.. you will not go on the block again. Kevin – do you think I have the support? Enzo – you're safe. My first HOH is not sending you out. Kevin – I am trusting you this week and I promise you .. I will not put you on the block. Enzo – Kaysar has to go. He has started a lot of sh*t with Janelle. Enzo – win the POV and I have a backup plan! Kevin – do you have a backup plan? Enzo – yes. Kevin – is the backup plan more high profile than me? Enzo – yes.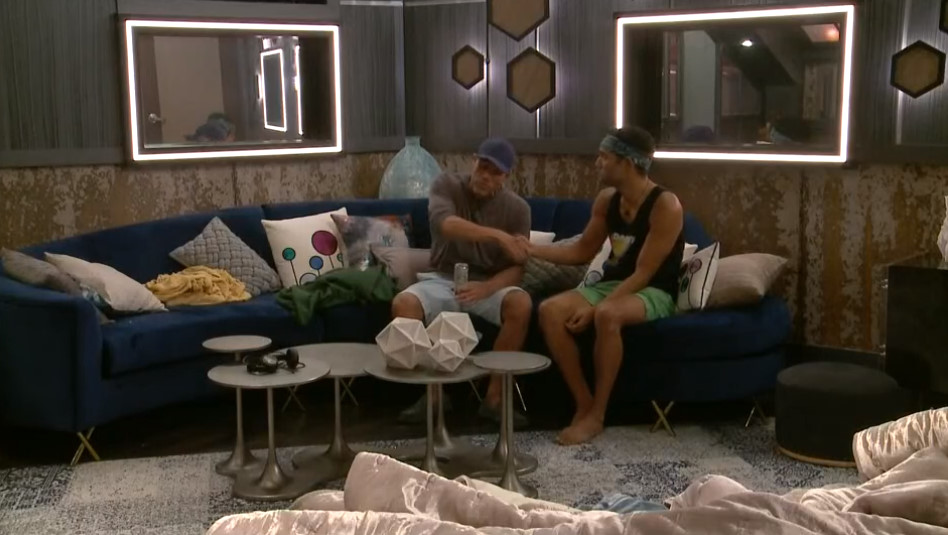 Bedroom. Dani and Kaysar.
Dani – there is still the veto and then there is possibly backdoor. Never say never. Hopefully you're good suspension .. whatever that is. Kaysar – I have to be good at something. Dani laughs.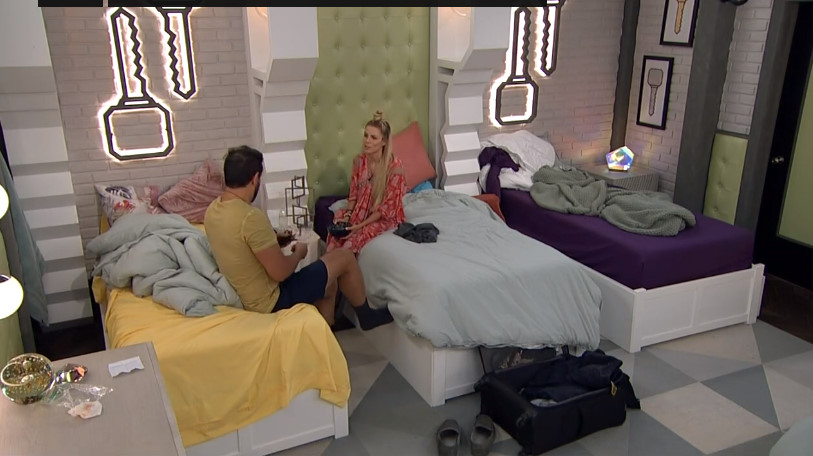 5:30pm – 5:40pm Bedroom. Christmas and Kaysar.
Kaysar – if I get house guest choice, can I pick you or do you not want to expose yourself to save me? I totally understand and respect if you say no. Christmas – let me sit and think on it. Initially I want to say yes but I want to talk to Enzo and see where his head is at. Kaysar – they're all working together and they know if I say in this house I am coming after them. I have got to win the veto. I never came into this game to float. Christmas – no you've done well. You have been the top performer in every competition. Look at the facts! Kaysar – as my heart rate starts to elevate I start to panic and I lose my focus. Christmas talks Kaysar through how to stay calm and focus in the veto. Kaysar – I see the end .. I am going to win! Christmas – oh my god .. its nice to meet you. This is the Kaysar I've been waiting to show up.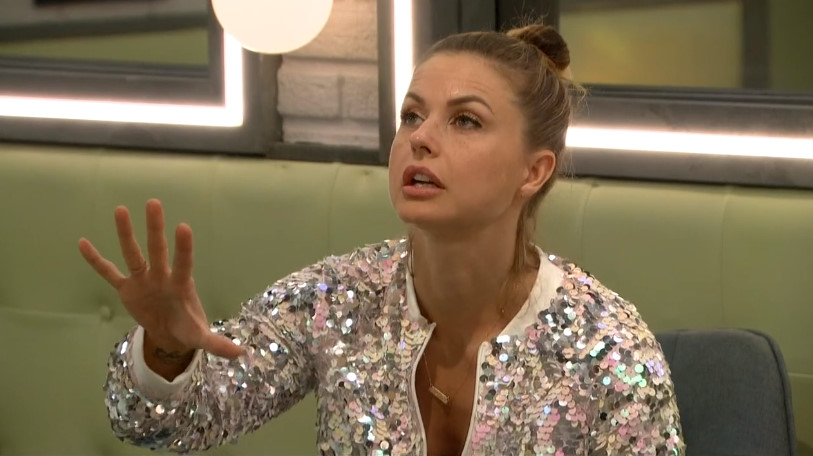 5:55pm Bedroom. Kaysar and Dani.
Kaysar – If I do end up staying and get myself off the block .. its just a game. We're good. Its clear that the lines are drawn. I might have to blow up your alliance. Dani – my alliance? Dani – ahhh.. there was never an alliance. Kaysar – who was in this alliance? Dani – I swear on everything .. Janelle misunderstood what I said. I came to her and said look.. Kaysar – how are all these people voting the same each and every time? Dani – I have no idea. No one wants to go against each other. That's the new school way of playing. Kaysar – why is Cody and Tyler .. there is something going on. Dani – obviously they're tight. Someone is in their alliance and lying about it. Dani – I am close with some people but that four people .. is not an alliance. I can tell you that. For sure! I went to Janelle and said lets make a team and go. I asked her who she was close to and she said you obviously and Bay. The four was never a thing. Kaysar – I believe that but there is definitely an alliance and a voting block.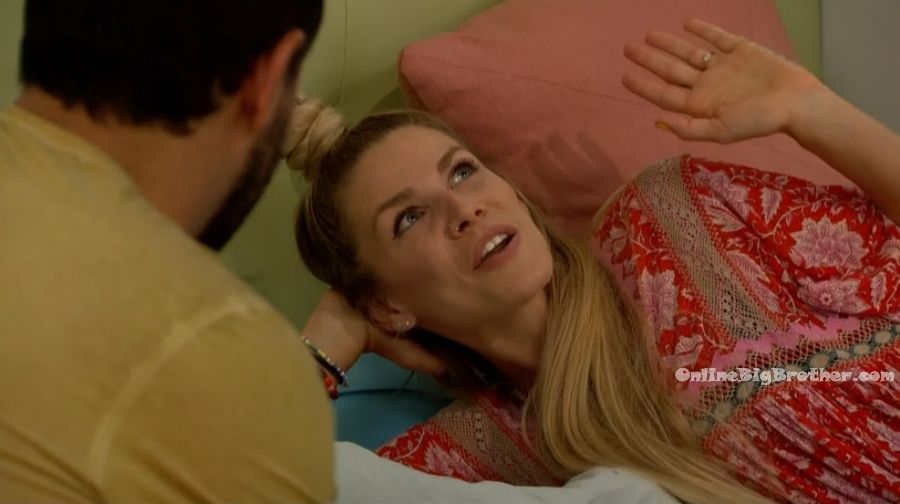 6:10pm HOH room. Christmas and Enzo.
Enzo tells Christmas about his talk with Kevin and how he is not the target and how he will not put him on the block again. Christmas tells Enzo about her chat with Kaysar and how she coached him. She tells him how he asked if he could pick her as House Guest choice in the veto. Enzo – Okay, that is up to you. You can win the POV but that is up to you.. Or throw it. You can say that you're not ruffling any feathers. It takes two seconds and you put it in the box and you're done. Thank you for coming to me and telling me that. I appreciate that. People are doing nothing and complaining. If you want to make a move.. then win something! Make a move! People get upset at who I nominated… be appreciative that it wasn't you! Like holy sh*t!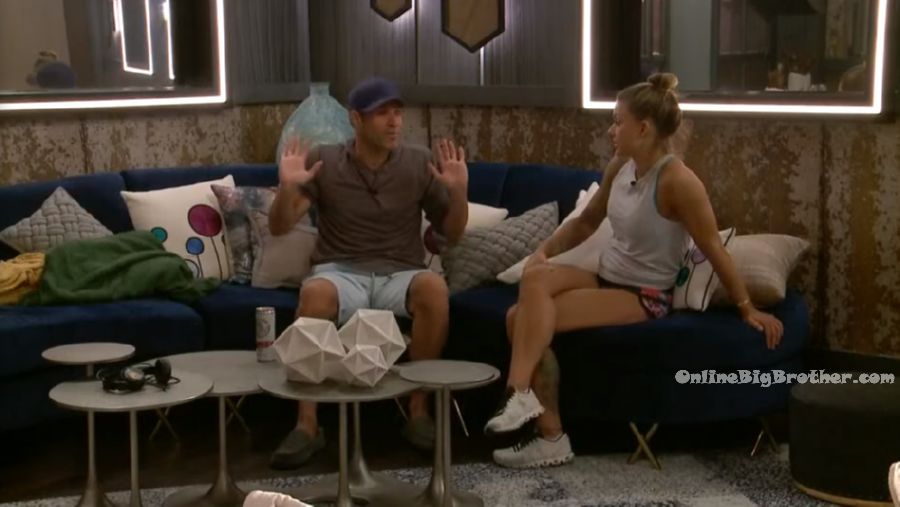 Bedroom. Ian and Kaysar.
Kaysar – if your name gets pulled will you use it on me? Ian – I don't want you to go and I don't want Kevin to go either. Kaysar – lets wait and if your name gets pulled and then we can talk and see if you're willing to take that risk. Ian – I like you both. I hate that I feel like I can't play with you. Like yesterday I said that I wanted to. I want to but I feel like the forces are against that. Kaysar – there is only one way out of that and it is to give them a good fight. That's one and the only way. Ian – I agree. Kaysar – eventually we just have to take a stand and not get steam rolled. We will see what happens tomorrow. Ian – good luck. I am sorry that I can't promise anything. Kaysar – its okay.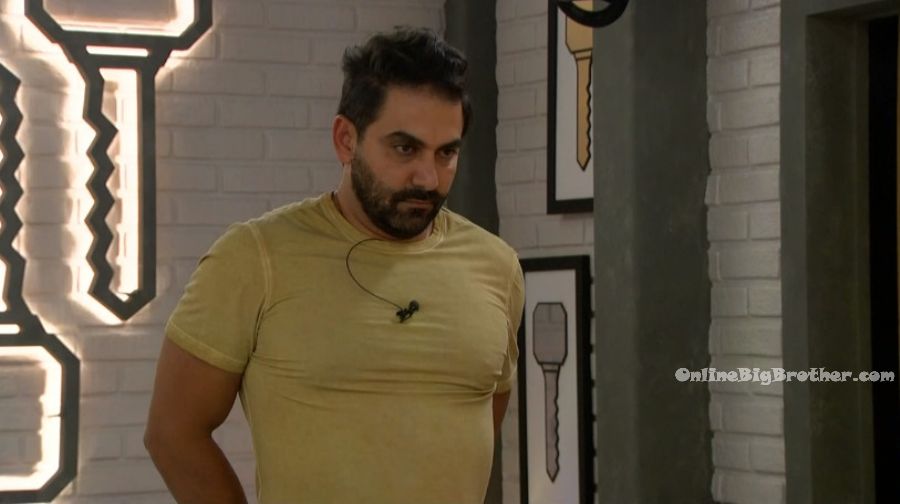 6:20pm The house guests are working out .. Christmas – "This is how we pick things up and put things down"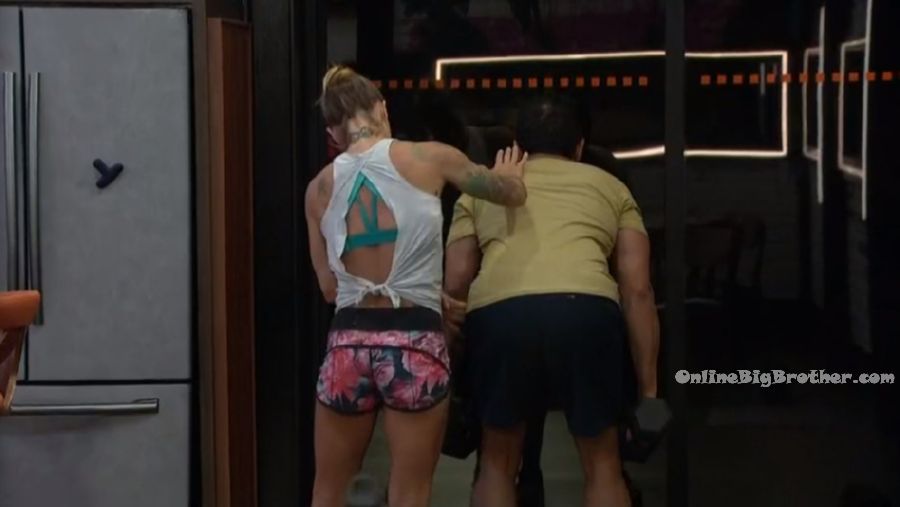 6:50pm – 7:15pm HOH room. Enzo and Ian.
Ian – He (Kaysar) asked me if I won the veto if I would use it on him. Ian – he is going around asking people if they win the veto ..I mean he is really playing. But why when you've got a bunch of people in the house that want him out. Ian – I said to him I don't want to give you false hope. Enzo – you're a straight shooter .. that's it! He's got the stink! Ian – I like him, I like him a lot. I thought of something on a lighter note.. my season was 75 days and I think yours was too. Tomorrow is our 100th day. We should do something tomorrow night. If they give us beers we should chug one. Enzo – yeah maybe after the POV they will give us some. Or maybe they will give me more .. they only gave me a 6 pk. They gave Tyler a 12pk. Ian – I told Kaysar I would respect you nominations. It would be suicide to use it. It would be horrible but he's got the stink. Enzo – he's got the inky stinky pink eye. Ian – its like Rachel and Brendan. Enzo – its like they have leprosy ..you just have to keep going after them. Ian – Frank on my season had it too. Enzo – Kevin is a pawn and I told him that too. I would love to win this tomorrow. Ian – I would too. Enzo – I want another notch on my belt. If you would win this tomorrow that would be good too. Ian – And if I did I would honor your nominations. I would feel bad but my hands are tied. Enzo – I wonder who those two votes were.. (They were Enzo & Dani) No one is coming forward. Ian – I don't know. This is guessing .. apparently yesterday when it came up people said that David had a weird reaction but the other person I have no idea. Enzo at this point it is water under the bridge but at this point why not own it. Ian – that tells me someone is trying to push it on to someone else. Ian – who are you tight with? Enzo _ some of the girls.. like Bay. Day is cool too. Dani is cool. NicoleF is cool too. I like her a lot. Cody, I think he likes me.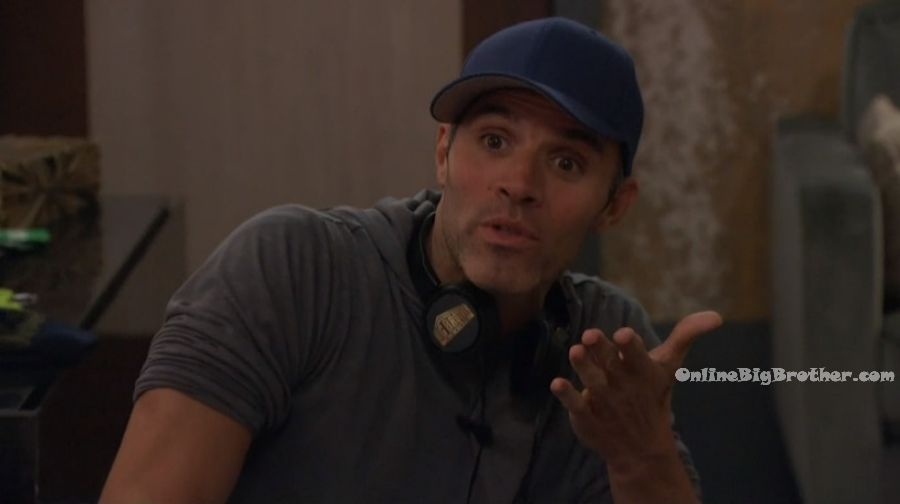 7:15pm – 7:30pm Bathroom. Kevin and David.
Kevin – Janelle was offering a lot! She was offering her wedding ring. David – but no one believed it. Kevin – but that was Janelle.. what is this fool offering. David – he is offering a lot but I know if he had won, I would have been on the block. Kevin – focus on the veto tomorrow and then after that.. David – there is no after that. Visualize it. Cody joins them. Cody – how are you feeling? Kevin – horrible. Cody – what did he tell you? Kevin – I don't know.. Cody – there is no way he wants you to go home. Kevin – but Kaysar is slippery. Cody – just focus on the veto. Kevin – how do you do so good in competitions? Cody starts talking about wrestling. Kevin – ohhhh.. did you have a onesie? Cody – yeah. Kevin – oh!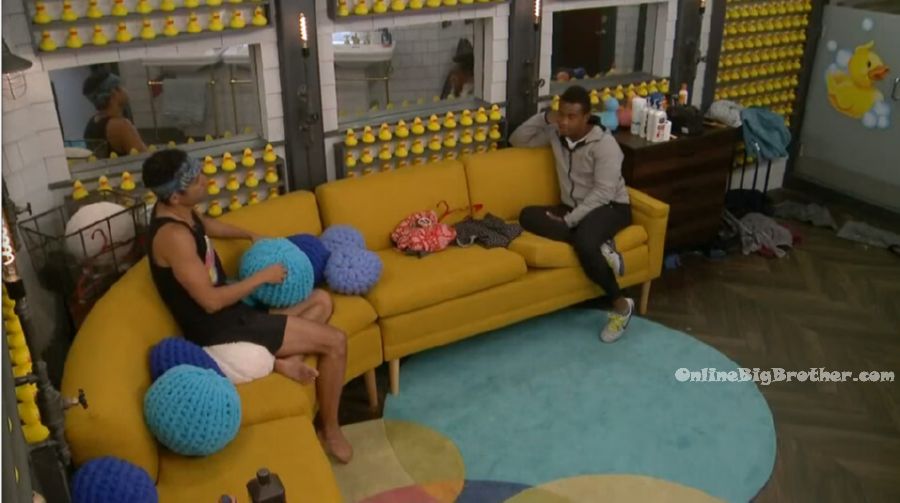 7:40pm Lounge room. Dani and Nicole.
Dani – I feel bad for him. Its not fun being in this house all alone. Like he is so nice. I like him a lot and I feel bad because he would never ever come after me. So I feel like a d!ck! To be like he has to go for Cody and Tyler's sake. It's not going to benefit us if they go. He would never ever come after me. I just feel bad. Nicole -but when you think about it he has to go .. just in case Janelle comes back. Dani – that and because we have to protect those idiots! You're welcome! Just kidding! He (Kaysar) said that its obvious that Cody controls everything that Enzo does. Like that he doesn't have a mind of his own. Nicole – did you just have to sit there and play dumb? Dani – yes, what does he think I am actually going to name people in my alliance?! Nicole – are we going to go for Bay next week or should I get closer to her this week? Dani – it would be nice for her to get next week.. but it would have to be Christmas or Ian. Nicole – I mean I would backdoor .. but I would have to talk to Day before. Dani – we have to figure out ways of pinning people against each other. You need to work on pinning Christmas against Memphis. She is already there .. you just have to give her a little more ammo. We need her to do it in the double. I think he is the perfect one to get out in the double. And no one in the comity likes him.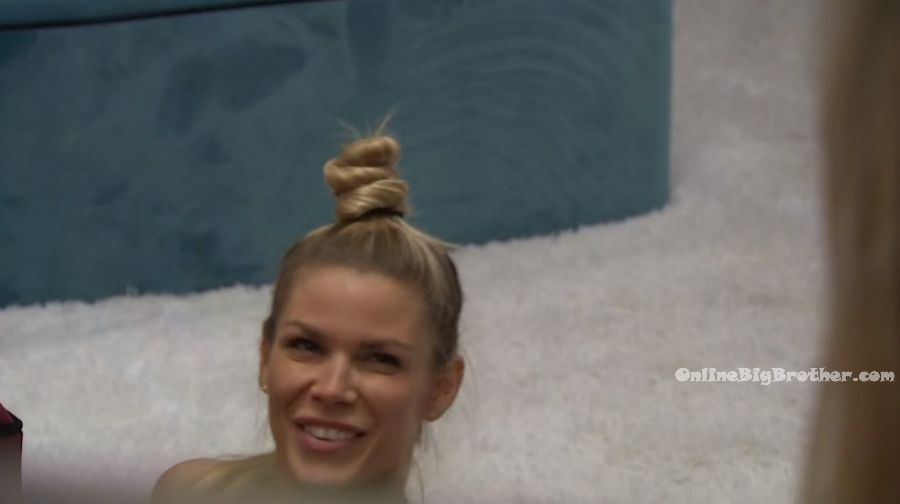 Dani – I hate to say this and I would only say it to you but we cannot have Enzo in the finals. Nicole – I know. Dani – So I am not touching that .. someone else can ..if its towards the end I will do it. Nicole – if I have to I will do it. Dani – if he wins one more he will be on everyones radar. Nicole – I definitely couldn't beat anyone in the final two. Dani – its been three weeks. I haven't done anything either other than strategize with you.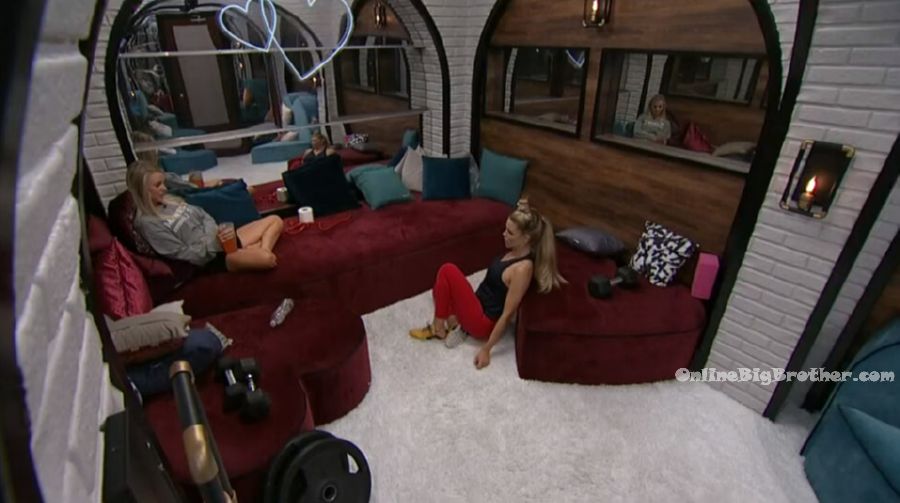 7:57pm Bedroom. Day and Kevin.
Day – what is wrong? Kevin – Kaysar is slippery. Day – yeah I heard he was down here working. Kevin – He was working before the nominations so he has an advantage on me. He was already making deals. I should be locking in prior to veto. Day – I don't think people would keep him in this house. Kevin – I need 5 (votes). Day – did Enzo tell you are a pawn? Kevin – yeah. Day – that was it? What else did he tell you? Kevin – all the right things. Day – why are you being tight lipped? Kevin – if there a was a list of what to tell a nominee he said it all. Day – but he is not the house. Kevin – right. I think I need to make people offers. Day – like what? Kevin – safety. That's what he is probably doing. Like 3 weeks safety and that he will do their dirty work.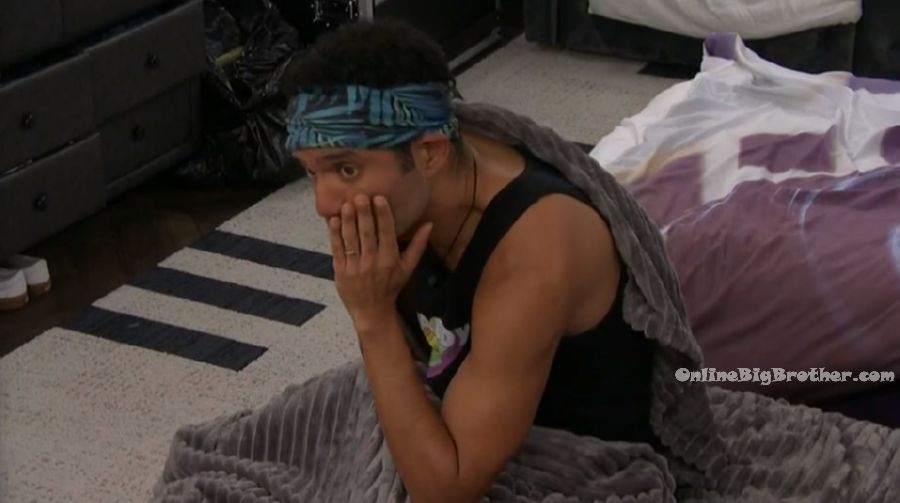 8:20pm HOH room. Nicole and Enzo.
Enzo talks about how Kaysar never talked game with him. Nicole – next week is going to be even worse. Hopefully Cody is in it. Lets lock this. Nicole – then hopefully I can win the next HOH.. then we're into jury. Tomorrow after the POV you will get to breath. Enzo – yeah as long as it goes right. If there are some good people in the comp .. it should be good. I can see Ian winning. Nicole – okay, I just wanted to check on you to see that you're good. I know its stressful.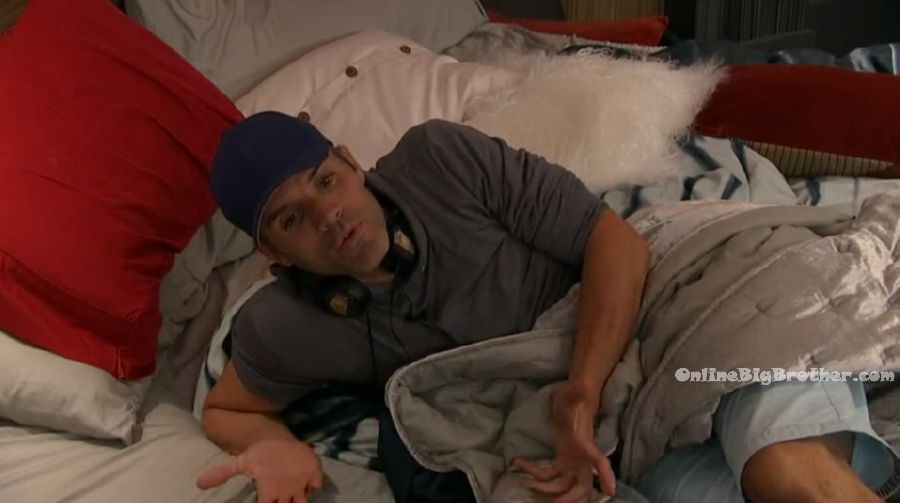 9:10pm Dinner time..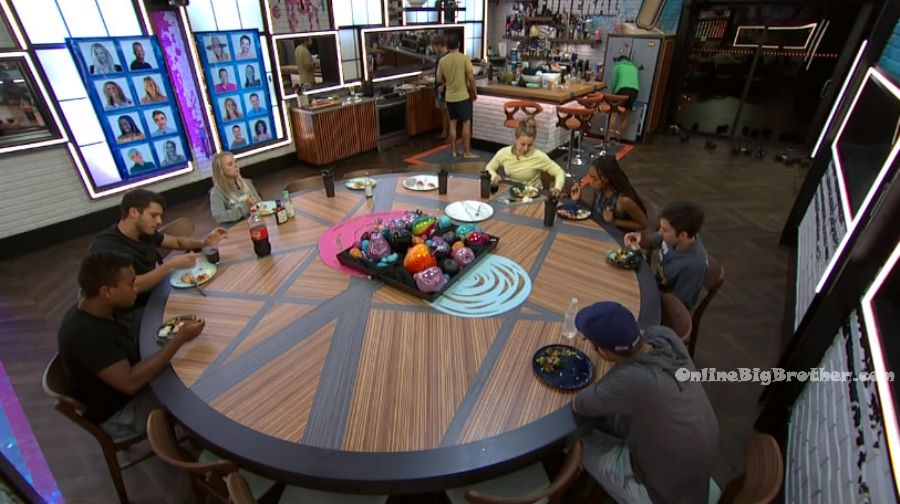 Show your support by making a donation.
If you're enjoying our live feed updates this season, please consider donating.
Any amount is greatly appreciated! Your donations go directly to paying the fees required to run this site.