| | | | |
| --- | --- | --- | --- |
| POV: | Angela | Next POV: | Aug 4th |
| POV Used | YES | POV Ceremony | Aug 6th |
| HOH: | Angela | Next HOH: | Aug 9nd |
| Noms: | ROCKS and Scottie Tyler Bayleigh | Have Nots | |
Big Brother Spoilers 8pm By the Pool! Brett – do you believe Kaitlyn is capable of all the things she claims she is capable of? The spiritual stuff? Scottie – no. Brett – do you think its fabricated? Or do you think she believes it? Scottie – I was going to say I think she believes it. I am sure at some level there are parts that are true but… I don't think its at the degree that she believes it to be. Brett – right. Brett tells Scottie about how Dolphins m@sturb@te. How do they do it!? It would be like a T-Rex trying to do it.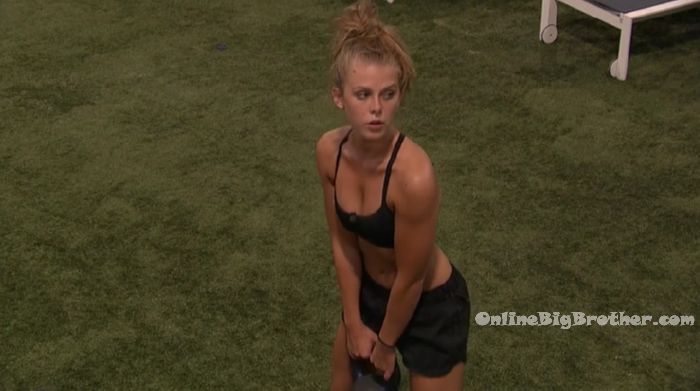 8:05pm Hammock. Rockstar and Bayleigh. Bay -…cocky and sickening and Angela looks dumb. Its literally I've been defending her since day 2. Whenever anyone says anything about her I am like no she's good yada yada yada! But then you (Angela) throw me up the first chance you get. Its like okay!? And everyone else I have no problem with but I will say I feel bad for Kaycee and I am sorry that I made her cry but that's something I can't really control either. And everyone else, it is what it is. Haleigh – its going to be a long week. Bay – not really its almost already Tuesday. I must say I am kind of annoyed at Sam saying that I was mad at her. That pissed me off! Now every time I'm in a room with her .. she's like are you okay!? I'm fine. Haleigh – people are just worried. Rockstar – then they shouldn't have put her on the block if they were worried. Bay – she said that everyone said I was the hacker. Rockstar – not me but clearly we're not everyone.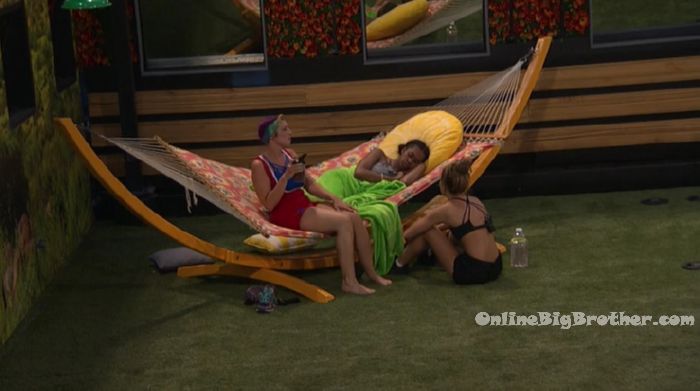 Bay – And it doesn't make sense him (Tyler) saying that I put him on the block to try and backdoor him. Actually me putting you on the block if I was the hacker gave you the chance to play for veto and that's the dumbest thing I could have possibly done. So like you're really not even making any sense. Haleigh – he just wants someone to blame. Bay – of course but for you to be such a di*k and an a$$hole towards me just because you know you can get away with it shows that you're a little pu$$y and a punk and I don't like that! Haleigh – I would never have expected that of him. EVER! I don't trust anyone in this house.. and I've made that really clear in the DR. Rockstar – I say that every time I go in there. Not a damn motherf**ker in here. Other than you two.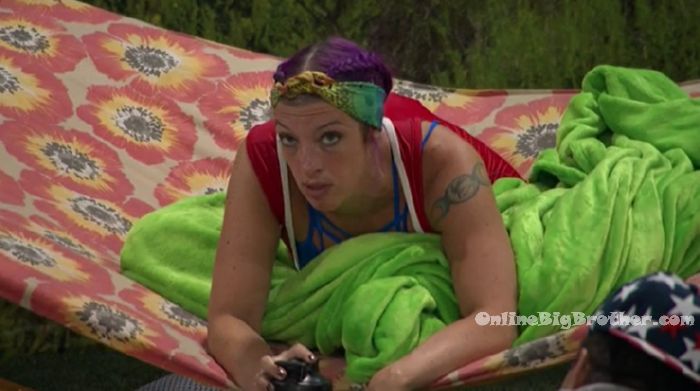 Bay – the sucky part if I leave here is that I can't even go home. I could always opt out though. Haleigh – you don't want to do that .. because there could be a jury battle back and you made it this far you might as well have a say in who wins. And you never you on Thursday there might be a power that pauses the whole week. (And you forfeit your stipend if you opt out of jury) Rockstar – who's d**k do you need to suck around here to get a power!? Bay – if I wanted to control this week, I would have just used my power. I can't believe she was like you're on a power trip .. Rockstar – sit your a$$ down! Bay – its okay because she had the chance to make big brother history and make the biggest move ever and she ended up just falling into their trap and put two girls on the block. Haliegh – one of them (Tyler or Scottie) will take her (Angela) out. Bay – that means you just hurt yourself.. the boys and girls will be even next week. They all agree that Tyler is weak minded. Rockstar – if I end up going to jury I want to see Angela coming through the door. I want to see Brett coming through the door. I don't want to see you or you coming through the f**king door anytime soon so burn this motherf**ker down! Metaphorically.. Haleigh – I hope I win HOH and the hacker comp next week and then I am going to put Tyler and Sam on the block. And then I am going to hack it and put Angela next to Tyler and if one of them pulls themselves off then I will put Sam back up there. Rockstar – that's beautiful! Bay heads inside. Fes joins them. Rockstar – we need a plan to take these motherf**kers down. Fes – its about our time we need to start sweeping these motherf**kers. Rockstar – The only way they are going to loose one of their power players if for them to be sitting next to Sam. Tyler can only be backdoored. Fes – f**k that I will put him up next to Scottie and beat them both in the veto. Rockstar – okay good! Well win an HOH and do that. Haleigh – you've got to win Thursday.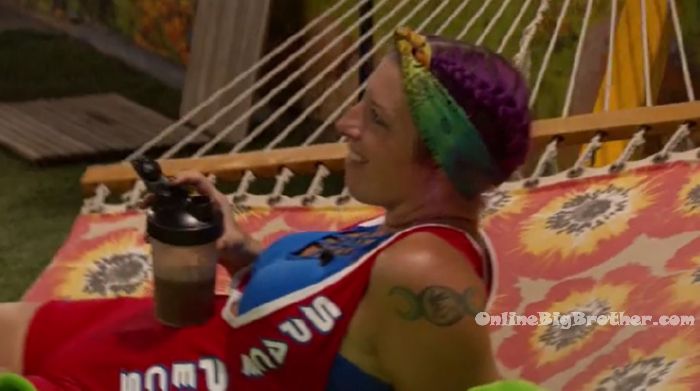 9:09pm Backyard. Brett and Fes. Brett – what you're not getting is they had pinky promises. Fes – those are better than vetos these days. Golden power of the pinky!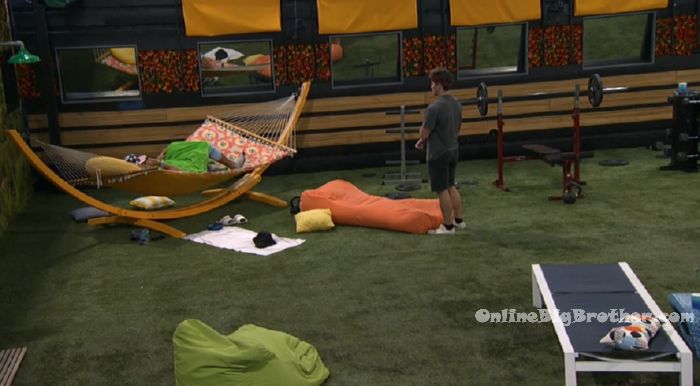 9:19pm Bedroom. Haleigh – have you talked to Angela? Bay – no …I'm not going to. I already tried to walk up there and talk to her and she didn't want to talk. When she came out of the diary room she was literally smiling at me when she was walking upstairs. I don't respect people like that. I think I am okay when it comes to that.
9:30pm Fes and Haleigh. Fes – You and me are good socially. I've gotten a lot better. If Brett was smart he would want to work with me because Tyler and Scottie are really close. He needs someone to.. It would be fun if you and me won back to back. Haleigh – I need to win a comp first. Fes – lets not talk game tonight. Are you okay. Haliegh – Yeah, I am just tired of being in this house! And these people, they all suck. I don't want to look at them anymore.
Fes – "lets not talk game tonight"@bigbspoilers #BB20 pic.twitter.com/g1nX5rdjYJ

— Dawg (@DawgsBigBrother) August 7, 2018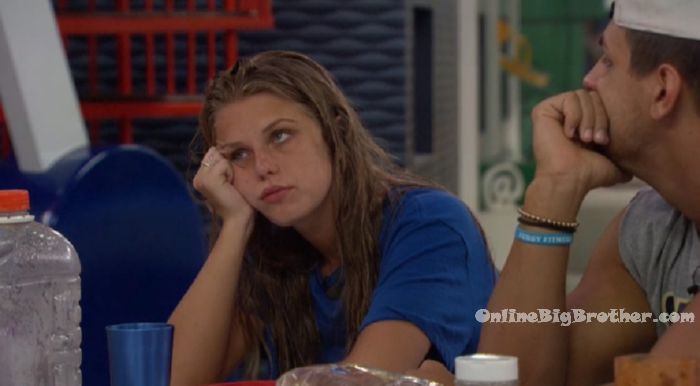 10:10pm – 10:25pm Backyard couches. JC and Angela. JC – On Sunday when I cast my vote, this is for you Rach! Angela – awe .. I like that. JC – so hopefully she feels better. Scottie joins them. JC – how does it feel to not be loved by Kaitlyn? Scottie – that's actually a good thing. JC – I think you and I were the only ones that.. Scottie – she big spooned me one night. Angela – awkward! JC to Scottie – you almost lost your v!rginity and you didn't do anything about it. Scottie – I would rather gouge my eye out with this spoon.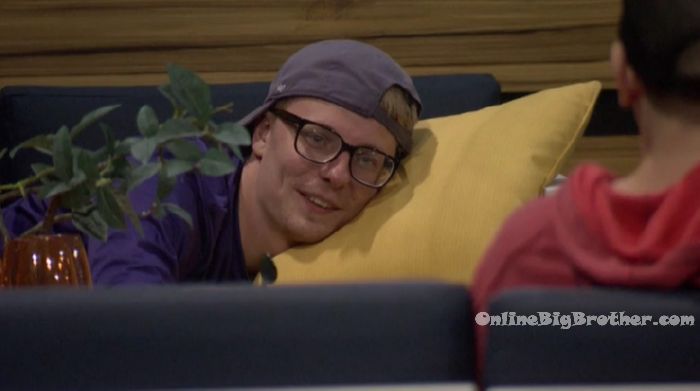 10:52pm – 11pm HOH room. Brett, Kaycee, Tyler and Angela. Brett – Fes is freaking the f**k out! I can see it. He is wigging out. Angela – has he said anything to you? Brett – he is clinging hardcore right now. Like you can see how mad he is. He thought for sure he was getting backdoored this morning. He keeps going how are we supposed to work with anyone .. I guess I've got trust issues. I am actually surprised that Bay hasn't pitched to me yet. Angela – I feel like she is giving up. She already looks stupid. Tyler – I just told her I am not voting for her. Brett – Bayleigh keeps giving me these passive aggressive looks.
11:30pm – 11:40pm The conversation turns to talking about how pissed Fes got when Haleigh answered the never have I ever taken it in the b*tt question. He was mad at her talking that way in public but she said thats who she is and she isn't going to change that. Brett – they (Fes and Haliegh) are 100% in a showmance. He is a hardcore beastmode cowboy. Haleigh is about it but she knows its the worst thing for her game.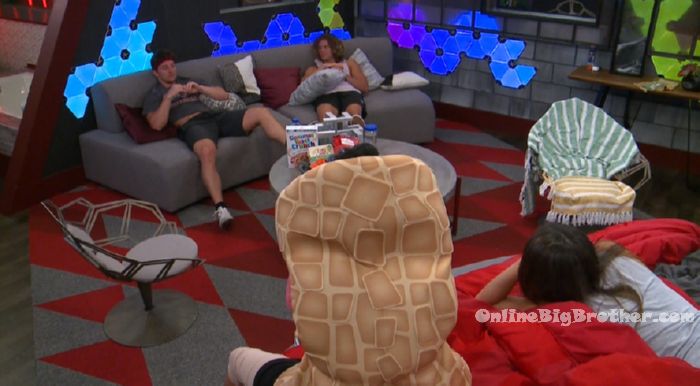 12:15am JC and Fes in the hammock. JC – did you talk to Bayleigh? Fes – a little bit. JC – did you know she's the hacker? Fes – she says she's not. JC – well which ones are the options? What makes sense? This is such a sh*t show. Its a good think you're not on the block. If she says that she is the hacker she would loose all votes but if she completely denies it being her she would get all the votes. Fes – I am so surprised I didn't end up on the block this week. Fes – so how do you feel about Tyler and Scottie? JC – I don't know.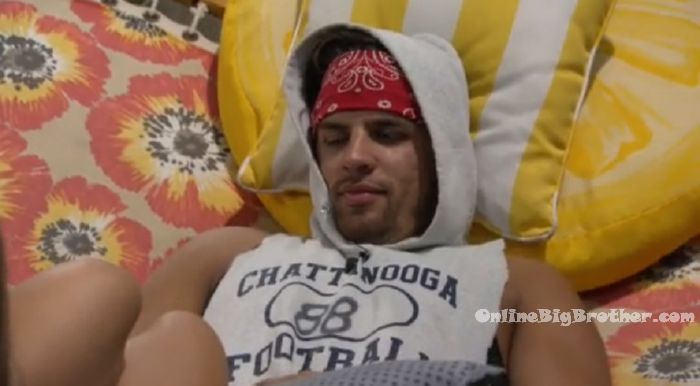 12:45am Hammock. Fes and Haleigh. Fes – if the hacker is you or Bayleigh then we don't need to worry about you cancelling one of our votes. Haleigh – the fact that you would even ask em that? I thought we were over this? Fes – we are. Calm down? Haleigh – how do I know you're not it? Do you have it? Fes – why would I use it on Tyler? Fes – I don't know how I feel about Brett. I've had good conversations with Bret. I dont know if he is bluffing of not. I don't want to be a sucker if he wins HOH and puts me up. I think America's got to love us! Depending on what they stir up?
Fes – f**king Angela. Haliegh – F**king b***h!! Like just take your f**king L, you lost. Put your noms back the way they were and go on with your day. Trying to make a big a$$ move and you looklika dumba$$. I f**king hope its not Bayleigh so that Angela looks like a dubmass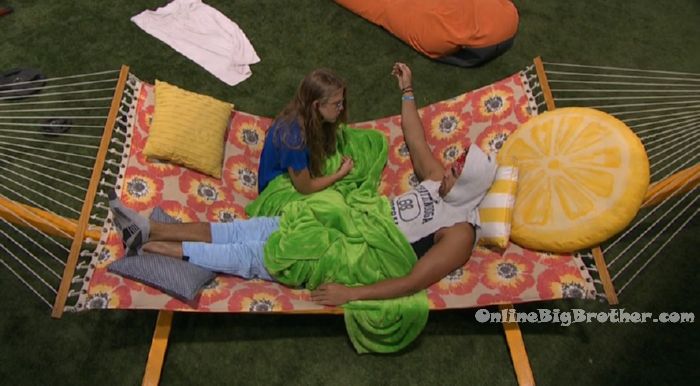 2:45am Haleigh and Kaycee holding hands ..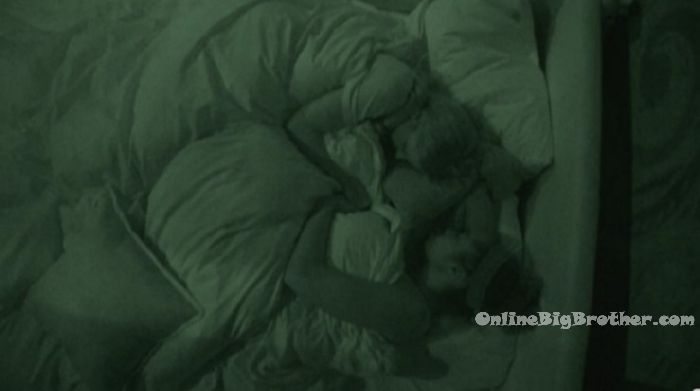 9:00am ZZZZZZZ
10:00am Waking up… 
If you've enjoyed our live feed updates so far this season, please consider donating.
Any amount is greatly appreciated! Your donations go directly to paying the fees required to run this site.
Rank the houseguests!
Easiest way to Rank the house guests use link below