POV Holder:
Frankie
Next POV
Sept 6th
POV Used
?
POV Ceremony
Sept 8th
HOH Winner
Frankie
Next HOH
Sept 10th
Nominations:
Cody and Victoria
12:55am – 1:30am In the havenot room –
Frankie, Caleb and Cody are speculating about what the reset twist could be. Caleb asks why would one whole wall be a mirror? Frankie says mirror images? refraction? Cody asks what's a miror image of myself? Did they clone us?! Frankie asks do we play the final 5 of last year? Cody says we'd smoke them! Caleb says the fact that this thing is gold and silver makes me think money. Frankie looks at the TV and says I want this set up in my house can I have this? Caleb says you can do better than that, this is like an LG tv. They leave the room and head to the kitchen. Caleb, Frankie and Cody compare butts. Cody says that Caleb has a bubble butt. They study the memory wall and talk about who's faces were merged with whos faces. Caleb says that he thinks Victoria knows because she wouldn't be letting us hangout together. Cody says well Derrick isn't here either. They agree that if they're offered money Victoria will take it. Big Brother opens up the backyard. Caleb and Cody go outside to play pool. Frankie and Victoria join them. Derrick comes out of the diary room.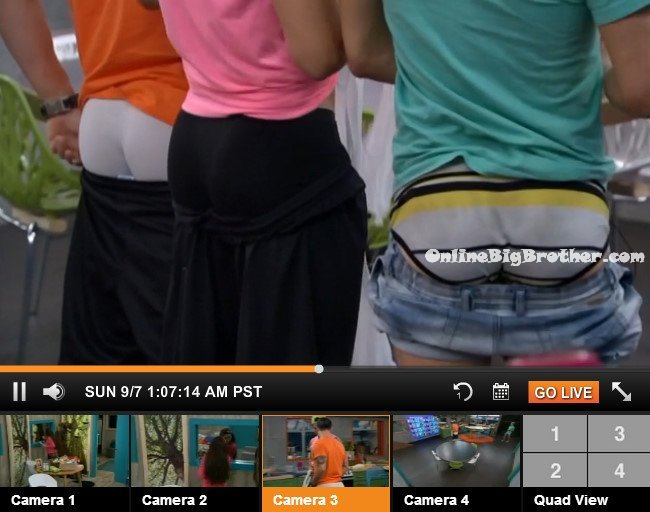 1:30am – 2:30am Frankie and Cody talk alone in the backyard. Frankie and Cody count competitions. Frankie says if you don't already know, I don't care. At this point I am not trying to hide any more. Because if you don't know I've won a lot of comps, you're an idiot. Cody asks who do you need to hide it from. And what have I done with every single one that I've won, kept you all safe. All I do with my power is keep my boys safe. Frankie asks should I tell her (Vcitoria)? I want to tell her in the veto speech. Cody asks about what? Frankie says about us being together. Cody says honestly I don't think it matters but what if something goes down Wednesday? Frankie says AHHHhh.. oh F**k okay! Cody says I guess you could though. Frankie says but she knows, how would she not know. Cody says she absolutly knows because why else would Derrick put her up and not someone else. Frankie says and Zach told her. Frankie says I would make my speech to you boys. Frankie and Derrick join them. Caleb says I wish we could just bring Ariana Grande out here and just bang it! Frankie asks what did you just say!? Cody asks what the f**k did you just say?! Derrick says no I get it. Bang the music, I got you. Frankie asks did you not see my face!? Frankie says he just said we've been talking so much sh*t together and then he said that.
See what they can't show you on TV! -Try the Big Brother 16 live feeds for FREE!
2:30am – 2:40am Derrick comments that he thinks Nicole was crushing on Caleb before Hayden. Caleb says I am not the type to crush on every girl in the house. Caleb says I can't wait to see the DR's. If I have someone's number and they're lying about talking sh*t in there I will delete it. Caleb says I think that what people say in there is what they truly mean? Frankie asks you're not being egged on to say stuff? Caleb says no. Frankie says I get egged on all the time. Big Brother blocks the feeds. Derrick and Caleb play Frankie and Cody in a game of pool. Derrick and Caleb lose and their punishment is to jump in the pool. After they jump in Caleb picks up Frankie and jumps in with him. Frankie says that was so fun!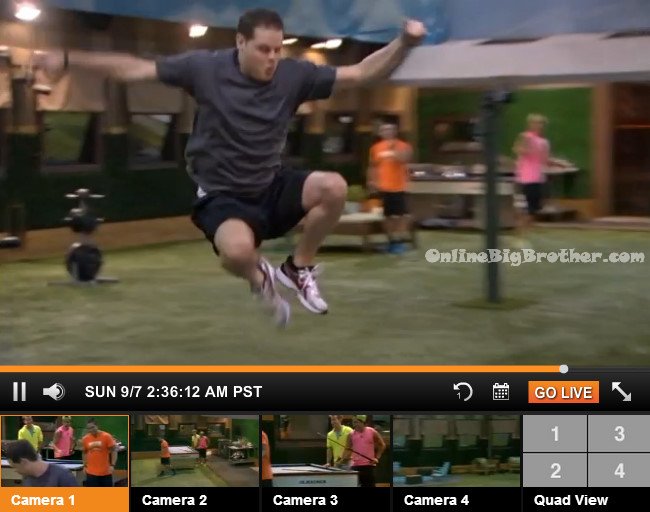 2:50am In the bathroom – Frankie is showering and Derrick tell him are you ready to go? Once you finish your shower well go. We'll go from 3am – 6am to make sure we give them enough TV stuff because even John was like make sure you give us some stuff. Derrick says to the camera doing a quick shower, then its time for TA. The mouse is about to hit the house. Give us about 15 minutes. Ain't no body going to sleep tonight! In the bathroom – Derrick asks Frankie do we want to say bedroom because then no one will sleep in there. Frankie says its up to you.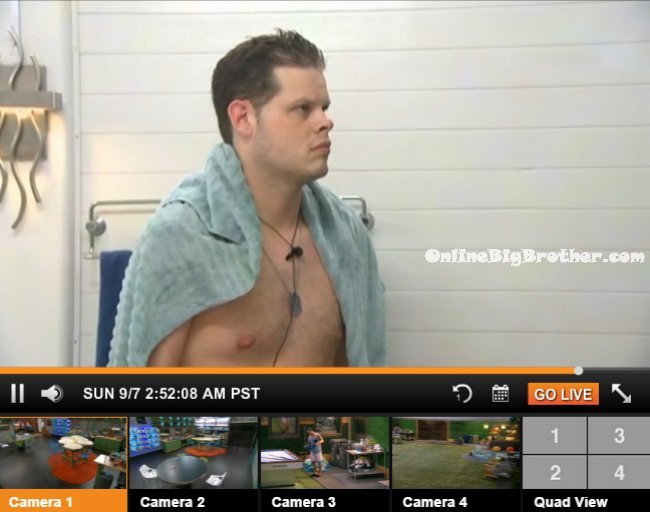 Make your Amazon purchases through the links below it Supports this site