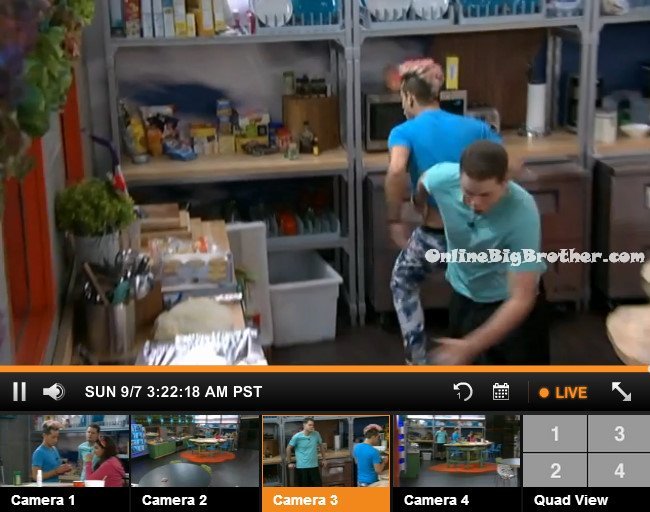 3:20am In the kitchen Frank says that he's going to have some bread. Frankie looks in the drawer and FREAKS OUT! He starts yelling and screaming. Frankie runs. Derrick runs too. Derrick says the tail was that long! Frankie asks was it a rat or a mouse! Caleb tells them to open the door. Frankie suggests they make traps. Derrick says lets trap it alive. Caleb says you can't make a trap. Derrick says what don't you have skills?! Derrick says I sprinted like a school girl! Victoria is freaked out! I can't do this right now! I'm scared!! Caleb says its not going to hurt you. Caleb says I wish you would have watched it. Derrick says I ran for my life. I saw fangs!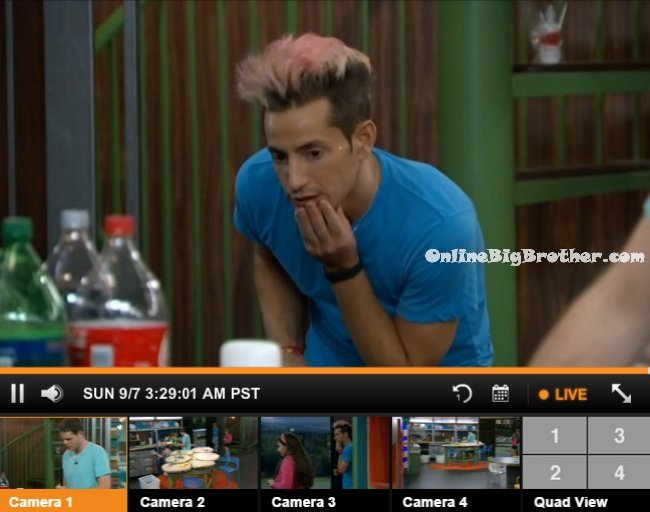 3:30am – 3:55am
Victoria starts making a sticky trap by melting gummy bears and honey to catch the rat. Victoria puts it in the oven to melt it. Derrick laughs and says Victoria's going to catch a rat with gummy bears. Comes out of the diary room and they tell him about the rat. Cody gets up on a chair. Derrick asks him what he's doing up there. Cody says I'm getting a top view! I'm a sniper! And also I'm scared sh*tless of rats! Cody says if that thing shows up in the bedroom! I'm going to judi-chop it!! Cody asks Victoria what she's doing? Victoria says I'm trying to trap it! Cody says get that rat in the oven! Derrick tells Victoria to put cheese on the tray too! Victoria asks can we make a cheese trail? Derrick says yeah make a cheese trail! Cody says lets poison it! Put toilet sh*t all over the cheese and kill it! Caleb want's to trap it. I'm a city boy, lets kill it! Derrick says I want to see you catch it tonight! Are you the guy that
killed a pig with a stick
or what?! Cody says I'm going to be scared sh*tless until we catch it! Frankie says lets put some food colouring down to see where it goes. Derricks says I think its going to go after Cody. They continue looking behind the cupboards.
Big Brother 16 Live Feed FREE TRIAL – Use the FLASHBACK feature to watch everything you've missed!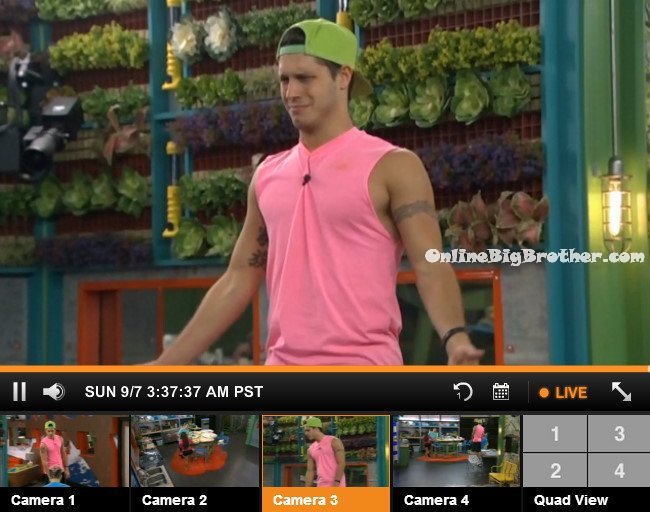 4am – 4:30am Derrick makes a trap with a box, sticks and cheese. Derrick says it was big, it had nunchucks on the side of it. Caleb says catch it, skin it, eat it! Victoria asks really you would eat it!? You would eat anything .. hunter boy! Caleb says no he's just joking. Caleb says if you try and reach up and try to catch it. It will bite you. Frankie says I'm never going to bed! Good thing we're staying up all night. Victoria, Derrick, Frankie and Cody sit down at the table to eat while Caleb makes a better rat trap. Frankie says I bet it came out because we cleaned. It was like where's all the food!? In the bathroom – Derrick tells Frankie that he will wait until 5am and then say he saw the rat under the sink. That will get us through the last hour to 6am.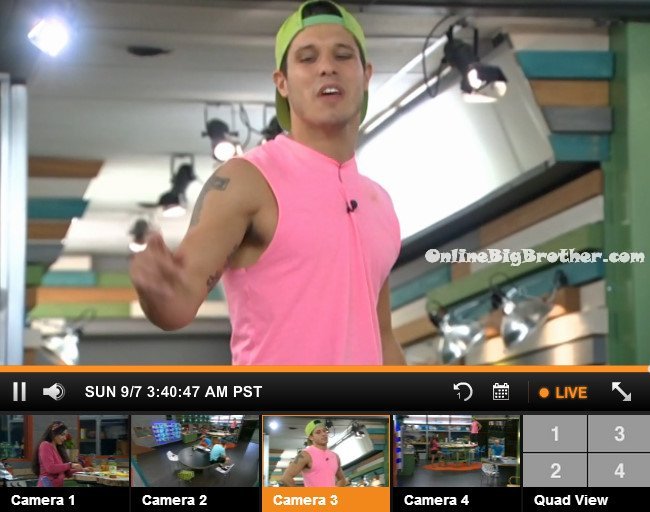 4:40am Derrick and Victoria are on the backyard couch. Victoria starts to fall asleep. Derrick tells her she's not falling asleep on him. He asks her to shoot the sh*t in the hammock. Victoria says she doesn't think Wednesday is going to have anything to do with the people on the block. Derrick's worried he will get sent home because of the button being pressed. Victoria says it said it only takes one.. to f**k it up for everyone, so I don't think its something good and bad like with Pandora's Box. Do you think Frankie would take you to final 2? Derrick says I don't know. Victoria says I need to talk to him about that. Derrick asks about taking you? I don't know if Frankie would take you because he said whoever is up against you .. you would win. Derrick asks he said that?! When did he say that? Victoria says before Nicole went home. Victoria says you get your way all the time. Derrick says only when I try to protect you. Victoria says you've never been on the block. Derrick says Frankie won't take Cody. I think he thinks everyone loves Cody. I think he would take me because he think there are people who don't like me in jury. Victoria says she thinks she's going home this week. Its a boys club.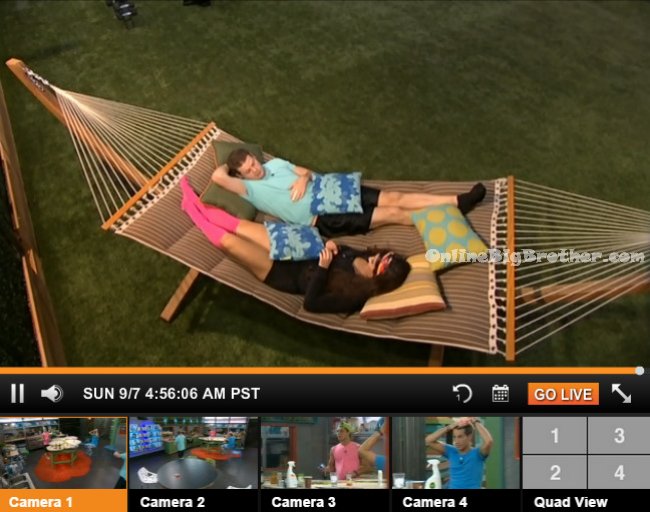 4:55am – 6am
Frankie and Cody are in the kitchen. Frankie goes to open the cupboard under the sink and starts screaming. Frankie starts screaming saying he saw the rat again. Cody jumps up onto the bar stool. Frankie goes to the backyard door and starts screaming he saw it again. Caleb is in the diary room and hears screaming so he comes out. They show Caleb where Frankie saw it. Caleb says but there's no rat poop! Cody says I think we need to catch it before it goes to tell the other mice .. jackpot! Derrick says okay I've got the chainsaw lets cut these cabinets out. Derrick goes into the storage room and asks the camera for 3 D batteries for the flash light. Help team america out? This is for 5K! People are starting to get tried I need to be able to flash people in the eyes. Derrick sits with Frankie at the kitchen table and tells Frankie how Victoria had said she thinks she's going home. Victoria joins them. Frankie says I can't believe Christine go boo'd. Victoria says I hope people don't boo me. Frankie says no one would ever boo you. If someone did I would come out and punch them in the face. Victoria laughs. In the bathroom – Frankie and Derrick talk about how they only have 20 minutes left. Caleb comes out and starts looking for the rat under the sink.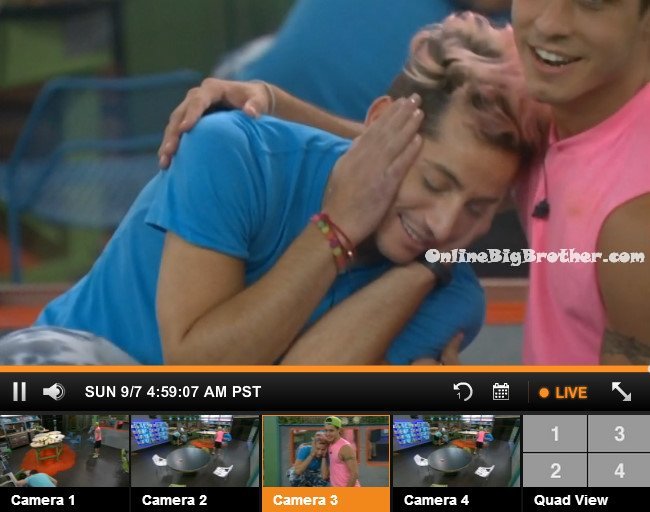 5:55am – 6:15am Caleb, Derrick and Victoria go into the diary room to do a triple diary room session about the rat. Frankie and Cody come in from their pool game and search the house for the others. After searching the entire house they realize they're in the diary room. Cody and Frankie wait on the living room couch. Cody says I can't believe we're final 4 .. but I don't want to jinx it because we don't know what's going to happen on Wednesday. Frankie says he keeps forgetting about that. Caleb, Derrick and Victoria come out of the diary room and comment on how they crushed it! Rat patrol! They get ready for bed.
9:30am – 10:30am Big Brother wakes up the house guests. Victoria is in the bathroom getting ready for her diary room session. Frankie tells Derrick that he wants to die. I'm so tired. Derrick heads into the diary room. Frankie says that he doesn't even want to have coffee. I think I'll just plow through and go back to bed. Derrick comes out of the diary room and Frankie heads in.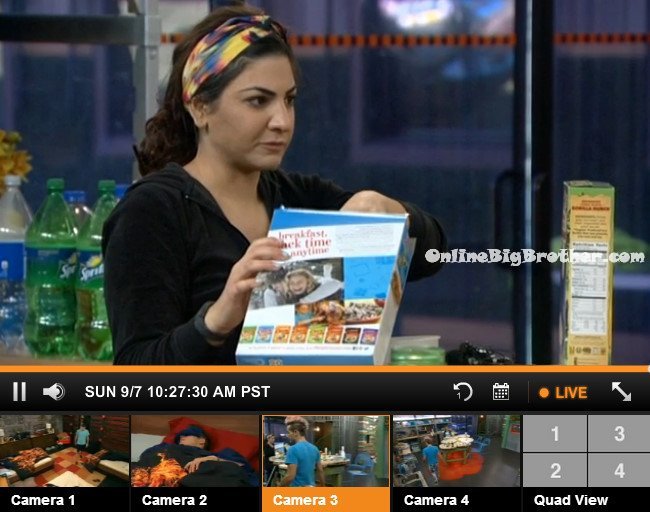 If you found value in our site, the work we do and the community we foster please consider leaving a donation using pay pal below.
[polldaddy poll=8285104]
[polldaddy poll=8285104]
[polldaddy poll=8290611]
Share it YO!
Tweet