POV Holder:
Frankie
Next POV
Sept 6th
POV Used
?
POV Ceremony
Sept 8th
HOH Winner
Frankie
Next HOH
Sept 10th
Nominations:
Cody and Victoria

9:01pm Caleb in the BEE HIVE Giving out shout outs..
Says the competition was called BB freak show.
Caleb says he's starving "Beast mike me has got to eat you know what i'm saying..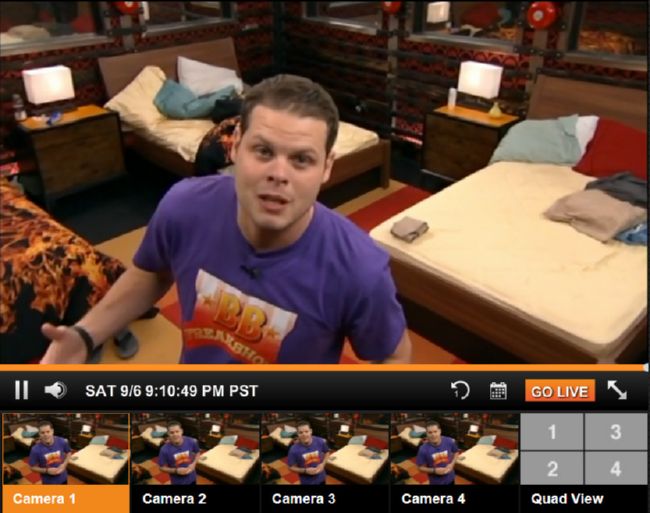 9:08pm Derrick says they are all locked down because BB freak show is going down..
(Morphomatic) As far as my performance could have definitely done better.
Derrick tells us the Team America task is going down tonight they are going to be up until 6am the entire house. Encourages us to buy the live feeds cause it's going to make for some fun TV
Nobody is going to sleep cause there a mouse in the BB house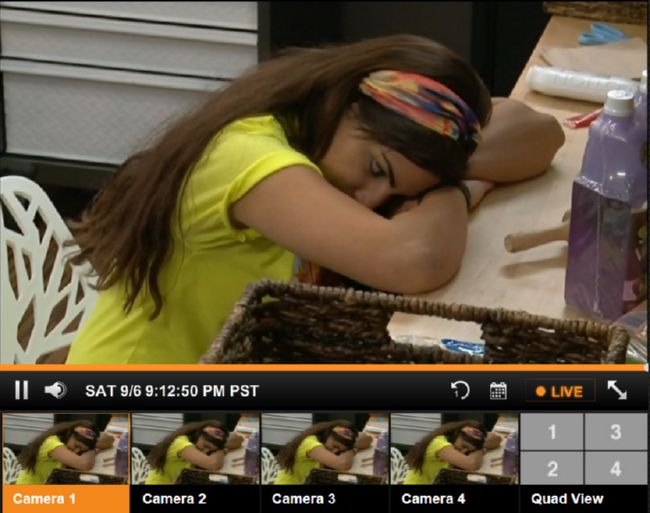 9:14pm Victoria in storage.. look at her self in the mirror
Back To Caleb.. "America baby I represent … all day long America Baby.. Americano.."
9:21pm Caleb – How much longer do we got up in this hole…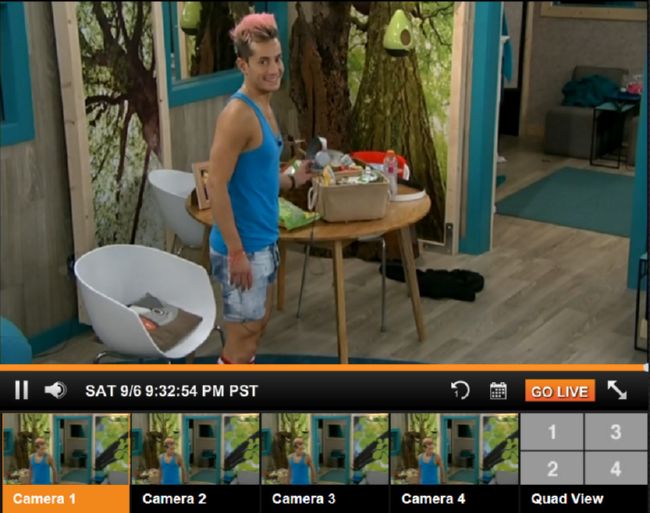 9:30pm Frankie saying that Cody will fly through it Camer flips back to Derrick.. Whose commenting how poorly he did in the competition.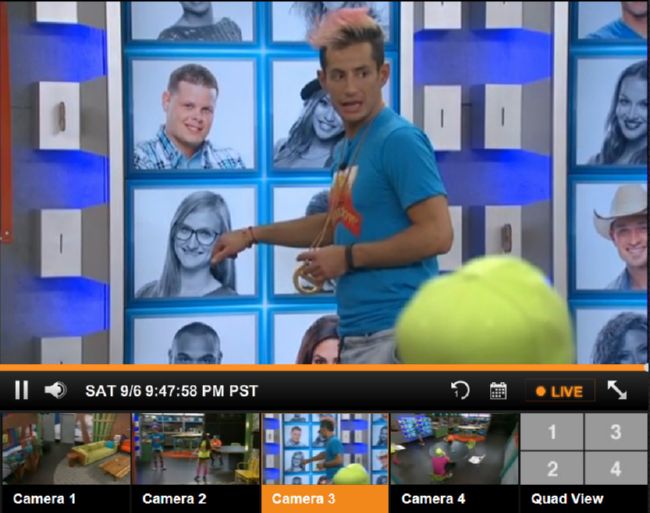 9:47pm Frankie wins the POV
Sounds like Derrick came in second.
Victoria was 17 minutes
The Live Feeds are archived. You can go back and watch everything that happens
Try It Free! Subscribe now to the official BB16 Live Feeds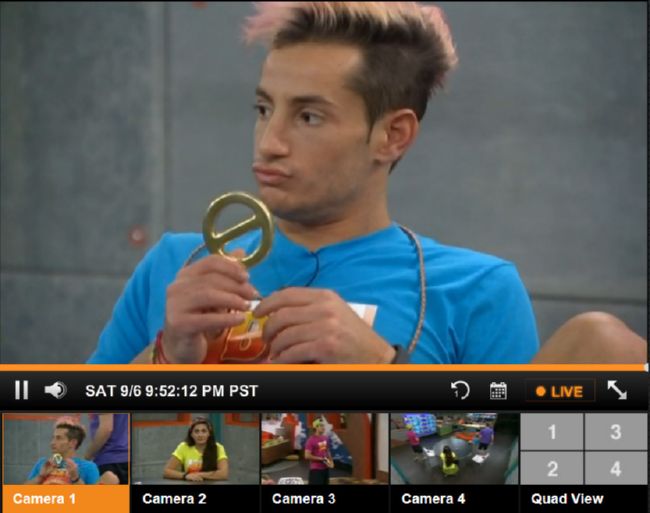 9:53pm Storage room Derrick and Cody Briefly talk about how unstoppable Frankie is. Derrick thought he had it. Derrick doesn't want to linger around the storage room for too long Frankie will know they're pissed.
(Frankie may try to make a big play then with the rewind… lol)
10:05pm Kitchen Everybody Frankie says if he's won HOH and POV and he's not safe on Thursday because of pressing that button he'll cry.
Cody says there is no way they will send someone home that has won HOH and Veto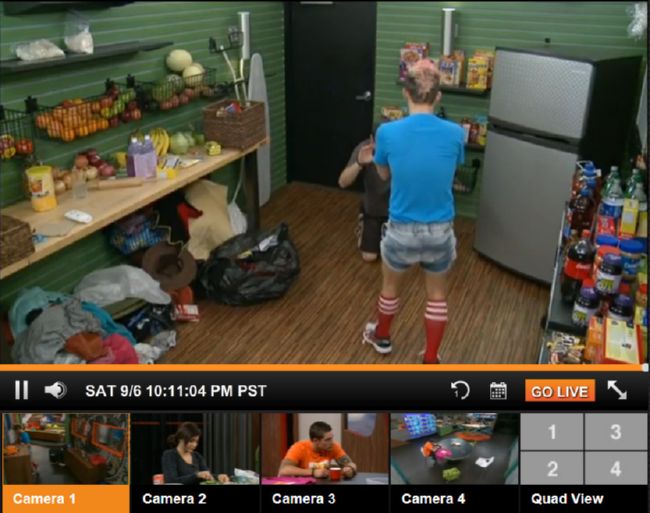 10:12pm Storage room Derrick and Frankie Derrick kneels down and start bowing to Frnakie.
Frankie saying he's painted a huge target on himself. Derrick says Frankie Has created a legend.
Frankie says he's not going to use this POV to show the boy loyalty. Derrick – Final 4 as long as the button doesn't screw us over" Frankie says he's still going to keep Derrick safe.
Derrick says they have to win the POV next week if they don't one of them are going home and it's probably Frankie.
Frankie – there's nothing I can do at this point but keep winning competitions.
Derrick tells him he threw some crumbs and broke up a cardboard box to leave clues suggesting a rodent in the house.
11:07pm Cody and Claeb want to go to bed already.
Caleb thinks production will start DR's at 2am.
11:32pm After talking to Production. Frankie says they have Diary Room sessions tonight but they couldn't give him a answer about the backyard. Everyone moans.
11:46pm Caleb thinks the Gold Button will be PAndora's Box on steroids.
Derrick thinks it will be a competition.. First place gets Diamond power of Veto last place gets solitary confinement.
Derrick – THis will be a monumental .. Big Big Big time.. those punishment and rewards could make it really tough to be here but doesn't affect your actual game.
Derrick is looking at the gold button as "Eden's apple"
They start speculating over and over about what the gold button does.
Derrick says some people will be happy with the outcome of the button other people will be pissed.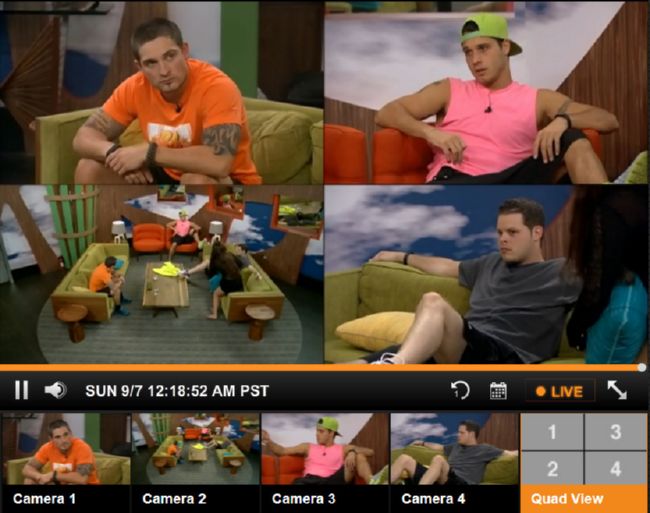 12:18AM Claeb, Ckdy and Derrick
Agreeing that Frankie cannot win the next veto. They are freaked out about Frnakie's Competition record.
12:22Am Cody, Caleb and Derick agree to stay up until the sun comes up.
12:35AM Caleb's been talking about the jail he worked at. The prisoners gave him respect because "I was big .. Big and they saw me in action numerous times"
12:51AM speculation about the timer.. Competitions and twists.
Make your Amazon purchases through the links below it Supports this site
[polldaddy poll=8285104]
[polldaddy poll=8290611]