POV Holder:
Frankie
Next POV
Sept 6th
POV Used
?
POV Ceremony
Sept 7th
HOH Winner
Frankie
Next HOH
Sept 10th
Nominations:
Cody and Victoria
10:50am In the fire room – Frankie comes into the bedroom and wakes up Derrick to talk to him. Frankie asks should I say something about us working together? Derrick says its your game, I don't know if I would do that. I don't know, its up to you. It can't help us. Frankie says because of Wednesday. Derrick says we don't know what its going to be. Frankie says right. I'll come up with something fake. I'll come up with something good. Frankie says they told me… I think we're getting locked in early this week. Derrick says wow, wow! Frankie heads out of the fire room and tells Caleb who's sleeping in the earth room that the veto meeting in 45 minutes. In the fire room – Derrick tells Cody and Victoria that Frankie just told him they're getting locked in early this week and that the veto meeting is in 45 minutes. Victoria leaves. Derrick tells Cody that Frankie said he is keeping the nominations the same and that we're good.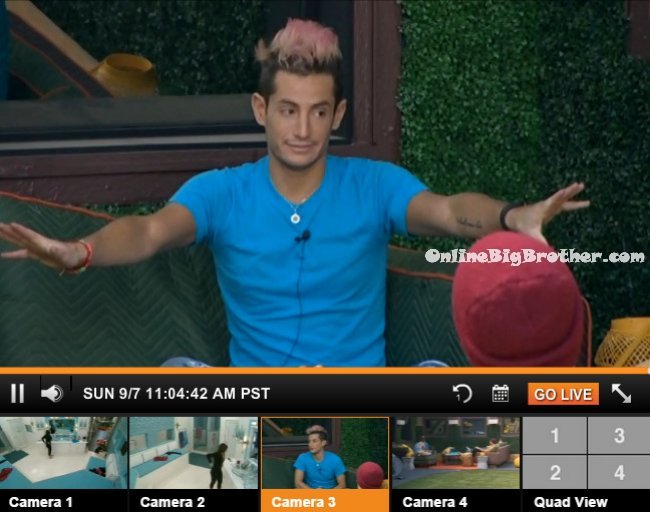 10:57am – 11:10am Out in the backyard – Derrick tells Frankie that he will have to tell Victoria before the vote happens that he can't vote for her. She is going to hate me but I will just tell her that I have to vote for the person that deserves to be here most. Frankie says I wanted to do a grand speech. Derrick says you can now with this twist. We don't know what is happening this week. She could get some sort of power or something. Caleb joins them. Derrick says she is going to expect me to vote for her but I'm not going to blind side her. I will just tell her that I'm voting for Cody because he deserves to be here. It will be the worst conversation I will have had to date. Derrick tells Frankie to keep his speech very vague. Derrick says before the vote I have to tell her. I've been so close to her. I'm not going to let her go into the voting not knowing. Once again I am going to look like a schmuck. Cody joins them. Derrick asks why the f**K are they doing this?! Frankie says because everything is pushed up till Wednesday. Frankie says since I have the 4 of you here.. I just want to congratulate you all for being the final 4. I know we have all said this summer it would be a waste to use an HOH to get out Victoria but I do not think of it as a waste. Its our way of all getting to the final 4. I know I can't play HOH next week and that terrifies me. There has been overwhelming pressure to make big moves and not waste your HOH. This is something that I am honoured to do and so happy that we have secured our spot in the final 4. I wanted to say all this in the veto speech but I don't want to stab her in the face. Derrick says and if you gave a speech she could end up getting a power and say f**k you Frankie and send you out. They head inside. Frankie stops Cody and tells him that he loves him and that he's good. Cody says I know. Thank you because I know they say things. Big Brother call Frankie to the diary room and tells the other house guests they're on a backyard lock down.
11:10am – 11:20am Out in the backyard – Derrick and Caleb agree that they're good. Caleb says he might still stick us in a couple of minutes. Derrick says he won't because he wants one of us to take him to the end. Derrick says if he goes to the final 2 …ain't nobody beating him. I've seen his whole game this season and he will beat all of us. Cody joins them. They all agree that none of them would beat Frankie if he was in the final 2. He's got better than a 1 in 4 chance at winning that veto next week.
Big Brother 16 Live Feed FREE TRIAL – Use the FLASHBACK feature to watch everything you've missed!
11:20am Big Brother blocks the feeds for the power of veto meeting to take place..
If you found value in our site, the work we do and the community we foster please consider leaving a donation using pay pal below.
[polldaddy poll=8285104]
[polldaddy poll=8285104]
[polldaddy poll=8290611]