Quick Big Brother Spoilers
Head of Household: Monte
Nominees: Indy and Alyssa
POV Players: Alyssa, Indy, Monte, Terrance, Joe, Kyle and Daniel (Michael is the host)
POV Winner: Daniel & Kyle
Veto Ceremony:
Havenots: Turner & Jasmine
Lock your ranks in before midnight
Festie Besties:
Turner & Jasmine
Joe & Monte & Terrance
Daniel & Kyle
Brittany & Michael
Alyssa & Indy
Nicole & Taylor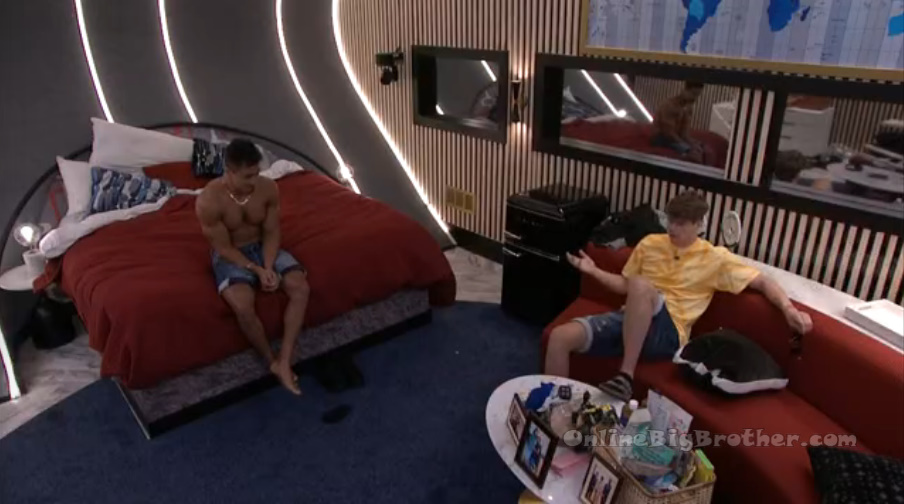 5:36pm HOH room – Joe and Kyle.
Joe – dude she (Alyssa) is definitely finessing you. Kyle – she's not dude, she is freaking out. She knows Jasmine is livid at her. You told Jasmine that she is loaded (rich) or something. Ameerah told you that she is loaded. And I guess that pissed Jasmine off! Joe – it did?! Kyle – and so now Jasmine is going around saying all this sh*t and then she cornered me and was like who told you about my business? And I didn't say whether it was Ameerah or Alyssa and so right away she goes to Alyssa and is like YOU TOLD KYLE!? And then Alyssa kind of snaps and is like yeah I told him this or that and then Jasmine is livid at Alyssa and then Indy is mad at Alyssa too and talking all this sh*t. DUDE they're imploding!! So I was like what was your perspective week two when Jasmine wins and you're all in here.. Like were you guys all just chilling helping her out. And she is like I felt like I had to be up here 24/7 because she is so controlling and anytime I would leave I was scared that they would be talking sh*t about me. Dude! They're imploding! They're going crazy! Joe – I knew about her (Jasmine's) nail thing. Ameerah told me. Kyle – Ameerah knew everything! She was piecing everything together. She was like I don't think Michael does escape rooms. Joe – she doesn't think I'm a personal trainer. Kyle – really? Joe – yeah she (Ameerah) said I don't think Joe is a personal trainer. I don't think Monte is a personal trainer. She was like I don't think Nicole is just a cook. She was attacking everyone. Kyle – which was fine but that was where her head was at and not in the here and now and look where it got her.. she is on her way home. Joe – she was too paranoid and too aggressive. Kyle – no but dude anytime I am chatting with Alyssa I don't tell her anything. Joe – I trust you dude. I was just running up here for the toilet. Kyle – I know but just the optics of it. I even told her today don't tell me anything.. like just stop talking. Like this phase of the game .. like the first phase of the game everyone comes in and builds their relationships, shares all their secrets and then now we're in the phase where sh*t is getting out and hitting the fan. I told her I am keeping my mouth shut and just listening to everything. Like don't tell me anything. Joe – yeah like you didn't tell me about the nail thing… it was Ameerah. Kyle – I thought I told some people. I didn't care. I don't give a sh*t!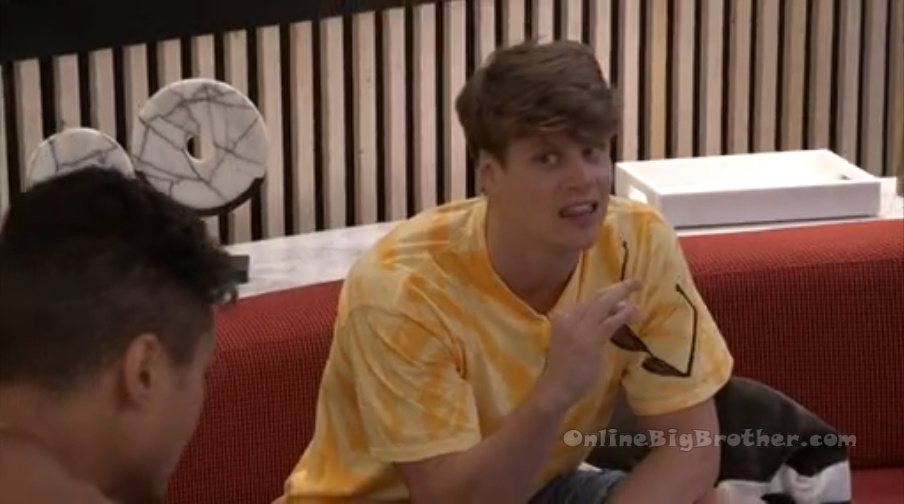 Joe – Alyssa plays like you and me. Dumb and sweet. I think there is so much more to her than she eludes. Kyle – she tells me stories about her outside life like when I get mad my friends are scared of me. Joe – she is so much more than what she perceives. Kyle – she is. Joe – she is very similar to me and you. Playing underestimated.. Big Brother switches the feeds. Kyle – she is freaking out a little bit. Joe – she is going to continue to freak out. Kyle – that is why I wanted her gone this week. At least we know who Nicole is and that she can't control her emotions. She is not a social player. Joe – people are going to start grasping for straws. As the ship sinks they're going to start drowning people with them. Kyle – do you think Alyssa next week? Joe – Dude, it depends on who is HOH. She could be HOH next week. Kyle – I was just having a conversation with her (Alyssa) and I guarantee she knows the Ameerah vote was planned. And I guarantee she knows I leaked something to Jas. Joe – you have to start pulling back because she is now changing from wanting to work with you to now more of an investigative. Kyle – yeah but my game is don't say anything, just listen. Ameerah knew everything so we can just keeping blaming stuff on her. Just keep telling me what I need to do because I don't have a good perspective of how I'm being perceived.
6:35pm Backyard pool fun..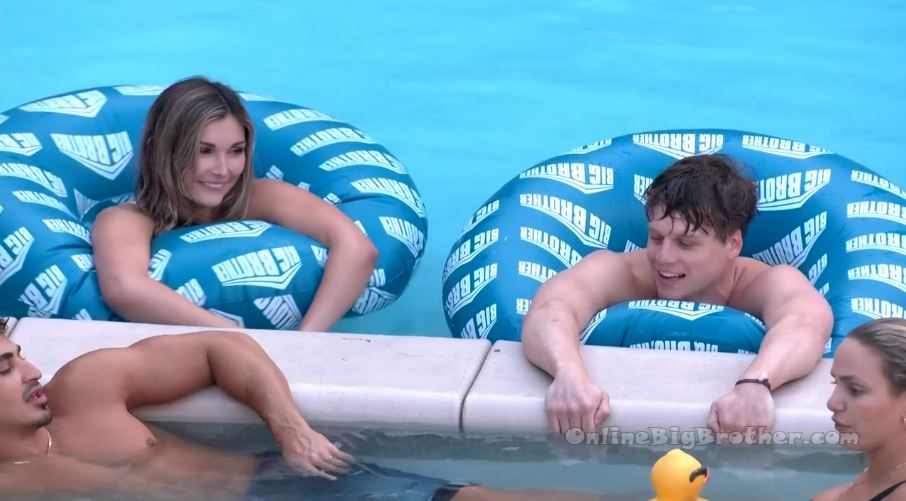 6:42pm – 6:50pm Kitchen – Nicole and Daniel.
Nicole – Terrance suggests don't use the f**king veto. Daniel – he said that? Nicole – yeah, he said that. Terrance – here is my take on it Bro. My take is going to get me sent home but.. Daniel – hey, you survived this one! Terrance – f**k it.. I would hijack it! I just would! There's a lot of uncomfortableness that just ain't right. If we had a plan and this was supposed to be a plan what is all the talking about BRO!? You know what I'm saying!? I am just confused what all the talking is about. And why everybody meeting in different rooms? And having so much discussion. So to me somebody is lying about something that's going to happen and there is going to be no f**king different than Ameerah. Its the re-run! Daniel – yup! I agree. I would be lying if I said it wasn't even a thought. Terrance – and don't nobody need to talk to me because my vote don't matter. Daniel – because they got it. Nicole – because they have it. Terrance – no, even if I vote either way .. it won't matter. It was a 7-4 vote for Ameerah. So whoever didn't have to know .. didn't f**King have to know. Nicole – everybody has lied to my f**king face. The only person I haven't spoken to is Brittany because I don't need to .. I already know. Terrance – Mike walking around here like he got a bigger d**K than I have! (LOL) Daniel – he's been in the HOH room more than I've ever seen him. Terrance – I mean chilling! Daniel – Listen for this to work .. what I am conjuring up.. we need Jasmine. You've got to keep her in your good graces. Nicole – she lied straight to me face. Daniel – yeah everyone lied to my face. My bestie lied to my face. Nicole – Kyle won't even talk to me. Daniel – the only way this works .. Kyle also has to say not to use it. Terrance – his showmance is on the block. Daniel – please believe me .. I'm conjuring up something. If we both say not, nothing changes. If one says no, and one says yes… that makes me look bad. I have to make sure he will not use it. I'll tell you later how I'm about to make that happen. If those guys take over the house.. none of us are going to final 2 or 3.. because any of us sitting next to them we will win.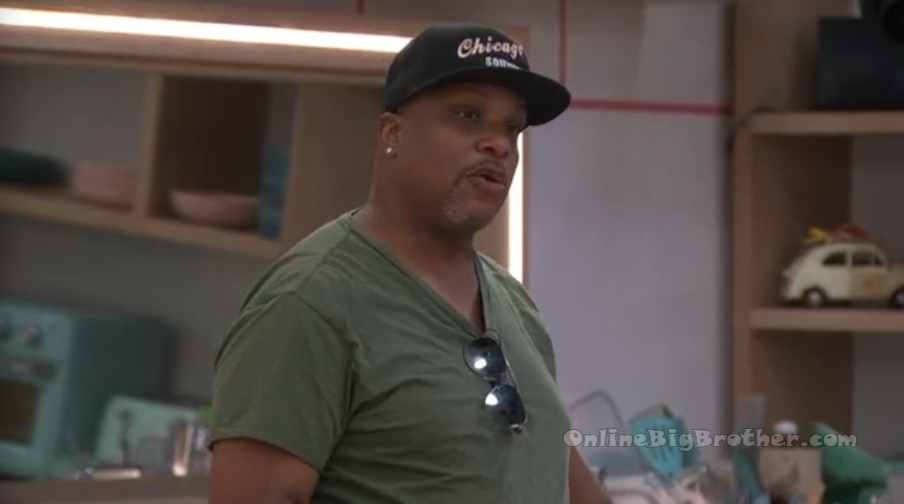 7:03pm Hammock – Terrance and Taylor
Terrance – If everybody felt how they felt about the Ameerah situation, they could still feel the same about the Nicole situation. Taylor – Mmmmhmm. Terrance – And that's what I want. And then after that I know we can never claim sh*t but you HAVE to win HOH. You have to win! Taylor – oh my god! Have to! Terrance – you have to! Its like critical! Like for real.. we got a chess board that's running out of moves. I like talking to you because it throws them off too. I like that! I want everyone to stay off balance. I want you to keep guessing about me motherf**kers. Taylor – everybody that talks to me about the weather, type of chips I'm eating, about the colour of my underwear… They get pulled into a corner and questioned .. what the f**k were you talking to her about!? Are you in an alliance? Are you working together? Terrance – oh so I'm about to get questioned!? Taylor – MMmhhhmmmm!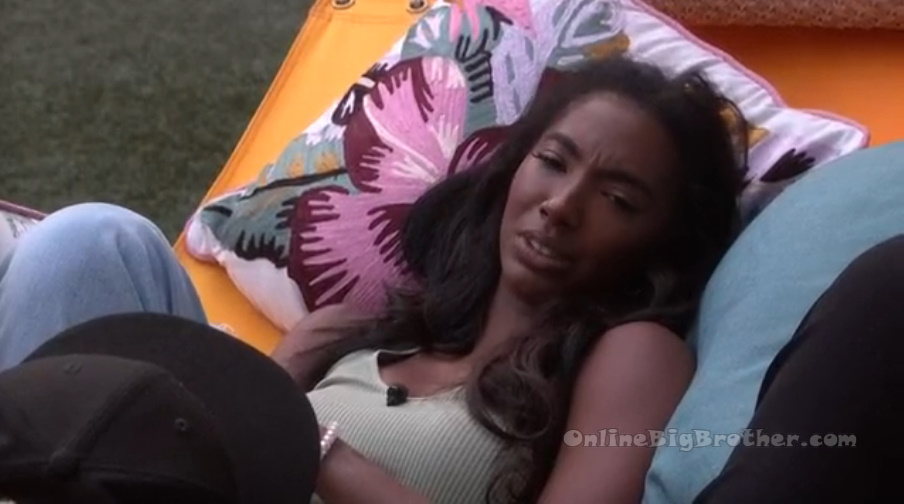 7:20pm Bathroom – Kyle and Alyssa.
Kyle – you can't come in here. Alyssa – why? Kyle – literally everyone out there is like oh there they go again.. Alyssa – but I'm so bored! Kyle – I'm bored too! Alyssa – I wish we could shower upstairs. Kyle – Monte did give us the green light but are we about to risk it all right now? Alyssa – I guess not .. I could go back outside. Kyle – why can't we be in jury right now… and just be like screw it! I'm not winning anyways. Send my a$$ home! Alyssa – I guess. Kyle – no we need to be good. We would regret it if we do something and we go home because of it. Alyssa – you think someone would send us home because of that? Kyle – I don't know. I'm going to get in here (Shower) ..don't look at me because I have a bit of a situation from being out in the pool with you. Alyssa – Now I don't know what to do with myself. Kyle – no you can't take a shower with me right now are you kidding me?! Alyssa – okay but its all I think about. Kyle – Jury, jury house. Alyssa – are you saying once we get to jury in the house or once we go to the jury house? Kyle – go to the jury house. Alyssa – no! Kyle – this is a situation right now .. and we haven't even touched each other. It is taking every once of myself control right now. You don't even know!! Alyssa – okay whatever. Alyssa leaves the bathroom. Kyle to himself – be strong, be strong.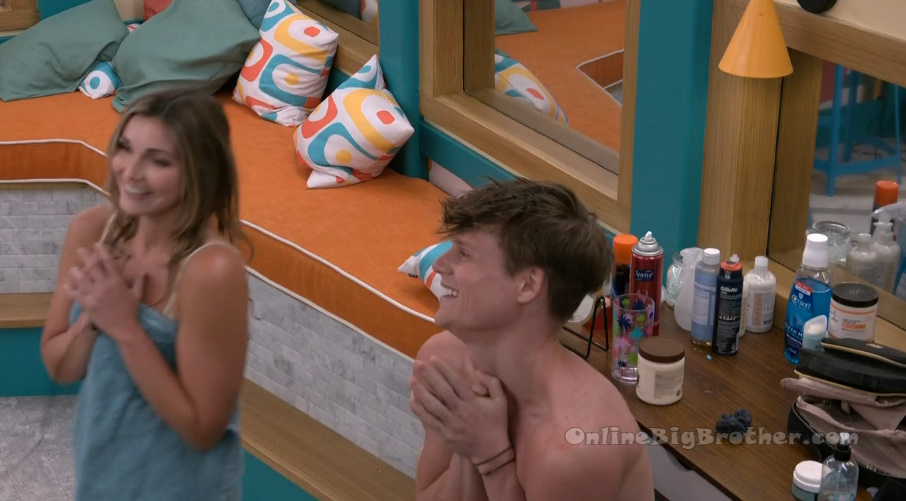 7:36pm Bedroom – Kyle and Daniel.
Kyle – dude we're safe this week! Daniel – dude! Kyle – its like the first time I've been able to breathe. Daniel – dude I am so happy. Joseph and Monte were kind of upset. Did you pick up on that? Kyle – you think? Daniel – I don't know .. but they sucked a$$. Kyle – do you think they were mad? Do you think they would backdoor us dude? Daniel – we got to talk a little more dude. Kyle – there is no way. Daniel – I was worried and then after today I was like is there something else up. He was like it was either you and Kyle or those two girls (Alyssa & Indy for initial noms). He just felt so okay to put us up. Pay attention to them.. like Taylor is in with them dude! I don't think she is going anywhere. Kyle – she went up there like right after. Daniel – just look out for it. Kyle – thank goodness we won if we were the backdoor.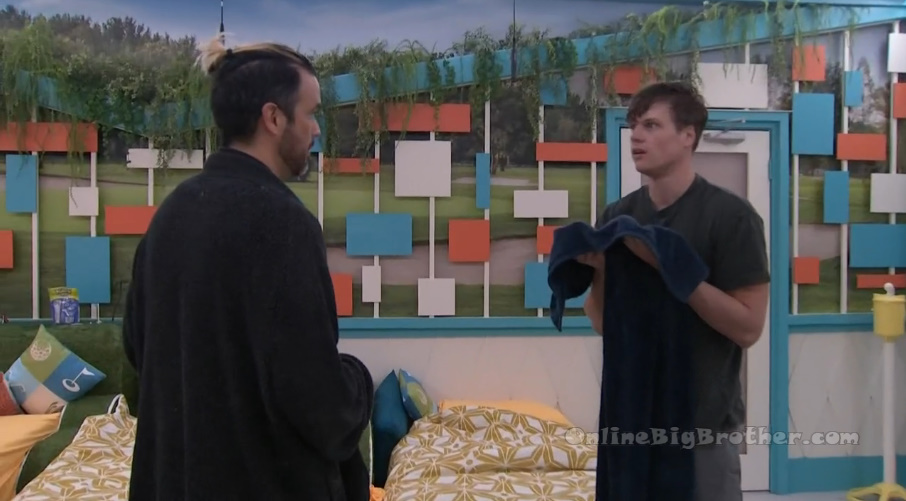 Kyle hitting Jasmine's foot… @bigbspoilers #BB24 pic.twitter.com/lxdTkz5fcT

— Dawg (@DawgsBigBrother) July 31, 2022

8pm HOH room. Monte and Michael.
Monte – what's happening? Michael – alright two things.. Jasmine cornered me pulling me into her office which was the car room. So she was asking me about PO's Pack and I did tell her some stuff about it. Monte – yeah, that's fine. Michael – she was like I already know names and stuff. I was like is it a bluff to get me to say the names or are you trying to catch me in a lie. And then Nicole came up to me when I was napping on the couch and she was talking to me. I think she's come to the conclusion she doesn't want to go up on her own. She was nervous and talking about with Ameerah going that scares me bla bla bla. She was like I don't think Daniel would use the veto if he thought I was in danger but I don't know what Kyle would do. And I was like talk to Daniel and Kyle and maybe they wouldn't do it. I don't know if she wasn't thinking about it but she was now like I have to go up to get Taylor out. Monte – its just building her case for her to actually go. People will get very paranoid why she doesn't want to go up to get Taylor out. This what happens when people suspect they're going on the block.. they get paranoid. If she does come to me then I can go to Alyssa and Indy and say that Nicole is backing out of the deal to go up on the block to get Taylor out.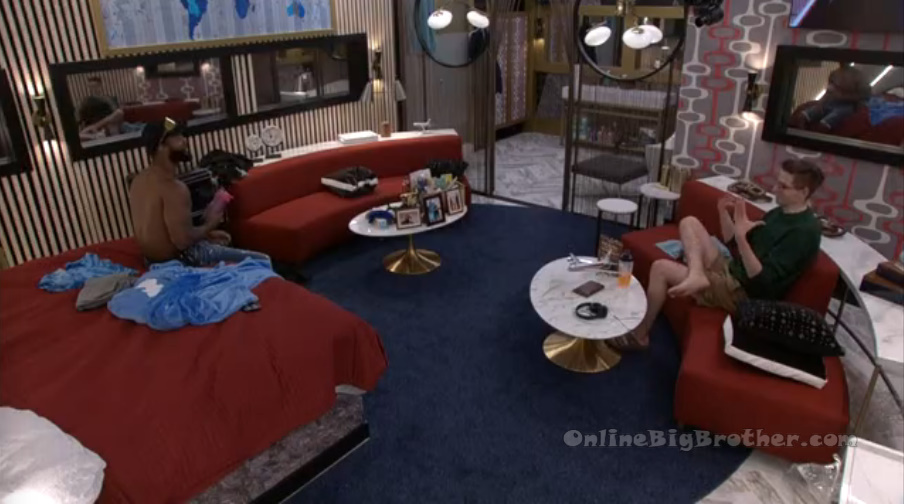 8:30pm – 8:45pm HOH room. Joe and Monte.
Monte – after we get a unanimous vote for Nicole out of here this week. Joe – its looking like it. Monte – and if Daniel is the only vote for sympathy. Joe – and I don't even think he will .. right before I'm going to drop a bomb .. just so that when he is hugging her he isn't waiting for her to walk out. And two if for some reason he does grab an HOH again .. he will appreciate me or whoever came up and gave him .. but right now he thinks he has me wrapped around his fingers. I am thinking I will be like YO Monte knows we're tight and Monte gave me this.. I really think Nicole is out. I am just trying to let you know. I didn't know it was coming. Monte – yeah 100%. And I really do hope that Nicole comes and finds me and tells me she doesn't want to go up on the block. Joe – yeah and you have to double down and be like Nicole I don't know where you're getting these concerns but I've got to go for Taylor. And if she says anything .. be like okay who do you recommend I kick out otherwise. And once she says a name.. There is no shot Kyle is leaving Indy and Alyssa up there. And she might say a name or she might say Indy or something like that. And then we bring that back to Indy. Monte – yup! And Indy and Alyssa have already dropped seeds that they don't trust Nicole. And if that is true, then this is even more ammunition.