POV Holder:
Emmett
Next POV
March 30th
POV Used
No
POV Ceremony
March 25th
HOH Winner:
Alec
Next HOH:
March 28th
Original Nominations:
Aj & Suzette
Current Nominations:
Aj & Suzette
Last Evicted Houseguest
Tom & Liza
Have Nots
No Havenots this week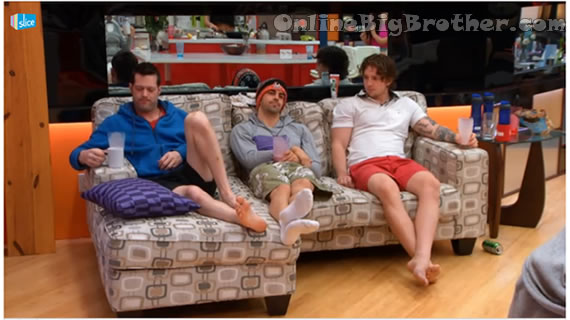 9:51am Morning chit chat..
Emmett and Alec are talking about his foot, They reply the incident where there was a collision and Alec stepped on Emmett's food. Alec says he plays intramural soccer at UBC he's a goalie. Says he's not really any good but he tried very hard. Emmett is still limping around.
**** SHOCKING NEWS **** Topaz is up and about making breakfast
Alec asks Peter if he's ever played Dungeons and Dragons. Peter says he played it once.. it was fun. Alec hasn't played it he thinks it will be fun but games have evolved so much now for D&D to be his go to game.
They all start discussing board games like Risk/Cranium, sport teams and showmances that cook.
I hear Andrew make a comment that Gary is sick. Gary says that he didn't play air hockey yesterday because he was sick.
Peter asks Topaz what is her plans for today.. Topaz: "Goodbye messages.. I'll probably try to go into the pool and hot tub today" Peter: "Sounds like a plan"
10:07am Air Hockey Emmett and Andrew
Andrew: "There's no power.. it's off.. Big Brother the air hockey table isn't working there is no juice" :( about 10 minutes later Andrew and Alec start playing air hockey.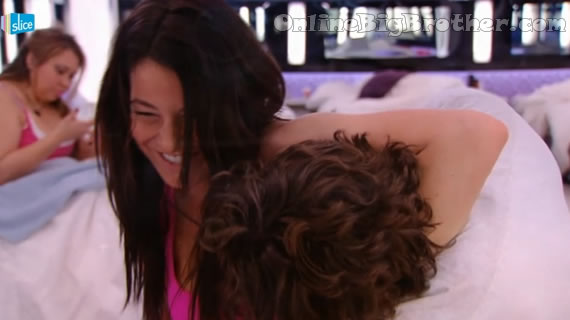 10:15am Bedroom Jillian and Emmett with Suzette in the background Jillian slaps Emmett into a head lock and they start toi wrestle, "Emmett stop it you are going to make my wrist bruise"
Emmett: "Than stop fighting it"
Jillian asks him when he's working out. Emmett plans on hitting the weights around lunch time. Jillian whispers for him to work Gary hard. Prior to Emmett coming into the room Suzette was talking about her nightmare last night where she saw her cousins dead. Jillian: "Crazy is that's what you were screaming about" Suzette also adds how excited she is to be going home soon, "I can be home by Sunday" Jillian mentions to her that she may be going to Jury they never know.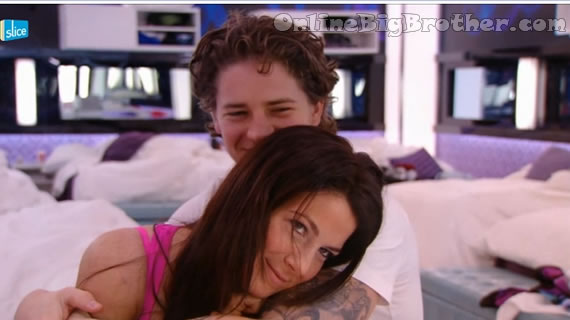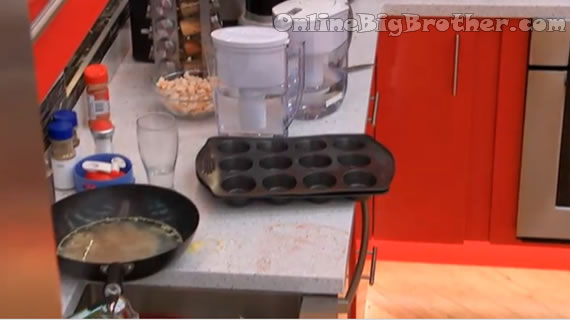 10:30pm Camera pans around showing the mess in the kitchen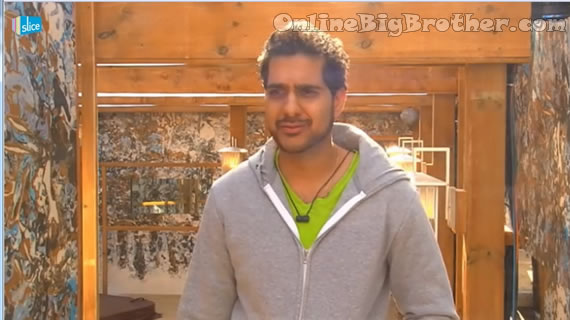 10:34am AJ and Andrew
AJ re-lives last night with Suzette waking up to a "Nightmare" Aj says it sounded more like a moan he was scared thinking she was "doing something" and was going to jump on him. Aj starts to moan to impersonate Suzette. Andrew: "It was a .. It's Long.. moment"
Andrew: "Hey Boys"
AJ starts on his goodbye speech: "You know Andrew Suzette has taken us on so many guilt trips in this house we should get frequent flyer miles to Tahiti"
Aj jokes that it'll be a double eviction tomorrow for phrases, "now we got the phrase 'Hey boys' and 'He'll ya' out of the house"
Andrew: "You know what else she says.. 'All right' " AJ laughs: " triple eviction"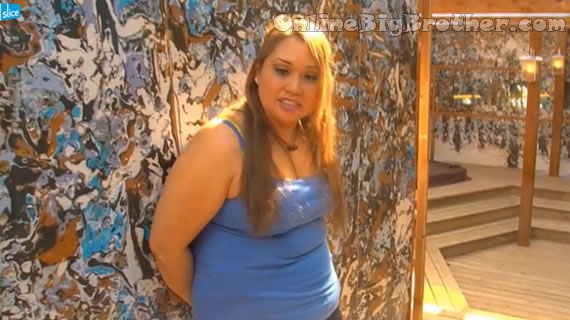 10:45pm Hot tub Room Suzette and Gary
Gary talking about how sick he's feeling. Suzette is surprised that more people are not sick with how people handle meat in the house. She comments that people always leave raw meat in the fridge to thaw. Gary: "I just cannot believe this is happening.. I'm going to have a rest day " Gary comments that the other guys are telling him to work out when he's sick. Suzette thinks it's because they are all targeting him and want him to be sore for the HOH tomorrow. Suzette: "Tehy all think it'll be endurance"
Suzette says that people in the house are so determined to portray her in a bad light, "It's their own guilt they gotta make me look bad.,. it's their own stuff man"
Suzette: "I wish we had crafts or something.. read books today.. i got luck knowing it's my last week.. so much cool stuff happened"
(Suzette never tried top campaign once this may be a BB record)
Suzette goes on and on about how everyone has been so mean to her and she didn't think it was going to be that way.. Suzette: "You know what the funny thing is Alec said to me you never game talked with anyone and that was a weakness" Suzette adds she could never game talk with anyone because they were all afraid of Tom, "I was the target since day one"
Suzette: "Emmett said the same thing to me.. why the hell would I game talk with Emmett he was best friends with Tom.. they are making me look like I'm not playing the game"
Gary: "They would never want to game talk with us anyways.. we're the targets"
Suzette: "And Topaz even said to me not to game talk… Emmett told me he doesn't like gossipers.. so why would I game talk with Emmett"
Suzette: "They are just trying to make me look so bad"
Alec comes in tells them they want him to take workout pictures for facebook..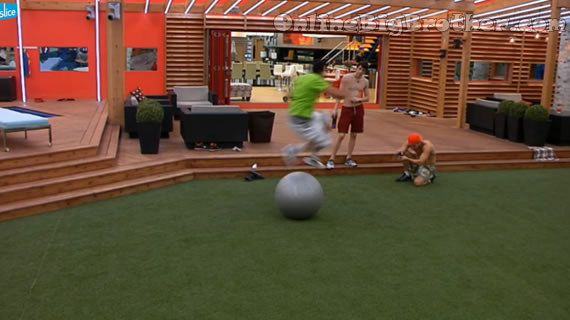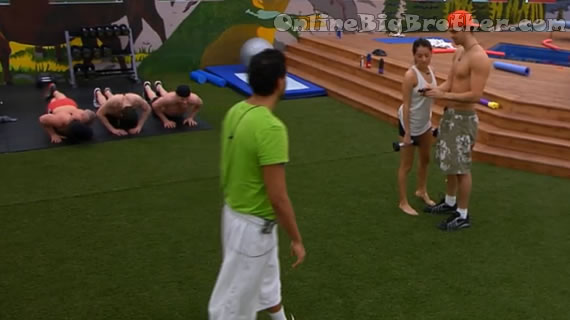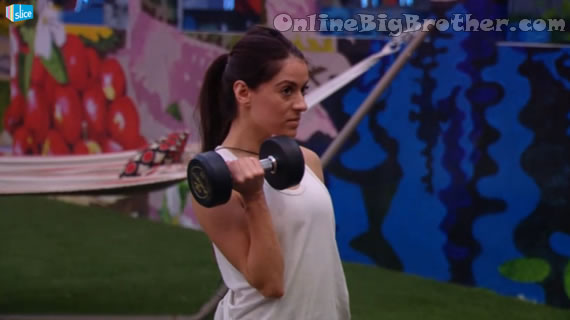 11:00AM Backyard Alec taking the facebook pictures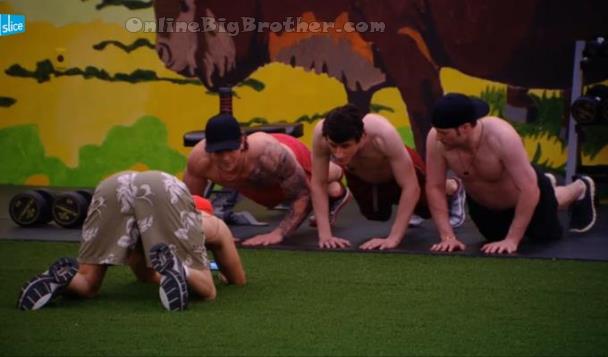 11:41AM Alec is just finishing up his HOH workout photos.
Stay connected and interact with other Big Brother Fans on our Facebook page.
And Follow: @BigBspoilers and @Dawgsbigbrother on Twitter for the most up to date spoilers.
[polldaddy poll=6985048]
Share it YO!!
Tweet