POV Holder:
Emmett
Next POV
March 30th
POV Used
No
POV Ceremony
March 25th
HOH Winner:
Alec
Next HOH:
March 28th
Original Nominations:
Aj & Suzette
Current Nominations:
Aj & Suzette
Last Evicted Houseguest
Tom & Liza
Have Nots
No Havenots this week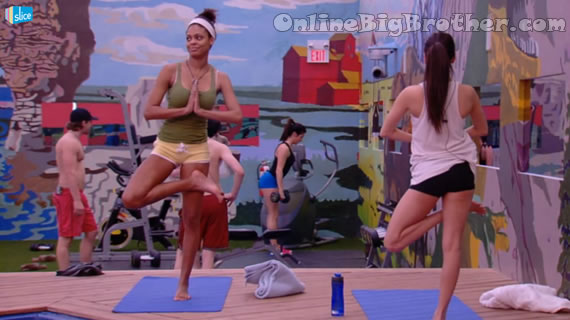 11:50AM Backyard everybody but Suzette, Gary and Aj are working out. Suzette and Aj were doing the dishes earlier. Talla is "teaching" a yoga class to Topaz. AJ is watching them from the lawn chair. AJ: "Talla you should be a Yoga instructor" Talla: 'A little while ago I was going through my Yoga phase"
AJ runs into the storage room to grab some Mountain Dew he's going to use it as motivation for Topaz. He dangles it in front of her, "Reach for the Dew topaz REACH REACH FOR IT" Topaz starts to laugh "Mountain Dew Mountain Dew" as she reaches for the can.
Topaz: "Oh my god you people do this for fun"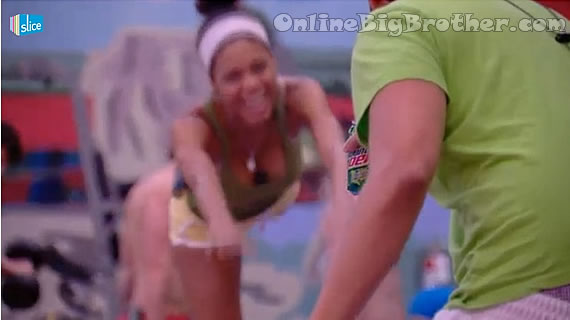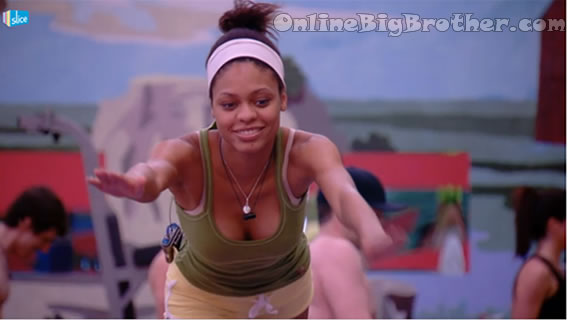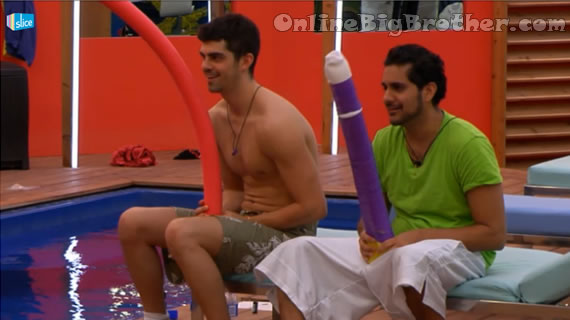 12:15pm Aj and Andrew watching Tall and Topaz doing yoga. They pretend the pool noodles are their "Noodles" making s$xual sounds etc etc..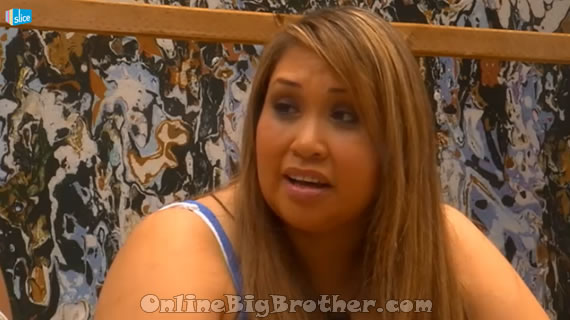 12:20pm Suzette and Gary in the Hot Tub Room
Gary smoking, he's talking about his grandparents in Montreal and how much he misses them. Gary mentions how he'll show up at clubs and be like "I'm here.. lets party" He jokes (?) that he'll charge to make appearances. Suzette: "Hotel accommodations and bar tab is the fee" Gary asks if he can even do that. Suzette: "Hell ya.. I do that.. I've gone to different places.. it's like partying with Snookie"
Suzette: "I just don't want these people to think I'm crying whinny person" Gary points out that at least they have good positive lives to go back on whereas some people in this house have everything riding on this show.
Suzette says that all these other people are just going to blend back into society but Gary and her "Not so much" Gary: "This is my ticket up" Suzette: "Ya me to"
Gary: "This is a great stepping stone for my career"
Suzette: "The reason I get so emotional cause I have a family to support.. I'm not guilt tripping you guys.. I have so much riding on this.. I'm not using my family to guilt trip people"
Gary: "You have mouths to feed"
Suzette: "Ya.. "
Suzette: "People have made me feel like the black sheep.. they do personal attacks"
Suzette says that Emmett has a really bad temper, "He's really competitive.. they take all the fun out of it.. they are straight up mean" (They are Alec, Emmett)
Gary: "I want to win this game.. I've been the underdog since day one.. i'm going to rise up like a phoenix out of the fire.. or Glitter out of a bottle"
Gary is going to ask Alec if he can vote for Suzette to stay he doesn't want her going out to a vote of zero"
Suzette: "Tell him dude she's from you own city man.. don't be ruthless"
Suzette says that the other people in the house are making themselves look so bad by bullying people… Suzette explains to him how much different it is being in this game when you have a family. She points out that everyone in the house is single with few responsabilites. Suzette mentions how she now knows how Rachel felt in Big Brother by always being the target.
(Wish Thursday was here already)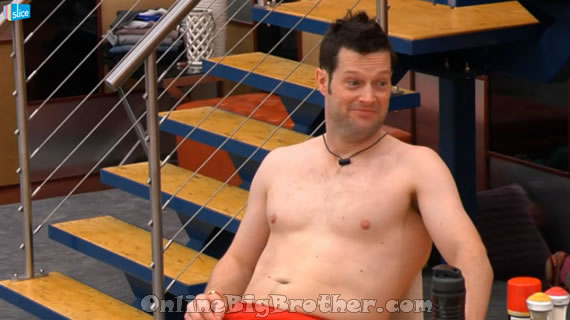 12:40pm Andrew and Emmett
Andrew saying he really wants to win the HOH tomorrow. They both agree the only people who are going to be trying are Andrew, Jillian, Emmett and Gary.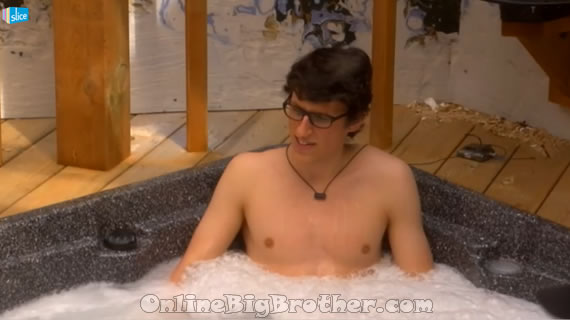 1:00pm Hot tub Peter, Emmett and Andrew
Chatting about Suzette and how she's really not playing the game. Emmett: "She didn't come on the show to win she came on the show to guilt people" Andrew mentions that she told him she wished they didn't have to vote people out. Peter jokes that filming a bunch of people in the house would be boring..
Emmett: "If you can sum of her game in two words.. it's Guilt Trip.. her game is composed of one liners Hey boys and guilt trip"
Emmett wonders why Suzette keeps going around saying she's not guilt tripping them when it's obvious that is all she's doing. Emmett: "At this point I don't know why she's fighting so hard with the guilt trip.. She says she's not with her kids.. She left them they didn't leave her"
Big Brother :" 15 minutes warning the house will be off limit"
Emmett says that Suzette is always saying how her life is so hard but on the flip side she's saying she goes to shows all the time and gets paid a grand. When Emmett asked her about it she told him "gotta play the game yo"
Talk moves to dating chit chat

(Video uploading)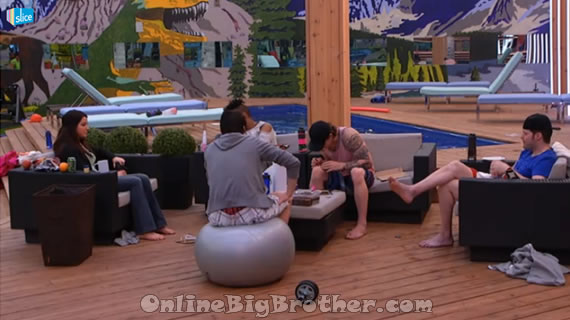 1:50pm Outdoor lockdown.. Nothing going on
Sounds like they are planning a air hockey tournament.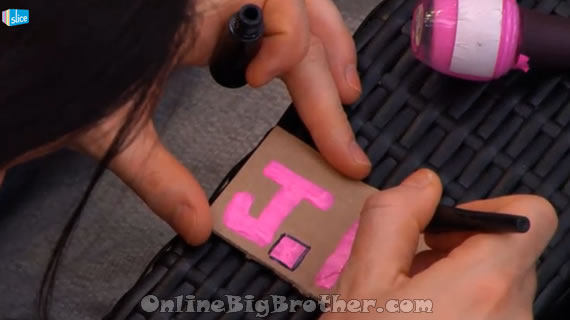 2:15pm CRAFTS!
2:26pm Jillian asks AJ if Talla is the type of girl that he would date outside of the house. Aj says for sure. GAry :'You like petite girls" AJ: "YES" Gary than make a move AJ.. a serious move" AJ: "Not in the house.. nothing can be serious in here.. plus she lives in Edmonton and I live in Toronto":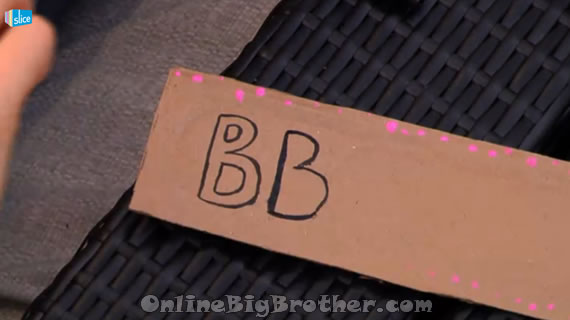 2:31pm Making a sign for the BB Canada air hockey tournament
Stay connected and interact with other Big Brother Fans on our Facebook page.
And Follow: @BigBspoilers and @Dawgsbigbrother on Twitter for the most up to date spoilers.
[polldaddy poll=6985048]
Share it YO!!
Tweet