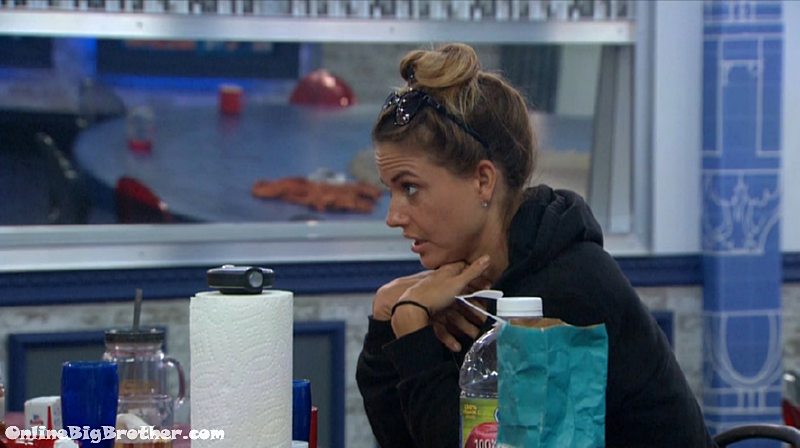 Check out our BB19 Ranking Grid. . rank your houseguests here
12:14pm Christmas and Alex kitchen
Alex – every time I shave my crotch I'm always.. I can't wait to get lasik.. I can't wait to get lasik (I think she means laser)
Christmas says when she gets out of here strike a deal with a place and use her Instagram fame to get a deal on laser for her (you know what). Christmas says she'll get at least 100K followers after the show.
Christmas – don't do more than three posts a month.. you'll get so much free stuff and sponsorship's..
Christmas is waiting to get into the Diary room to get her medication.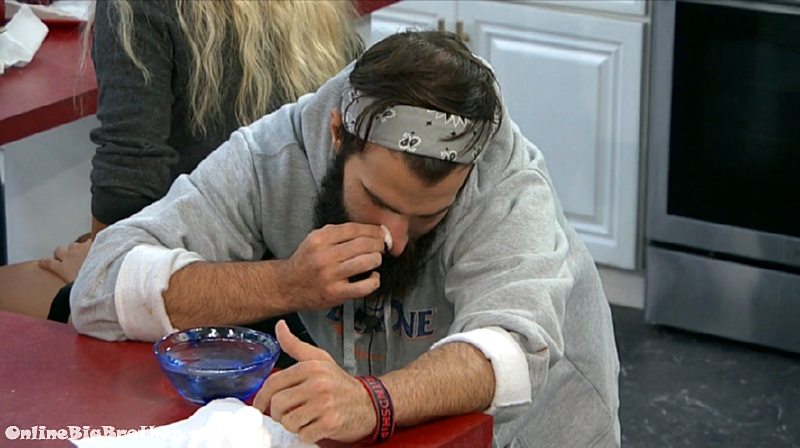 Paul cleaning out his nose. (he spends a lot of time cleaning his nose ring out.. Did the same thing last year)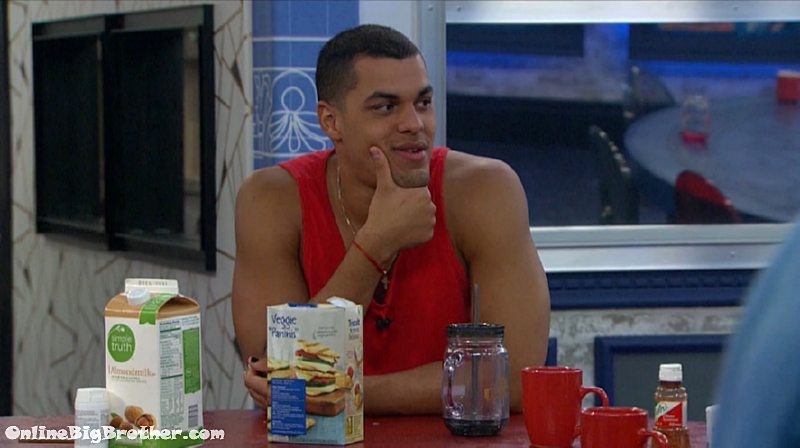 12:41pm Kitchen.. (Random chit chat)
Josh – Hey Matt.. you look a lot like that guy that interviewed us
Matt – Jeff..
Paul – I doubt he even knew I was going in, that's how low key it was
Matt asks how many people knew he was coming back
Paul – there was less than 20 (plus everyone that followed the #BB19 hashtag)
12:48pm Kitchen Everyone but Mark, Cody and Jessica
They are talking about Mark being allowed to sleep when some of them get dinged from Big Brother. (They are supposed to be up from 10-10 but it's a very loose rule, Elena and Mark always stay up until 1-2pm. other house guests get told by production to wake up.. it's very odd)
12:52 Christmas crying.. muttering to her self.. alarm trunk horn.. alarm trunk horn..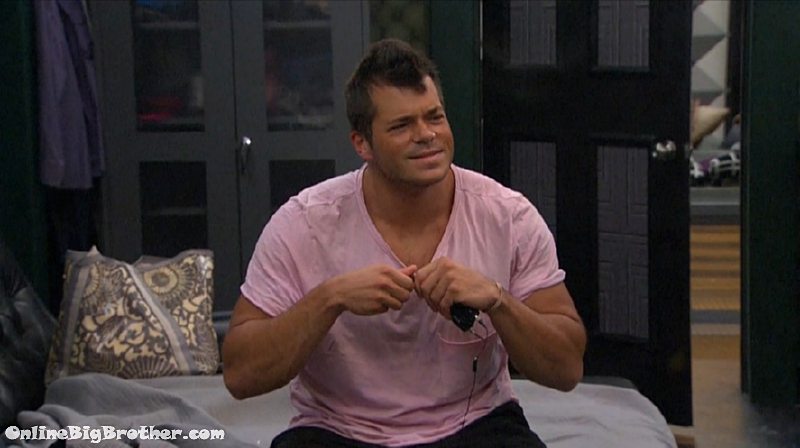 12:57pm Look whose up..
12:58pm
Raven's new look.
Kevin is telling them about Quaaludes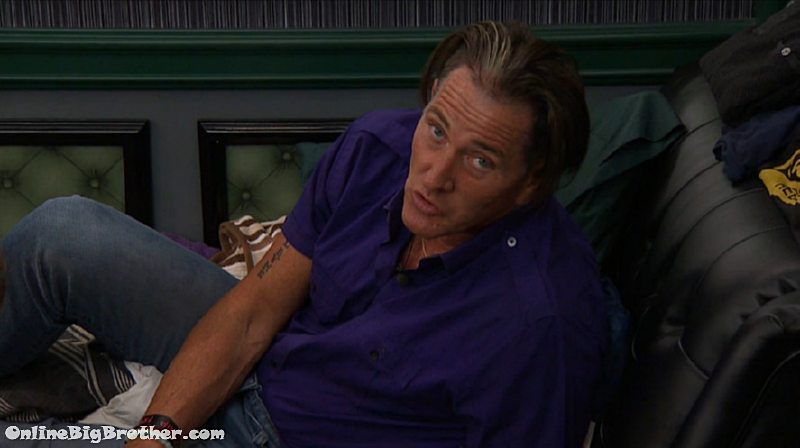 1:13pm Kevin
Kevin – you guys have taken a piece of my heart so whatever you wanna do
Jason starts singing.. taken a piece of my heart
Kevin – you know who sings that
Alex – Come on Come on
Kevin – Janis Joplin
Production – Please stop singing
Kevin – Actually I'm not singing I'm teaching them about America's musical history 1967 Janis Joplin
Production – Kevin, please stop singing
Raven leaves.. they start studying..
Kevin goes through all the sounds they've heard over the last couple days. (In case you missed it Since Monday Big Brother has been playing sounds, jackhammers, dogs barking, baby's crying etc etc.. )
Kevin tells them tomorrow he's dressing up nice he's tired of the guys putting on Shorts and looking like slobs, "Like Mark"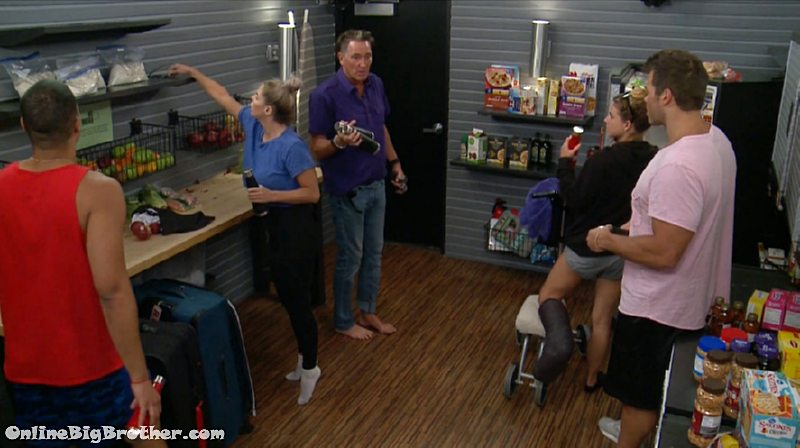 1:50pm They get insulated cups from Big Brother.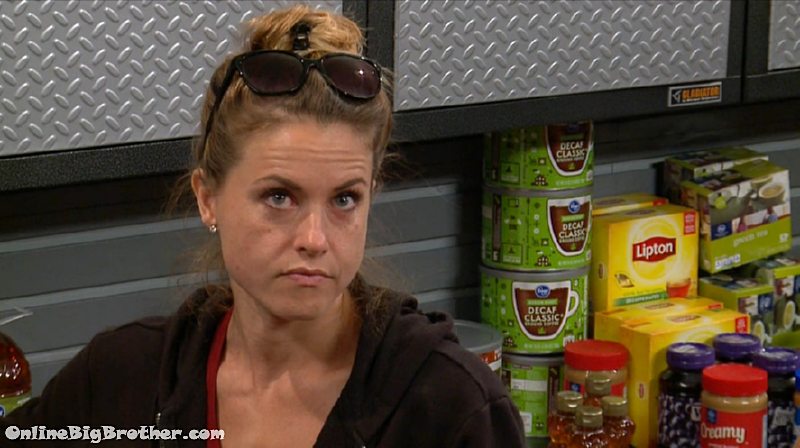 1:52pm Christmas and Josh
Josh – Call me crazy but I think Mark and Alex have something or like just…
Xmas – Alex is being nice to Cody just in case she needs him at some point
JOsh – Smart ..
xmas – I feel super solid with me, you, Kevin, Alex and Jason
Xmas – there will be small groups
xmas – mark doesn't f*ing talk any f*ing game with me whatsoever
josh – share whatever you want with Kevin but what we talk about don't share with him because Kevin is close to Paul
Xmas – hundi
2:34pm Raven and Matt HOH
Matt says If Cody wins the temptations
Matt – if I'm HOH I'm putting up Elena and somebody else and I'm telling Elena.. we are backdooring mark
Raven – Paul would make a good pawn.
Matt – if I win HOH I want my target going period end of story
Raven – same
Matt – one shot one kill
Matt – If Cody wins the safety.. you can put me up with Elena.. and then as long as whoever finishes last in the safety competition doesn't use it.. (POV)
Matt – that person cannot win the Veto.. it's basically the same scenario Ramses was in.
Matt – we need to control who finishes last.. (in the temptation)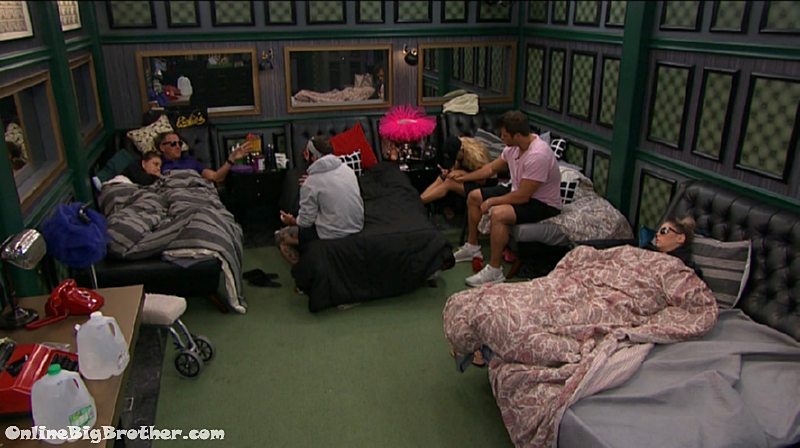 2:58pm Paul is telling them about his 1978 Chevy Nova (Random chit chat.. )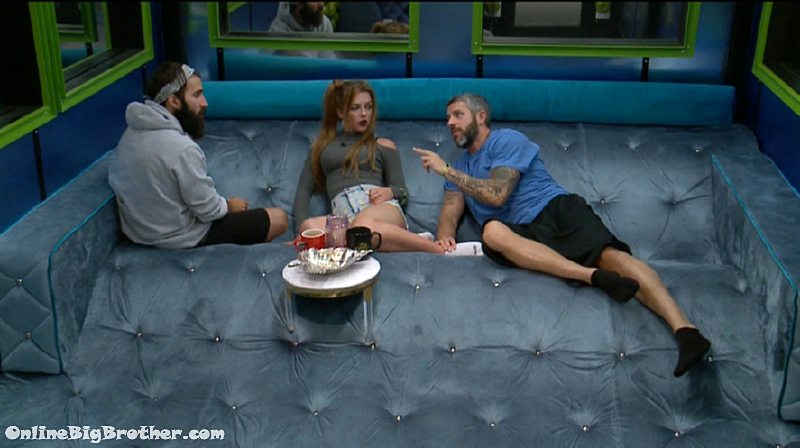 3:04pm Paul, Raven and Jeff
Paul – I feel pretty good about Kevin, Alex, Jason.. even Josh.. Christmas I feel good about but she has her ways
Raven – she can't play..
They agree their final 6 is Christmas, Josh, Kevin, Matt, Raven and Paul. Matt wants Kevin instead of Christmas/Josh in the final 5, He's worried because they are so close. Matt says Kevin is much stronger at competitions.
Paul – if Cody wins Safety we have to get Mark and Elena pissed at each other
Paul – Even if Cody doesn't win Safety Mark should go up..
Paul is pushing for them to have a person throw the temptation competition to take that away from Cody. Paul wants to backdoor Cody and prevent him from playing in the veto.
Paul says he's confident about Jason and Alex points out that those 2 reservations with Kevin, "just leave it and let them get their"
Paul says going up as a pawn is scary at this point but he'll do it.
Matt – I'm available as a pawn from here on out I don't care.. I made it to jury.
Matt – when we take Alex and JAson out we have to be very strategic..
Paul – VERY.. us three and Maybe Josh or Christmas will be around and those 2
Paul says they have to make a move before Alex and Jason do.
Paul – even if one of you won this week it wouldn't be dangerous. All we have to do is put up 2 pawns and backdoor him
Paul says the following weeks the targets are Mark and Elena.
Links to the ranking system
Rank your house guests here
For those of you that like Statistics here are some expanded reports.