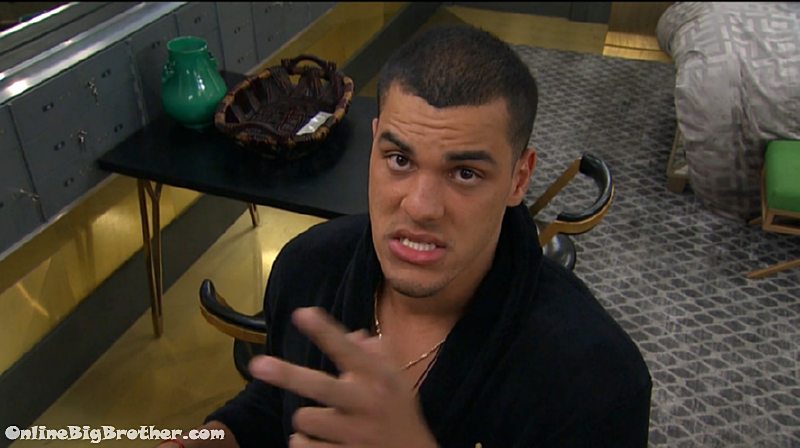 Check out our BB19 Ranking Grid. . rank your houseguests here
3:39pm HOH Josh
Josh – being HOH this week has made everything really clear
Josh – I've always known that Christmas and Paul are my ride or dies in this game.. Paul is annoyed with Christmas and Christmas knows that Paul is playing a great game.
Josh – A lot of people are showing me their cards, stepping back and seeing it puts a lot into perspective..
Josh – If Whisltenut, Kevin and Alex are forming a relationship with Cody how is that protecting me and Paul… and Christmas
Josh – Cody is gunning for Paul he's going to backdoor Paul.. and he's gunning for me.. and he's gunning for Christmas.. forming a relationship with him how is that benefiting me..
Josh points out that Mark, Jason, Alex are getting really close and Mark wants him out of this game, "because I blew up his game.. how are they looking out for me.. "
Josh says his six is Jason, Paul, Xmas, Alex, Kevin
Josh – Paul, Me and Christmas are locked in.. no matter what I will go to war for him and I hope he does the same for him..
Josh – raven and Matt I Know they want Paul out they are getting annoyed with Paul and Paul is getting annoyed with them.
JOsh says he knows Jason and Mark have something going on.
Josh – why would Mark pick Alex to play the veto.. alex threw the veto for him.. I'm going to play the fool.. I'm going to play like I don't see anything..
JOsh says he's solid with their 6, "I hope Jason realizes that Mark is going to be disloyal to them.. Mark is like a Ratatouille right now.. there's no cheese for you right now buddy you made your bed"
Josh – now they want to work with him..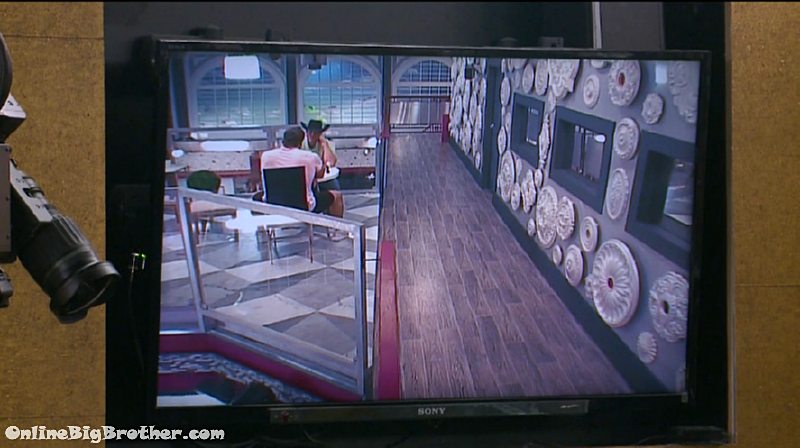 Josh freaking out because Jason is playing Chess with Mark and having a conversations..
"Jason what the f* are you doing.. just now that I see everything and everything is noted noted noted..
Mark you are black and white for me.. Elena you are black and white.. Matt and Raven your done..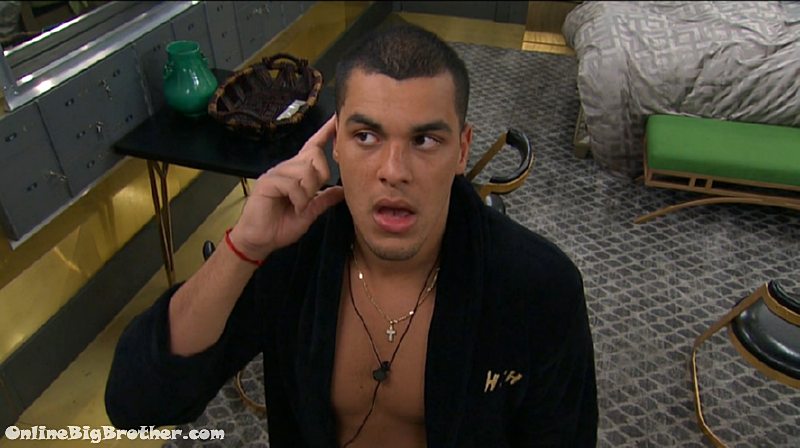 Jason is playing with fire right now.. look at this they are having a full blown conversation..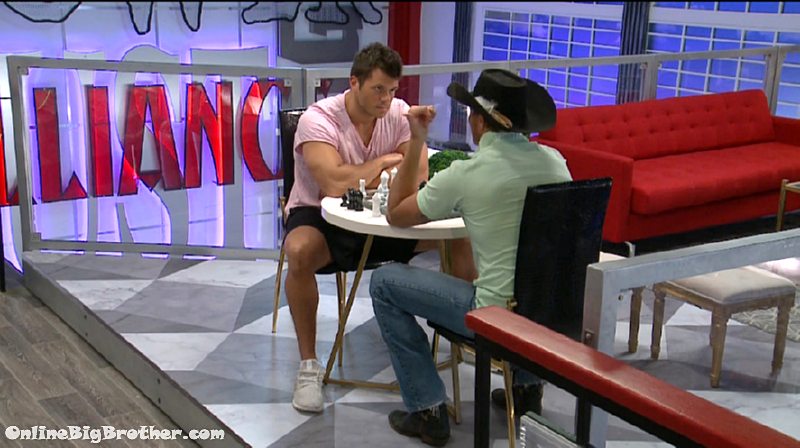 3:43pm Mark and Jason Chess
Jason – I want to put Christmas and Matt up
Jason – we'll say we'll pull somebody off put Cody up
Jason – I'm hoping if I win it (HOH) and Paul/Alex lose that safety thing we can guarantee the Veto, Hopefully Cody doesn't get picked
Jason – I thought Cody was going to be OK to work with after Jessica left but then he freaked out again.. what the f*
Mark saying that Josh keeps egging Cody on "That's what I told Paul.. you guys are looking at it from a outside perspective"
Jason – you can take only so much of that bullshit..
Jason – they were egging JOsh on like Ohh I can't believe he said those thing .. he was f*ing Bawling.. and I told him they are putting that into his head.. your instigating it.. "
Jason – you can only take so much of that bullshit..
Mark – how do you and Alex feel about Paul
Jason – I think he has good interests in mind .. his mind is sharp as a tack.. and he's helping everybody and so I know what that means.. he literally helps everyone which makes me think he thinks he's totally going to win everyone in the Jury will vote for him.
Jason – there's so many f*ing people in here
Jason – he's (Paul) everybody's buddy, they're all going to vote for him
Mark – there's only 1 vet in the house and he's going to tell everybody what to do
Mark – the way he called me out yesterday was bullshit
Jason – it was.. I felt like you handled it OK
Mark – he's a very intelligent man.. he knows everything is game.. for him to put me on the spot like that was complete bullsh1t
Jason – I think it was too.. Seriously I was like WHAT
Mark – you Alex, and Kevin you guys control the votes here.. I don't know how Kevin feels about Paul.
Mark – does everybody hate Cody that much? because all I hear is how much Christmas and Paul hate Cody
Jason – Paul is threatened by him because he doesn't listen. (Bingo)
Mark – everybody is following Paul in this game
Jason – they have since the beginning .. I have.. I wasn't in the beginning
Mark says once they take Paul out all those people downstairs will have no where to go "They will be like lost puppies.. all they do is look at him and follow him"
Mark – You take that out the game gets a lot easier
Mark – once they are separated we can pick them off
Jason – how will you do that you'll have to b@ck door that mother f*er
Jason – he was on the block the whole time last year.. they never got his a$$ out
Jason – how will you beat that mother f*er
Mark – nobody knows everything
Mark – this stays between me and you
Mark – If I would to win HOH and Cody Safety Paul's going on the block and if he doesn't get off the block all yo need is 4 votes to get rid of him.
Mark – You, Alex, Cody, Elena .
Mark – then it's me, you, Alex locked in.. Cody is still here, Christmas, Josh, Matt and Raven are just like little puppies down there. (Xmas would take over the group, Matt and Raven would bounce it we f*ing awesome)
Mark – they have no chance.. you and Alex will be the strongest competitors left in this game.
Mark – if we save Cody he has our back..
Jason – I want to get that son of a b1tch out as soon as possible
mark – I know if he wins safety..
Jason – that would switch it up Big Time.
Mark – this game is going down like last year.. Paul is going to skate f*ing through nobody wants to upset him..
mark – it's not Nominations, It's arguments.. everyone takes his side it's pathetic whatever he says GO
4:05pm Mark is inspecting some of the safety deposit boxes.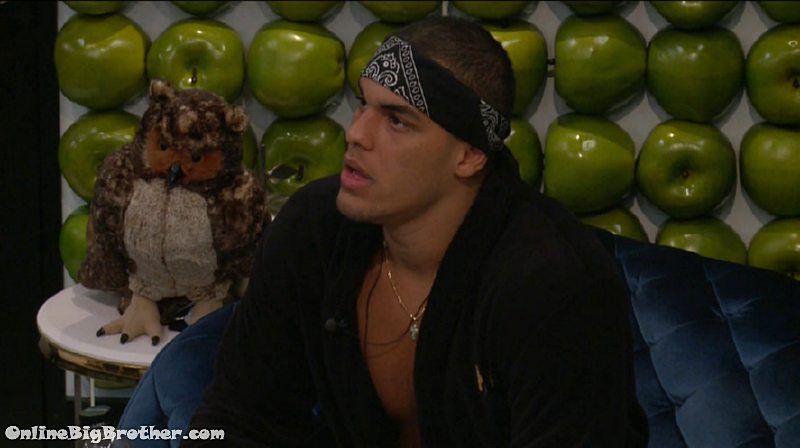 4:05pm Paul and Josh APSR
Josh says it's been clear to him that people are playing their own game and that Paul has his back..
Josh – I want yo to know I have your back no matter what
paul – I know that dog
Josh – there's people targeting us and you're being cool with them
Paul – you have to..
Josh – I feel good with our 6..
Paul you can't sleep on those because of they shoot back you have to be able to control it .. you can't treat everybody as a enemy or they will treat you like an enemy
Paul warns him about Christmas she talks, "She has our back.. "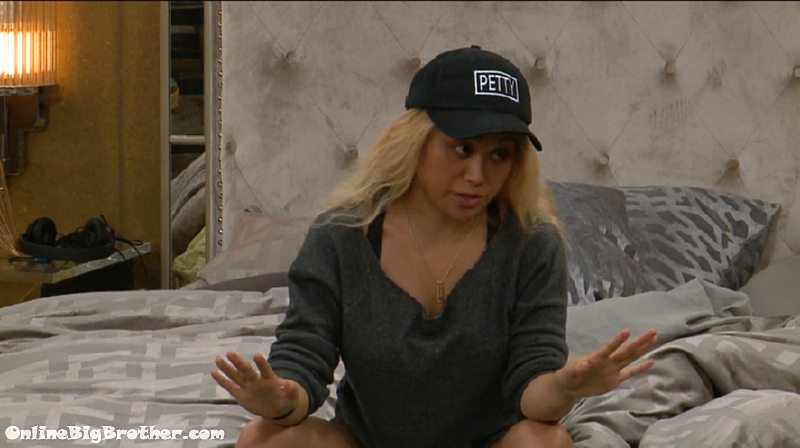 4:21pm HOH Josh, Jason and Alex
Josh – whats the deal with Mark
Alex – I don't trust him..
Jason – what do you mean..
Alex – here it is.. we need to coddle him as much as possible, bring him in because if he starts to taking shots next week we don't want him to send you home.
Josh – OK
Jason – why do you ask that question
Josh – because… 1 I don't trust him
Jason – that's a good idea
Josh – he's extremely disloyal.. he turned on Cody his closest friend he'll turn on anybody in this house.
Alex snaps her fingers – You two, this is what it is, Numbers are starting to stack up against.. Jessica is getting out of this house on Thursday
Alex – in the house the alliance could be, Cody, Mark, Elena, Matt, and Raven.. so you be as nice as possible to mark.
Alex – Bring him in throw him some false clues.. we don't want Mark to win HOH if he wins HOH he's throwing you (Josh) up and one of us up as a pawn.
Josh mentions how he's hearing that mark is going around saying that Josh provoked Cody.
Jason – Who cares
Alex – don't worry we already called him out for that.. he freaked out it's fine..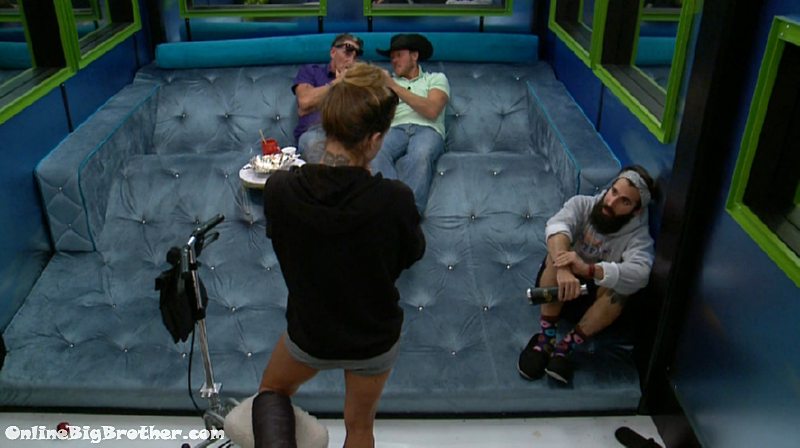 4:40pm Paul, Xmas, Jason and Kevin
They're in the APSR (Asutin powers s$x room)
Paul talking about how they need somebody to throw the temptation, "I'll do it"
Jason and Kevin in the background joking around.
5:50pm Raven doing Matt's makeup
matt – oh my god Raven I look like a circus clown
(He lost a bet with her)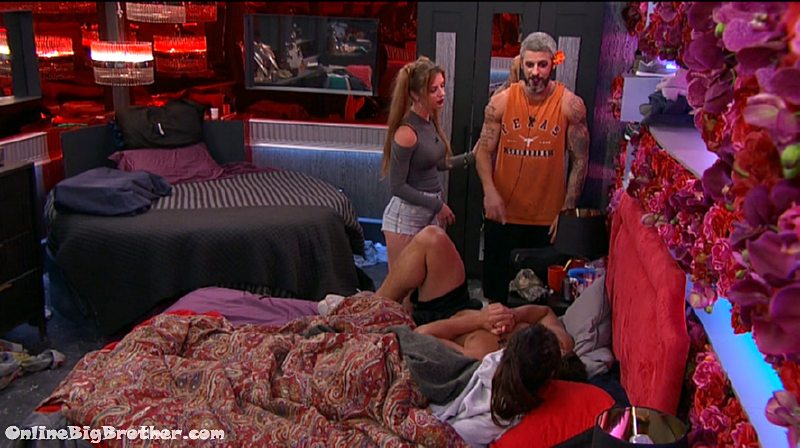 Kevin – he looks like Raven..
They got another sounds it was cats fighting.
jason says it sounds like cats f*ing
Kevin says it sounds like alley cats fighting..
6:05pm Most the housegeusts are doing one of these three things
a) playing grab a$$
b) Studying the sounds..
c) Playing chess
7:33pm Feeds have been down for awhile.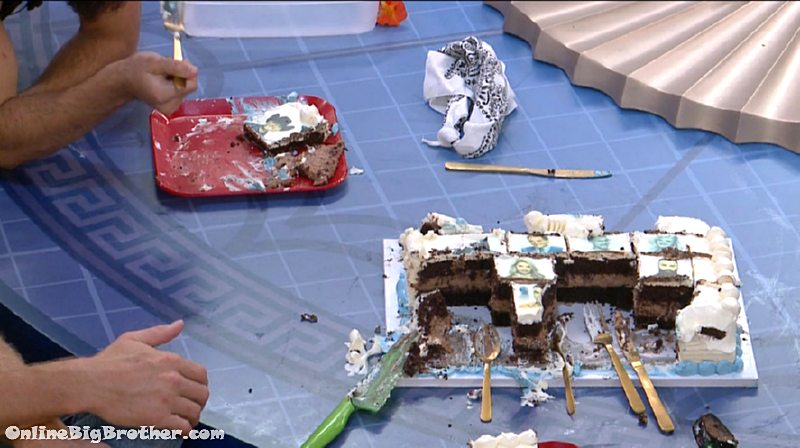 8:20pm Feeds back it was the half way party. They got got to eat but no Alcohol.
8:23pm Josh, Raven and matt HOH
Josh – what are you guys doing..
Raven – Studying..
Josh asks them to leave he needs to talk to Christmas.. tells them he;'s really aggravated about mark.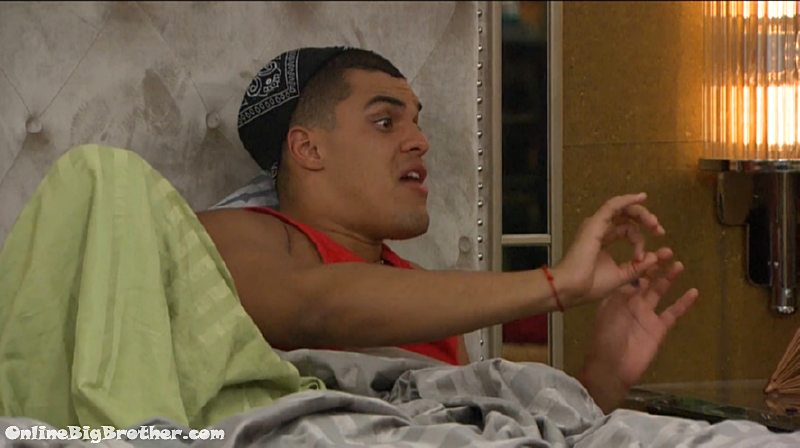 8:27pm Josh and Xmas HOH (Kevin in the shower)
Josh is pissed at matt and Raven. "they're in here 24/7"
Xmas – that is why I told you to lock your door.
JOsh – so f*ing annoying.. I was doing a bubble bath he was working out she was doing her hair.. go downstairs..
Josh – I walk into my room and they're talking game.. they shut up..
Josh says they said "Something Christmas"
Josh – I want to be by myself for a hour.. go work out downstairs.. Matt and Raven are annoying the f* outta me
Xmas – everyone see it you can't complain about it.. we have higher level targets than Matt and Raven.
Xmas warns them that Matt will try to team up with Cody later on.
Xmas- Raven, Cody, Mark and Elena.. that's 5 right there that's a f*ing concern.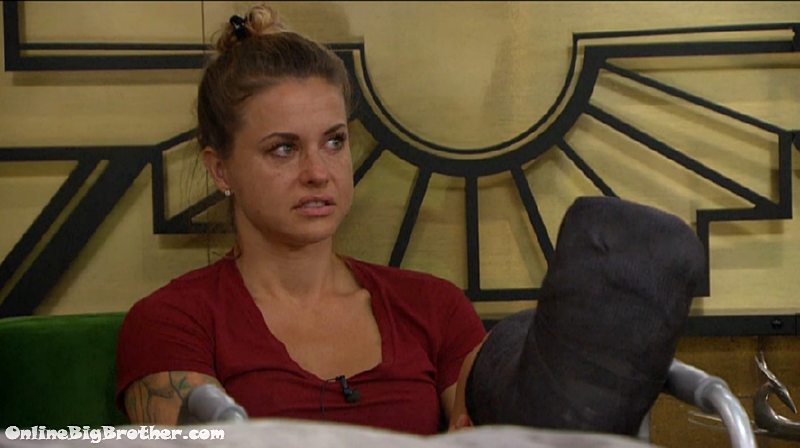 Kevin comes out of the shower..
Xmas – seriously they're (raven and Matt) bad..
Josh – Matt is acting sketchy as f*
Cmas – he's doing what Mark did playing both sides of the house.. trying to..
Josh says Raven told him she's willing to go on the block and as soon as he put her up she said to him "You owe me"
Josh says Matt is smart.
Kevin disagrees..
Kevin – he's a calculating recluse.. he's chasing around a 23 years old like a fool
Xmas warns them that Matt is going to start playing a different game now that he's in Jury, "All he wanted to do was make it to jury"
Kevin – get him out first then..
Xmas – then we have Cody in the house
Kevin says he guarantees if Cody wins he is not going to put up Paul and Christmas
Xmas doesn't believe him, they make a bet.
Josh – who's going up
Kevin – 2 of the 4 showmances
Xmas – backdoor me and Paul..
Kevin – there's only 7 voters 5 of them are us..
Kevin leaves..
Josh tells him he's walked in on Jason and mark having conversations.
Josh – Jason's demeanor is changing with me
Xmas – Jason does not play pretend well
Josh – I see him bonding with mark
Josh – Jason and Mark were playing chess and they didn't touch one single piece.
Josh – literally a hour..
8:55pm Josh is telling Christmas that their 6 can steam roll the house. Xmas warns him that 6 is a big group with a lot of smaller groups inside it.

Links to the ranking system
Rank your house guests here
For those of you that like Statistics here are some expanded reports.