POV Holder:
Peter
Next POV
April 13th
POV Used
Yes
POV Ceremony
April 8th
HOH Winner:
JILLIAN
Next HOH:
April 11th
Original Nominations:
ALEC & PETER
Current Nominations:
Alec & Topaz
Last Evicted Houseguest
GARY
Have Nots
No havenots this week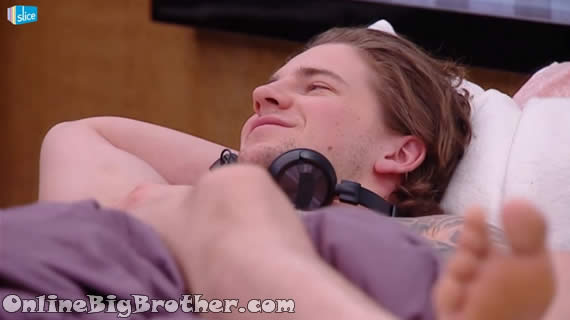 11:30AM HOH Andrew, Emmett and Jillian
Andrew says he's been talking to Talla if there was a twist. he told her the plan was to put either Andrew or Talla up and they will vote out Topaz or Alec.
Jillian: "Was she all for it"
Andrew: "Well she didn't understand.. I had to explain it she thinks peter will go up"
Andrew adds that he explained it very clearly to Talla so hopefully she understands and doesn't get mad. Jillian: "She has to know she can still trust us if she goes up.. We don't have many choices"
Andrew thinks (Hopes) that Talla is ok about it.
Andrew goes on to say he thinks he has Talla's trust, "But i know you will take her over me"
Emmett: "Cold day in hell my friend"
Andrew: "We were down there shooting the sh!t and peter came by sat beside us.. I was like just walk on get going"
Andrew says if Alec starts talking game to him again he's going to ask Alec to leave him alone he's said all there is to say and now Andrew will make his own decisions. Andrew needs to still be nice just incase there is a twist, "I'm getting close to saying F*** off you're going home" (too many twists have had a damper on the drama..)
Andrew: "Going to be a long a$$ day.. I want to take a hour long dump and a 7 hour nap.. hopefully we go out there and it's this massive physical thing.. "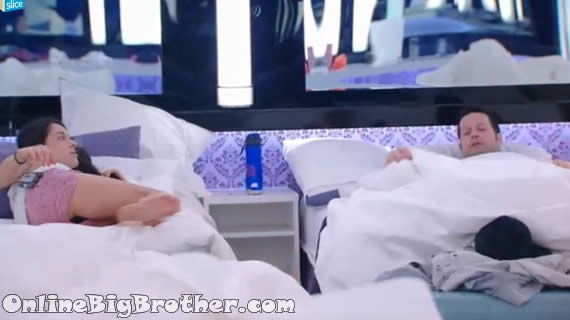 11:38AM Stooges
(Stooge banter is the best)
Andrew brings up about Peter sitting down with them when they were chatting in the living room, "PEter you know what is going on.. walk on.. that is why I sat there cause that's where peter and Alec always sit to look at the wall and ponder.. I was like I'm sitting here all day so they can't"
Alec pops his head in for a minute asks them if they are speculating. Andrew: "No" Talla: "one thing Alec can you leave Aneal's bow tie"
Alec leaves
Andrew: "all I want.. I don't care about what happens tonight.. all i want is Alec to go.. one of those guys (Topaz/Peter) can win I don't care put me up I'll be right behind Alec in the Jury.. I just don't want Alec to win.. He's already won 10 grand and I don't like the way he's been playing"
Andrew: "He (Alec) keeps saying I have been nothing but honest.. I really like you.. Why weren't you in an alliance with me Alec.. UHH Cause I was in all these other alliances"
Andrew: "Now he wants to be in an alliance with us"
Talla: "Sorry busy"
Andrew: "Of course you want to be in an alliance with us NOW"
Andrew brings up how Alec was telling him if he turns his back on Emmett and Jillian now and keeps him (Alec) that E/J will still be friends with Andrew outside of the game.
Andrew: "I told him Dude I'm not worried about that we're playing a game"
Andrew mentions how he's in his real first real alliance in the game, he knows that Talla, AJ and him had something but they never called it an alliance. Andrew: "Even AJ and I didn't have anything.. "
Talla: "We're Stooges"
Andrew: "Well I guess Aj and I had one.. "
Peter comes in for a bit to grab lip balm.
Andrew can't believe Peter and Alec tell them so much then go to Jillian/Emmett and say a whole new set of lies. They must know that Andrew, Emmett, Jillian and Talla talk.
Andrew: "I think what is happening is Peter and Alec have had so many alliances and have lied so much they assume we're like that to"
Andrew: "They think we're using people like they are"
Andrew: "The one thing about Alec is he's so mad at himself for not keeping AJ over me.. he said that to me " Andrew adds that Alec told him keeping Andrew will "come back and bite him in the butt.. YUP cause i'm voting your ass out"
Alec thought andrew would put up Jillian and Emmett but instead Andrew put up Gary and Topaz.
Talla about Peter and Alec "They really think we're not working together.. we're that good"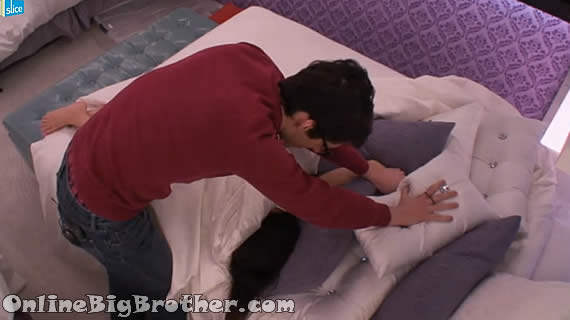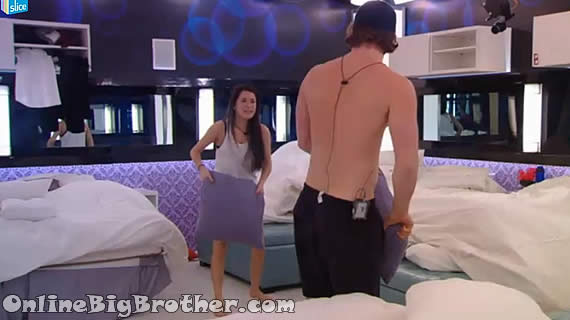 Wrestling around + pillow fight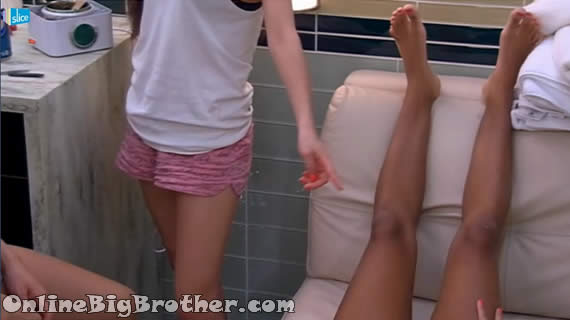 12:51PM Topaz and Talla are in the getting ready. The rest of the cams show resting houseguests in the main bedroom
Right before the feeds cut we see Topaz getting her "Cr*tch" waxed by Talla. She had talked about this last night
1:15pm Feeds on Hush Hush This might be it until later tonight.. Double Eviction YO!
2:00pm Feeds on Hush Hush
3:45pm Feeds on Hush Hush
4:50pm Feeds on Hush Hush
*** Message to Fans of OBB ***
If you enjoy the content on this site please consider a donation to help keep the spoilers rolling.