POV Holder:
Peter
Next POV
April 13th
POV Used
Yes
POV Ceremony
April 8th
HOH Winner:
JILLIAN
Next HOH:
April 11th
Original Nominations:
ALEC & PETER
Current Nominations:
Alec & Topaz
Last Evicted Houseguest
GARY
Have Nots
No havenots this week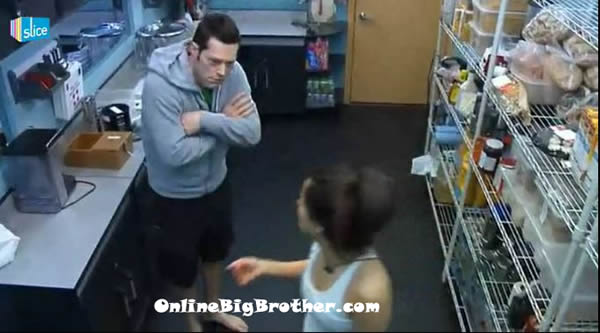 9am Big Brother slowly turns up the lights and then plays then wakes them up with the alarm. Andrew heads up to the HOH room with new batteries. Jillian comments how Emmett and her were up talking last night. Andrew asks romantic talk? Jillian says no. Andrew heads down to give the other their batteries. In the storage room Andrew comments to Talla that Alec is sitting on the couch all sad wanting to stay. Talla says that she can't believe he was getting all emotional with you, I can't wait to see that. Andrew and Talla comment on how he just needs to go!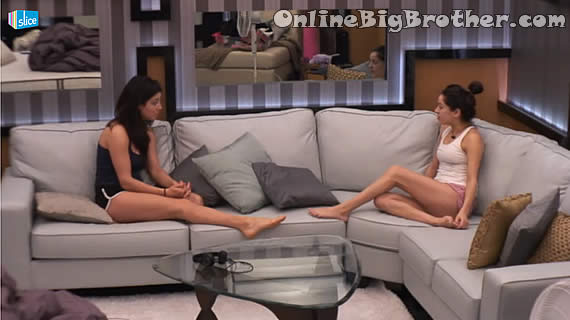 9:37AM HOH Jillian and Talla
Talla comes in "Good morning.. I look like a stain… I'm tired"
Jillian: "Oh my Gosh me too.. I'm so tired"
Talla discussing her conversation with Topaz last night in the hot tub. Talla says Topaz thinks that Jillian, Talla and Emmett have a final three. Jillian asks where the girl alliance is with Topaz.
Talla says that Topaz is still wanting a girls alliance. Talla says she had mentioned to Topaz that now she's free from Alec and she can play with the girls.
Talla is waiting for Peter to come to her today and ask her for Alec's vote. Talla plans on telling him straight up that Alec doesn't have her vote because she doesn't trust that they won't be coming after her next week.
Talla: "I think he thinks I'm voting for Alec"
Talla says she's been trying to get Topaz to put Peter up. Jillian doubts it thinks it will be Emmet and Andrew. Talla: "Then we get her to backdoor Peter" Jillian thinks that she will be put up as a replacement.
Talla: "No that would be weird.. Ohh I'm scared.. OK T1Ts see you later"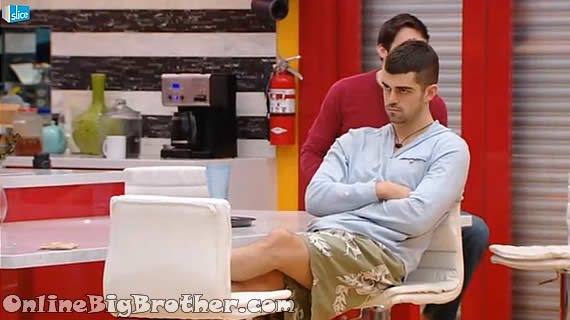 9:37AM Ktichen Sad 🙁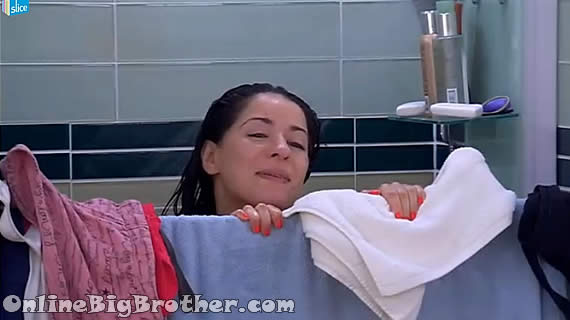 10:10Am Bathroom Talla, Andrew and Emmett
Andrew is going over the days and weeks, when competitions were won, POV's used etc etc… Big Brother Warns them that the backyard will be closed soon
Talla is in the shower.
Andrew: "Talla open the doors for us give us a quick show"
Talla laughs says the camera isn't even on her so she could do whatever she wants. She then realizes that a camera is on her and she goes back to showering. (Talla is pretty short so you really don't see her in the shower like the other girls she has to prop herself up to look over the top. While doing this she slips and falls back into the shower "FAIL FAIL" is all you hear.. )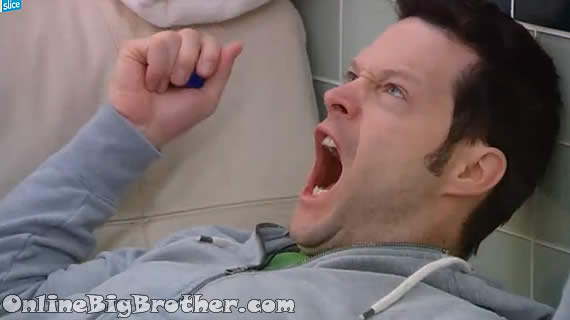 10:24AM Kitchen Jillian wondering if there will be another Have nots.. Alec mentions "They" (Big Brother) said Emmett's slop pass is good for the rest of the rest of the game!
They briefly chat about the wrap party.. Alec plans on avoiding Tom during the wrap party. Jillian bring sup what if some people are confrontational. Alec: "I don't think he will be I think he feels bad about the shower thing.. he won't confront me about it.. I would like to play him in softball… KICK HIS A$$" (ohh it's going down softball style)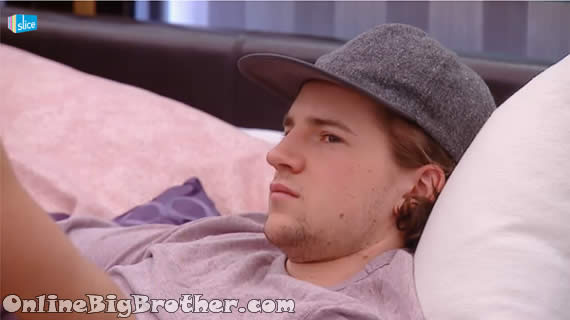 10:43AM HOH Emmett and Jillian
Jillian: "After tonight half the house is from Nova Scotia" Jillian is worried that production might not like that. Emmett think they are cool about it.. Big Brother tells them to stop talking about production.
Emmett doesn't trust Talla at all he thinks whoever wins HOH She'll jump to, "She's a jumper just wait until next week.. I don't think Talla knows what she's doing until right before the vote" Emmett knows that Andrew will stick with them but Talla won't, " At least Andrew won't jump" Jillian: "I don't trust Talla if Topaz wins HOH.. Thats why she's the first gone out of our four"
Jillian is positive if Topaz wins HOH she'll put up Emmett and her up. Jillian adds that Talla says she's been working Topaz to put up Peter.
Emmett: "Old man river down there thinks he's going to beat me" (Andrew and Emmett were joking around about who will win the HOH)
Emmet points out that Andrew is always saying it's them in the final 3 but the he's sure if Andrew wins that critical HOH he'll take Talla or Jillian.
Jillian: "You have to win this week and I have to win next week.. Maybe we need to get rid of Topaz next"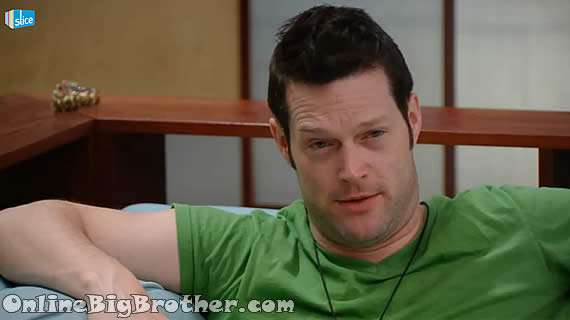 10:50AM living room Andrew and Talla
Talla: "I don't trust Peter"
Andrew: "Of course not how could Ya.. the guy is doing his thing.. The funny thing is we have Alec there saying he's glad they got everyone out that is doing this for their careers.. what do you think Peter is doing.. he wants to be on TV"
Andrew: "You're a crazy person i'm a crazy person we could probably have a TV show together but we're not here to do that"
Andrew saying that Alec and Peter have been throwing competitions all season so they don't get blood on their hands.
Andrew thinks that AJ was with them first and foremost but he would want to go with Alec and Peter over the milkmance.
Andrew mentions that Alec has been doing 3 days of constant campaigning he must be getting the message by now. Talla mentions that Alec hasn't talked to her lately she's been trying to avoid him. Andrew: "I want to say STOP (To Alec if he starts campaigning again) I know what you are saying leave me alone.. but on the other hand we have to watch just in case there is a twist"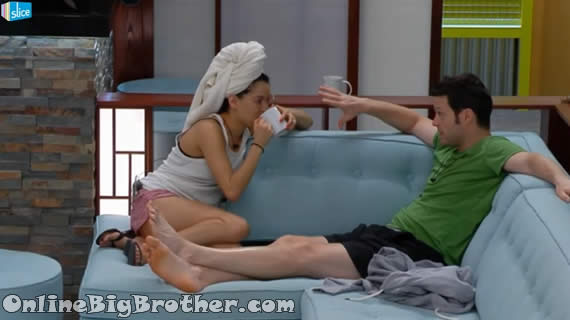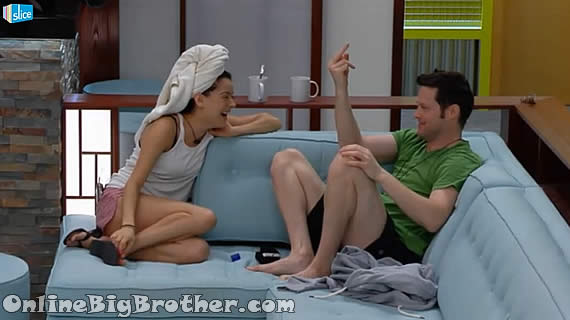 The Stooges
(Video uploading)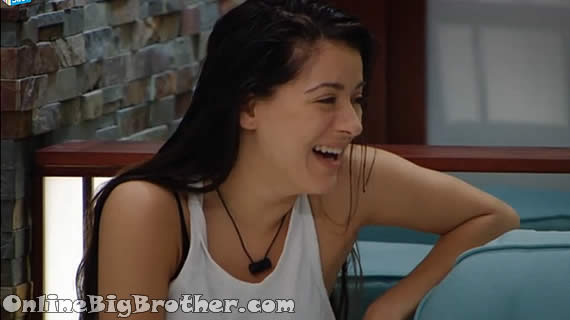 11:24AM Living Room
Jillian saying she has 32 double d's, Andrew doesn't believe this at first. (I'm not sure about this one.. Anybody want to chime in do you think Jillian's chest is that size?)
Talla says she's a solid C
Andrew jokes around with Talla says her bras are padded. She swears the one she's wearing today isn't padded.
Andrew says his underwear is Lerge.. but inlky in the butt.
Andrew wonders if anyone had a "B**B Job" this season thinks that maybe Topaz did. Talla doesn't know says they would all know if she did
Talla cannot believe they've been up for 2 hours already.
Andrew: "You took a 1 hour long shower.. you have to shave your back.. shave the bottom of your feet"
(LOL stooge banter at it's best HAHAHA)
*** Message to Fans of OBB ***
If you enjoy the content on this site please consider a donation to help keep the spoilers rolling.