POV Holder:
Next POV
March 3rd
POV Used
POV Ceremony
March 4th
HOH Winner:
Jillian
Next HOH:
March 7th
Original Nominations:
Current Nominations:
Last Evicted Houseguest
Kat
Streaming the feeds tonight https://www.onlinebigbrother.com/big-brother-canada-episodes-live-streamed/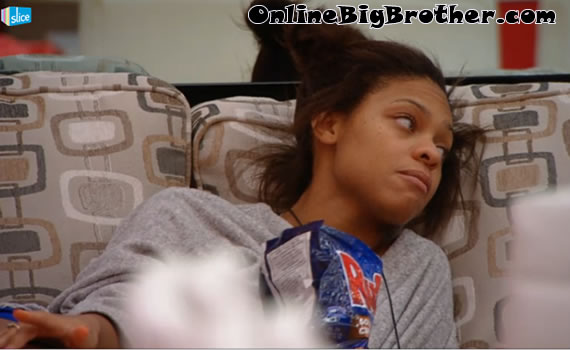 12:50AM Topaz and Peter
Peter agrees. He wonders if anything is going to happen with the phone this week. Topaz doesn't know but she's convinced that it's something bad because last week's was HOH so this week can be bad.
Topaz: "You can not play in the POV.. then you can be nominated still"
Peter: "Ya it totally could be that.. or it could be a pandora's box or a cash prize"
Topaz says it's been hard for the girls in the house. She's positive they caught a glimpse of her butt cheek and crack. Talk moves to Liza's farts and how she's been blaming it on the protein.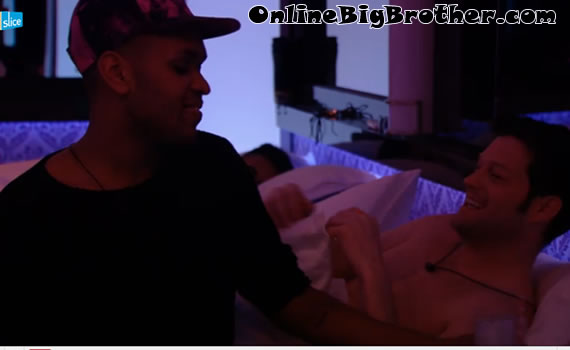 1:00AM Bedroom Andrew and Gary
general chit chat Gary briefly talks about how well he did in the Comps
Gary: "Having big boobs and a tight ass doesn't win you competitions"
Gary "I didn't come here to splash glitter on the ground" #LIES #BBCAN

— OnlineBigBrother.com (@bigbspoilers) March 2, 2013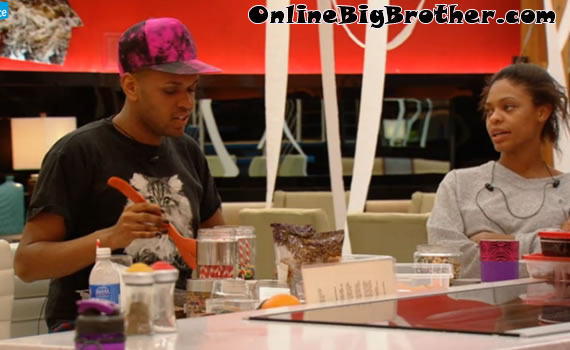 1:07AM Kitchen Gary and Topaz
They are making something for Alec's Birthday
Gary: "You are so sweet.. you're good to him.. you give him the attention he craves"
Topaz: "He's a cutie… but one day i'm going to be rude to him all day.. "
Gary: "He's going to die"
Topaz:"you know we really don't spend too much time together
GHary it seems like you do though.. how do you think it's going to affect your game
topaz I don't think it will right now but later on it weill..
She points out it won't be like brendon and rachel who looked themselves in a room and wouldn't talk to anybody.. she's got friends in the house and so does Alec.
Gary: "You are in deep like with him aren't ya"
Topaz: "umm.. I like him buuuut i feel like.. I feel like I guess I'm a bt of a private person because of where we are I don't want him to be digging into my life on the show"
Gary: "You got to forget you are on TV and let the man in.. if you don't know that man from tom, Dick or Harry all you have with him is a Cuddlemance"
Topaz: "I don't think he wants to talk about his business either"
Gary: "I think he's got something to hide.. I think he's a serial dater.. I think he's a wommanizer"
Gary: "Bitch you have to admit you fell" (Fell for her)
gary: "I know he's not hitting that because you won't pick up the condom in the storage room.. there's something about his personality that you like"
Topaz: "What it is.. we're in a game.. I'm attracted to him he's a good looking guy and he's a sweet heart.. at first I was like who is this guy who is he trying to play"
Gary: "Don't forget your head.. "
Topaz: "My head is legit"
Gary: "What does your heart tell you?"
Topaz explains that she can't get close to Alec because she doesn't want the people watching the show to know about her personal life.
Gary tells her he's trying to make it looks like they are not talking Game just in case Jillian is watching on the HOH Display.
Gary: "Cause nobody is safe with that girl.. nobody is safe"
Topaz smirks says she knows.
Gary about Jillian: "I'm just trying to Lick that pu$$y good this week"
Topaz: "You gotta do what you gotta do"
Gary: "Do you ever get the moment that this Nigga is playing the Big Brother Game?"
Topaz says that she feels like something is missing from Alec but isn't sure.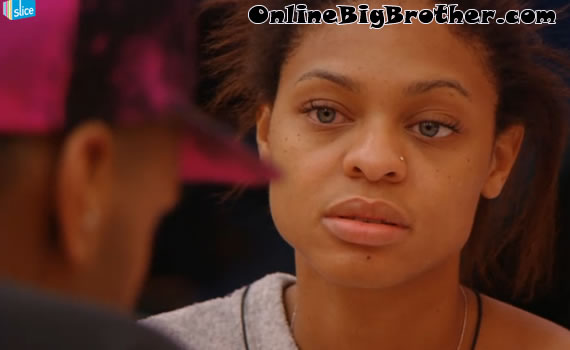 Gary says that Alec is infatuated with her whereas with Jillian and Emmett it's different. Gary: "He's lusting for you hardcore"
.Gary says that Alec is very conceited, Topaz agrees brings up that she said that Emmett was hot stuff and it bothered Alec.
Talla enters the room. Topaz gets all worried asks her if they can be heard from the bedroom. Talla says no.
Gary warns her that he's not sure that Alec really cares for her. Topaz tells him that Alec has had 2 relationship his entire life.
Gary: "why does he always say the wrong things"
Topaz reiterates that she will not sleep with Alec on this show. She explains that Alec just acts a bit confused he's a great guy. Gary: "I think Alec is confused I was going to put happy birthday here but B!tch now i'm just going to splash some glitter" (Everyone has made Birthday crafts for Alec on the kitchen table. Aneal spelt out Happy Birthday with spaghetti etc etc)
They both agree that Alec has never been in love. Gary: "I think he's been in love with a women body but never really in love"
Topaz: "He's in love with my face and body.. but he doesn't really know me"
Gary: "You look like you've come out of a magazine" (this conversation has gotten a bit boring.. )
Gary goes on and one about how beautiful and wonderful Topaz is.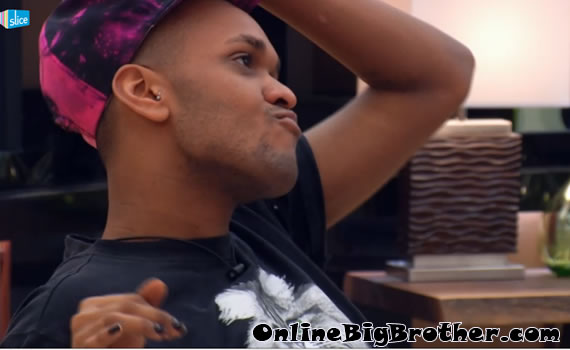 2:05AM Kitchen Gary and Topaz loving on Emmett Gary things Emmett is one "Fine piece of man" listing off all the great things about Emmett
A) Hot B) Musclular C) bubbly D) Drinks Milk (LOL .. drinking milk is hot) D) Wears a cowboy hate.
Topaz agrees that Emmett is a fine chunk of man. They both like Jillian and think Emmett and Jillian are a cute couple.
Gary: "Emmett's a fine piece of Man he drinks Milk" #BBCAN

— OnlineBigBrother.com (@bigbspoilers) March 2, 2013
2:09AM They joke around if Topaz dumps Alec tomorrow what would happen. Gary thinks Alec would DIE, Topaz agrees adds that Liza would be all over Alec. Gary asks her if she would be mad seeing liza and Alec hooking up because you know Liza will be "Hitting that" Topaz wouldn't mind if it was her that broke it off with Alec, she loves Liza.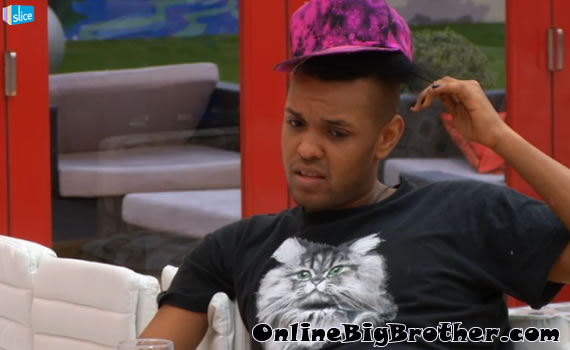 2:40AM Kitchen Gary and Topaz This chat seems to go on forever.. Gary's biggest threat in the game is Tom. Gary thinks if he's in the final 2 against AJ he can win but not against TOM.
They both agree that Suzette, Talla, Aneal and Danielle are not going to make it to the end. Gary tells her they both need to make a big move earlier in the game to have a good chance to win. He hints to her she might have to make a "Cuddlemance Move" (He's trying to undermine the Topaz/Alec showmance for the last 2 hours while also telling her that he's cool with Alec)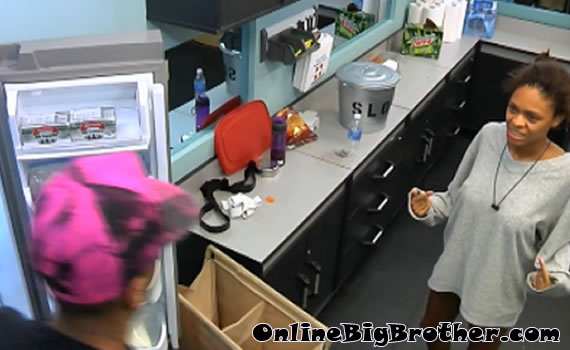 3:00AM Storage Room Gary and Topaz Are my nipples always like this
Gary: "Yeah you're n!pples are always nice and hard"
Topaz: "WHATTT just like THIS.. my moms is going to be all like Why's your nipples out"
3:30AM Still chating Topaz and Gary they are both drinking a pepsi .. chance are they will couldn't to be up for awhile. Random Chit chat. Some game but nothing new just talking around in circle.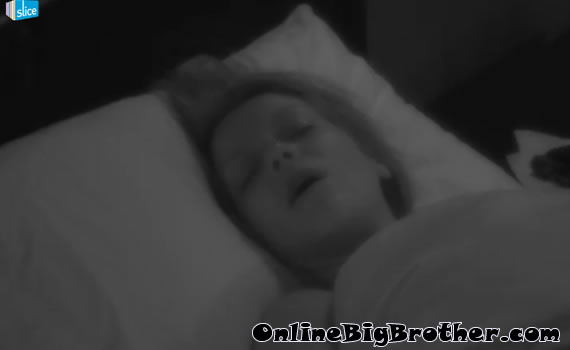 3:50AM Jillian keeps her mouth open when sleeping beside Emmett
4:00AM
[polldaddy poll=6932429]
Share it YO!!
Tweet