POV Holder:
?
Next POV
Aug 10th
POV Used
?
POV Ceremony
Aug 12th
HOH Winner:
ANDY
Next HOH:
Aug 15th
Original Nominations:
Current Nominations:
Last Evicted Houseguest
David, Nick, Jeremy, Kaitlin, Howard, Candice, JUDD
Have Nots
Aaryn, Helen , GM, Elissa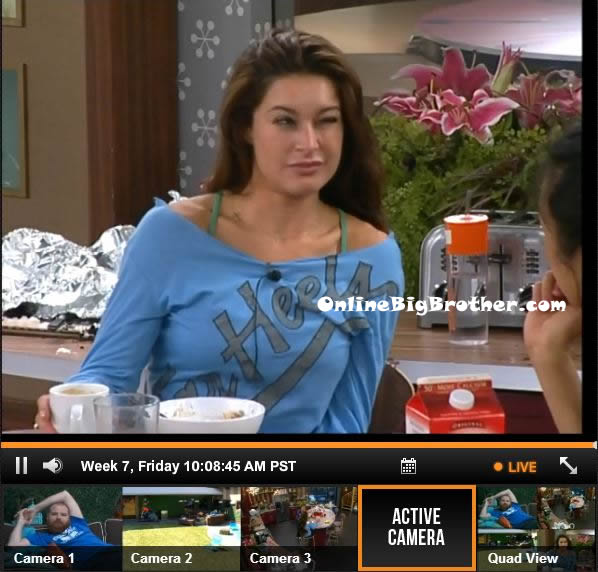 10am In the kitchen – Helen tells Elissa that when she gets out of the house she want to try out for Miss America or Miss Universe. She says after talking to Candice and Aaryn about it I really want to try it. Maybe I can win a crown. I will have to check a couple out and see if I am even up to the calibre or not but I think it would be fun. Elissa tells her she thinks she should. Helen starts talking about an athletic apparel line she wants to start with Elissa. She wonders what the logo should be and then says she might take something from here since it was birthed here. Elissa says the tag line could be "Sweating for a cause". Elissa says her husband and her parents are friend with a manufacturing company that I can hook us up with.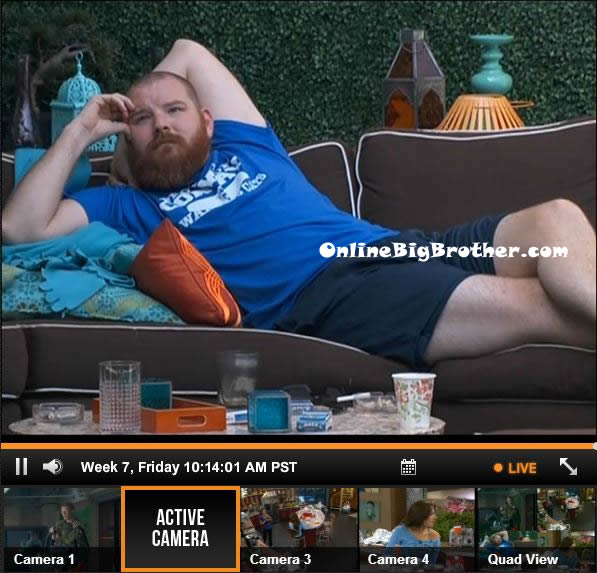 10:15am Out in the backyard – Andy tells Spencer that the only time he distrusted him was back during the whole Kaitlin vote. Andy says that he wants to talk to everyone today and will fill Spencer in after. I know what I want to do but long story short you are not going anywhere. Spencer says I just appreciate being kept in the loop. Andy says he wanted to keep Spencer in the loop last night but just couldn't take the chance of Judd being tipped off. Spencer says that he just hates that the whole secret alliance but any double back in your mind. Andy says that Judd was so dangerous, he could smile and joke to your face and then stab you in the back. Spencer says almost like a sociopath. Andy says I dont think he is one but he definitely had the characteristics to do things like kiss up to Jessie right before an HOH just in case she won it. Andy says that his long term plan includes Spencer. I feel like there are a lot of pairs in the house and I think that we could be one but not tell anyone. Spencer says yeah I would like that. Andy heads inside to take a shower. Spencer says to himself – Oh Andy don't you know being in an alliance with me is the kiss of death!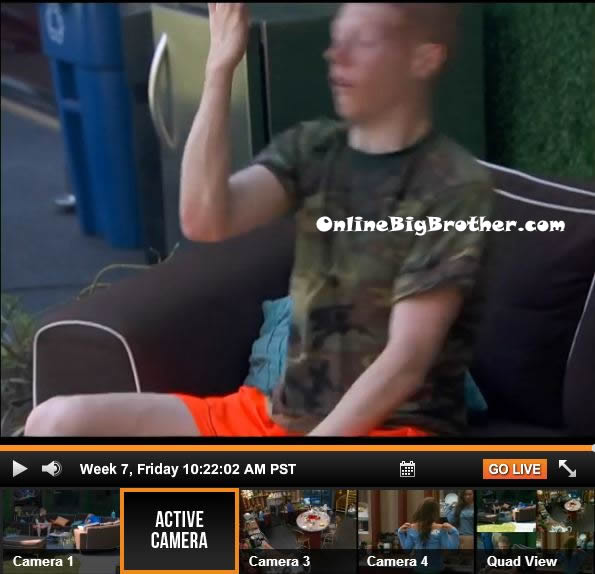 10:30am – 10:45am In the bedroom – Aaryn pranks Amanda about how one of the jury members is coming a chance to come back into the house. Aaryn tells her that she really does believe when they get down to the final 5 the jury members will compete or get voted back in. Aaryn jokes with Amanda that if she gets evicted on Thursday ..which you probably will then at least you will have a chance to come back. Aaryn then gets into her bathing suit and heads out to the backyard with the mask on. She lays out on the lounger to sun tan. Aaryn gets called to the diary room. Aaryn talks to Helen in the bathroom about Judd. Aaryn says that after she heard Judd made a final two deal with Elissa too, it made me feel less bad. Helen says that he was taking key women and putting them on his side.
10:45pm – 11am Andy tells Amanda and McCrae out in the backyard that he is thinking of putting up Jessie and Spencer. He says that if Jessie win the veto then Ginamarie has to go home no matter what! Andy says that he will tell Jessie that he has to put her up but that he has a master plan. Andy figures this way Jessie won't becoming after him and that she will trust him. Andy says that he just can't put up Ginamarie because she only sees things in black and white and would be pissed at me. Andy says that he is going to tell everyone that Jessie is my target but that no one can tell her. I will tell Jessie that I have a master plan. Andy says if he tells Ginamarie if I don't put you up then she can't put me up next week – I think she would honour that. Amanda tells to put her up as a pawn to seal the other nominee's fate as a possible scenario. Andy says that's too scary. McCrae talks about really not wanting to go up on the block. Amanda says everyone has to go up at some point. Andy brings up another scenario of putting Helen up as a pawn. Amanda says that she could give her (Helen) a bag of my jewellery to promise her that she will not be going home.
11:10am – 11:30am Up in the HOH room – Andy and Helen are talking. Andy tells her that his target is Jessie and that he will put up Spencer with her. He says that he will tell Jessie that he has a master plan to get a bigger target out. He says that if Jessie wins the veto he will put up Ginamarie and everyone will vote out Ginamarie. He says that he talked to Amanda and McCrae about how if Spencer were to win the veto he would possibly put up Amanda because she offered to go up but only if you and Elissa promised to not vote her out. Andy brings up another scenario. Andy says that they also talked about how he talked about putting up Helen to make Jessie think I am making a big move but then vote her out. Helen says no I do not want to go up because I will go home. Andy says okay no problem you will not go up. Helen says that a really scary situation would be if Jessie wins the next two competitions (POV and then HOH next week). Andy tells Helen that he trusts Amanda and McCrae as much as he trusts her (Helen). Helen talks about thinking it might be time to get out Amanda / McCrae. Andy says that they aren't that big of a threat – they aren't winning competitions. Helen says but there aren't many weeks left to get them out. Andy says I know but we have other target to get out first. It has worked so well to trust the people I trust and I don't think its time to go against that right now. Helen says Amanda and McCrae will take each other to the final two over us. Andy agrees. Helen brings up how we need to keep Aaryn closer on our side so if it comes down to it we will have her vote if they come after us. Andy says that he thinks if they come after us they will take out Elissa first. Helen isn't so sure. Andy asks Helen if he has her loyalty over Elissa's. Helen says yes. Andy says next week – Amanda, McCrae, Elissa, Jessie would not put us up. Helen wonders who Spencer would put up on the block. Andy says Gina and Aaryn. Helen tells Andy to keep in the back of his head that we don't have a lot of time to get Amanda and McCrae out. I love them but they need to go soon. Jessie will be up here pushing for them to go too. Andy says if we don't go after them this week we will have no one coming after us next week. It has been working for me so far as I have never been nominated. Helen says that Spencer needs to win HOH next week because he is the only one that can put up someone close to us.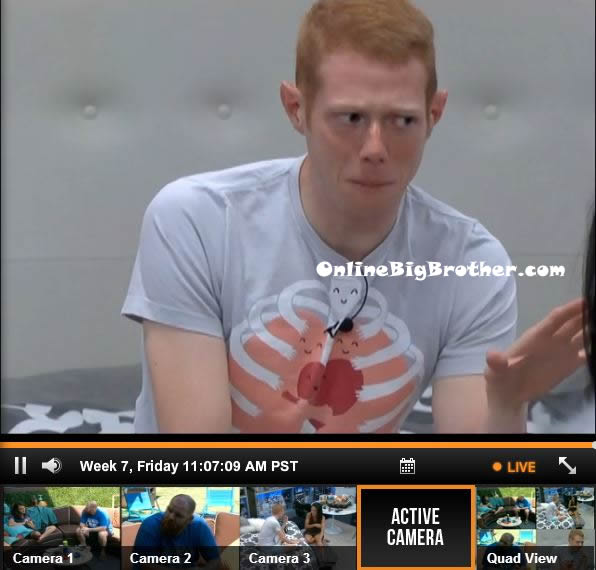 11:40am Andy asks Helen what she would do if she had won HOH. Helen says she would put up Amanda and McCrae. I would then make a deal with one of them to save them and evict the other. Andy says I am just not ready to do that yet. Helen says okay I trust you. Andy says next week or the week after then yeah. This game is all about timing. I know, I know 100% we are safe with them next week. You can punch me in the face if we go up next week. Helen says you have to realize there are only 6 more opportunities to get them out. Andy says she is going to tell him 100% he is not going home. Helen says we play this game differently I come out guns blazing.. my gut tells me if you play it safe you cannot win this game. Helen says next week we have to take one of them out .. I will put my foot down. Helen says Amanda and McCrae will be the reason why we don't win this game. Andy says that he will make Jessie feel really safe and tell her that even if his big plan doesn't work then Spencer would be the one to go but that he will tell Spencer that he's telling Jessie that. Andy tells Helen if she plays in the POV and wins it … Don't use it! Andy says that McCrae needs to go over Amanda. Helen agrees. They talk about throwing next weeks HOH to Elissa because she would take out Amanda, McCrae or Aaryn. Andy says if I pull this off, Jessie will go home and I will come out of this without any blood on my hands. I almost want to tell Spencer not to pack his bags. Helen talks about how Spencer thinks we all saved him during the double eviction, so that's good. Helen says I will trust you on this.. lets just hope neither of them wins veto. Andy says oh my god I hope not, I don't want to have to put up Ginamarie. Andy and Helen head down stairs. Andy talks to Amanda in the bathroom about Judd being so surprised. Andy then heads back up to the HOH room.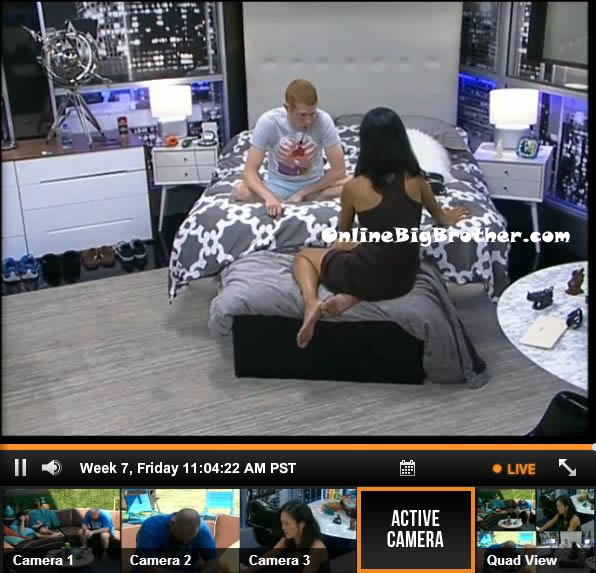 11:45am – 12pm In the bathroom – Helen talks with Amanda about how Jessie's jaw is going to hit the floor when she gets voted out. They talk about getting Judd out and how good it was for them. Amanda tells Helen that my loyalty is to you and I am not ready to break that. Amanda says that people that stay loyal from the beginning make it to the end. You, Me, McCrae and Andy will make it to the final four. We have the numbers no matter what. They both talk about how Andy has never cross them. Amanda says that Jessie needs to go. Helen says that it scares her that Jessie is influential over Elissa. Helen tells Amanda that Jessie needs to go for coming after you the last few weeks. Amanda says now that Judd isn't here we have so much more control over the house. Helen agrees. Elissa joins them. Amanda says that's what happens when you aren't loyal to your alliance – POW! Elissa asks about getting Spencer out. Amanda says yes, but not this week. We have to get Jessie out because if we don't she will put up me and McCrae and then we won't have the numbers. Helen tells Amanda that her game is really good, most people would not have survived being the MVP nomination two weeks in a row. Amanda says you were so influential in me staying. Helen says I told McCrae that you and him and been so loyal to us that this was payback.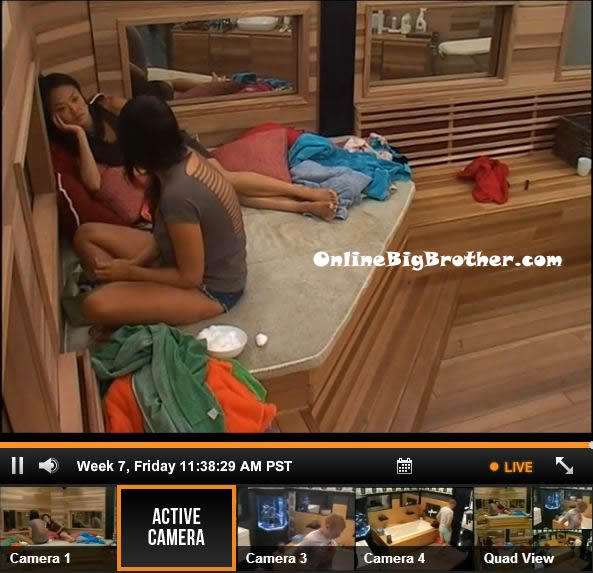 Use the Big Brother Live Feeds to FLASHBACK to SEE what they can't show you on TV: BB15 N!p Sl!ps / N*des
[polldaddy poll=7309671]