POV Holder:
?
Next POV
Aug 10th
POV Used
?
POV Ceremony
Aug 12th
HOH Winner:
ANDY
Next HOH:
Aug 15th
Original Nominations:
Current Nominations:
Last Evicted Houseguest
David, Nick, Jeremy, Kaitlin, Howard, Candice, JUDD
Have Nots
Aaryn, Helen , GM, Elissa
12:03pm Bathroom Andy, Amanda, Aaryn, Elissa, Helen
Aaryn saying she heard someone tell JUDD during last night's eviction "I had no idea" Aaryn looks at Amanda "I was going to slap you"
Amanda: "I never said that"
Andy: "I never said that"
Helen: 'I never who said that"
Aaryn thought she heard someone say that maybe she's wrong. Amanda claims to have been near JUDD the entire time and never heard anyone say that.
Helen: 'Maybe it was Jessie"
Helen says evicting JUDD last night was like putting your dog down.
12:10pm HOH Jessie and Andy
Andy tells her he has a bigger plan and even if she is going up she is not going anywhere.
Andy: 'If people are not loyal to me this week than f*** them.. I've been so loyal to everyone in this entire game I feel if I don't get what I want happen this week i'm going to be pissed"
Jessie: "YA"
Andy: 'I think people know they will lose my trust.. my trust is so valuable at this point"
J: 'OK well I trust you Andy"
A: "cool alright cool"
J: "I trust you…… "
A: 'Cool"
12:11pm HOH Andy and McCrae
Andy goes over his conversation with Jessie. He felt bad because Jessie kept telling him she trusted him. McCrae says he's the same way feels bad when telling people they are safe when they are not.
Andy: "We haven't had to f*** anyone over yet. Andy thinks all the blood is on Amanda and Helen's hands. (Andy lied straight up to almost everyone evicted)
Andy: "If that Veto is used and GM goes up and you have to convince Amanda to vote out GM"
MC: "Ya yup ya yup.. i'm with you 100% it me you and Amanda to the end"
McCrae: "I'm worried about next week.. Elissa is going to take a shot against me.. .she's already planting the seeds with Amanda"
Andy: "Really"
Andy mentions that Helen's allegiance is with him over Elissa. Helen told him Elissa has gone rogue already a couple times and is a liability for Helen.
McCrae: "I would keep Helen over Elissa"
They agree Jessie/Spencer go up Jessie is the target. if Jessie uses POV then GM goes up and she is the target.
12:15PM HOH Andy and GM
Andy wants her to know she is not going up. He hopes that the deal stands if he doesn't put her up she won't put him up. GM says that deal stood before the show started she's always though he was a cool guy.
GM has no issues with Jessie beyond her kissing a$$ and following the power.
GM: 'The only person I had a problem with was Candice because she is disgusting and has no class"
Andy: 'Play your a$$ off in the veto and do not use it I want the nominations to be the same"
12:21pm HOH Elissa and Helen
Andy says he wants Jessie gone this week he'll put Spencer up with Jessie. He's telling Jessie she's safe this week but the truth is Spencer is safe. Andy explain he told Jessie he has a master plan but he can't tell her the details. He doesn't want Jessie going into the POV with a do or die mentality.
Andy: "I don't want Spencer out of here"
Helen: 'So we have to make Jessie think she is safe this week"
Andy: 'you need to reiterate to Spencer that he is fine.. it is important I get out of this HOH with no enemies.. " Andy adds if Jessie uses the POV GM will go up and go home he does not wants Spencer out.
Elissa: "I'm cool with it I think Jessie is really scary"
The girls leave yelling BAM BAM BAM (I think they are trying to impersonate BBCAN Tall)
12:24pm HOH Spencer and Andy
Andy: "I have your back and I don't want you going anywhere.. I just want you to know if you go up there is no chance in hell you are going home"
Spencer doesn't like the idea of going up but he trusts Andy
Andy explains he's trying to go into next week with nobody mad at him he has solidified with everyone that Jessie is the target and is set to go home. If Jessie wins POV then GM goes up and GM goes home
Andy: 'I have been loyal and if any one f*** me I can turn so many people against them"
Spencer: "OK I trust you"
Andy says there are 3 pairs in the house if he puts up anyone of those 3 pairs the other one will be gunning for him. The only option he has is to put up Spence. If he puts up GM Aaryn will come after him.
Andy: 'I want to tell you don't pack your bags… plus this downplays how much I care about you"
Spencer: "OK man if you got the votes to keep me you can use me man"
Andy: 'No chance in hell you are going anywhere"
Spencer: 'Let me ask you one question.. strictly between me and you do not let this leave this room bro "
Spencer: "How on my side is Helen"
Andy give him a thumbs up says Helen has bigger fish to fry, "Helen came up here and told me I should go after a bigger target this week and I told her now is not the time.. we still have 9 people"
Spencer: "Let me tell you why I worry about that.. All she use to talk about was Howard one of her good friends and them POW.. I don't want to be one of Helen's good friends then be packing my bags"
Andy: "I got Helen if helen get HOH you are not going anywhere"
Spencer: 'Andy I trust you and I feel like my trust in you will not be my fatal flaw"
Andy: "I am one person you can trust.. and if you would leave on a personal level I would die"
12:59pm Backyard chit chat
1:38pm HOH Aaryn and Andy
Andy says it breaks his heart but he thinks Jessie will make a big move and put up people they do not want up. He thinks Jessie has flipped on everyone in the house
Aaryn: "Spencer will definitely come after me"
Andy: "Jessie has been gunning for you for so long.. she's going to put up you and Amanda"
Aaryn: "you don't think spencer would do that"
Andy: "I think Spencer would be prone to talking with me"
Aaryn: 'really"
Andy: 'Ya he trusts me and he knows if he goes against me I have people that will go against him"
They agree the only people they care about are Amanda, Andy, McCrae and Helen.
Aaryn asks him if Jessie comes off the block then does GM get nominated and is she the target
Andy: "umm that is what's hard.. yes… You think that is a good idea"
Aaryn: 'Ya.. i'm just scared of Spencer"
Andy: 'I got spencer.. I can get him to go after Elissa and Jessie if she strays"
Andy wants the nominations to stay the same.
Andy: "I want to blindside Jessie"
Andy: "If Ginamarie goes up it will break my heart but Ginamarie will go home"
Aaryn: "I will have to be the dingle vote against Spencer if GM goes up"
Andy: "I understand.. I want the Veto to not be used.. I want to tell Spencer to just f*** throw it"
Aaryn says she understands what Andy is doing if she was HOH she would be gunning for Spencer but she will support whatever Andy wants.
Aaryn is worried about Helen getting the next HOH she thinks Helen would put her and Spencer up. Andy thinks he can influence Helen earlier in the day Helen told him she trusts him more than Elissa.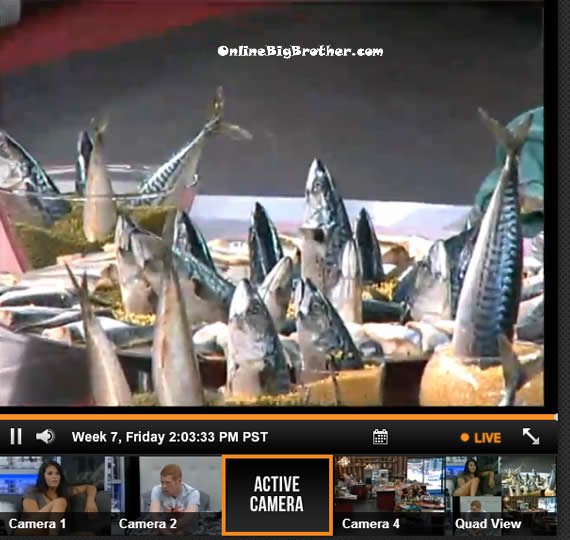 Have nots Food is Mung beans and Mackerel
2:01pm HOH Amanda and Andy
Andy going over all the conversations. Andy doesn't think Helen and Elissa will go rogue and try to make a big move but he doesn't want to tempt her.
Amanda: 'It's so imperative that Jessie goes this week.. "
Andy: "I want to tell Spencer to just throw it"
Amanda is worried if Spencer wins the Veto and GM goes up and she might get evicted. Amanda wants Jessie to still go if it's GM/Jessie on the block.
Amanda does not want Spencer to go she will flip if it's spencer/GM on the block and Spencer goes.
Amanda wonders if they should Back D**r Jessie. Andy really doesn't want to put GM up. Amanda suggests he give GM his baby blanket (a piece of fabric he got in his HOH) and tell her she's safe. Andy still doesn't want to do it thinks Jessie will get pulled for POV regardless because that is how this game works.
2:17pm Amanda tells Andy She wants Aaryn in the final 4 over Helen. She points out that Aaryn never talks about going after any of them like Helen does. She also feels that Aaryn has no on in the house whereas Helen Still Has Elissa and now Jessie/GM. Andy Agrees they want Helen gone 5th.
Amanda gets a bit emotional says the only people she cares about are McCrae and Andy.
[polldaddy poll=7309671]