POV Holder:
?
Next POV
Aug 10th
POV Used
?
POV Ceremony
Aug 12th
HOH Winner:
ANDY
Next HOH:
Aug 15th
Original Nominations:
Current Nominations:
Last Evicted Houseguest
David, Nick, Jeremy, Kaitlin, Howard, Candice, JUDD
Have Nots
Aaryn, Helen , GM, Elissa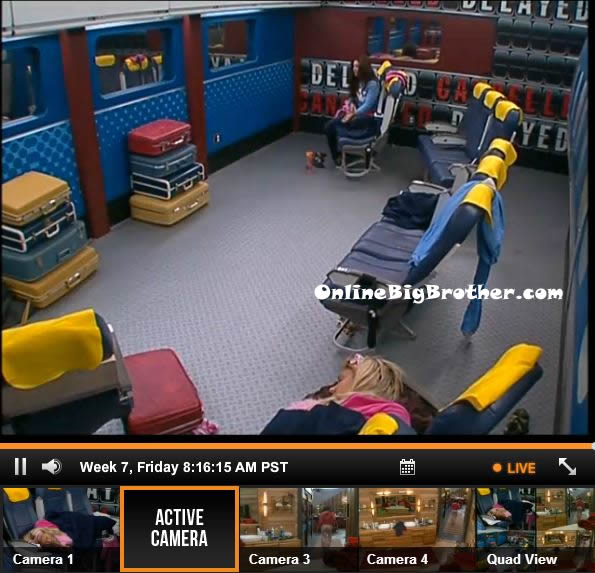 8am Big Brother wakes up the House Guests.
When the live feeds return – In the havenot room Ellis says I don't know why I volunteered to be a havenot because I we could do a havenot competition next week and I could be back in here.
Elissa and Ginamarie complain about it being too cold. Elissa says that she doesn't think she slept at all. Helen, Elissa and Ginamarie all go back to sleep.
Up in the HOH room – Andy goes to the bathroom and then goes back to bed.
8:30am Big Brother says "I SAID IT'S TIME TO GET UP FOR THE DAY!!"
Up in the HOH room Andy props his heads up and appears to be deep in thought. In the havenot room Helen gets up and heads to the bathroom. Elissa says that was fun ..and I mean that in a totally not way. Elissa starts to head out of the havenot room and comments to Aaryn/Gina that everyone is up and dressed to impress. She says Spencer is dressed like he is going to a business meeting. Aaryn says it feels like an elephant stepped on both of my shoulders and then took a sh*t on my face! They start talking about Howard and how he didn't like being called Howie because that's what his ex used to call him during $ex. Aaryn says that Howard was so icky. He talked about $ex in an awkward way all the time. Amanda needs to run after the finale. Elissa says I can't believe he said that?! Aaryn asks Elissa what her husband would do if he had said that to her. Elissa says that she thinks her husband would not be that nice to them. Elissa leaves the room. Aaryn says ugh I can't believe I didn't sleep, and my shoulders hurt from wearing lesbian pants.
8:45am – 8:55am Aaryn heads to the kitchen and says she does't understand why it's so important for them to get up. There's literally nothing happening today. Elissa says can you imagine if Gina and Candice are in jury together. Aaryn says oh yeah that's scary. Elissa asks I wonder what Judd is thinking right now. Aaryn says probably that he hates me. Elissa says it didn't look like he was mad at you. Aaryn says wait till he has time to think about it. He probably wasn't mad at me because I was right that he really was playing me. Elissa says I bet Candice hit the floor when she saw Judd. Aaryn says yeah. Aaryn and Elissa start making a sloppy breakfast. Spencer joins them.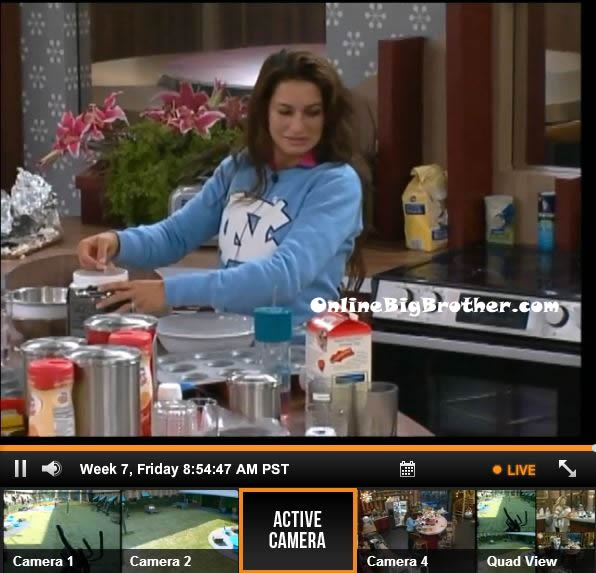 9am In the kitchen – Aaryn says I bet the guy are all scared. UMMMm BYE! Elissa agrees. Aaryn says that a lot of the people that she thought were her friends really aren't. Elissa says I don't know what Judd's deal was. Aaryn says he just played way to hard. Aaryn starts talking about how her and Kaitlin stopped being friends. Aaryn says then the stars aligned and karma prevailed in the Big Brother house.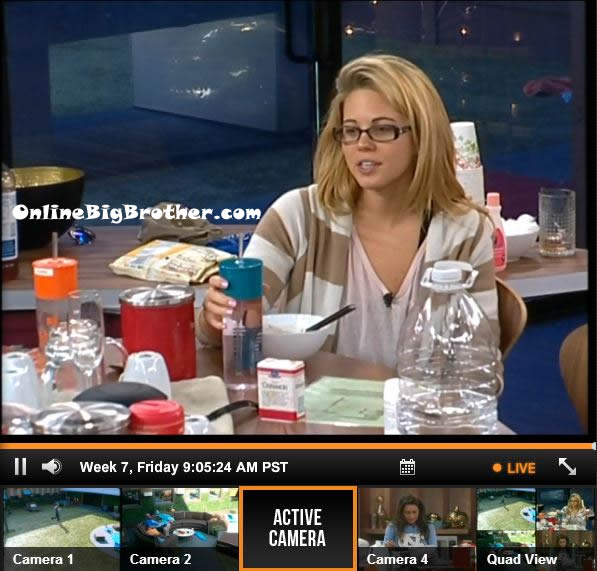 9:10am – 9:20am Out in the backyard – Helen tells Spencer that she was the one that really pushed for Judd to go and that it helped me but also helped other get through the double eviction. She says that between you and me it was Jessie that was going to go if Judd hadn't gone up. Spencer says that it was kind of sad to watch. Helen says I hope in some way I was able to repay the favour to you. Glad you're here. Love you Spence. Judd is a nice guy he was just playing too hard. Helen talks about how Judd's lies were what made her want Howard out which maybe she might not have. Andy joins them. Andy says no matter how much I distrusted Howard, I always wanted to keep you over him. Spencer says Howard acted bizarrely. They laugh about the POV competition last night and how Judd didn't understand he need to grab the coloured nails. He was just grabbing any nails and freaking out how they didn't fit. Spencer gets called to the diary room.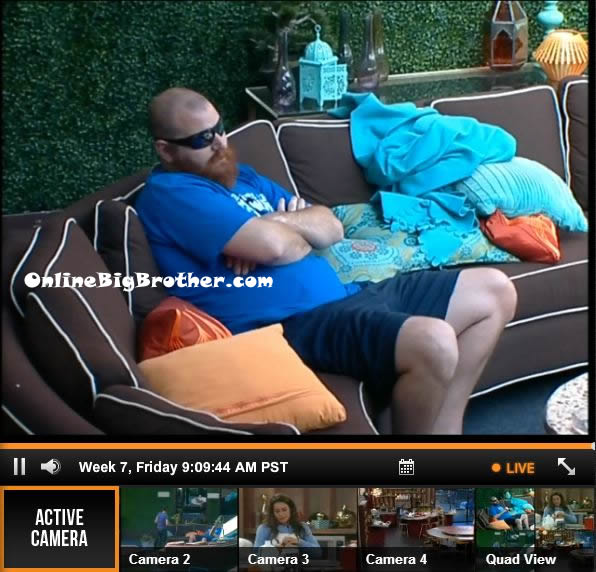 9:30pm – 10am In the backyard – Helen and McCrae are talking. Helen apologizes for Judd going home and says she knows they were friends. McCrae says that it's okay I knew it had to be done. Helen says that it is better for him because now you don't have to choose between Amanda and him near the end. McCrae says that he isn't resentful at all. Helen says he is just really good at this game. McCrae says I knew it had to happen, it was part of my decision too. Helen says if you had said not to do it we would have respected that. McCrae says I don't hold it against anyone. Helen tells McCrae that you're smartest move was confessing about the moving company before everyone else. Andy joins them. They continue to talk about how the moving company. (The whole conversation is filled with McCrae saying UMm, You know and Like..) Andy starts working out on the elliptical. Andy asks so just in case I get a Pandora's Box I should open it right? They all say yes. Helen says she keeps saying Big Brother should increase the prize size since everything else is bigger. Aaryn comments how she really wants to get a hosting job out of this. They talk about the past Pandora's Box's and when the reward/punishments were. Aaryn says that she is not going to tell Jessie about how him and I kissed. Andy asks really. Aaryn says yeah before the party. McCrae tells her to wait until you get in a fight with her – that will really cut her deep. Aaryn tells Spencer, Helen and Andy that Jessie made a deal with her since I saved her life that she would not come after me so if she does you all know that she is a bat sh*t crazy liar. Aaryn is convinced that one of the jury members will have a chance to come back into the game. Andy says did you hear Ginamarie when she asked me last night if she goes to the jury house and beats the sh*t out of Candice .. what would happen. Spencer laughs did you all read the rule book, what would happen? Aaryn says that reminds me I need to talk to the diary room about her situation.. Big Brother switches the feeds to inside the house.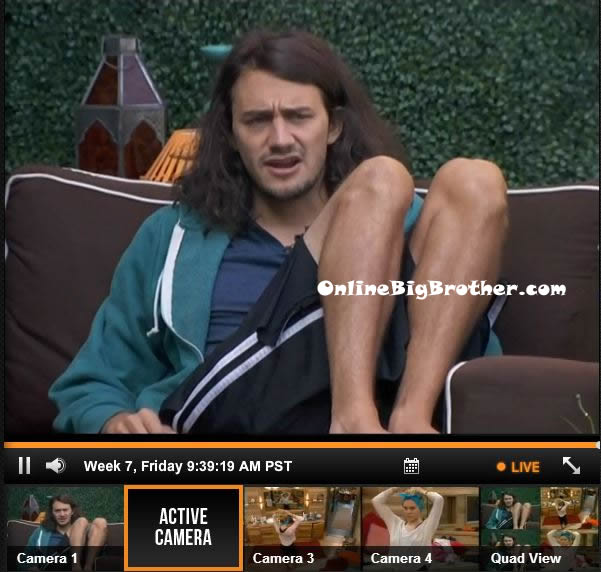 Use the Big Brother Live Feeds to FLASHBACK to SEE what they can't show you on TV:
BB15 N!p Sl!ps / N*des
[polldaddy poll=7309671]