POV Holder:
?
Next POV
Aug 10th
POV Used
?
POV Ceremony
Aug 12th
HOH Winner:
ANDY
Next HOH:
Aug 15th
Original Nominations:
Spencer & Jessie
Current Nominations:
Last Evicted Houseguest
David, Nick, Jeremy, Kaitlin, Howard, Candice, JUDD
Have Nots
Aaryn, Helen , GM, Elissa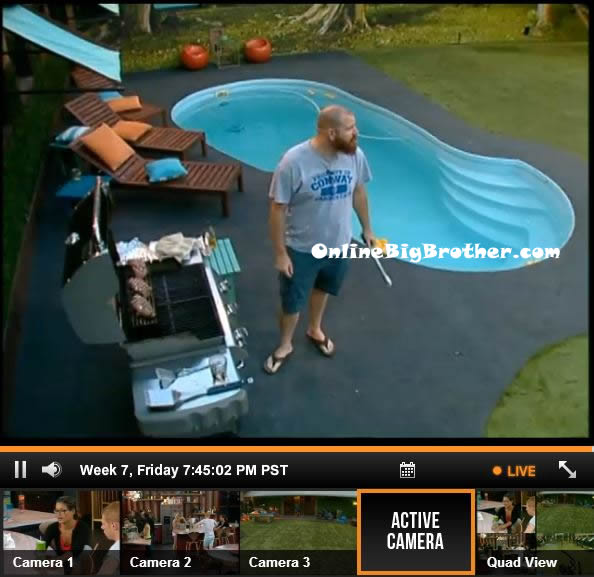 7:50pm Out in the backyard – Spencer is grilling the steaks and the mackerel fish fillets on the BBQ. They comment on how the fish is super fishy tasting. Aaryn is in the kitchen making some sloppy balls.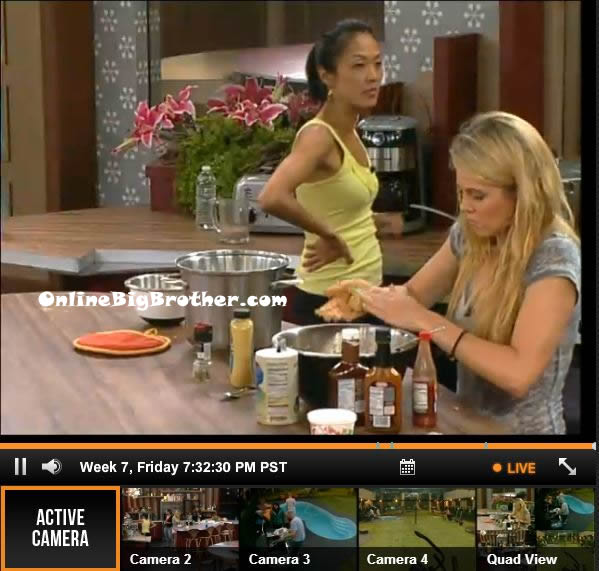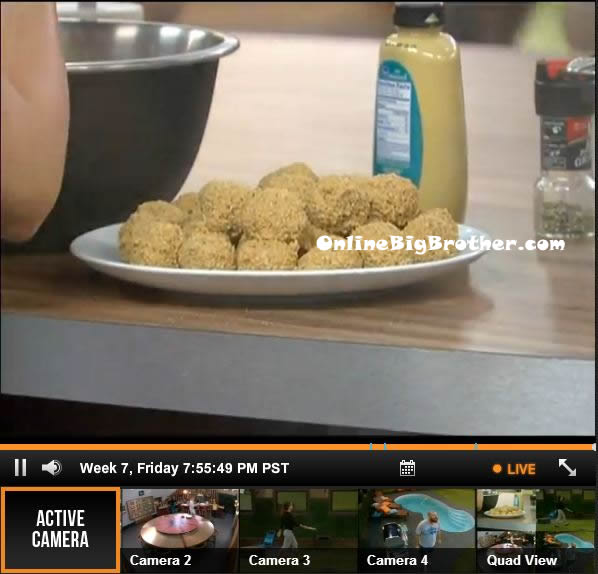 8pm – 8:10pm McCrae and Jessie sit on the backyard couch and smoke with talking about different foods. Spencer and Jessie are in the backyard alone. Spencer says well we are in the same place aren't we? Jessie says we will have to fight for the POV. Spencer says I am going to fight like hell for the VETO. Jessie comments that he is handling it pretty well. Spencer says that he is just use to being on the block now. Spencer says that he knew that he would be fighting for the Veto every week after he got put up with Howard. Jessie asks what did Andy tell him up in the HOH room. (Big Brother then switches cams so we don't hear his answer. They then flip the cameras back.) Spencer says I told you that Andy was going to do whatever the masses of a$$es would want him to do. Jessie talks about how everyone is sitting pretty right now. She says that she doesn't understand why no one will go after Amanda/McCrae. Spencer says that its just chicken sh*t! Jessie agrees. Spencer says that we are on the outs and Andy is fighting to be on the in's. As they head inside they talk about what Andy doesn't realize is that he is going to be the first one taken out by them (Amanda, McCrae, Helen, Elissa).
8:15pm – 8:30pm All the house guests are now in the kitchen finishing making their dinners and eating. Ginamarie sits at the table and watches the other eat because she doesn't feel like eating. Being a havenot and not liking fish she can only eat slop or mung beans.
8:35pm – 8:40pm Andy asks Helen up to the HOH room to talk to her for a couple minutes. Andy tells Helen that he thinks that once the veto is used people will know what we are going to do. I was thinking if before the veto its prizes, I was thinking of telling Jessie to just go for prizes. Helen isn't sure he should say that to her. Andy tells Helen that if he gets house guest choice when picking veto players he will pick her (Helen or McCrae). Helen tells Andy to talk to Jessie about plans for next week to make her really safe. Andy says that if Jessie wins Veto then Ginamarie will be going home and it will break his heart. Helen feels bad for Gina about how she lives at home and doesn't have a college degree. Helen hopes Gina wins America's Favourite because $25,000 would be more money than she has ever seen. Andy says that he will tell Jessie that only she knows about the fact that he has a master plan but that he can't tell her exactly what it is. Helen says yeah. Andy tells Helen that he will keep her informed all the way. They then both head downstairs.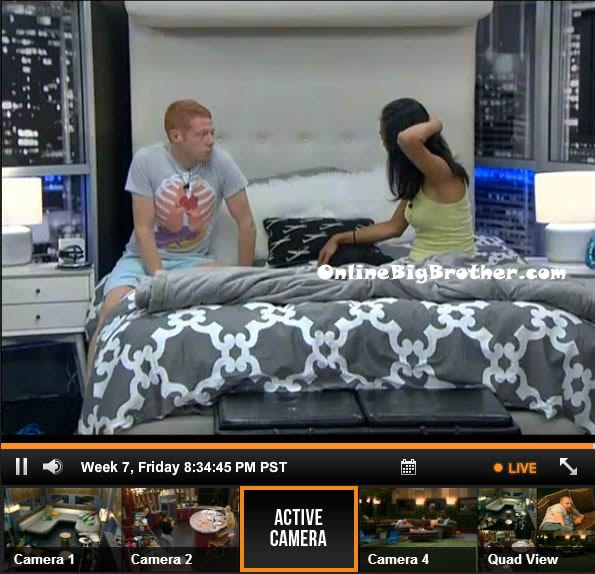 8:40pm – 9pm Out on the backyard couch – Jessie and Spencer are talking. Jessie says that she and him deserve the money more than most of them. She then says well not deserves, that's a bad word, everyone deserves it but we have had to fight to be here while others have just floated along. Jessie starts talking about how Judd was playing her. They talk about how weird it was that Judd's stuff was still here when he got evicted. Jessie says that she never expected Judd to go up. Spencer tells Jessie sorry that he said he would put Jessie up if he won HOH. Spencer says that if I did win HOH I would talk to a lot of people I wouldn't have just taken Judd's word for it. Meanwhile in the bedroom – Amanda, McCrae and Helen talk about how they can't believe they are only half way and still have another 50 days to go. They talk about being bored and think it will be really boring when it gets down to the final few. Helen then explains to Amanda how the final 3 part HOH works. Aaryn, Elissa and Andy join them. The conversation turns to talking about all the fights they had with Candice. They talk about whether or not the evicted house guests going to jury still get to see the goodbye messages and how they wonder if someone will come back into the house. Andy says that the next evicted house guest he will tell them in his goodbye message – If you come back don't trust McCrae! Elissa says that's a good one, I am going to use that. The conversation turns to talking about Nick and how no one really knew what he did.

8:55pm Meanwhile Jessie tells Spencer I think we have a really good chance of getting out of this position if we go to Andy after one of us wins the POV. Spencer says yeah we will worry about that after the veto competition. Spencer heads inside to grab his hoodie. Jessie finishes her smoke and heads inside to join the others in the bedroom.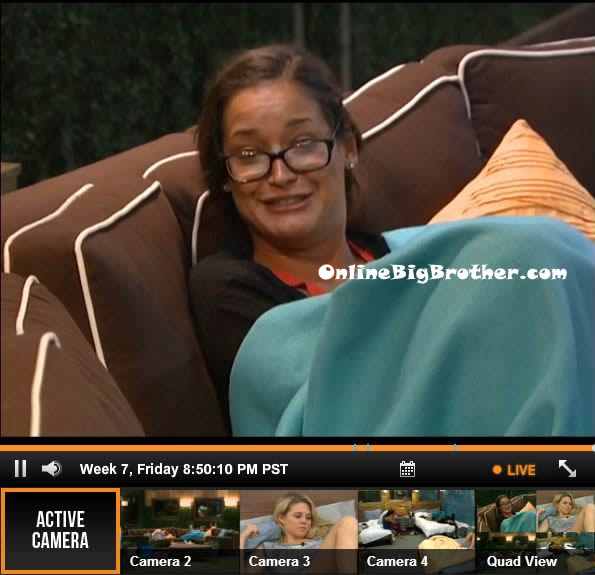 9:10pm All the house guests are sitting around in the bedroom laughing and talking about random things that have happened in the house / past competitions. Big Brother tells Andy to relocate his transmitter. Andy looks at it and says found it! Amanda says that she wants to take her transmitter and start shoving it in my vag!na. And for them to tell me to treat it with respect. Aaryn says I am pretty sure that is treating it with respect.
Use the Big Brother Live Feeds to FLASHBACK to SEE what they can't show you on TV:
BB15 N!p Sl!ps / N*des
[polldaddy poll=7309671]