POV Holder:
?
Next POV
Aug 10th
POV Used
?
POV Ceremony
Aug 12th
HOH Winner:
ANDY
Next HOH:
Aug 15th
Original Nominations:
Jessie and Spencer
Current Nominations:
Last Evicted Houseguest
David, Nick, Jeremy, Kaitlin, Howard, Candice, JUDD
Have Nots
Aaryn, Helen , GM, Elissa
9:15pm the infamous white and black fish. They all seem happy equally starved by the lack of food by CBS
9:15pm Elissa and Andy HOH
Elissa is saying she's embarrassed hanging around everyone when they are talking about Candice.
E: "how do you like being HOH"
A: "it was hard nominating two people but it had to be done"
E: "what are you going to do if Jessie wins POV"
A: 'I dunno.. (Whispers) put up Ginamarie"
E: "oh my gosh that will be hilarious"
Elissa says GM's "good friend" Aaryn hinted that GM has issues.
Andy: "I don't know what to do about it Production has to know.. "
Elissa: "you definitely have to see the pattern"
Andy: "I don't know enough about the signs and symptoms of an eating disorder.. " Feeds cut
Andy: 'you can't survive drinking pop all day… you know it worries me if it was that big of a problem other people higher up than us would step in"
Elissa agrees she doesn't think Aaryn should talk about it
Andy: "I think it comes from an area of concern.. Her eating habits are so unhealthy"
Elissa: 'People don't understand if you are eating less and purging… it throws your body out"
Elissa says it makes her feel really sad seeing GM do this. Andy thinks it would be best to get Helen to talk to her.
Elissa: "I feel like maybe none of us should say anything.. "
Andy: "I'm right there with you girl… it's been on my mind"
Elissa says the food in Canada taste much less processed than the food in the US.
Andy asks her if she's seen the movie Food Inc.
.. he recommends she sees it. "It'll probably just reinforce things you already know but it's a real eye opener"
9:35pm Bedroom chit chat They are playing "Saw stories" Where they pretend to be the guy on Saw
Helen goes first with her "Saw story" (See above)
Helen: "ANDY you think you are so cool cause you are HOH but in reality I am cooler"
Everyone laughing.. Andy :"That is the lamest saw story"
Helen gives is a second shot "Andy I want to play a game with you I want you to pull out all your teeth and bake them in Spencer's blood and feed them to the house guests.,
Helen: "That was better"
Spencer: 'At least blood was involved"
Helen: 'Elissa, you do one"
Elissa: "I haven't ever seen saw"
Jessie: "Aaryn i want to play a game with you… You spent your whole life winning competition now I want you to take the HOH key slit your wrists with it then drink the blood to replenish what you lost.. then put the POV up your butthole"
Andy: 'OK that has got a little ridiculous"
Aaryn: "Spencer I want to play a game you spent your whole life eating butterscotch and being with marilyn little does she know you're a f*ck head.. "
Jessie: "Spencer you do one"
Specner.. ok let me see here"
Spencer: "Ginamarie I want to play a game with you.. you spent your whole life looking for a man.. when you get out of the house you need to marry Nick Uhaus"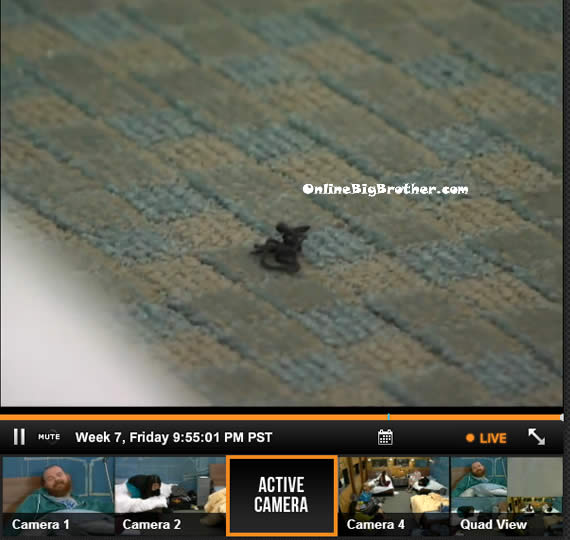 9:56pm They killed a spider OK now even I hate these house guests
A shot with the squeaky cam
10:14pm Pool table Helen and Jessie
Helen says that JUDD was making final 2 deals with everyone in the house she adds JUDD became way too dangerous that is why she decided he needed to go home.
Jessie is shocked that it was Aaryn that got rid of him. Helen says that once everyone started talking what JUDD was doing it didn't add up.
Helen: "JUDD played too many people"
Jessie: 'he played too hard.
Helen: "I don't know what he was thinking.. he thought I got him out but he was the one that go himself out "
Helen doesn't think she'll get JUDD's jury vote
10:19pm Spencer joins Helen because Jessie gets called into the DR
Spencer: 'What do you think"
Helen: "theres a lot of game left to play"
Spencer: "you definitely deserve the money if you win it"
Helen claims this season was the craziest twist ever she adds this is the longest season. she thinks they all deserve the money if they get to the end.
Helen: "they cast this season very well"
Helen wants Spencer to know he's safe this week she recommends he lay low.
10:31pm Just waiting around for the Pandora's box
A lotta chit chat
10:55pm HOH Andy, Spencer and Andy
Skittles party just chit chat.. Amanda and McCrae join them.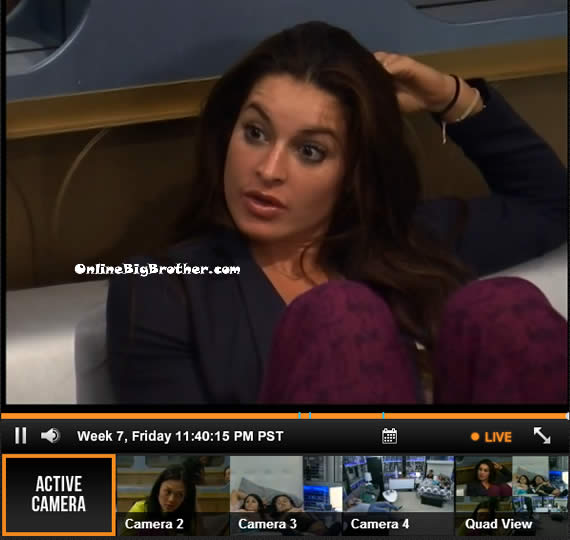 11:24pm Kitchen Elissa and Helen
Helen saying that they need to up the money they offer to winner of Big Brother 15. (She been saying this a lot lately) Elissa says the stipend is more than any other cast in the past (Feeds cut)
They head to the Cockpit to talk some game. They decide that Andy isn't making a very big game move. Helen is worried that Andy is loyal with Amanda and McCrae over them. Elissa asks if Andy will backD***r them. Helen says no he won't do that.
Helen tells Elissa Aaryn is not coming after them and she's wining comps like crazy, 'She's playing an amazing game"
Elissa asks Helen if Andy is up for backdooring Amanda or McCrae. Helen says he's up for it in a couple weeks. Helen: "What if they strike at us first then we're screwed"
Helen: 'At the end of the day we have to make a big move"
Helen brings up that Aaryn didn't want o backd**r JUDD at first but after Helen talked to Aaryn and offered her two weeks safety she did. Helen: "that was a huge move for her to do"
Helen asks if Elissa wins HOH who would she put up. Elissa says GM and whoever stays this week and if POV is used she wants to back door "One of those two" Helen says they can probably get Aaryn to help because she knows there's no room ion the final 2 with Amanda and McCrae in the final 2.
Elissa says she's nervous to even talk to Amanda and MCcrae, she trusts Helen only.
Elissa: "If I won the veto and used it on one of them.. who would Andy pick"
Helen: "Ginamarie.. he's going to play it safe" (Helen does a thumbs down motion with her hand)
Helen says they cannot let Aaryn win the next HOH they have to win it and control it, 'I think she's more loyal to Amanda than she is to us" Elissa: 'Oh ya 100%.. I feel like Jessie is more loyal to her now also"
Helen: 'that is why she has to go"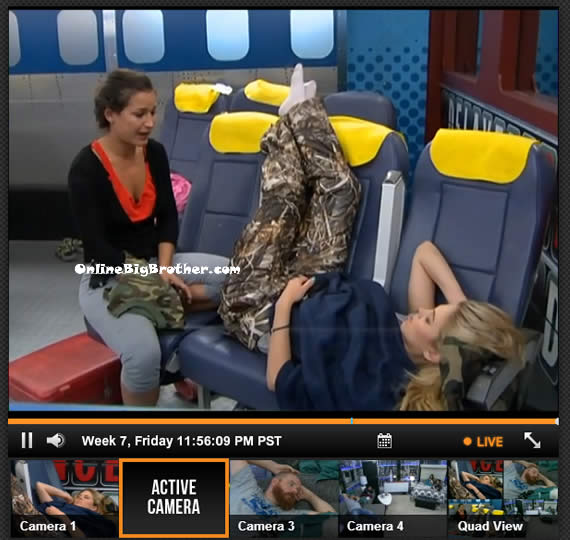 11:57pm Have nots Aaryn and Jessie Jessie says there's a possibility if she wins HOH she would put Amanda and McCrae up. Aaryn asks if she's told Helen that. Jessie says no. She feels like the longer they stay in the house the stronger Amanda and McCrae are getting.
Jessie reminds Aaryn she's done an amazing job rebuilding her game but she also entered the Amanda group late and essentially is at the bottom
Jessie starts to blame JUDD for sinking her game, "I just want to hurt him"
Aaryn tells her she needs to leave like Jeremy not Kaitlin or Candice. There will be opportunities for her and if she goes out like Kaitlin she'll look like a 7 year old. (I miss a big brother where the players didn't think about potential "opportunities" that would go their way for being boring as f**** on the feeds.. rock the house Jessie spit, kick and punch your way outta the house)
Jessie: "the two people that haven't won anything hold the most power in the house"
Jessie tells Aaryn one of the biggest mistakes she made in the game was telling Candice about the deal between Aaryn and Helen. Jessie thought Helen and Candice were close it was a honest mistake/.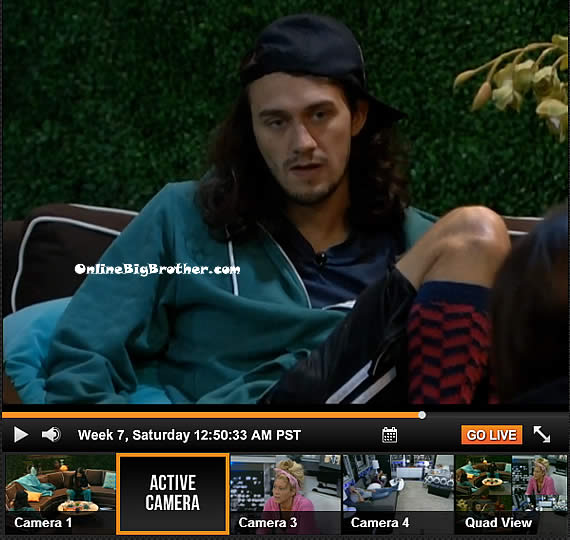 12:22AM backyard Amanda and McCrae
Amanda telling him it will be awesome if they were the first showmance to make it to the final 2.
MC: "That would be f***ing cool"
McCrae says they are on equal footing. She was more strategic about "Things" and he made a lot less enemies.
They chat about the 3 final HOH competitions. McCrae says if the first part is endurance and it's a sitting type he's got it. "If it's sitting I'm a champ.. especially if its do or die"
MC tells her she needs to win the second part then it wouldn't matter for the third part, "you know what i'm saying"
Amanda: Ya"
MC: 'The second part is usually a puzzle"
Amanda points out Andy is great at memorization and puzzles..
MC: 'Thats going to be a problem.. We're going to have to win a lot from here on out.. like I can't win it by myself"
McCrae says if it's between her, him and Andy in the final HOH he will win the first part Andy will win the second part and the third part. McCrae is certain Andy will take Amanda over him unless Andy pulls a couple more competition wins.
Amanda doesn't think Andy will do that.
MC: 'You have a lot more enemies in the jury"
A: "I guess we'll have to get there"
McCrae: "Aaryn can't make it to final 3.. "
Amanda agrees.
MC: "The only votes she won't get are Elissa and Candice"
Amanda says they should take Elissa to final 3 because Elissa doesn't win anything and nobody will give her the cash in the end.
McCrea agrees says that Elissa would be best person to take to final three. If he was her he would just keep losing every comp because people would be stupid not to take her to the end.
McCrea: "If I was anyone else I would HOPE to sit next to her.. anyone would win against her.. But I would take you over her.. just for the fact.. "
Amanda: "We both would get money"
MC: "Ya.. first showmance in the final 2"
Amanda thinks MC would win over her she points this out a couple times throughout the conversation. McCrae isn't sure he thinks it would be even. He believes to have Spencer and JUDD's vote in jury. Amanda would have Elissa and Helen. Amanda: 'I wouldn't have Helen if we get rid of her next week"
They think Spencer winning HOH next week will be the best case because he would put Helen up.
McCrae says Spencer has to feel like he's in the shittest position. MC says he's been feeding Spencer girls alliance conspiracies.
Amanda says that the odds are in their favour she thinks they are set to make it. Amanda reminds him that they have controlled every nomination, every eviction and every replacement nominee.
Jessie rolls in tells them if they keep her she will have their back 110%
1:22am Spencer and Amanda
A: "There is no way in hell you are going home"
S: "I'm nervous"
A: 'Spencer i'm telling you I have known every single nomination every single every single replacement nomination and I'm telling you.. you are safe"
Spencer is worried that Jessie will get Aaryn, Helen and Elissa together
A: "No way.. me, aaryn, McCrae boom done.. theres no way"
Amanda: 'Aaryn needs me in this game and I need Jessie to go home this week for my game… for everyones game"
Spencer says jessie asked him to go sleep in the triangle room with him,"F*** No.. I don't want to sleep in the same room as her" If he did that she would tell people he talked about something (Like she did with JUDD)
Amanda: "spencer it's so dead set.. there is no fucking way you are going home.."
Spencer: "I feel like i've been on the block for so long i'm getting nervous.. this is a crucial week for me .. I mean crucial "
Amanda: "spencer i'm looking you in the eye you are safe and i'm telling you if I win the veto I will not use it and you will not go home. "
[polldaddy poll=7309671]