POV Holder:
?
Next POV
Aug 10th
POV Used
?
POV Ceremony
Aug 12th
HOH Winner:
ANDY
Next HOH:
Aug 15th
Original Nominations:
Spencer & Jessie
Current Nominations:
Last Evicted Houseguest
David, Nick, Jeremy, Kaitlin, Howard, Candice, JUDD
Have Nots
Aaryn, Helen , GM, Elissa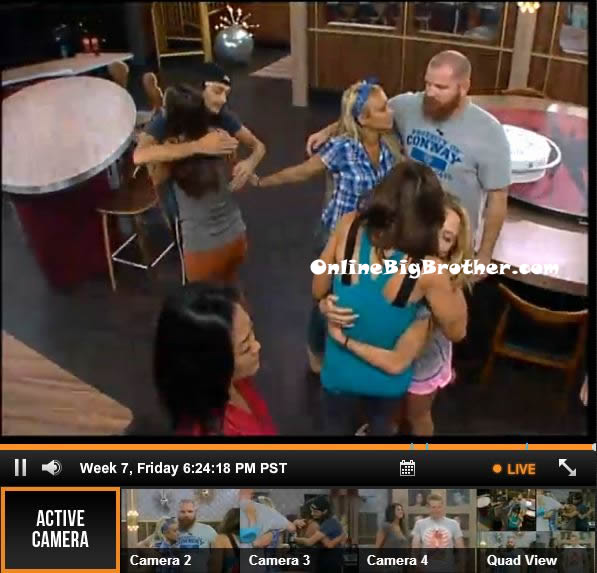 5:20pm – 6:24pm The Live Feeds switch to TRIVIA for the NOMINATION Ceremony. When the feeds return we learn that Andy did exactly as he had been talking about all day and nominated JESSIE and SPENCER for Eviction.
Big Brother 15 Live Feeds: FREE 2 DAY TRIAL
6:24pm In the kitchen all the house guests are hugging and talking. Helen and Amanda compliment Andy about his Nomination speech. Helen says you should be good though being a public speaking teacher. Andy says yeah I didn't want to mess that up. Jessie heads into the back bedroom and says well what do you know BB.. 4th time on the block! They must really hate me.. I'm doing something right! Jessie gets into bed and stares off at the wall. Meanwhile in the other bedroom. McCrae and Amanda are talking in bed. Amanda says we have to get rid of Helen NEXT week! She has to be back doored, it's the only way to get her out. Amanda says that Elissa will work with us when she is gone. They think that Spencer could win HOH next week. McCrae says that they should tell Spencer to put Helen and Elissa up if he wins HOH. McCrae heads to the kitchen. In the cockpit Andy reassures Spencer that he is safe this week and has nothing to worry about. In the back bedroom – Aaryn goes to comfort Jessie and tells her not to be sad. Jessie says that she isn't and says that didn't want to stay out there and be all chummy with everyone right after nominations. Aaryn then goes to the storage room where Andy and Helen and let them know that she already comforted Jessie and she is good.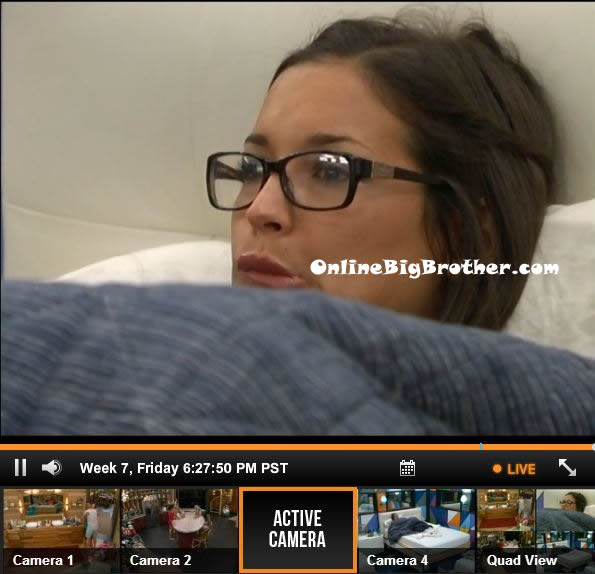 Up in the HOH room – Helen and Andy are talking. Helen tells Andy that she will go and talk to Jessie. She says that she will tell her that she is safe and has nothing to worry about. (Which is a lie, since she is the target.) Helen says that she really wants to win HOH next week. Andy asks her if he made a good decision. Helen tells him that he made the safe decision, not the decision she wanted him to make but its a safe one.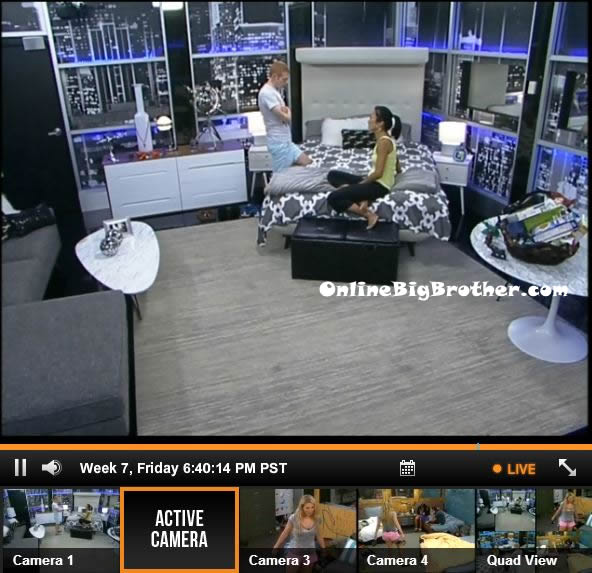 6:43pm Spencer joins them and they both reassure him that he is safe. Helen and Andy tell him that they can trust them 100% that he is just a pawn and is not going home. Helen says this is the safest you will have ever been. Spencer says that he is just got his nerves all up and that it will take a bit for him to come down from it. Its not that he doesn't trust them because he does its just being up on the block. They tell him that's understandable and that he has nothing to worry about. Helen tells him to lay low, play pool and just relax this week. The conversation turns to talking about cooking the $43 – 5 pieces of mackerel fish fillets for dinner. Helen leaves.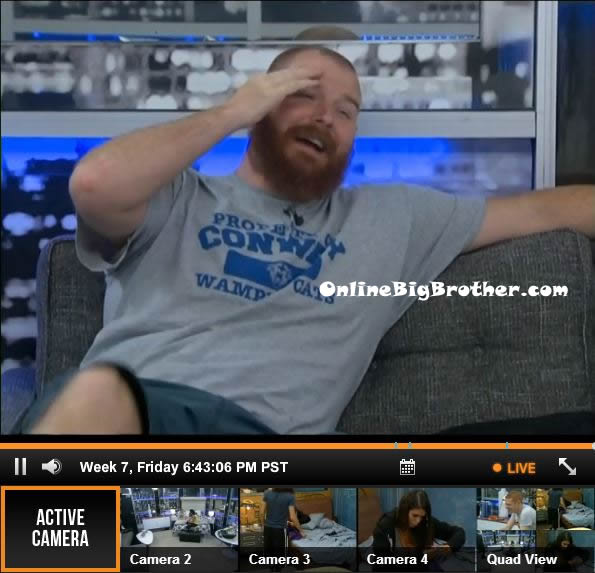 6:50pm Andy and Spencer talk alone. Spencer tells Andy that he did a great job except for his nominations. They both laugh. Andy tells Spencer that his is not going anywhere this was the best decision to keep the house happy and to move us forward in the game. He says that this will keep the couples happy and keep the targets off of our backs. Spencer tells Andy that he knows and that of all the people in the house he trusts Andy the most. Andy tells him to keep close to Helen and that he will be all good. Andy tells him that he is not a target of Helens and that all he needs to do is just lay low this week. Andy and Spencer head down stairs.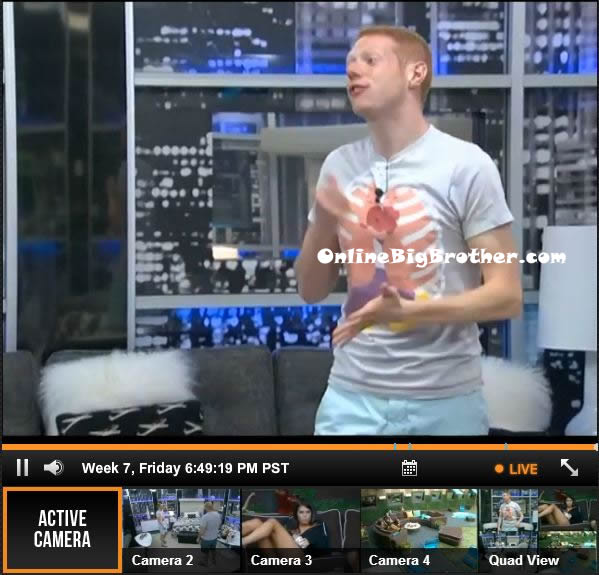 6:55pm Out on the backyard couch – Andy, Amanda and McCrae discuss how when they get Helen out next week and how they will tell Elissa that Helen told them she (Elissa) was disposable. Amanda tells Andy that they need to make the final three deal with her (HELEN) tonight so that she will be good with us. Jessie comes out to join them and puts her feet in the hot tub. Jessie tells Andy that she is sorry she didn't come talk to him right after but she just needed time alone. She says that she wants to talk to him soon though. Andy says no problem and that she can talk to him any time. The conversation turns to talking about the POV tomorrow and how it probably won't be that big of a set up because they are normally locked down after the nomination ceremony. They speculate on how it could be a how bad do you want it Veto Competition. Jessie says UGH!!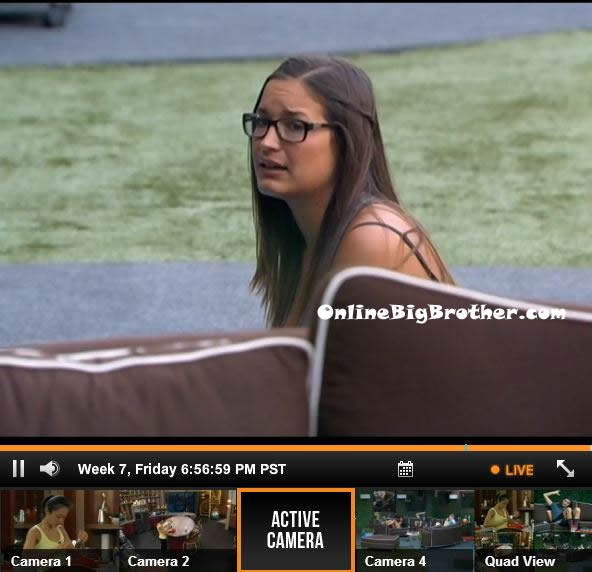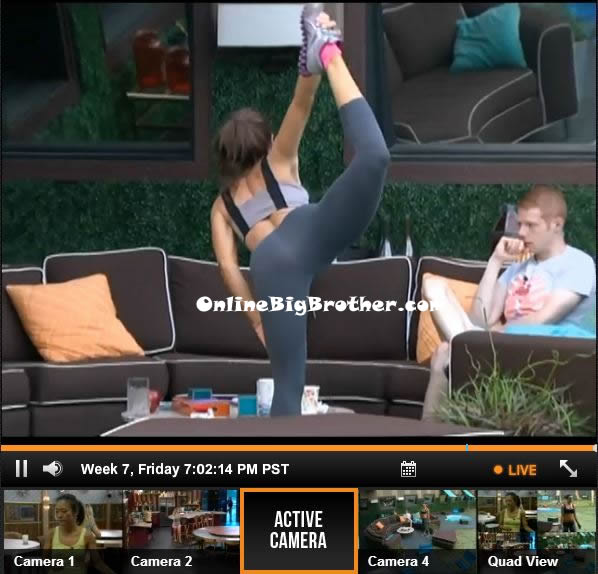 7pm – 7:10pm Elissa comes out and starts stretching in front of Andy. The discuss liking to play in the veto competitions but not having to win it. McCrae asks so what did you tell Jessie. Andy says that he just told her that she is not the target and that he had a much bigger plan in mind. McCrae tells Andy to really tell Jessie then if it is a how bad do you want it veto – that she should just go for prizes because she is 100% safe. Andy says oh my god I would feel so mean tell her that. Elissa says that she would to take prizes to. Jessie then comes out in her one piece bathing suit. Andy tells her that he loves that bathing suit. Jessie says yeah so do I except for the fact that you said its the n!pple bathing suit. Jessie tells Elissa – thank you for getting me to make out with Judd when he was planning to evict me. Elissa says that she didn't know where his mind was at.
7:10pm – 7:30pm In the havenot room – Amanda and Aaryn are talking. Amanda tells her about getting Helen out next week. Amanda tells Aaryn about how they have a plan for McCrae and Andy to make a final three alliance deal with Helen just in case she wins HoH so that she won't put up her (Amanda) and McCrae up on the block. Aaryn says that she has a feeling that Spencer will put up her and Amanda up on the block so she thinks it's best to get out Spencer. Amanda says no way! She says because she wants to work with McCrae and Andy and knows she would lose their trust. Amanda says next week,we need to put up Elissa and either Spencer or Ginamarie with the ultimate plan to back door Helen. Aaryn says that she doesn't want to win HOH next week then because she doesn't want to be the one to put up Ginamarie. She says that she would throw it to one of them. Aaryn says if she did win she would be comfortable putting up Spencer, Elissa or Jessie. Amanda says that Helen has talked about making a big move and you know what that means .. that means me and McCrae. Aaryn says that they (Aaryn, Andy, Amanda, McCrae) should have a name for their alliance. Aaryn tells Amanda that she thinks the people in jury will get to vote during evictions – that's how they are still involved in the game. Aaryn says that she thinks Helen is loyal to the final five. Andy tells her that Helen has a final two with me. Amanda tells Aaryn that Helen isn't loyal to us. Me, Amanda and McCrae are all loyal to you. Andy says that he feels Helen is loyal for now. Amanda says to you, not to me, Aaryn or McCrae. Amanda says I am not scared. Aaryn says we just need to know who cannot win so that I can throw it to the right people. Amanda says Helen, Elissa and Ginamarie can't win HOH next week. McCrae joins them again. Amanda says that once we get out Helen .. then Ginamarie will have no choice but to work with Aaryn, Elissa will work with me and the four (Amanda, McCrae, Andy and Aaryn) of us will run the house. Amanda says that we can't be seen hanging out together. The talk about an alliance name is 3AM (3 A names's and McCrae). Aaryn says that 3AM is a funny alliance name because Helen's alliance name was 3PM because we used to meet up at 3pm in the HOH. Amanda and McCrae leave.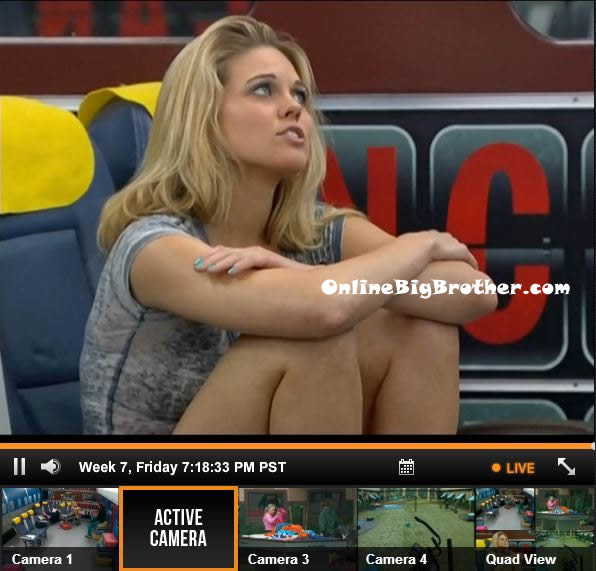 7:35pm – 7:40pm Andy and Aaryn talk alone. Aaryn thinks that they can still trust Helen. Andy thinks they can too and says that Helen is not ready to strike yet but that I will keep really close to her so that I know what she is thinking. Andy tells Aaryn that when it comes down to final four it will be us versus Amanda and McCrae. Aaryn says we are stronger than the Amanda & McCrae. Andy says this is giving me goosebumps. Andy says that he never thought that Aaryn would be his biggest ally in the game. Andy and Aaryn head out of the havenot room. They head into the kitchen where the house guests are making dinner.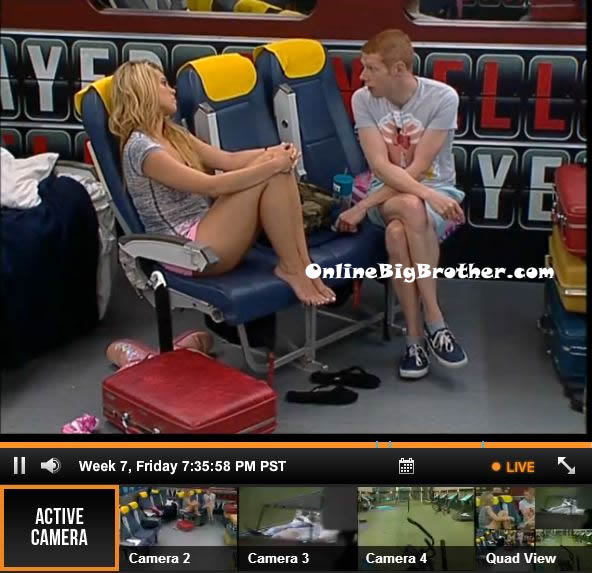 Use the Big Brother Live Feeds to FLASHBACK to SEE what they can't show you on TV:
BB15 N!p Sl!ps / N*des
[polldaddy poll=7309671]