POV Holder:
Andy
Next POV
Aug 17th
POV Used
?
POV Ceremony
Aug 12th
HOH Winner:
ANDY
Next HOH:
Aug 15th
Original Nominations:
Jessie and Spencer
Current Nominations:
Last Evicted Houseguest
David, Nick, Jeremy, Kaitlin, Howard, Candice, JUDD
Have Nots
Aaryn, Helen , GM, Elissa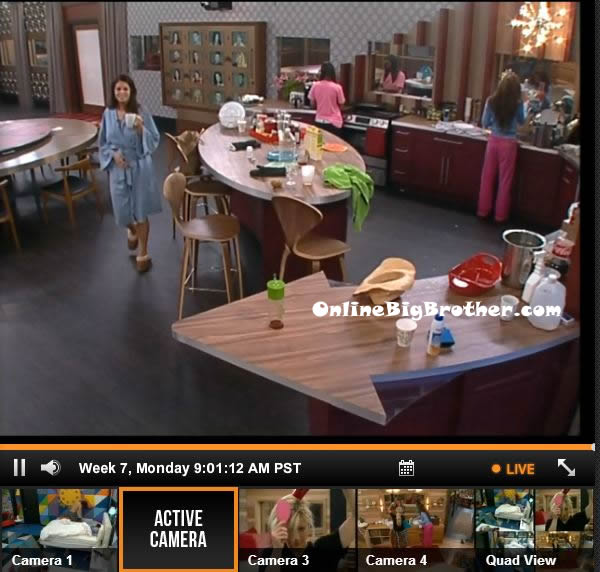 8:15am Big Brother wakes up the house guests. When the live feeds return, Gina and Jessie are getting ready in the bathroom. Big Brother calls McCrae to the diary room. Amanda and McCrae get up. Amanda head to the kitchen and says I want to push back the wedding a day. Jessie says why it's perfect you're hung over. Amanda laughs. Amanda heads out to the backyard and joins Helen by the hot tub. Helen tells Amanda that the fist week when Amanda went up on the block people wanted her out but you and McCrae had never done anything to me. Amanda says yeah look at Judd he broke the alliance early and look what happened to him. Helen says that Andy out of everyone was never going give his vote to evict you. He is so loyal to you guys, as much as he is with me. We picked out alliance well. Helen says by keeping you the first time I built loyalty with you guys, by keeping you the second time it built that trust even more and the third time, I don't know how much more I can prove. They talk about the past events that lead them to this point in the game. Amanda says we have been able to control what happens in this game. Helen says that Andy is very trust worthy. Amanda says she thinks he will definitely make it to final two. Helen agrees. Amanda says but I think he would win against us. Helen agrees but says she would be really happy for him. Helen heads inside. Amanda joins and Elissa on the couch. Jessie asks Amanda if she is PMS'ing? or perioding? Amanda says no I am right at the end of it. They talk about jewellery and clothes and other random things. They all head inside to get ready for the Veto Ceremony this morning.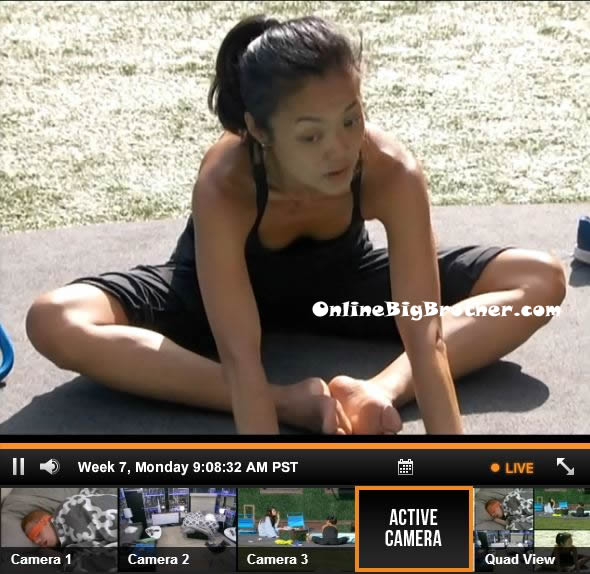 9:30am Spencer and Ginamarie talk about how Candice. Spencer says that Howard and Candice are so different. He would want a nice girl at home to cook and she would be asking what you gonna buy me today boo!? Spencer says she is a "gold digging whore". Gina says "yo mama's a hoe!" Gina laughs about how she said her Mom didn't love her. Spencer says yeah you cut her deep with that one. Gina says if she wants to come at me hard I would slap up that hoe! Spencer says she is a joke! It's funny how Howard had to carry her out of the room that one time. Ginamarie says come meet me in New York I will show you how I roll. Spencer says yeah she is a joke!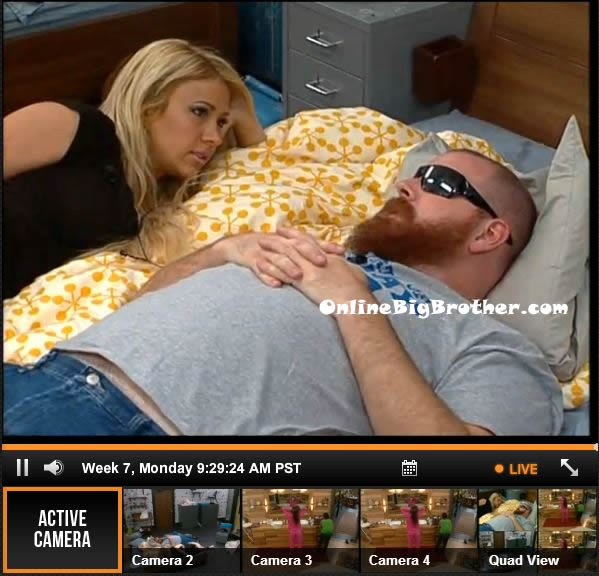 9:40am – 9:55am Up in the HOH room – Jessie talks to Andy. Jessie says that she can just see Elissa winning HOH and putting me up. Jessie says that Elissa is very wishy washy. She says that Elissa has had Helen the whole game and it's unfair that she had made it this far in the game. They agree that Elissa will need to go soon. Andy says believe me I will do whatever I can to keep things on our side and keep you safe but I will let you know. Jessie says okay. Andy goes into the bathroom to shower and Jessie heads downstairs. Meanwhile all the house guests get ready for the veto meeting.
Big Brother 15 Live Feeds: FREE 2 DAY TRIAL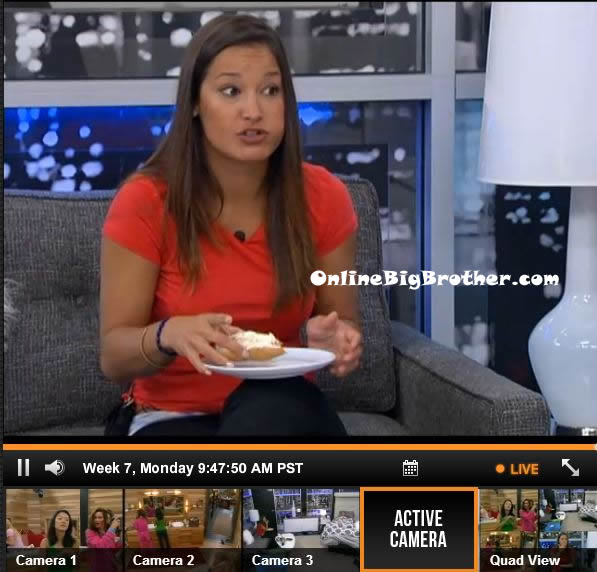 10am Aaryn and Jessie are in the bathroom. Aaryn says why can't was all just come into the house and be friends.. because they put us in here with people that have complete opposite personalities. Aaryn is in a really bad mood and says that if her Adderall doesn't kick in soon she is going to freak out. Jessie leaves the room and Aaryn jokingly screams yeah walk away Jessie just walk away! Andy joins Aaryn and Amanda in the bathroom. Amanda compliments him on looking sharp. He says we I have to dress night to back door Helen. Andy tells Aaryn about how he joked with Helen this morning about back dooring her. He says she said she would scream and bang pans. Andy gets called to the diary room. Amanda tells Aaryn about Evel Dick (BB8 & BB13).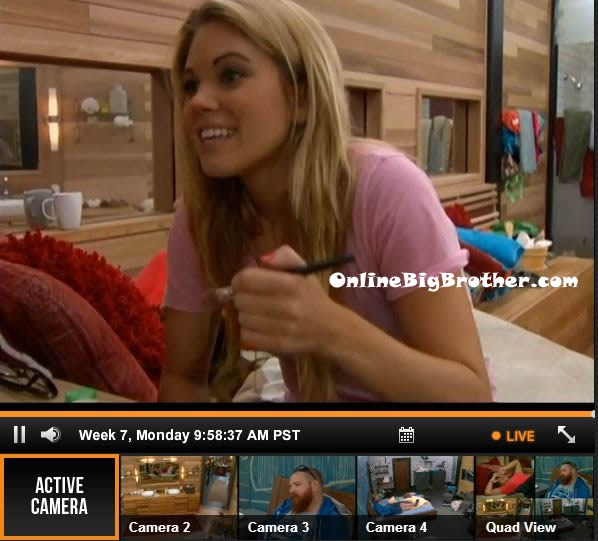 10:30am – 10:40am In the kitchen Helen and Elissa are doing the dishes and find ants all over the clean dishes so they wash them again.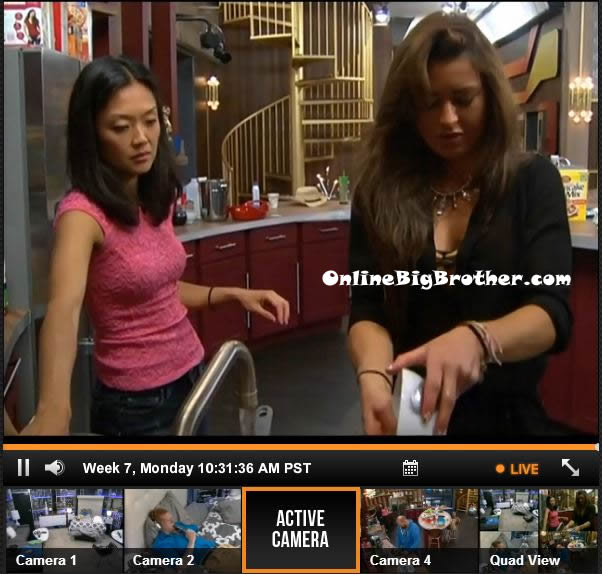 Meanwhile in the bathroom – Amanda and Aaryn are talking in the bathroom. Aaryn comments that Jessie keeps asking her if she is safe and she feels bad about lying. Amanda tells her that she should just say in her goodbye message to Jessie that Helen told you last minute who to vote for to put it on her just in case you make it to the finals that way you'll get her vote. Big Brother cuts the feeds when the feeds come back Amanda tells Aaryn to just say that someone told you to vote that way. Aaryn talks about her perfume. Amanda says her's is called midnight rose. Spencer says his is called midnight b**w j*b.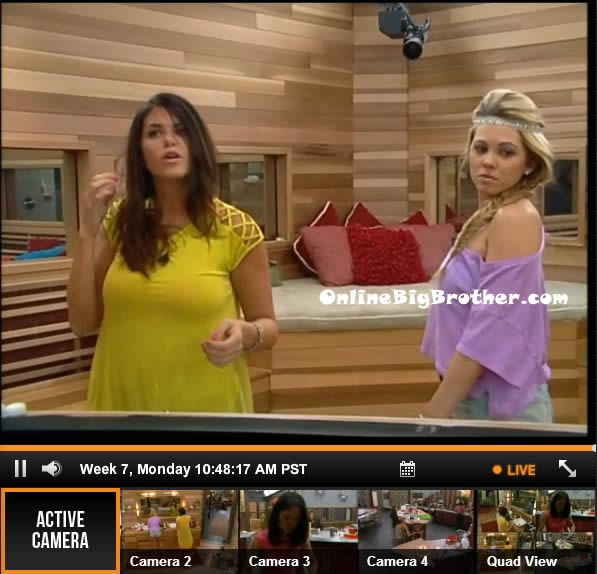 10:52am Big Brother switches the live feeds to the TRIVIA screen for the Power of Veto Ceremony.. (Andy isn't going to use it so the nominations will stay the same.)
Use the Big Brother Live Feeds to FLASHBACK to SEE what they can't show you on TV: BB15 N!p Sl!ps / N*des
[polldaddy poll=7309671]