POV Holder:
Andy
Next POV
Aug 17th
POV Used
?
POV Ceremony
Aug 12th
HOH Winner:
ANDY
Next HOH:
Aug 15th
Original Nominations:
Jessie and Spencer
Current Nominations:
Last Evicted Houseguest
David, Nick, Jeremy, Kaitlin, Howard, Candice, JUDD
Have Nots
Aaryn, Helen , GM, Elissa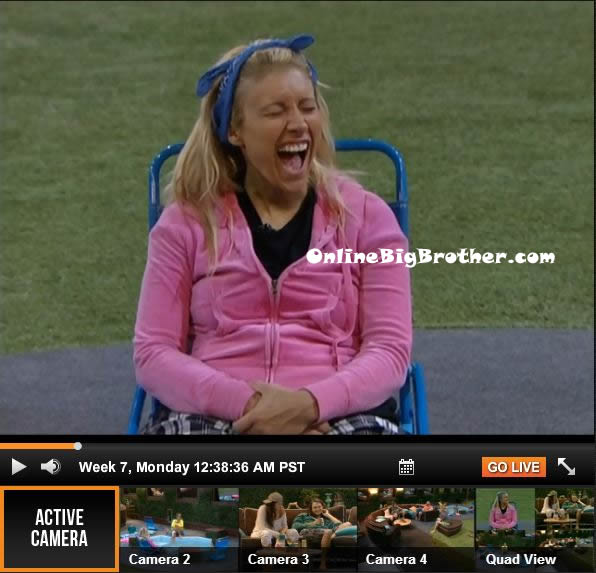 12:35am Helen, Jessie and Ginamarie are sitting by the hot tub talking. Ginamarie talks about going on like 100 dates with guys over the past couple years but there's just no spark there. Ginamarie says that it's not like she is obsessed with the guy. Helen says well if it doesn't work I want you to send me some photos and I will build an eharmony profile for you. Ginamarie says oh okay, cool. Helen says I want you to be proactive. Gina asks okay, like the acne stuff? Okay! Helen says yeah because literally the last few weddings she has gone to the couples have met online and I am about to be in one in October. If this Nick thing doesn't work out, if I was single and looking to date I would go online right now. Ginamarie says yeah. Gina talks about one of her ex's that was a "total f**king loser" who still lived at home with his parents and didn't care about paying for anything. She says she slept with him the night before coming in here. Helen talks about the type of guy she needs to attract. Gina says maybe I just need an 80 year old who I can take all his money. Helen starts talking about how much Judd lied and how he needed to go. Helen says after Nick left we really got to know you a lot better, just like with Aaryn too. I got to know her and I love her, she is great. People wanted me to hate her and I should have gotten both sides of the story. They talk about Nick and how they didn't really know who he was. Helen says he knew so much about nutrition and anatomy, maybe he is a doctor for all we know. Gina says hey Nick you wanna marry me now!
Big Brother 15 Live Feeds: FREE 2 DAY TRIAL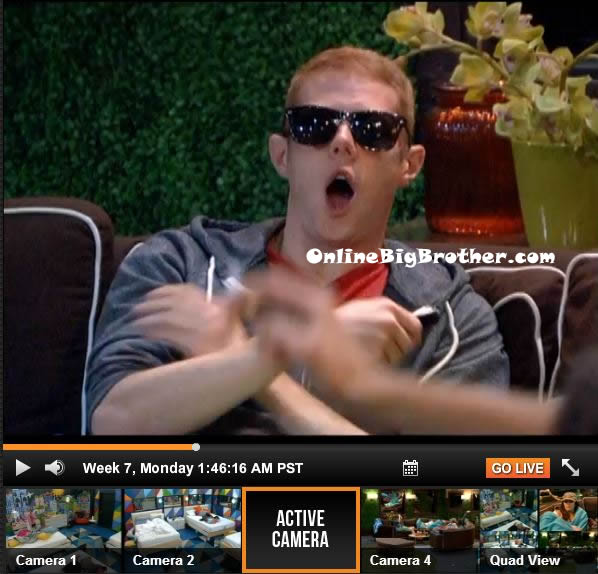 1:30am On the backyard couch – Andy, Spencer, McCrae, Amanda and Jessie are still talking about movies. Andy brings up how when they were talking with Aaryn they wondered what if Big Brother cast David, Nick and Jeremy because they had gay tendencies. Andy says that Aaryn said that's disgusting! Spencer says they said what if they got in here and Andy turned David and Aaryn said that's disgusting. Andy says I just got kind of quiet. Amanda asks if she has ever said anything that has offended him? Andy says no, and I don't think that Aaryn is a bigot that hates gay people but it's just insensitive. Andy says the only thing that you say is ret*rded, which I don't love. Amanda says that she doesn't like saying it either. I have family members that are mentally challenged. It's not saying the word it's the intent behind it. Andy says that his cousins are mentally challenged and his parents were always like you never say that word.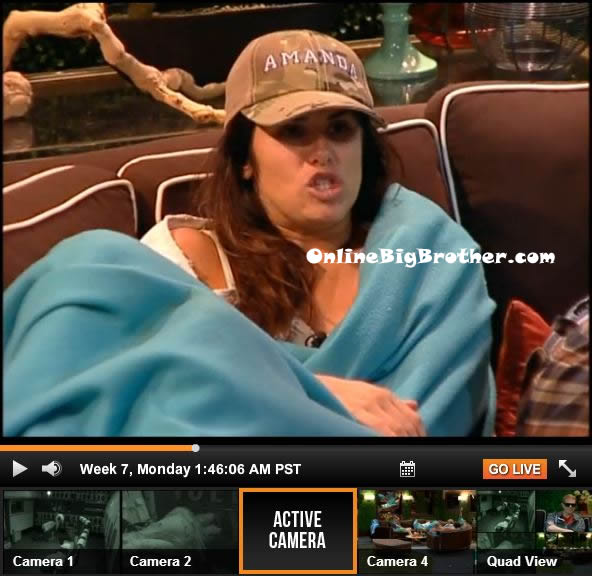 Amanda says you could say the n-word and they'll f**king call me a JEW! I make fun of myself saying the most asinine things but for me I am the least racist person, I am the least judgemental. Andy says yeah, there has never been a point when I have been like Ah! McCrae says it's about being sensitive. Spencer says its about being sensitive to other sensitivities. Amanda says everyone knows when I call Andy F*GG*TY ANN ..that they know I am just f**king kidding because I love Andy! I love Andy more than most of the f**king people in this house. If you want to call me a bigot because I call Andy f*gg*ty Ann when I am just kidding around then you can hate me, hate me because I am not a hateful person. I love and Andy and it has nothing to do with that. Spencer says I totally agree and ya'lls relationship is your own deal but you have to be open to the fact that you are seen by millions of people that could form their own opinions of you regardless.

Amanda says that I don't care because if people are going to watch and be like oh my god she said this. If they want to turn my words into something else into a meaning that I didn't mean. Spencer says I couldn't agree more with you however you have got to expect that if you go by the rule of 1% of all the people that watch this and hear some of the things you may say, not you but any of us, at least 1% will have a problem with something. Amanda says the reason why I don't think people perceive me that way is because look at the way Aaryn said Shaniqua and then look at how on live tv when I called her Shaniqua and called myself racist in front of everybody and nobody says anything about it because they know I am not racist. I am not racist! McCrae laughs and says I don't know. Amanda says I have had a black pen!s inside of me at one point in my life, I am not racist. McCrae says oh and that means you're not racist? Amanda says it does mean that I am not racist! If I was racist I would not f**k a black guy.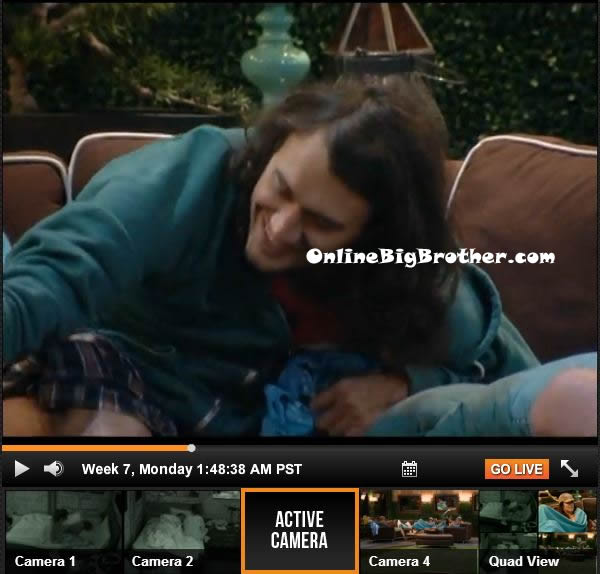 Andy says no I do understand with you there is a difference. If you had told me that is disgusting I would have been like go f**k yourself Amanda and knew that you were kidding but I don't think Aaryn was. Amanda says Aaryn is more sheltered than I am. I have lived all over the United States. I was the only Jew in my high school and the Christian's would tell me I am going to hell. I would be like okay. I guess I am just more worldly and cultured. Spencer says I am Christian but my motto is just be cool with each other. The conversation turns to religion and the creation of life. Andy talk about going to bed because of Veto meeting tomorrow. They joke about the funny things Andy/Spencer could say during the meeting. They then all head inside to go to bed.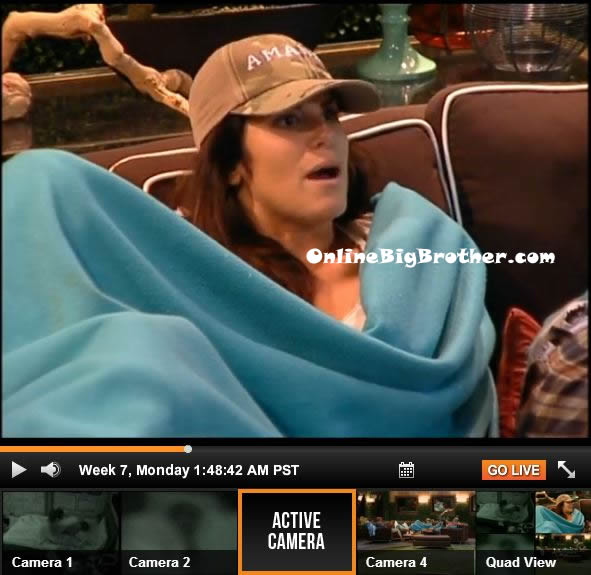 2am Helen talks to Jessie in bed about how Judd might hate her for evicting her. My feeling is that he is looking at it as a negative way. I hope he doesn't but you never know. This is his dream but it is also the dream for 15 other people. He told a lot of lies and got caught. Jessie says maybe he thought he was that good that no one could piece it all together. Helen says I want a fan to win the game and someone who earns it. Jessie says hopefully he will have time to piss and moan about it and then accept responsibility and move forward. If he is still bitter at the finale, that is a long time to hold on to that. Helen says he may be, that's fine if he wants to blame me but this is a unanimous vote it was more than just me. Helen leaves to goes to bed.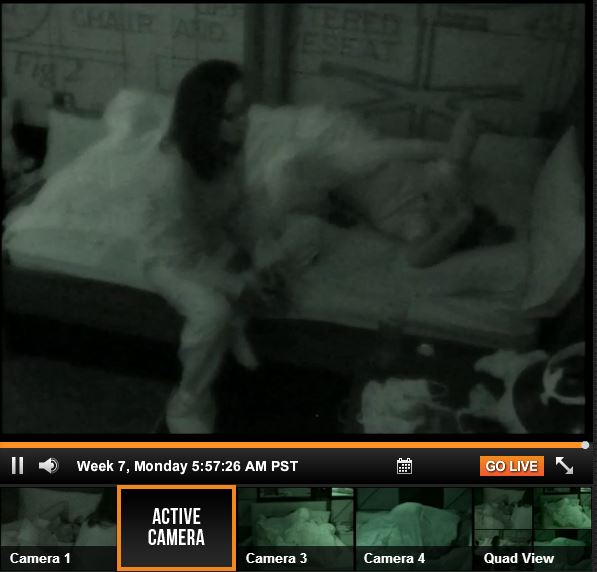 2:05am – 2:50am Amanda and McCrae in the bed. Amanda wants to have $ex with him and he says no, it's sleepy time. He says I just want to go to sleep. She asks why and he says because it's a big day tomorrow. They start making out. She starts giving him a b**w j*b and then makes out with him again. She starts to get something and he says no. It's sleepy time. She says okay then grabs a condom from the drawer and starts putting it on him. He keeps saying ouch. Amanda then climbs on top of him and he says "Oh my god, I am getting molested." They then have $ex for literally two minutes and finish (2:08:38am – 2:10:38am). She then whispers about going to the bathroom to flush it. McCrae says no. Amanda says here give it to me. McCrae says no. She goes to do something and he says no. She says oh really, oh really you f**king greedy jerk. Kiss me! She gets on top of him and again and fool around some more. They finish and she says we are getting married tomorrow, are you ready. McCrae MmHmm. Amanda asks are you ready to spend the rest of your life with me? McCrae says yeah. Amanda says I love you. McCrae says I love you too. Amanda says it so weird to think about you and my home life and you are going to be a part of my home life. Amanda tells McCrae that he is one of the only reasons that she wants to fight to be here so bad. McCrae says that's good you deserve to be here. Amanda says I am super scared when I get out of here, I am going to have a lot of threats. McCrae says just call the police. It's weird it's like we've been in a coma for 3 months. We don't know anything that's happened in the house side world. She says when I get back home I am going to have to deal with someone (boyfriend) harassing me. McCrae says he sounds like a real sh*t head! Amanda says I am ready to start my business, see where the deals are that I left, see where you are. She talks about him moving in with her and her putting him on her lease. She talks about him looking for a job and stuff while she is at work. She says real life is so much more stressful than in here. Amanda says I really think we can make it to the final four. McCrae says if we play our cards right. McCrae says it will be okay I promise. Amanda says as long as you are going to be with me forever and ever, promise? McCrae MmmHmm.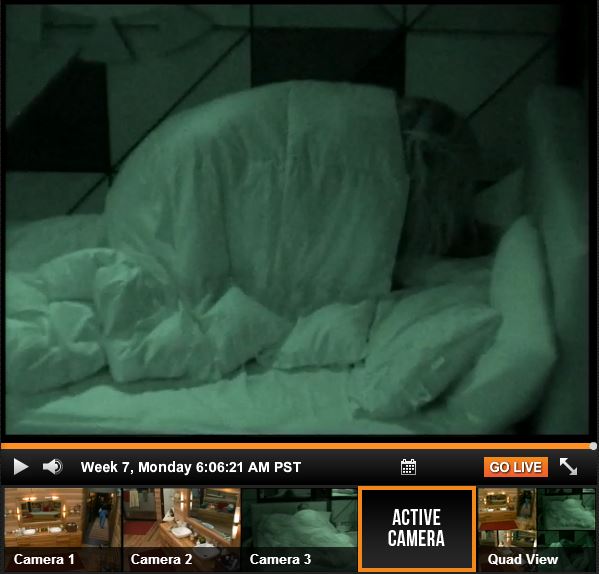 7am All the house guests are still sleeping.
Use the Big Brother Live Feeds to FLASHBACK to SEE what they can't show you on TV: BB15 N!p Sl!ps / N*des
[polldaddy poll=7309671]