Big Brother Spoilers Nick wins the Head of Household.
Today there should be nominations and the whackactivity competition, (Christie, Nick, Jessica, Sis)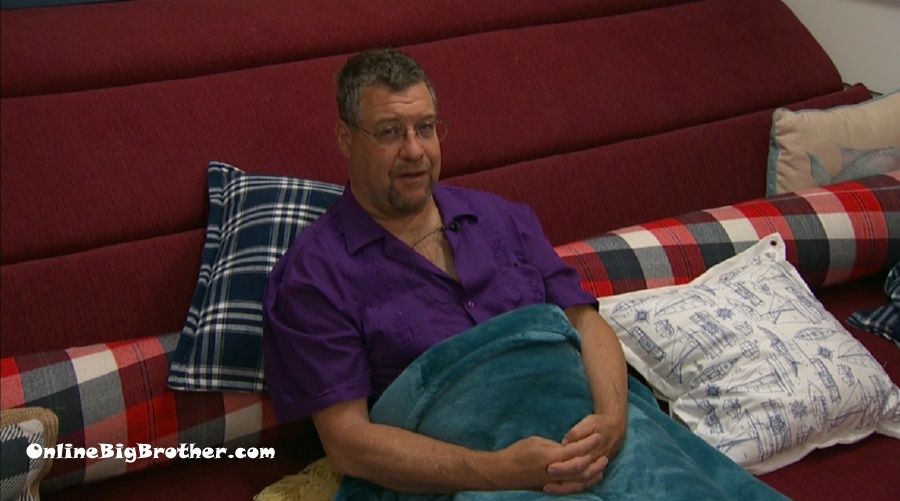 7:40 pm Cliff
Cliff – I truly believe that Kemi was one of those looking for her moment of infamy. If she was going to go out she was going to make sure she goes out as crazy and wild as possible so she could get a lot of PR and exposure and not go out silently
Cliff thinks Kemi went overboard, "her objective was just to cause a scene to get her some attention. I'm not big on that"
Cliff gives a retell about the altercation last night between Bella and Kemi
Cliff – I don't thin kBella did anything wrong Kemi got up in her face
Cliff – I notice Bella immediately had her hand behind her she was trying to restrain herself.
Cliff – Kemi definitely was ready to … I think she was ready to make it more than just a verbal altercation
Cliff – tempers were there.
Cliff says Sam grabbed Bella if he had grabbed Kemi he might have been slapped.
(If you missed it here's the post that contains the gif and images)
Cliff doesn't know who cast the rogue vote, "it wasn't me, Nicole said it wasn't her"
Cliff – my first thought was Kat but that doesn't make sense Kat is tight with Jessica. I think it's just a rogue vote. Someone is trying to cause a stink. A little confusion.
Cliff – it would not surprise me if it was Nick or Bella.
Cliff – I'm worried about Nicole.. is the fellowship of the ZIING rivaling the FOUTTE
Cliff says he's allied with a guy whos not even in the game and with a girl who was just evicted from the house
Cliff – this week I'm not thinking I'm safe.. I think it's a possibility. I tried to get tight with Nick at the very beginning I threw a vote at him for the camp director .. it was a boneheaded decision because it started some suspensions.
Cliff says he's now since told Nick he voted for him.
Cliff brings up that Nick told him before yesterday that he's not going up. Cliff doesn't trust Bella, "his girlfriend has already indicated I need to go up more often"
Cliff – Kat, Jessica or Nicole with me as number four
Cliff – my perfect situation would be Jessica and Kat with Nicole as a backup
Cliff – I don't think I'm going home this week.. If I was a betting man I would say I was not going on the block but it's probably a 50 50 proposition.
Cliff – I'm feeling uncomfortable about my position in this game right now
Cliff – Nicole told me Sam was up in the HOH and someone was talking goofed up and referenced a final 8 or something
Cliff names gr8tful.
Cliff – Sam is number 9, I'm guessing I'm number 10. I'm not happy going home tenth but I'm seeing the writing on the walls if things don't change.
Cliff says if their side can't get HOH it's going to be shooting fish in the barrels for the 8
Cliff is worried the beginning of the season will be boring but the final act might be fun with the final 8 fighting.
Cliff – I've heard of discussion that Nick and Bella could be a target.. it's been delayed.
8:16 am wakeup ..
8:19 am Kemi and Nicole
Nicole saying they were trying to pin the one rogue vote to mess with her.
(very very very hard to hear this conversation)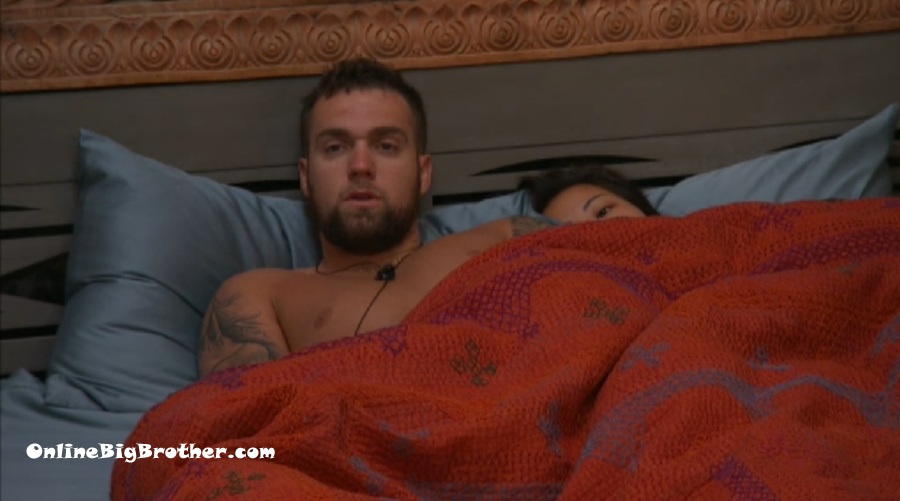 8:25 pm HOH Bella, Nick, Sam
Nick – there's no way Noms are today
Nick – what Am I going to tell Cliff
Bella – that he's a pawn
Nick – naa…
Bella- tell them they're both pawns
nick – cliff will know from my speech that he's not a pawn
Nick – I'm not putting up Nicole
Nick – Cliff I'm nominating you because you were in the boat room talking to your family and literally spilled your entire game about how you were going to nominate the three showmances and take them off one by one.
Nick – since I'm in a showmance that means you're a threat.
Nick – Jess, you're the easiest people to put up because your one of the other two remaining people that have already been nominated and unfortunately for you I am closer to kat than you
Nick – so I'll make a b1tch move because it's too early to ruffle feathers.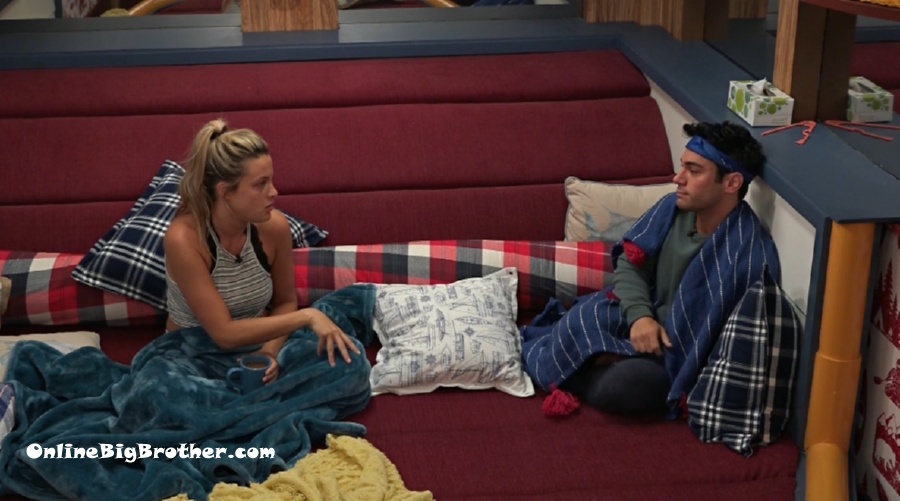 8:34 am Christie and Tommy
Christie telling him about Sis pulling Jack aside yesterday and being upset that she's the one taking all the heat for being in a showmance with him but he's spending all his time talking game to Christie.
Christie mentions telling Jack she's not going to hang out as much with him there are still final three with Tommy.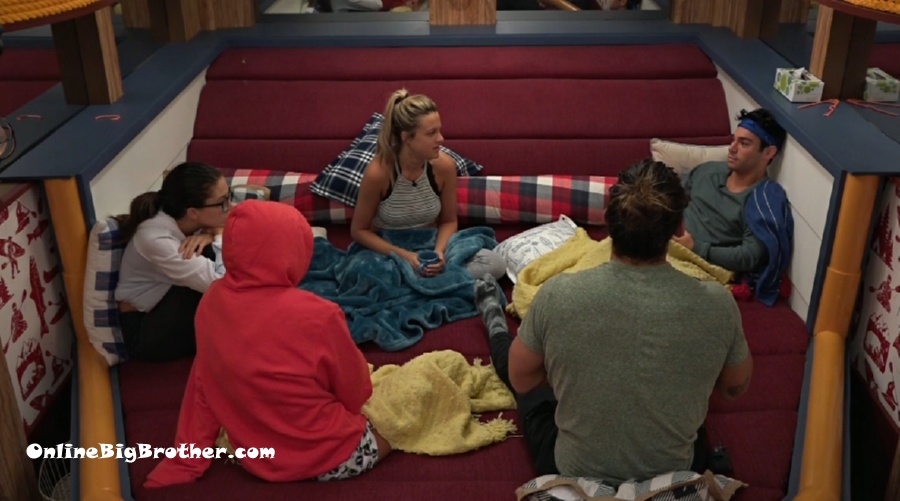 8:47 am They think Cliff knows they know he's been chatting.
Holly is certain it wasn't Nicole that dropped the rogue vote. Holy explains a heart to heart she had with Nicole last night.
Christie says Nick is thinking about putting up Cliff and Nicole or Cliff and Jess
Christie – I'm no voting Nicole out
Holly wonders if Nick will take a shot at them
Christie – he's team gr8tful this week he has to be (lol he's HOH no he doesn't have to be)
Holly – I don't put it past him to try to take a shot if he does it will be a b1tch move because he's backdooring one of us (b1tch move if you do b1tch move if you don't lol)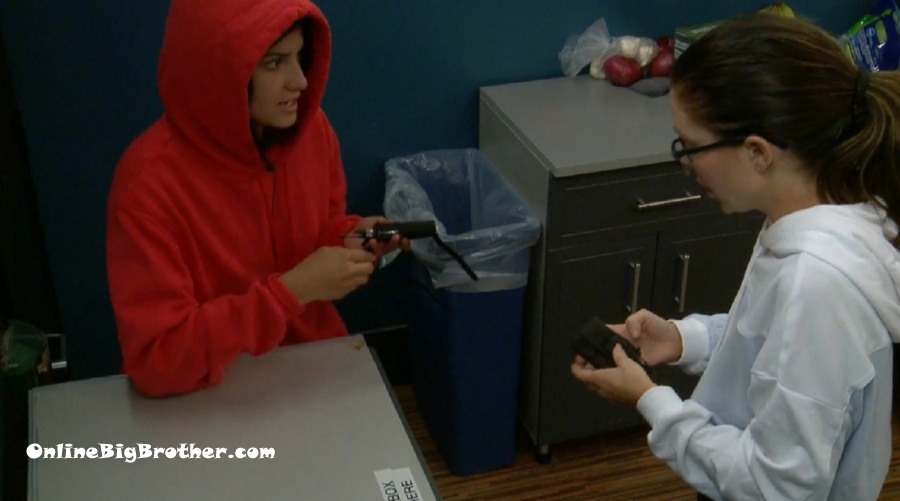 8:58 am Holly and Sis
Holly saying that Kat isn't fine with her and Jackson porking.
Holly – she(kat) started some sh1t with Jackson last night, like yelling at him
Sis – I thought they were f*ing around I never realized
Holly – they were joking so she was making.. she feels irrelevant so she makes this whole little love triangle scene
Sis – what she do?
Holly – she says a bunch of stupid sh1t with me.
Holly – she's like we're (hard to hear) sister
Holly – I said no we're not I just kissed him. She was like Oh my god you kissed him
They head outside..
Holly says Kat is a really good tool for her to have in the house
Nick family pics