HOH Winner: Nick
Nomination Plan: Cliff & ?
Nick told Nicole he isn't nominating her or putting her up as the replacement.
Kat would be the replacement nom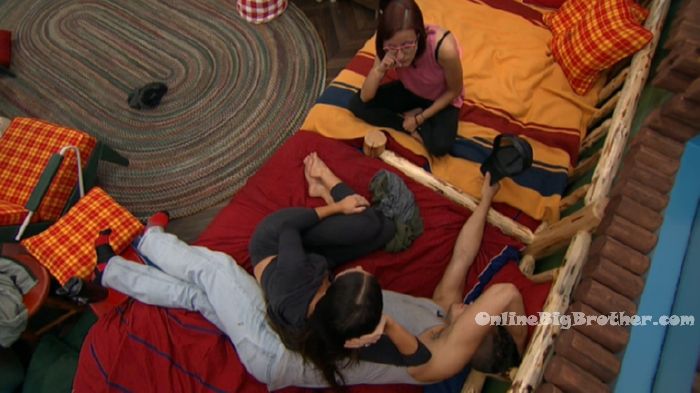 Bedroom. Cliff, Nicole, Jackson and Holly. Nicole – I worry about you guys a lot. Holly – ditto. Jackson – us too. Nicole – especially you .. based on what Nicks told me. Holly – and you're not the only one he's told. Nicole – he told me you (Holly) and Sam. That's what he told me to put up if I won. Jackson – now its a matter of whether he's going to do it himself or if he's going to wait. Nicole – I don't know whether he is going to do it this week .. take the first shot. Holly – if a guy (Nick) is going to do that at a family dinner table and call a girl (Holly) a b***h… I have zero respect for that person. Jackson – yeah I wasn't there, I was in the DR. Holly – he didn't say it out loud he said it to Kat. Holly – Nick and Bella operate as a unit. If it were my HOH, it would be me making decisions. If this was you (Jackson) that won HOH, it would be you making the decisions. Because its Nick, its Nick and Bella. They cannot operate independently. That just scared me even more because its so unpredictable. Like why even target me? Because Nick thinks I'm rich? I probably have the most debt of anyone in here. Cliff joins them and then leaves. Jackson – has he mentioned my name? Nicole – no. Jackson – he has mentioned Jack. Holly – you're a gimp now .. you have an immunity idol. The target shifted right to me the moment you got hurt. Jackson – f**k this. Jackson leaves. Holly – I just don't get why he would target me. Nicole – I thought you were friends. Holly – we were until he started acting weird around me for no reason. Maybe its since I've gotten closer to Michie. Nicole – he is probably thinking because he can't get to you. Holly – I know that people have to lie. Its the name of the game. I want to play with integrity. Nicole – I want to prove that you can. That you don't have to fabricate stories and lies and call people b***hes. Like its not necessary. It sucks because I realize that I f**ked up in the beginning of this game. I was so focused on myself and my own hangups. I allowed myself to be vulnerable to Bella. I cried to her about my insecurities and my family. I am such an a$$. I shouldn't have done it. Nicole starts crying. Holly hugs her. Nicole – I want to be here so bad and I know I'm at the bottom of the totem pole. Holly – you're not at the bottom. I hate that you alienated yourself. You were the one seeing your differences. Not everyone else ..for whatever that's worth. Nicole – I've done it some many times in my life and I said I wasn't going to do it in here .. and I did it again. Holly – I am f**king up too. I shouldn't be hanging out with Michie (Jackson). If I get sent home because of a boy..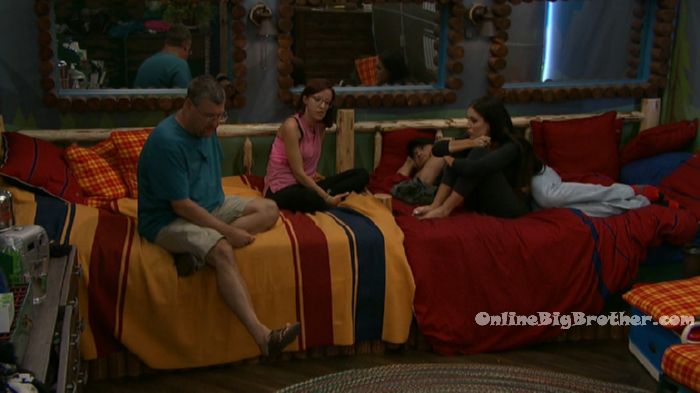 Nicole – and the argument that Kemi and her (Bella) just had.. Holly – I missed it, were you there? She (Bella) is lying. She wasn't a good friend to Kemi. Holly – everyone knows that Nick and Bella are lying to everyone else… but now everyone is scared of them and it sucks! Its not fair, its not right. They're bullies in this game. It sucks. Nicole – as an educator .. I said I don't tolerate bullies and I get suckered in by them. I already feel this way about myself .. I don't need you to say it. Holly – everyone loves and respects you. Nicole – I hope so. Holly – people love you and I've seen your worth since the beginning.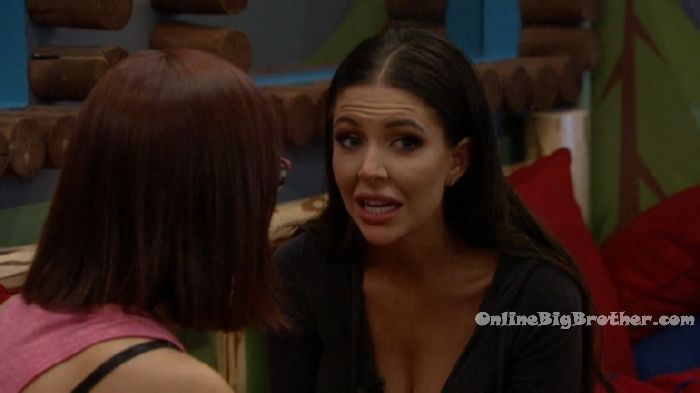 Tommy and Kemi. Kemi – the whole blow up over there. (Between her and Bella) I don't even want to touch that. I am pissed. Kemi – when I am there (in the HOH room) talking to him (Nick) and if she (Bella) is there I am going to just nix the whole thing. I am not dealing with that. Tommy – It makes sense what happened earlier today. I understand why she got upset and why you got upset. I think there is a way to move forward in a good way. Nick has a heart of gold. Kemi – but you (Nick) are 28 years old.. like grow the f**k up. I can understand her because she is 22. But you're (Nick) almost 30. Like you can't have a volatile reaction to anything that's unpleasant or inconvenient in life.. like you have to learn that at some point. And it should have been learned somewhere around 25. Like me, 25 …or oh god 26! Its situations like this where you're made to be uncomfortable that show the character of how someone can potentially be. So maybe that's why I'm feeling this or maybe because I'm religious ..god put me in this situation so that I have to deal with this .. because I'm the kind of person to just wipe my hands clean of it.. but try to be a better person and all that sh*t. Tommy – I love you. Kemi – I love you too. Like I said as a viewer this is going to be a good episode but as a player its like f**k off. Tommy – things change all the time.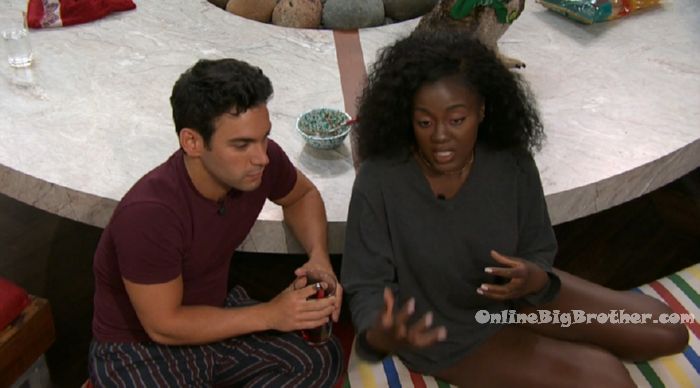 10:20pm Kemi gets called to the diary room for her Camp Comeback outfit. When she goes in there is a DR leak. Kemi – NO! Oh my god this is ugly! It's a skirt too.. this is so f**king ..sorry so frickin' funny. Oh my god is DJ here?
10:27pm Bathroom. Bella and Jackson. Jackson – she's (Kemi) like there's a two headed snake around this place. And I'm like HUH, noted. Bella – when she said that I was like this is bullsh*t! Jackson – I literally want to go out there and call her a$$ out. It doesn't do any good. It doesn't do any good but I want to put her (Kemi) on blast!! I am so glad she's gone.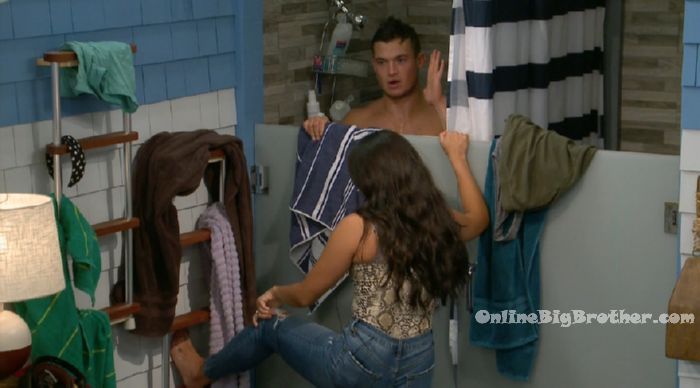 Bedroom. Analyse – after this next HOH we could go and win it and go straight for them. Christie – and it won't matter .. there won't be any more battle backs and they won't go to jury. Analyse – we better f**king get Cliff out. But I do think that the 6 of us need to start making more decisions together.. and we need to start being more quiet.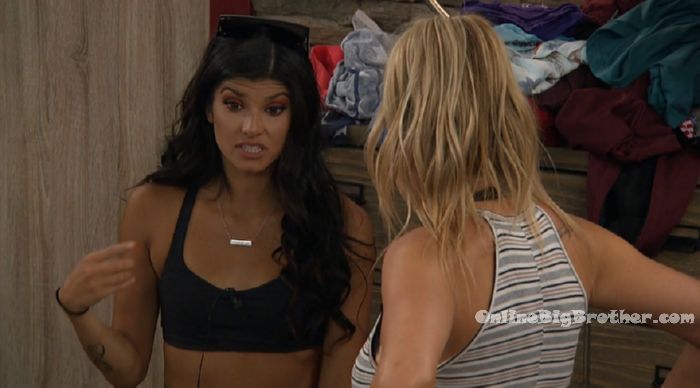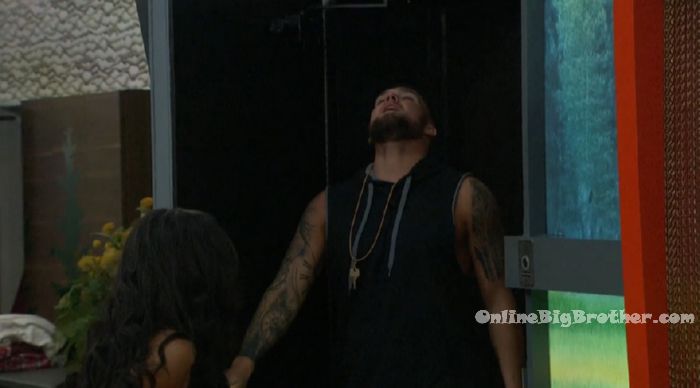 11:20pm Nick comes out of the DR and yells who wants to see my HOH room.
12am HOH room. Nick, Bella, Sam, Analyse, Jackson, Holly.
Nick – I love nugget. (Nicole) I really do think that she has a power. I really don't think that she voted. (He doesn't think that she was the one vote for Jess) I think that Nicole is honest. I think that she would have said. Analyse – in my gut, I really don't think she did it. This is what I feel in my gut. Nick – I think its Cliff bro. I think he's AFP or America's Favorite Player. Kemi said that she went up to Nicole and she straight up said I didn't vote for you. Jackson – you (Bella) saw Nicole look at her and smile. She either did it or knows who did it. Holly – she looked at me and said I'm f**ked. Nick – hog is definitely leaning towards going up.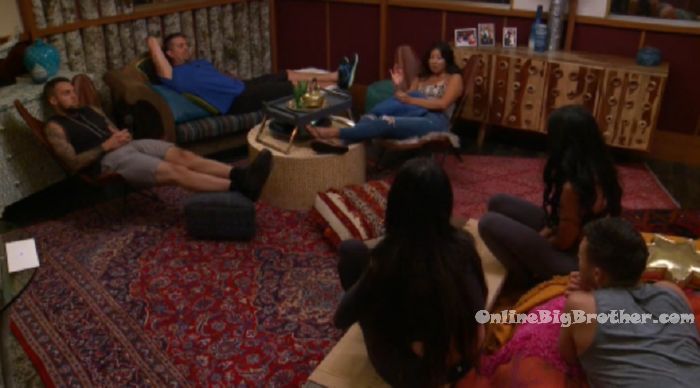 HOH room. Bella, Nick and Sam.
Bella – I think that Michie might have done it. Nick – I know, I told you that. Bella – because when I brought it up he said yo, that vote sketches me out. And I was like maybe it was Nicole. He was like yeah its definitely Nicole and then up here he was its definitely Nicole. Nick – he came up to me right after. I've never talked game with Michie. He's talked to me 3 times wondering where my head is at. So I don't know if he's paranoid. I think Kemi probably told him what I was telling her about putting Jack up. Like backdooring Jack. I'm sure she said something. Nicole & Tommy join them. Nick – I really think it was Cliff. To wear Tommy's hat and a knife. Nicole – I think he's smarter than that. Tommy – honestly if someone is America's Player .. fine take my hat for the whole season. Win some money.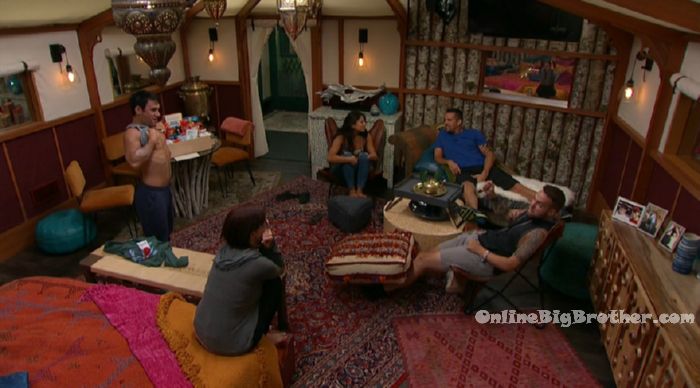 Storage room. Jackson and Ovi. Jackson – the thing that worries me is Bella in his ear because Bella is reckless. Bella can convince him of anything. She could convince him to jump off a bridge.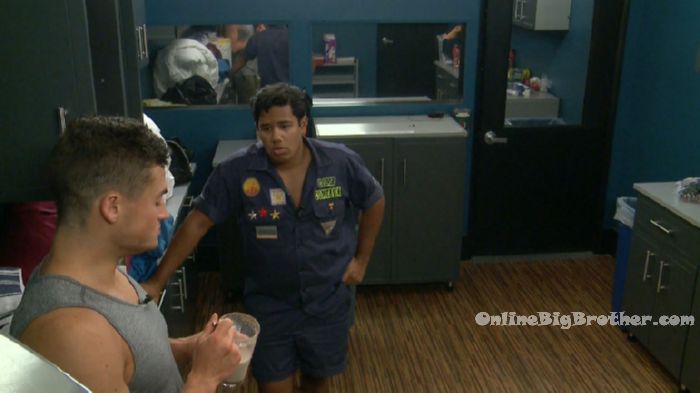 1:15am Checkers Table. Nicole and Nick.
Nick – Keep doing what you're doing. I'm not putting you up. Nicole – thank you. Nick – I think someone did it (Vote for Jess) to pin it on you. You're not dumb. I know it wasn't you. I think someone did it to pin it on you. I thought it was Cliff. I don't want you to worry this week. I am not putting you up this week. If I have to use a replacement, it will probably be Kat. I have a feeling that she's told Jack or Michie sh*t that I've said. So if you can find out. I'm not putting you up though. Nicole – ok.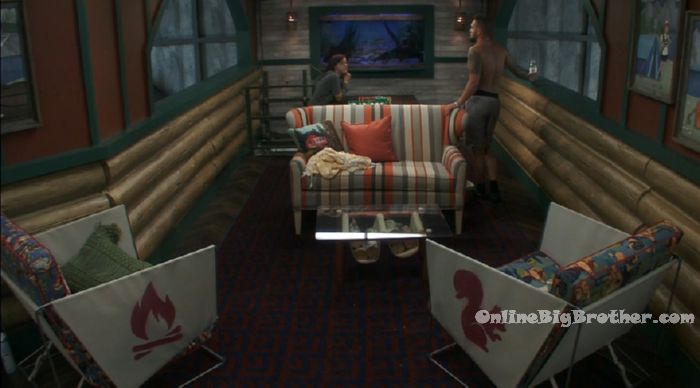 1:59am Kemi in her Camp Comeback outfit. Kemi – if I find out that someone does something behind my back that I trust whole hardheartedly .. I will literally never trust you again. Whereas if someone is openly against me and told me straight up, f**k you… If I were to come back into the game Jack is someone that I would consider working with down the line. David – in this game you can't trust anyone. Kemi – you can't get through this by yourself.