Big Brother Spoilers Nick wins the Head of Household.
Today there should be nominations and the whackactivity competition, (Christie, Nick, Jessica, Sis)
Christie has the whackdoodle power.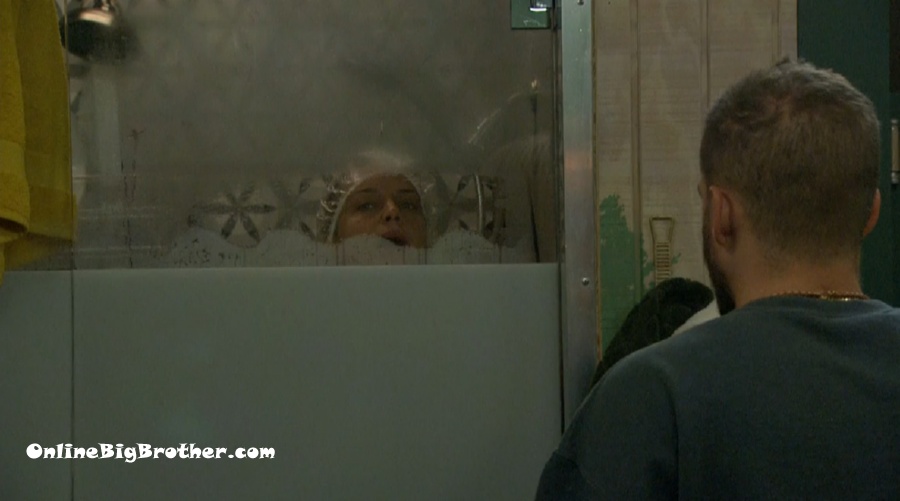 9:49 pm Nick and Christie
Nick thinks it's Michie that cast the vote against Jess. Christie agrees says he was "HARDCORE" pushing that it was Nicole
Nick – he kept asking me who I would put up
Christie – over ask and overly be pesky
Nick – people are saying that Jack was nervous when I won
Christie – no no no he was happy
Christie – who said he was nervous
Nick wonders if Kemi told Jack I was going to backdoor him.
Christie says she knows she'll never come between Jack and his showmance, "I think he overcompensates his honesty with me so that I think he's still honest with me"
NMick – if it gets to Nine and one of them.
Christie – not if when
Nick – if one of them win me, Sam or Bella.
Christie says Jack would put her up Nick says he won't. Christie tells him about distancing herself from Jack but she still "loves" him and she's still set on getting to the nine.
Nick – Sis literally told me she trusted me more than Jack
Christie – yeah .. I love her I really do I love her
Christie tells him she trusts him no matter what he does this week.
Nick – Me, Bella were talking last night about when we take our shot (LOL wow)
Christie – huh
Nick – when we would take out shot not next week the week after when it's not to just Nicole and Kat left .. I think we'll fire then.
Nick wants Sis or Holly to win next week because if they win they wouldn't do anything funky (24 hours ago they were lusting over putting you and Bella up.. straight talk)
Christie – I don't think so either
Christie asks who they should take out first
Nick – Jack
Christie – he's so good with his mouth it makes me mad
Christie – you need to be careful who you say things to (too late)
Christie – you and me are very similar we say it how we feel
Christie again warns him to just be careful because she doesn't want to start hearing his name coming up.
They talk about how stupid it would be to take the shot now.
Christie says "I would rather us get out the irrelevant people and then prioritize targets"
Nick – we need Nicole to win, if Nicole wins next week it would be clutch.. 100% she's ready to take a shot
Nick says Nicole wouldn't put Christie up told him she trusted Christie
Christie – alright yeah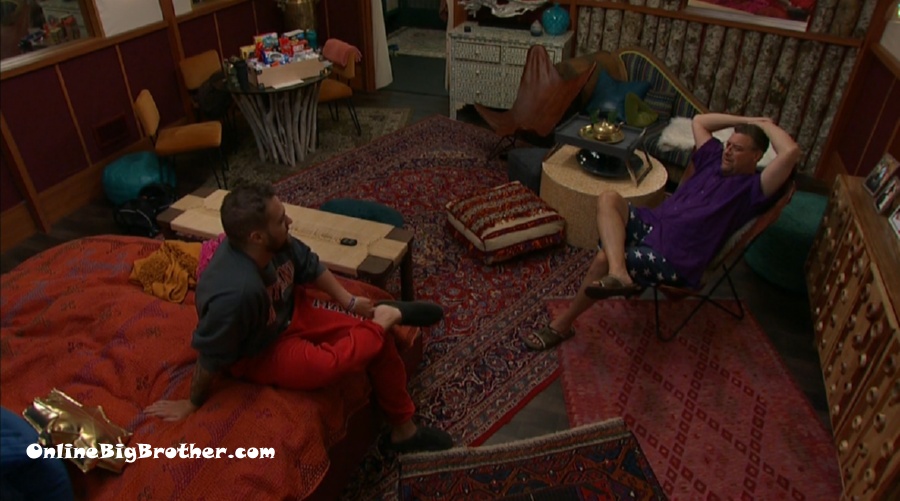 10:03 pm Cliff and Nick
Nick says he thought Nicole was the vote and was leaning to put her up and Jess has his name in her mouth to.
Cliff – lemme give ya my pitch
Cliff says he's been trying to distance himself from Nicole because of the whole Kemi thing. Cliff doesn't think it was Nicole that cast the vote that would have been a stupid thing to do.
Cliff – I'm not part of any group I'm trying to find a place to land.
Cliff – from a personal standpoint I don't want to go before Kat and Jess and .. I'm not playing this emotionally I'm playing logically so I wouldn't expect from you any different
Nick says kat is so bad he doesn't see the point of putting her up maybe as a replacement
Nick – I wouldn't want to go home before Jess either that's tough
Cliff – I'm hoping to make it past those folk s
Cliff says he wants to work with Nick and Bella and stresses he can benefit Nick more than other people in the house IE kat and Jessica
Cliff – I would have gone with what would have caused the least waves, "Jess or kat/Nicole the target would be Jess"
Nick says that's what her woulda said.. Jess said she would put up 2 guys
Cliff says he doesn't want to be a pawn but if it works for Nick's game there wouldn't be any hard feelings.
Nick says he's putting Jess up and someone that can pull themselves down or won't have the votes to get out.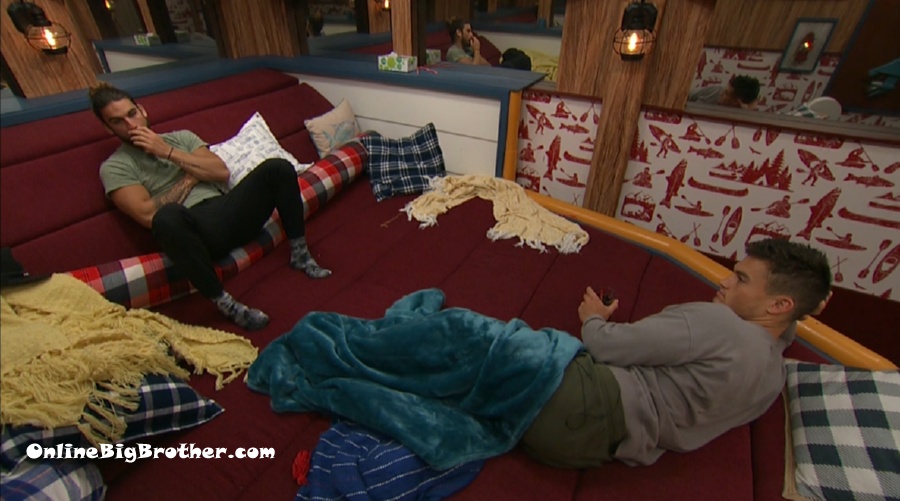 10:13 am Jackson and Jack
Jackson – I'm not talking about this vote to anybody, just push Cliff slowly. in this game, if you want something you can't show you want something.
they talk about the rogue vote.
jack – F8ing sis.. I think Jack did it
Jack – I can't vote
Jack – she's just young man.. she's cute.. she's young
Jackson – I coulda told you that
jack – f**** we'll handle it
Jackson – you got yourself into a little more sticky situation than I did somehow
Jack – it'll be fine, HCrsitie trusts me it's all good
Jackson – yeah, that's what matters most. Christie will get you and us further in this game than SIS will
Jack – if she cannot run her mouth so much
Jackson – dude…
Jack – we'll see how this power goes if she wins it she'll tell me
Jack says it will be the most powerful.
Jackson – do you think Nick Bella and Sam were being weird this morning
Jackson – I think Nick is..
Jackson is worried Nick will take a shot at him.
Jack – if he's taking a shot she's backdooring us he's not putting us up .. he told me to my face you area backdoor all day I don't want you playing in the veto
Jack – he doesn't have the vote if he were to make the flip and put us up.. (there's 6 of you)
Jack – unless he puts two of us it takes 2 votes away
Jackson – that's digging a grave cause then all he has is Bella or Sam winning HOH and if they don't they're f*ed (or David comes back)
Jackson – next week and every week after that. that's a lota eggs in one basket
jack – if he puts Cliff and Jess up and plans to backdoor us he loses the cliff and Jess vote and now we have the rest of 8 to vote us back in
Jack doesn't think that will happen.
Jack – if that happens the 8 crumbles and the trust of the 8 crumbles
Jack – sis can go home I don't f*ing care
Jackson – if anything it'll help your game
jack – that's what I'm saying.. she's mucking up my game
Jackson – she's 22 and she's a little girl
Jack – I know
Jackson – she was just in a 4-year relationship
Jackson – she comes on the show gets with Jason Momoa 2.0 and gets pipped down for 2 days
jack – WOW
Jack – if Holly and Sis go up we'll probably take one of them off.
Jack says for the competitions/Vote he would rather they had Sis but for Social Holly is a better player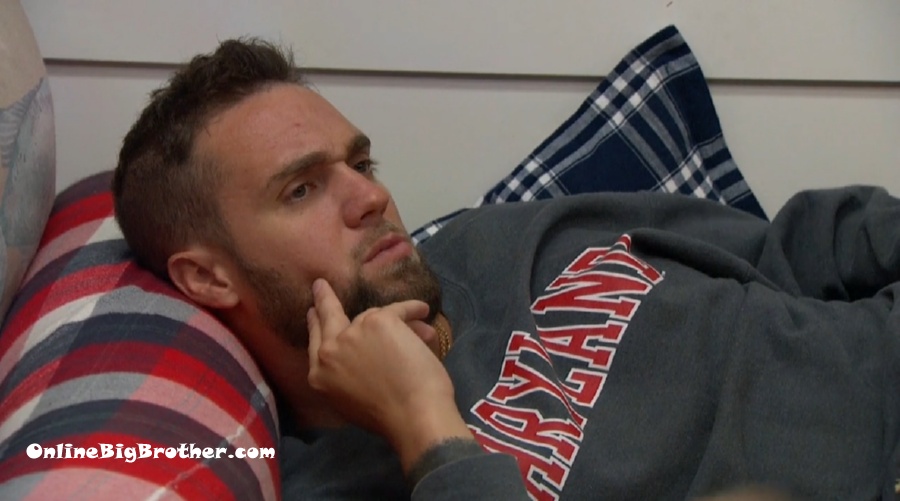 Nick comes in. tells them that Cliff just offered himself up as a pawn.
Jackson is super suspicious. Nick says Cliff is going up regardless.
Jack – yeah I feel like he's going up anyways
Jackson says the fact that he wants to go up makes him think he has the power.
Jackson – do you thin Nicole has it
Nick – Nicole was talking to me she thinks Ovi has it
Jackson – he can't use it
Nick says he would have never put Cliff up until he found out he was after the showmance for which Nick is in one.
Nick mentions that Cliff told him he was trying to work with Nicole and Ovi but is distancing himself because Nicole doesn't talk game.
Nick adds that Cliff mentions Ovi isn't in the game and Nicole doesn't talk game so he's kinda a lone wolf. (yet the most feared thing according to Christie)
Nick – he thinks he's going up and he's trying to be safe
Nick – says if he gets houseguest pick he'll choose Sis or Jack.
Jack says Cliff will pick Sam.
They agree they don't want the veto played this week. Jack and Jackson are really for this.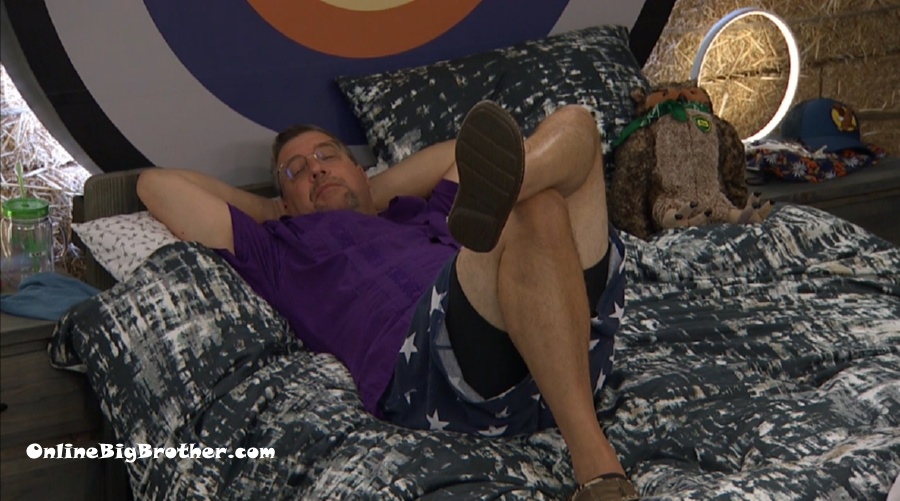 10:20 am Cliff
Cliff – what a stressful game.. it is what it is.. There are things I would have done differently. This game is not going to define me I am who I am no matter what happens.
Cliff – and I have to learn how to WHISPER because obviously, my indoor voice SUCKS which I've been warned by my wife … still gotta play the game.
Cliff isn't worried about the alliance talk that was heard because nobody can be surprised about that he's worried what else was heard. "I know about their alliance of 8 they know about Nicole and Ovi are trying to work together that shouldn't scare them now that Ovi's out"
(I missed who told Cliff)
Cliff – I can't believe I got such a loud mouth. There you go live feeders so busy talking top y'all I let it get to the game.
11:10 am Feeds down for the whackyournoodle contest.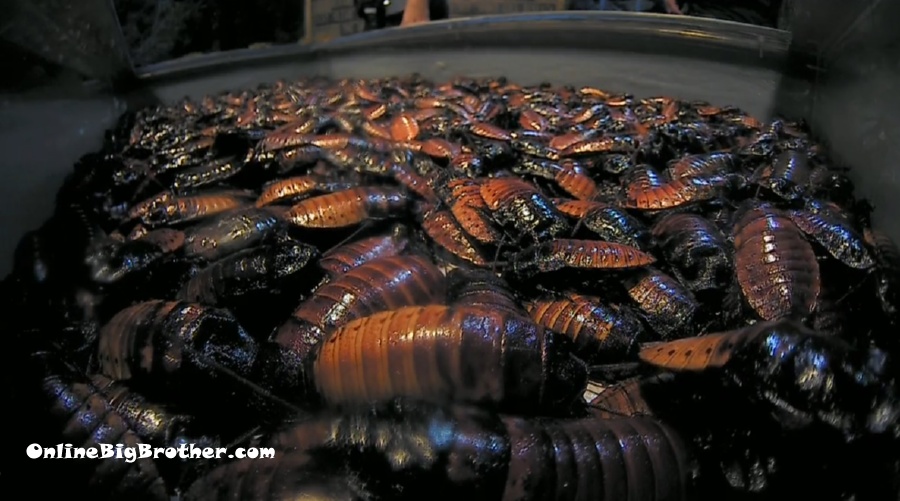 11:32 pm Feed leak
3:33 pm FEEDS NO
3:37 pm Feeds back
Christie seems happy.
Jess explains they each had 30 minutes to complete a puzzle. that is why it took so long.
4:11 pm
Sam, Nick and Bella
Sam says that they need to make Jessica feel like she's a threat so it flushes out whatever power she has just won. (everything thinks Jess has the power because she's given conflicting reports on whether or not she's finished the comp before the 30-minute timer. .
5:30pm Big Brother blocks the feeds for the nomination ceremony.
6:37pm The feeds are still blocked..