Head of Household Winner – Jess
Have note are:
Nominations are: Jack and Jackson
Power of Veto Players are – Jessica, Jack, Jackson, Kat, Nick, Tommy (Nicole – Host)
Power of Veto holder – Jessica
Power of Veto Ceremony –
Powers in the game *** LINK ***
Grab your live feeds —-> BB21 Live Feeds Subscription Link
Rank your houseguests —-> Big Brother 21 Ranking
4:25pm – 4:32pm Backyard. Christie and Jack.
Christie – the deal was never out of our minds. We believe him, not Michie. Jack – got it. I just wanted to confirm with you. Christie – we have to preach loyalty. He still wants strong people to work with. Preach that they're denying the whole southerners thing. Completely denying it. And also like, like approach it in that we need him too. Like really useful. that he is not even remotely our target even in a double eviction .. like not at all. Jack – he never was. Christie – how loyal we are to each other and want to be to him. I think we can do it. Jack – ok. Christie – and like our view on him never changed. And I also think that somehow… he is a fan of this show. He would not want people that are friends in this show. Jack – would that be four? Christie – no, if we have him.. we have five. And I think that Nick could get Nicole. But what we need is one more.. they f**king know each other. They know each other. You are going to have to spend some time with him. Jack tells Christie about his conversation that he had with Kat about he and Michie. Jack – she said that she hasn't made up her mind and is just seeing both sides. Shut up. Christie – we definitely have to secure other votes if she isn't going to be one of them. If she votes to evict you whether you stay or go .. she bumps up to my number 1 target. She got a trip to Hawaii when she shouldn't have because Tommy gave it to her. She stayed even though we thought that she might know people here. She also told me that she wanted to backdoor Jackson on multiple occasions and I never told a soul about it. And that's how she is going to potentially f**king repay us? By keeping him… its pathetic! She gave a speech about equality and then she is going to keep him?! Jack – I was the one that blindsided her.. oh wait it was Jackson's idea. Christie – that's fine we move on .. and we don't bank on her. We work on Cliff. Jack – I tell you what there is a possibility of the whole house flipping over. Christie – Holly isn't with us. She's been up Jess's a$$ for three days. Just things to keep in your head… But I have faith in Cliff. I don't know why but I do. Michie is a dirty player and you're not. Jack – I hate that this alien is here today. Christie – I know, but you're handling it really well. And you have to continue to handle it well because he is going to get his next and he might not handle it well. If you go home and I don't win that double. Its f**king bullsh*t! Jack – its my fault at this point. I shouldn't have done what I did. If I had just kept my mouth shut nothing would have happened and we would have been fine. Christie – its not your fault. Tommy was thinking the thoughts too and because the two of you felt that way and then I jumped on board it was a big wheel that just kept turning. Jack – I should have f**king sent her home! Christie – it was a whole series of events. It all started with Michie and no one sees that. Jack – I almost f**king snapped on Michie in the boat room. F**K her dude! She is so f**king fate! Christie – you have to let it go. We have to work on Cliff now. Jack – maybe we can get Cliff and Nicole. Cliff is concerned about an all girls alliance. I have to figure out how to play into that. Christie – just don't mention any names.
4:55pm Bedroom. Tommy, Sis and Christie.
Christie – Jack is really defeated. Nick isn't with us. I am telling you he is not with us. Nick is with Holly and Michie in the kitchen sitting on the floor talking. Nicole and Jess are in the HOH. Tommy – it is what it is. Christie – apparently Jack and kat's conversation didn't go that great. He doesn't think he has her vote. We still have four days… and you have to watch what you say around him. Kat apparently knows everything. She said she heard floating around that she spooks very easily… that the slightest wind frazzles me. Where is that coming from? Tommy – that's common knowledge. And of course no one is doing anything until after the veto. I don't think that is a weird thing to say. Sis – its okay we have four days. I am going to talk to Cliff. Christie – do you think we could get Cliff somehow? Sis – that's what we were just talking about. Christie – he is terrified of an girls alliance too so you've got to play that up too. Sis – I've got a lot of things in my head. Christie – we have to play up loyalty and all girls alliance and that the three of them know each other. He is a superfan of this show he is not going to let three people that know each other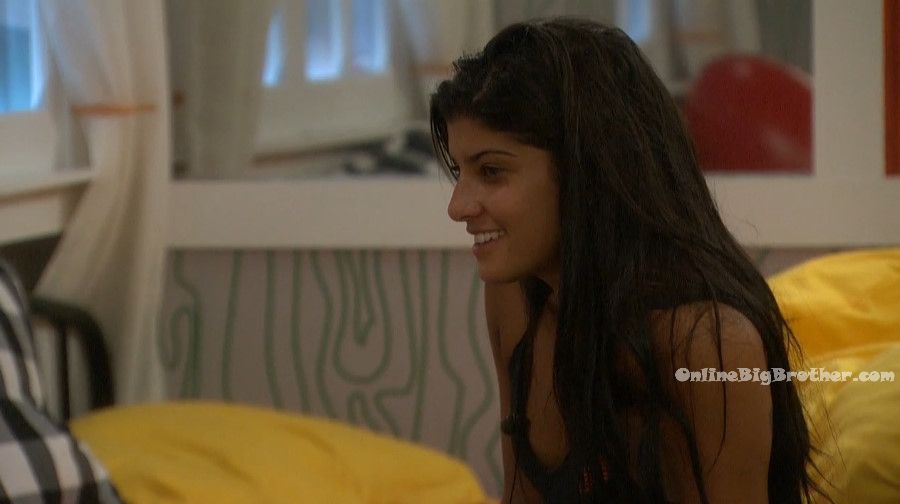 5pm Backyard. Tommy, Jack and Sis.
Sis – did you talk to Kat. Jack – yeah and she said that she still wants to hear both sides. But she is butt that we tried to blindside her and we didn't communicate it to her first. She doesn't see the fact that it all started with Jackson's lie. But if its not a lie and its true, I've tried to expose her. Tommy – here is the thing if anyone of us is sitting next to Michie in the final 2 that person will win. That's why this is even happening because his actions have buried him so deep he can't come back from it no matter what and that's why people want him here. I get that from a game point, so we have to get creative. Tommy – look what I found stuck to my costume .. because I think that is the answer. Jack – that is the answer. Sis – wow! Tommy – The man likes deals. We need a really good one. Jack – and we've been loyal and honest this hole time. Tommy – what is the new deal? Jack – the new deal is that its you (Cliff), Me, Tommy Sis and Christie. I don't know where Nick is right now. Tommy – but we need one more vote then because you're on the block. Jack – Cliff will be the 5th.. if Nick knew we had Cliff he would go with it. He stressed to me that he does not like Jackson because of the dishonorable stuff. Tommy – he is smart.. he likes deals. Individual deals. What if when we get down to it we promise to go after one of ourselves first. (LOL What?!) Sis – yeah but not all of us should say that because he is going to know that we talked about it. Jack – have we made that deal before? Like has Christie made that deal with Cliff? Tommy – not that I know of. Jack – f**k dude I would never bury anyone in my.. Tommy – no but we're going to have to… its giving Cliff a place higher than one of us. Or do we not go there and promise him 4 more weeks of safety? Jack – I think that's safer than saying we will bury one of us. He plays the honesty game. Tommy – that is a really good deal. It would mean we would have to go after one of us before him. Five weeks then. Jack – Jesus Christ, you're making a monster! Tommy – if I get fifth place and Cliff gets fourth .. fine. I would rather have a smooth few weeks. Jack – but based on if some of what Jackson was saying .. he just takes his two weeks and manipulates both sides. Jack – guess who is enemy number one after this week.. blonde! Sis – wait why are we confused about Nick? Jack – Nick spoke with her (Jess) for a really long time to day and he wouldn't talk to.. Tommy – yeah he was in the bedroom and he wouldn't really talk to us. Jack – which means that he's shifting.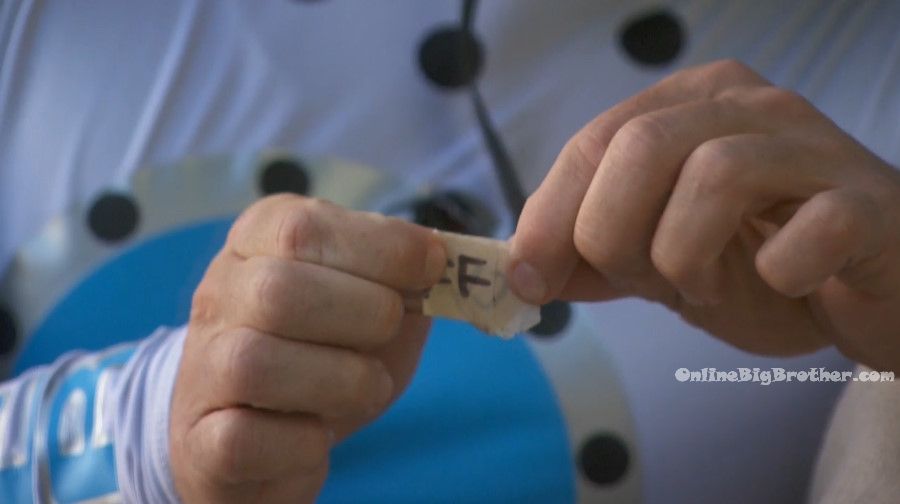 5:27pm Backyard. Nick and Sis.
Nick – I don't know what she (Jess) wants and Kat hasn't said what she wants either. Whatever Jess wants is what's going to happen when it comes down to it because they're going to vote with whatever she wants .. you know what I'm saying. It will be Holly, Cliff, Kat, Nicole.. Sis – we don't know about Cliff. Nick – we know about Cliff. Sis – why do you say that. Nick – we know about Cliff. Just trust me. I mean who knows if you promise him safety .. he might flip. I mean he has played kind of sketchy so.. I wouldn't worry about it until after the veto meeting because I don't want you to get yourself .. I don't want you to put yourself in the same position that I did with Bella. I just know whatever she wants is going to happen. Sis – how do you convince Jess? Nick – its just campaigning .. I would pitch the woman's bullsh*t to her if I were him. The woman's rights bullsh*t! But I feel like that's personal.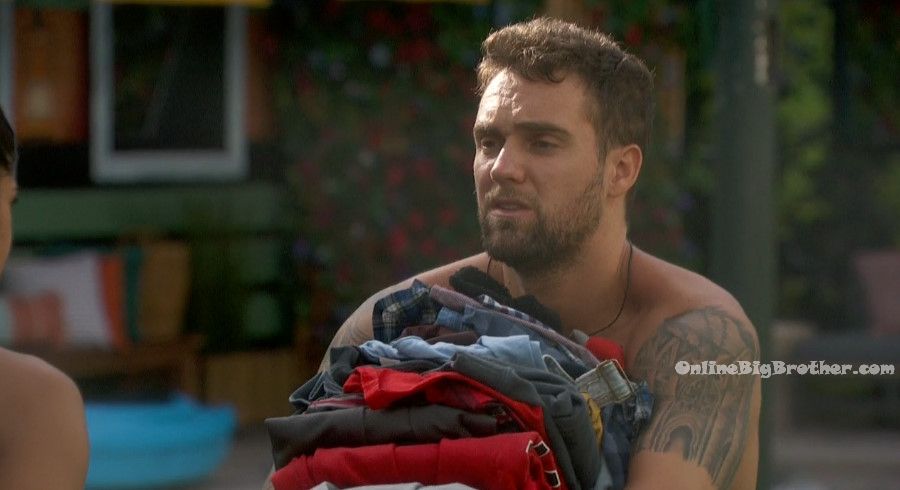 6pm – 6:35pm Big Brother blocks the feeds. There was another alien invasion. Jack – I'm glad he came back.. I was missing him.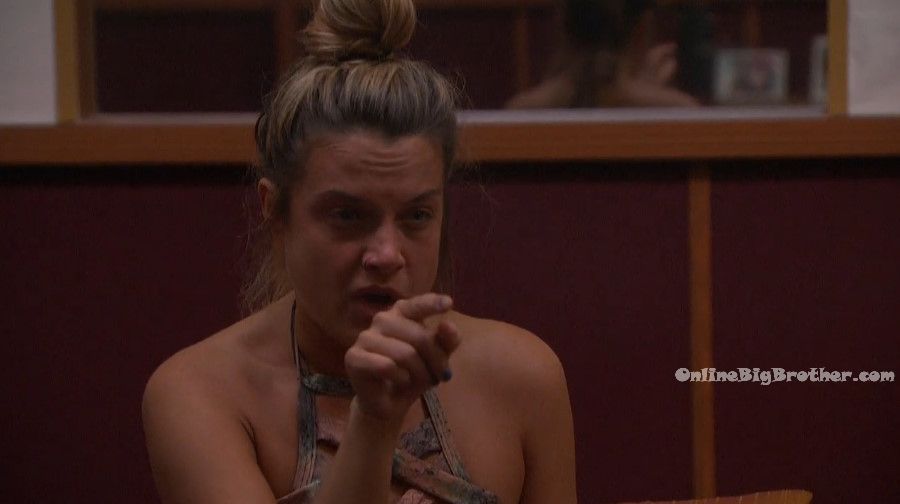 HOH room. Jess and Christie. Christie brings out the crocodile tears..
Jess – I feel really bad. Christie is crying. Christie – you shouldn't feel bad. Jess – that's why when you said that Nick was voting your way I was like Nick are you sure? Christie – listen I have my own secrets to spill and I would never disclose anything else that anyone else told me. I know that when you said he was up here yesterday crying about Jack .. I know that's not f**king true but I sit here and call him out on it. Because honestly what I've learned about Nick is that he is inconsistent. You've been the most inconsistent one but its not my job to call anyone out. I am not calling anyone out any more because when I did with Sam it fueled him to get mad at me. And that trigger of events lead to where we are now. I came into this house and was asked to be in an 8 person alliance and then 6 out of those 8 became couples. Then I was forced to be in a 6 and those people I did really trust. Outside of those 6 I was vocal about who I did really trust. And now if feel like next week I will probably be the one to go. Jess – don't say that. Christie – With Jack loyalty means a lot but with Michie he is ready to flip on a dime. Jess – the one thing about Kat is that she does not want to make a personal decision. Christie – I really wanted to go through this game with Kat. It just scared me that he said they know each other. It upset me. Tommy joins them. Jess – I don't personally feel like that if Jack goes you are the next person up. Its anybody's f**king game. You two have been consistent and I even said that you two weren't options to go up. Christie – everything that I have said to you has been consistent.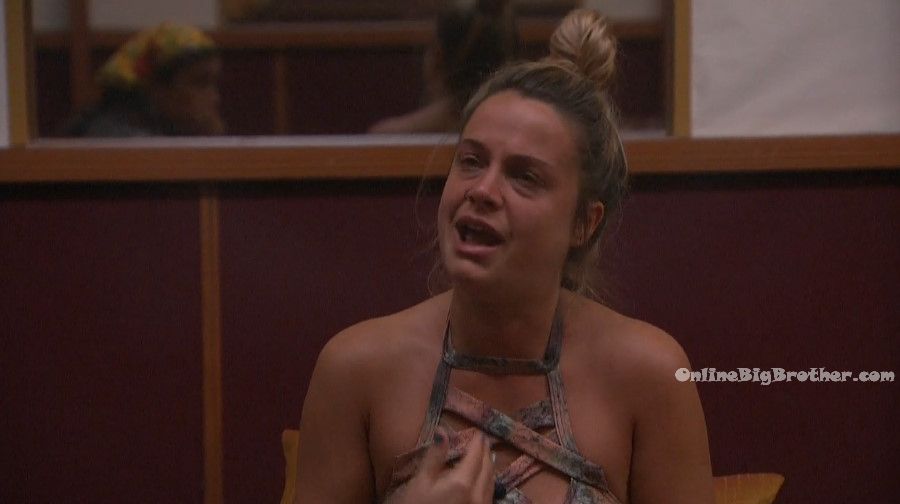 7:02pm Hammock. Cliff and Jack. Cliff – I don't have any loyalties that I'm sworn to. Lets see what happens and I would love to keep talking. Jack – I think there is a play that we can make here. Though a lot has happened with Nick .. Jess and Kat are still very close in this game. Cliff – Jess, Kat and Nicole up there. I'm not invading that.. Jack – you obviously know the other people that are in my corner. Cliff – Sis had talked about wanting to talk later. Nothing has changed I am still trying to survive a few more weeks and finding a place to land. Jack – we will talk more .. I will stay out of your hair.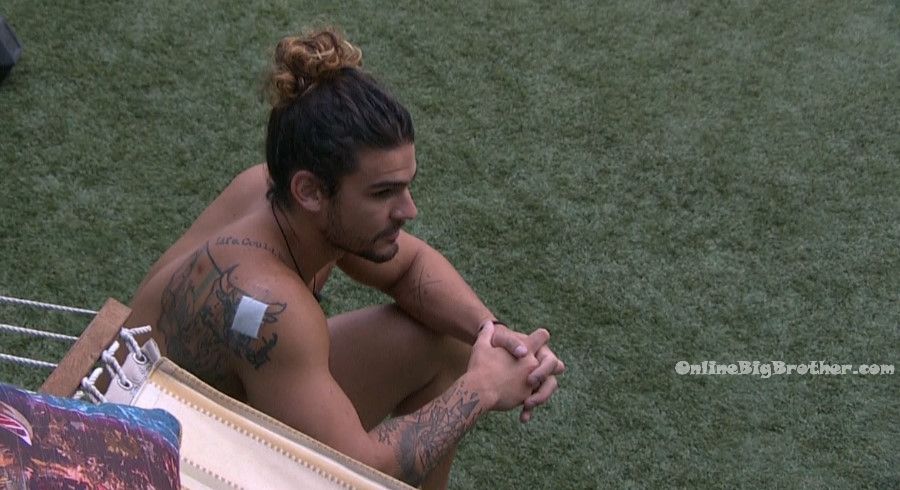 7:25pm – 8:25pm Hammock. Nick and Rocket.
Nick – I said to Jess that I would vote out whoever she wanted out because I knew that who ever she wants out will go out. It was smart for me to say that. I am glad that you were there because I didn't want you to think I was lying. Tommy – I don't f**king care, I am just going with the flow this week. Nick – you know I love you. Its going to be weird though this week. I am in a really weird position. If there are two sides of the house there are certain people I want to work with and they're on either side. Tommy – I don't think there will be two sides after this week. Jack and Sis join them. Jack – I am going to close Hogg (Cliff Hogg). Nick – if you close Hogg, you're Gucc (Gucci). Jack – I am going to tell you right now. If you don't want to do it.. its all good. Nick – if you have four.. if you have Cliff guaranteed, I will be your 5th. I swear on anything. Jack – swear to god. Nick – yes. Jack – ok! Nick – If you don't have him or if I hear that he is just gassing you up .. then I will let you know. Jack – what am I going to offer him? F**king cocaine! That's all I got! I am going to offer him narcotics. Christie – I feel like Cliff is the one to turn. Nick – Jack really doesn't deserve to go. I will say 1000% if Cliff flips, yes!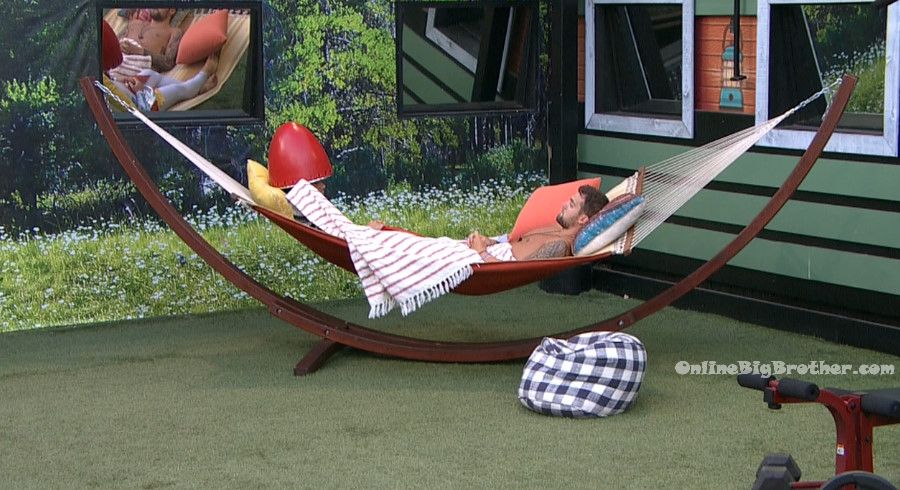 8:30pm Bedroom. Cliff and Sis.
Cliff – I don't know what the people upstairs are going to do. I keep hearing flip flops. Sis – are you basing your vote off of Jess or your.. Cliff – my own personal one. If I feel that its going to be one side or the other I will probably go that way. Sis – I don't think its going to be divided. Cliff – I am not voting just because.. I do worry a little bit if I kept Jack I would be a target but he did tell me some protection and long term things. Sis – I know you would be safe with me and safe with him. You would be 100% safe. Cliff – I am perfectly happy to buy some time to get a bit further. I've done it before and I would do it again. I am never going to trust Michie. There is no love lost. He's already betrayed me a couple times. I told Jack I am willing to consider it.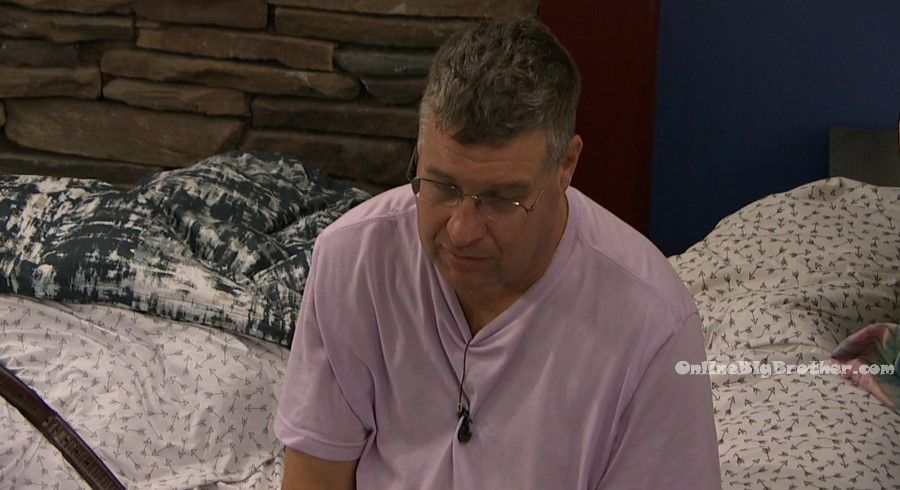 8:45pm Backyard. Jackson and Holly. Jackson – I am not going to campaign against him. Holly – but you do have to campaign. Jackson – we've got four days .. patience mamma.

9pm Hammock. Tommy, Sis and Christie.
Christie – Nick still has to prove himself to us. Right now he is floating in the middle. Once Nick knows we have Cliff Hogg.. Tommy – I think we need to offer him more. Christie – we don't need to offer him anything! He votes with us he is with us. He is on his own. He screwed us over pretty bad .. or tried to. He still has penance to do. Voting with us is his first order of penance.. We don't have to offer him sh*t. This is his option to choose a side. If Cliff votes to keep Jack .. then Cliff is even more valuable than Nick is because then at least he isn't unpredictable like Nick is. That's only my opinion. The only people I trust are you two and Jack. When we were a 8 and a 6 I was always sketched out by Holly and Michie. I always knew that Holly was brainwashed by Michie. That was never really going to work. You guys are my everything in this game.. and we will do whatever it takes to get to the end.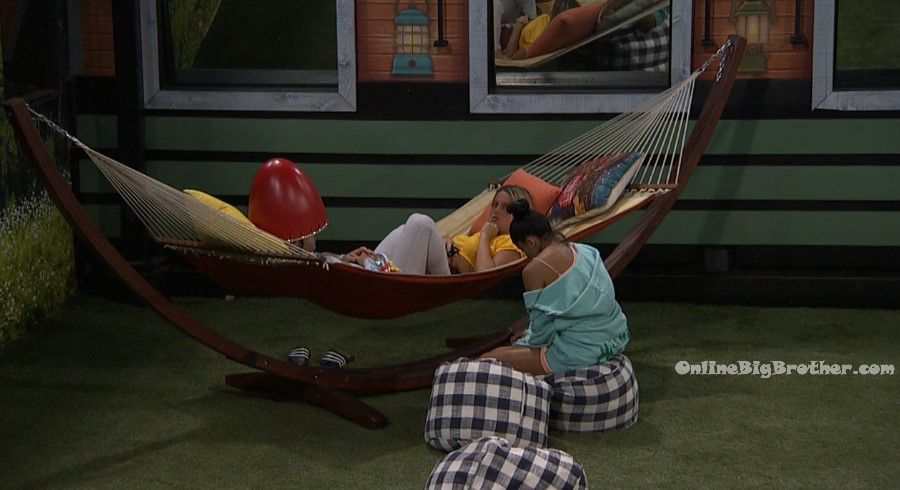 9:35pm Mission Control! Tommy has to travel at the speed of sound and then the speed of light .. and then this happened..
WTF?! #BB21 pic.twitter.com/Osqg0tpGpB

— Dawg (@DawgsBigBrother) August 5, 2019
10:25pm HOH room Jess, Holly, Nicole and Cliff. Jess – at this moment in time if I had to break a tie .. Jack would be going home. Holly – It just worries me what will come in the next 4 days because the campaigning is so hard now. Cliff – I can be the only vote against Jack and it will be a vote. Holly – I can't in good conscience vote for Jack to stay. Jess – then we're good either way. Cliff – there is zero chance that he (Jack) gets my vote. This is the hill that I am standing on. Like I never say anything for no reason. I hope I don't look like an idiot. I can't wait to see how Sis is poisoning me.
10:27pm Bedroom. Christie and Tommy. Christie – I hope I don't look like a psychopath. I hope I'm not being portrayed as a lunatic. I might be.. I don't mind if I'm being portrayed as a Vanessa Rousso. As long as I am not portrayed as mean. I don't want to be portrayed as a d*ck. I don't mind being portrayed as a gamer and a little erratic.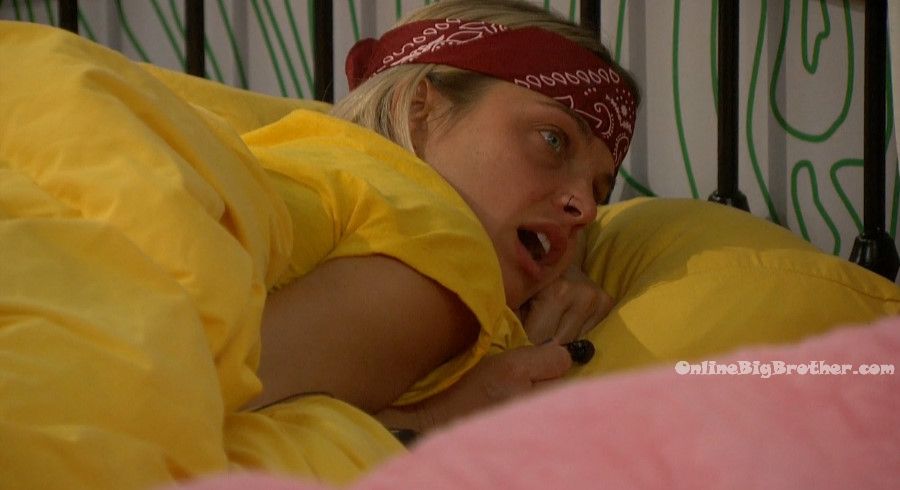 11:05pm – 11:19pm Boat room. Nick and Sis.
Sis – I felt like Tommy and Christie were telling me I should talk to Cliff… it would be better if it came from me but if I do this.. Nick – you're painting a huge target on yourself. Sis – I know! I'm done! I'm done gaming. I've been meaning to talk to you all day. Where is your head at? With the votes. Anything you tell me I will never say. I feel really confused. I don't know who to trust. I don't know what to do. And especially if Jack leaves, I don't want to work with Christie. Nick – I know. Sis – but I have to make it seem like it .. even though I dont. If Jack were to go, we build something else with f**king Holly, Michie and you. They're going to go after her (Christie) and I don't want to be associated with her. Nick – Michie is going to bury her. Sis – yup! And then he will come after me once she's gone. So that's why I feel it is safer for me to secretly work with.. Nick – you're not even going to have to force it. You won't be his first target. Sis – but the second one. Nick – but he's an easy target to put up every time. Don't think too far ahead .. that's what got me f**ked. Sis – I know. Nick – if he (Jackson) stays and wins HOH he will put her up and she will leave. Then he will be the easiest target and he will go. You can trust Holly. I know that. Not right now but later. You should really work on your relationship with her. Sis – I've tried but she is always with Michie and up there… I try to go up there and hang out but I get really f**king bored and like all she does is sleep. And then Kat, Nicole and Jess literally talk about nothing. Nick – I want Jack to stay but if I am keeping it real with you but I don't think he is going to stay. I don't want to tell him because I don't want his hopes to go. I don't want to say how I know that but I know where the votes are. Sis – where are the votes? Nick – four four .. enough to get him out. You're not going to flip Cliff. He already told me. He said he is not flipping .. I don't trust them. This has to stay between us. Sis – did he say why? Nick – probably because of Christie. She burned him. You're good. I'm in good with a lot of people right now. Sis – so you're saying Cliff f**King trusts Michie? Nick – no, I think people think Jack is really good at the game and this is the time to get him out. I want you to be careful this week. Sis – what should I do? Nick – don't campaign for him (Jack). You have to be careful. Jess is enamored with Christie. Sis – whether Jack stays or goes, I can't work with her (Christie).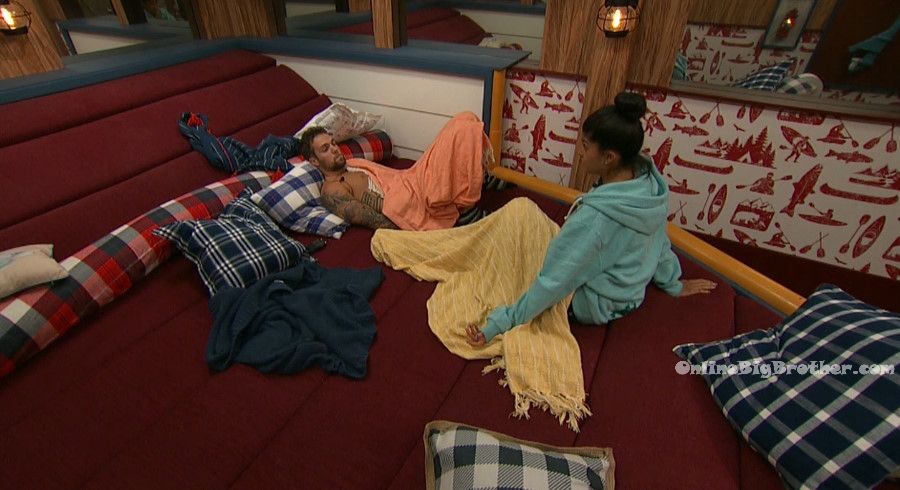 12am All the house guests are getting into bed.
12:30am Mission Control! Tommy has to travel at the speed of sound.

12:30am – 12:52am Camp Comeback Room. Jackson and Holly.
Holly – The people that I invested in the last 47 days so easily turned on me and acted like I don't even exist and throw my name under the bus when I personally have done nothing to any of them. And then the other side of the house… why do I deserve their trust. Like I almost put Nicole on the block last week. Why do I deserve her trust. Why do I deserve for her to have my back and Jess I don't want her to feel like I am using her. But I also don't want to keep doing what I'm doing with the cool kids if they're going to act like bullies. I don't want to be associated with Christie. I think she is a bully and is trying to run this entire game. I think that she gets frustrated when she is not in control and I don't want to be attached to that. I don't want to be somebody's sheep. I don't want to be used by somebody. I am frustrated because I want to play my own game but at the same time not draw attention to myself. And finding that balance is very hard especially when I am trying to be true to myself and I feel like I am not being true to myself because I have been playing with people the last 47 days that don't necessarily bring out the best in me. I've had to lie .. who am I to preach. I am just scared of being stuck on exile island especially know we have a lot more time here. We're on the bottom of the totem pole on either side of the house. Jackson – there is nothing you can do to change the past. Just be the best you, you can be. Holly – Christie is such a bully, Sis is so negative. I don't like conforming. Its all the things I knew I would struggle with coming in here. Jackson – then change it. Figure out what's not making you happy and change it. Holly gets called to the Diary Room. She's pissed. Holly – I didn't even play in the veto. I thought they were only calling the people that played in the veto. I am just not in a good head space.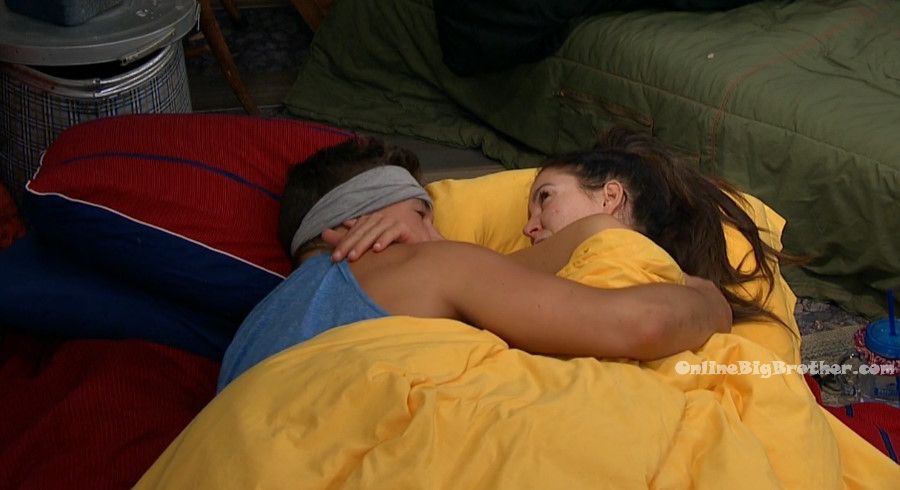 1:09am Kitchen. Holly, Nicole, Kat, Cliff, Nick and Christie chatting in the kitchen about random things. Jess comes out of the DR with the snap chat glasses..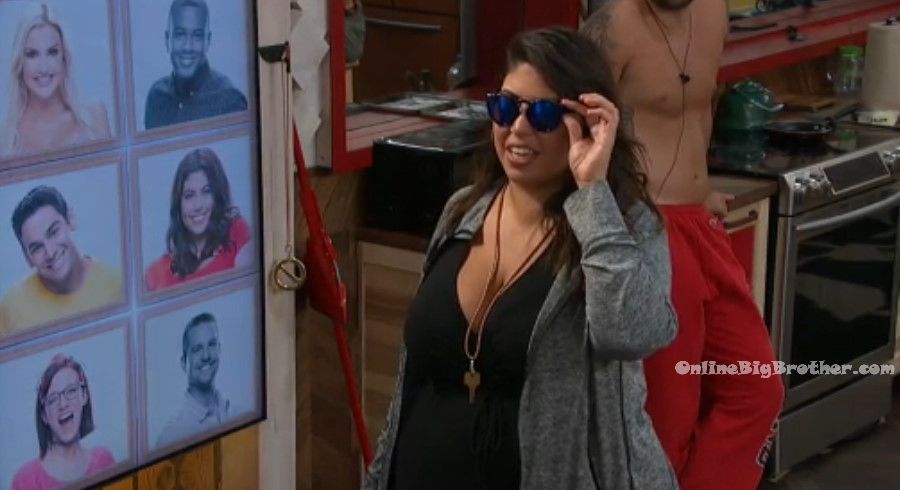 OBB wouldn't be possible with our your support!
If you are one of the generous people that donate to help keep the updates coming, we're giving out a bit more this year. Check out this page for more details: OBB Members