Head of Household Winner – Jess
Have note are:
Nominations are: Jack and Jackson
Power of Veto Players are – Jessica, Jack, Jackson, Kat, Nick, Tommy (Nicole – Host)
Power of Veto holder – Jessica
Power of Veto Ceremony –
Powers in the game *** LINK ***
Grab your live feeds —-> BB21 Live Feeds Subscription Link
Rank your houseguests —-> Big Brother 21 Ranking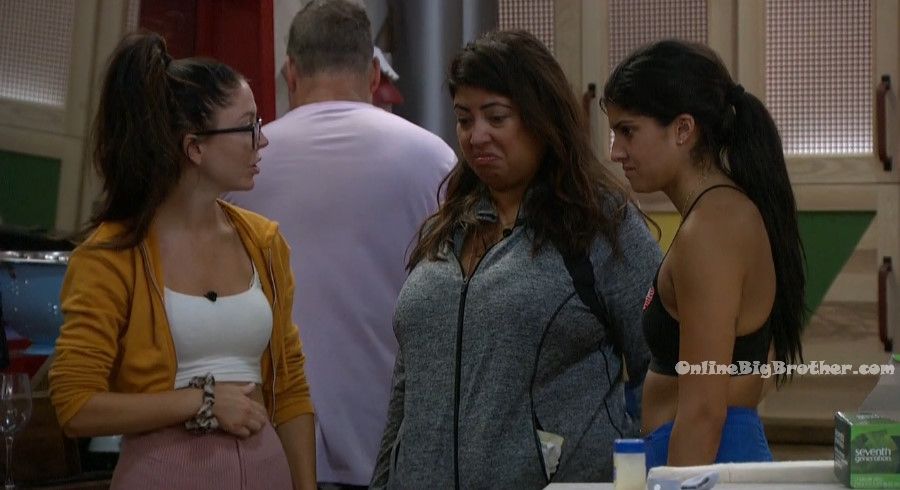 12:18pm Big Brother returns from being blocked. Most of the house guests are in the kitchen cleaning up. The alien came into the house to punish Jack / Jackson. Jack – I'm sorry guys. Christie – its okay, it gives us something to do today. I was like we don't know that much about Jack .. other than he has a dog names Leila. Nick – maybe our house is actually going to be cleaner. Jess – I doubt that. Cliff – at least he used the milk and not the lemonade. Christie – at least this forces me not to clean. Jess – he says not to help but we can't cook unless things are clean.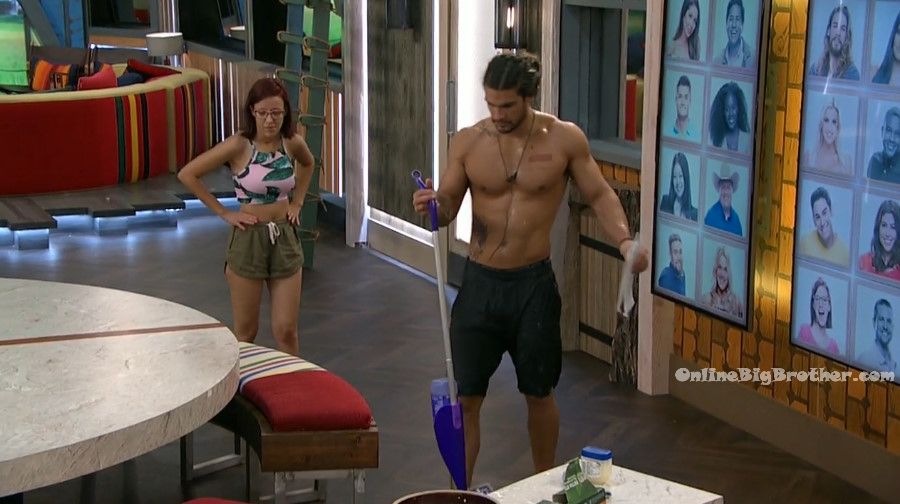 HOH room. Nicole and Kat.
Kat – That was hilarious. Has Cliff told you about the all girls alliance? Don't say anything. Cliff came up to me in the bathroom and said I need to talk to you later. Apparently there is an all girl alliance. Nicole – Like all of us? Kat – I'm not in it! I'm never in any of these alliances and I'm sick of it! I am starting to wonder … am I not considered a girl?! Wait y'all know I'm a girl right? Cliff isn't my Dad and I am a girl. It was fun watching the Alien walk around. I don't know what is funnier everything he is doing to Jack or how mad Christie is getting about everything he is doing to jack.. and Jack doesn't even really care. Nicole – I feel bad for Jack. He is being a good sport about it. Kat – he spilled the peanuts on the ground .. which he didn't know that Tommy has an allergy.. so he cleaned it up. He said on my planet we aren't weak and pathetic like you! Which it was pretty savage but whatever. Christie goes and tells whoever in the bathroom what he said about Tommy. Like he's not a house guests we don't need to spread this drama. Its just funny. I love it. Nicole – I love that when he came in he said I'm back b***hes!! If it was my punishment I would be talking to him. Nicole – the alien is here for 24 hours. Apparently more aliens are coming. Kat – I think that it turned into a girls thing because all the girls were up here last night. Nicole – I didn't know if it was Sis, Holly.. Kat – oh .. I'll find out later. Cliff rolled his eyes though, so I don't know if it was legit.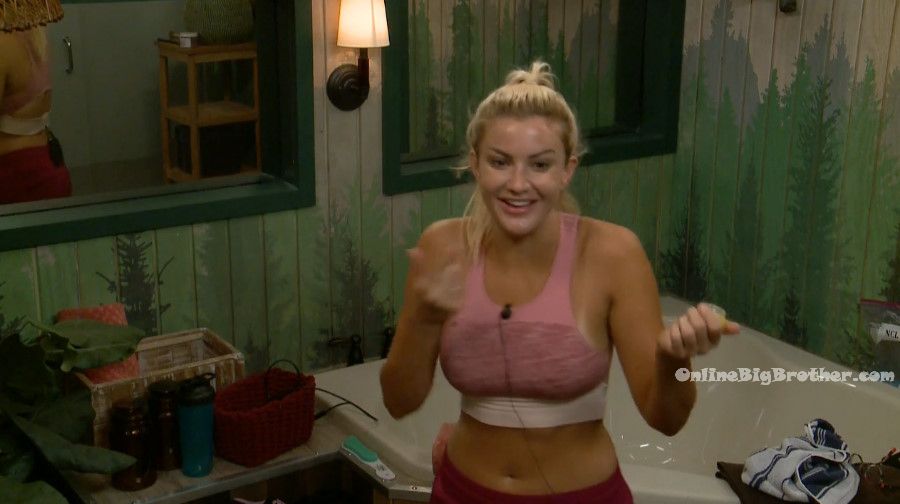 12:32pm HOH room. Cliff and Kat.
Kat – whats the thing with the.. Cliff – oh its nothing.. its just them trying to sway me and wanting to know what's going on. Kat – well you're for sure.. I hate that I even have to ask you.. but you're for sure voting Jack out? Cliff – absolutely. 100%! As I said last night .. if I am the only person voting for Jack, I am still voting for Jack. Kat – Okay. Last night Nicole was in tears from the way that they were treating you. Cliff – they were trying so hard Kat. Kat – and the way that Jack was being condescending. Its so funny that just because they're in the big brother house… they think they can talk to you that way. Meanwhile, back home you are a successful family man. Cliff – they think I'm stupid. They think that all they have to do is give me some compliments and I am going to jump on board the Jack show. They underestimate every single one of us. Kat – if I were you I would be like why am I dealing with all these kids that are the same age as my kids and they're talking crap. Cliff – these are just people trying to get their way but I have been around long enough I can see through the bullsh*t. Kat – I just thought it was funny that they think they can treat you that way. Kat – apparently the rumor is that you and I have been working together since day 1 to break up the six. Cliff – I have tried not to be up here too much because right now they don't think I'm a part of it. Christie threw Holly under the bus this morning. She said I talked to Tommy and we know now that you weren't this mole .. that you were spreading this information. They said but Michie is still denying it that you feed them information from the very beginning. But Holly is protecting him .. she is swearing up and down that you've been giving her information from the second we spoke. Kat – do they think that you're trying to protect me? They're trying to make me hate Michie and Holly. Kat – Michie and Holly have always had your back. Cliff – I know. I trust them a whole lot more than Jack and Sis. Kat – all the stuff about Michie being disrespectful to women .. I've thought that because he's so aggressive and I thought he spread rumors to all the guys. But Holly told me that it wasn't Jackson that was saying all this .. He was talking to Jack .. and then Jack went and told Christie and then Christie told Bella and Nick. Cliff – I believe it. Kat – that changes a lot .. that changes where all the disrespect came from. Cliff – one time in the backyard Jack talked about you and Michie hooking up but Michie said come on guys feeds. Michie shut it down. Cliff – Jack and Tommy treating me like an idiot last night bothered me and then Christie this morning… I am telling you I am voting Jack out 100%. Is it a little bit personal, sure it is. Cliff – if you ever need someone to set in and have your back just ask.
1:15pm – 1:30pm Backyard. The house guests are relaxing, working out and chatting in the backyard.
1:30pm Bedroom. Sis and Christie.
Sis – I want to think of something to say to her (Kat) to make her remember that I helped her so that she votes with us. Christie – I want to tell her .. she and I shared like really personal moments about Michie and she wanted to backdoor him. And now I feel almost like hurt and betrayed that I confided in her and now she is going to keep him. Now I feel like an a$$hole. Like I had her back, she was not a target of ours. Like if she f**king keeps him… I have to be honest if I win this HOH .. she is going up! Her and Michie are going up. Sis – and if I win HOH after .. whoever doesn't go is going up. Christie – if they don't keep Jack .. they are all bumping up to the top of my list … like I don't even care about Michie.

1:35pm Boat room. Kat and Jack. Kat tells Jack that she heard that something was "a brewing" and that it was going to wait until after the veto ceremony. It was heard.. hopefully you know how I am and know that I just want to hear the f**king truth. It was heard that you can't as much sneeze in my direction without covering your mouth and whatever is being planned has to wait until after the veto ceremony because you don't want to ruffle any of Jess's feathers to get her to use the veto and I don't know. I heard that something was a brewing. I don't know if it has anything to do with me and I would prefer my personal anything be left out of it. Jack – the only thing.. I am waiting for is conversations and discussions. This discussion is a little bit premature. I wanted to wait to talk to you about where your head was at. The other stuff is post veto .. is what I have planned for me. Kat – oh so its not anything planned? Jack – no. Kat – I know when people lie. There is something I do want to know .. just about Jackson and I and how it was spread? Jack – I told Christie. I trusted Christie and then Christie told Tom. Kat – I appreciate you owning up to that. Jack – I won't lie in this game. Kat – my parents, grandparents, friends and girls that I mentor back home are hearing that and it really bothers me. I don't want anything personal about me, my body, my sexuality repeated in the house. Jack – I can respect that.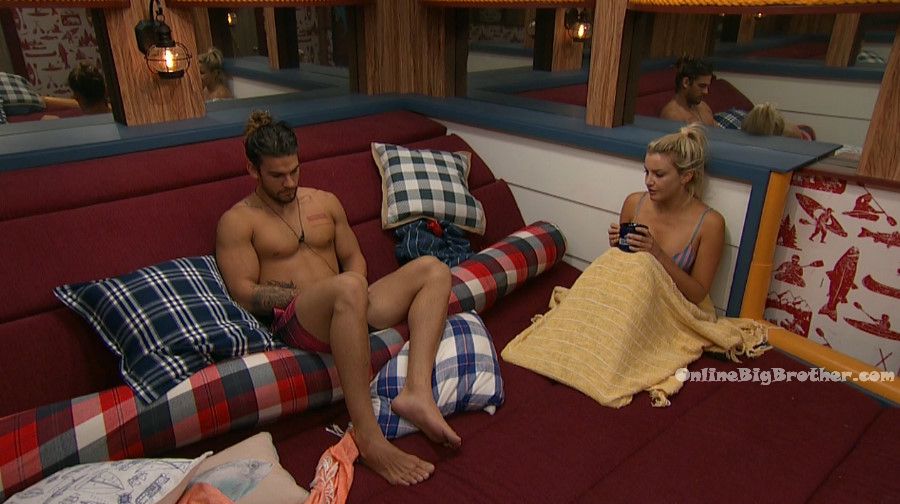 2:05pm Backyard. Nicole and Nick. Nicole – did you promise them that you would vote to keep Jack. Nick – if I am in a room with them and they count my vote .. its not like I'm going to say oh no not me. Its not like I'm saying anything. What am I supposed to do if someone is counting me as a vote? Nicole – no I understand. Nick – I am voting how Jess wants. I was like you respect my HOH, I'll respect yours. There is no plan, no scheme. I am doing what's best for her and my game. I trust Jess and I wouldn't put her up. I've never lied and I'm not talking game with anyone. Nicole – see how quick everything changes. Nick – you and I can get to five. Sis would be an asset later. Nicole – I can't read her half the time. Nick – it doesn't matter because you don't need to.. I got you. Nick – I really don't want to win for the next couple weeks. Why am I going to put a target on my back. I literally only care about you and I'm not worried about you going up. Nicole – I just want credit for winning and making a move. Nick – but you don't need to do that yet.. because if you do you put a target on your back.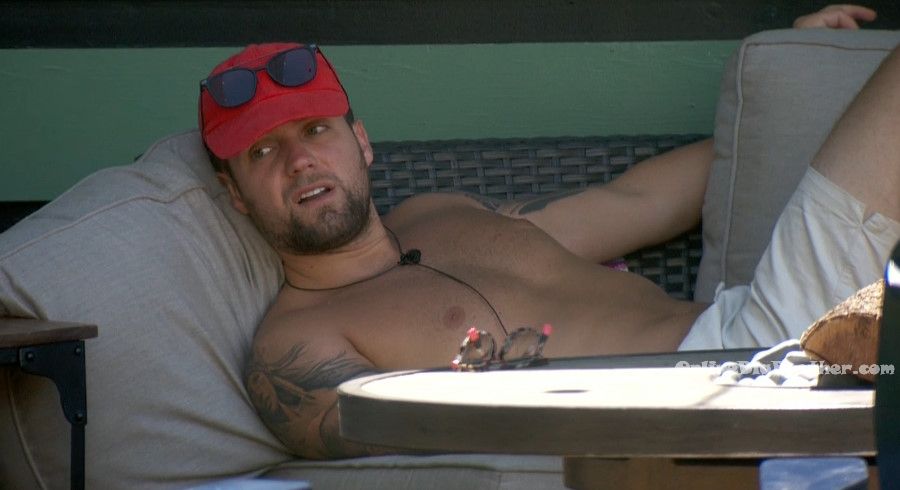 2:30pm Backyard suntanning..

2:45pm – 2:52pmBig Brother blocks the feeds again..
2:52pm HOH room. Christie and Tommy. Christie – We have a few days after the veto .. we can convene and figure out the route. Nicole feels safe with people that are winning comps.. I mean I know Jess and Cliff are but if Jack stays he is winning comps. Nick is winning comps. You know what I mean? Tommy – yeah, you're winning comps. Christie – I am going to f**king win this double. If I don't win it, I am going home. Tommy – if Jackson stays and I win the double.. I am putting up Holly and Kat. I am not getting Jackson out yet. Christie – he sucks at comps. Tommy – no one would vote for him in the final 3. Christie – I agree, I wouldn't put Jackson up either.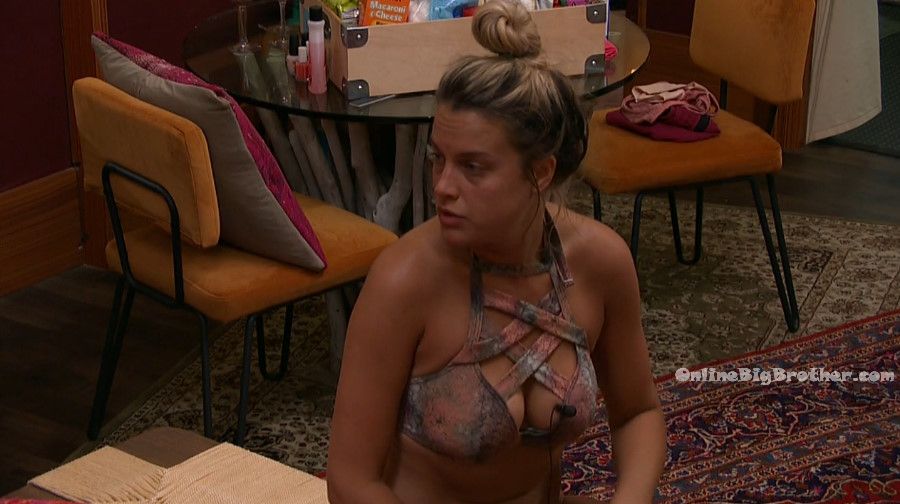 3:05pm Mission Control. Tommy has to travel at the speed of sound. Kat runs to every room to cheer for him.
OBB wouldn't be possible with our your support!
If you are one of the generous people that donate to help keep the updates coming, we're giving out a bit more this year. Check out this page for more details: OBB Members