POV Holder:
?
Next POV
April 24
POV Used
?
POV Ceremony
April 26
HOH Winner
Pili
Next HOH
April 29th
Nominations:
? and ?
Have Nots
?
POV Players
?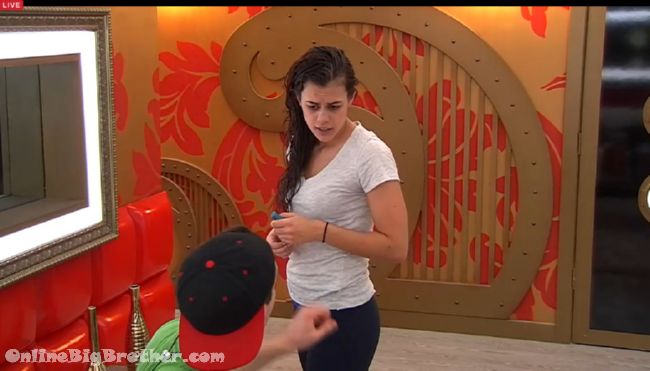 11:01am HOH Kevin and Zach
Zach says he's been loyal to the triangle. Kevin says that Jordan told him about Newport.
Zach – he was playing everyone.. I love that kid to death but he was playing us all
Kevin – 100%
Kevin says the name of the chop shop came out today, Sindy knew about it she told them she found out in sequester house.
Zach says his heart has always been with them. They warn Pilar the she's going to get pounded by information from the house.

Kevin wants Pilar to know who her friends are.
Kevin – You're friends are me Zach and Ashleigh
Pilar do you believe what she said
Kevin – I do believe in what she said
Zach says he was thrown into the chop shop from day one and he never really trusted it.
pilar tells them she doesn't know what to do.
Zach tells her to go after the person that is gunning for her.
AShleigh comes up.
Kevin explains to them that Sindy, Brittnee and Sarah wanted them to form up and go after the chop shop.
Pilar – I can't do this by myself I can't.. I can't think straight
Zach – Sindy, Brittnee and Sarah are trying to get us (ashleigh/Zach) up
Ashleigh – What a little..
Bobby comes in. Zach – we're just talking that we can't trust Sindy
Kevin – Sindy is going around to everybody
Bobby – Sindy ios coming after me
Ashleigh – She's going after everyone
Bobby – I'm going after Sindy straight up
Pilar – I don't know what to do I don't know what to believe
Kevlar mentions how crazy the morning was, Kevin – "I talked to 7 people before I got out of bed"
Bobby leaves
Kevin says Sindy was in a sequester house.
They are all shocked that happened.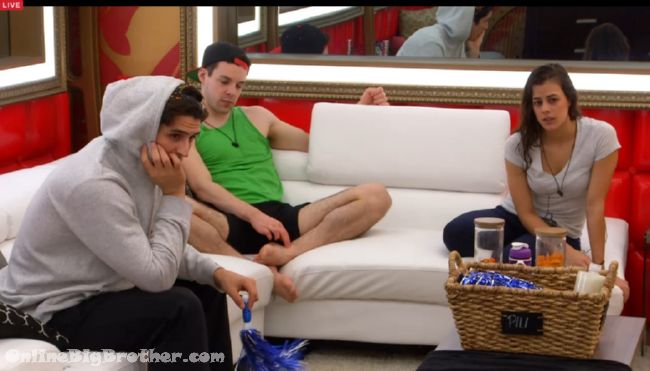 11:19am
The Diapers (Kevin, Zach, AShleigh and Pilar)
Talking about their loyalties being with each other. Kevin says Sindy was in here for 45 minutes "PILI PILI BIGGEST MOVE IN BIG BROTHER"
Pilar adds Sindy really wanted Godfrey/Bobby up with Bruno as the backdoor
Ashleigh points out that Sindy is working with Brittnee and Sarah so why not put one of them up.
Zach – Bobby and Bruno won't come after the couples yet.. I know for a fact they're not working with Brittnee and Sarah
Ashleigh says Bruno and Bobby trusts them to a fault
Pilar brings up Sindy mentioning Bobby has a secret Veto.
Zach – Sindy pretty much knows everything in the gme right now.. Bobby/Bruno if we leave them alone they won't come after us.. and right now they are super pissed at the other side.
Zach – If Bobby/bruno win they won't be coming after us
AShleigh – I know for a fact they are going after B and Sarah
Zach says Bob/Bru are going after Sindy so if she wants to leave Sindy until next week warns if Sindy wins HOH she might be nominated.
Zach adds Sindy wants Willow and Bobby nominated because those two are going after her.
Zach – Sindy is dangerous in this game
AShleigh tells them Bobby/Bruno think they are super close to Godfrey but she's not sure. She thinks Godfrey could rally people against them.
Zach says they can get Sindy, Sarah and Brittnee out of the house. They can count on Boby and Bruno's help.
Ashleigh – Sindy is such a phony baloney
Kevin asks about Bruno and Bobby if Zach can get them to work on the side. Zach thinks he can, says Bru/Bob were scared JP was going to pull them away so that is why they voted him out. AShleigh and Zach are still in the chop shop.
Bobby comes in "I'm so close to calling her (Sindy) out"
After some chit chat they all leave Bobby alone..
If you are outside Canada and want to watch the FREE Big Brother Canada Live feeds sign up for a VPN service here https://www.hidemyass.com/vpn/r16399/. It's safe to use, easy to set up, and cheap. Need to know more check out this post explaining how to set it up.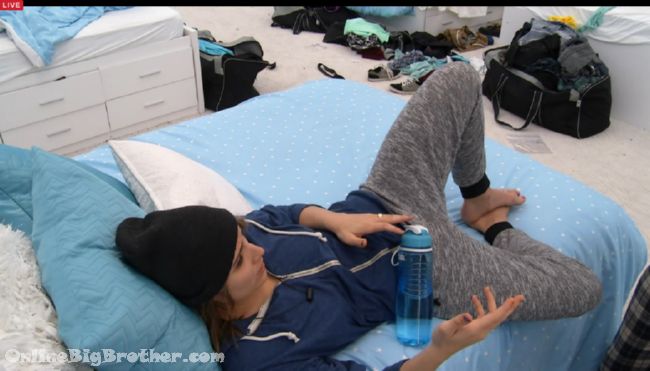 11:09am Bedroom Willow, Bruno and Bobby
Filling Willow in on what Sindy was doing in the HOH. They agree to DENY DENY DENY.
Bobby says chop shop still the final 5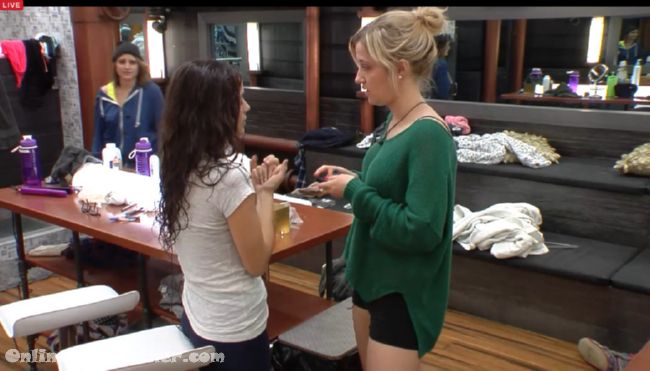 11:36am bathroom AShleigh and Pilar
AShleigh says she's always been loyal to the Diapers she's only chopped during one eviction. SAhe swears on her sister's life that she'e loyal to the Diapers, "Zach and I were just told you're in this alliance" (CHop shop) Pilar asks if they should trust Willow, AShleigh – "NO"
Willow joins them asks what Sindy is saying.
Ashleigh – She's literally throwing everyone under the bus
Pilar leaves. Ashleigh tells willow Sindy is desperate she's throwing everyone under the bus.
Willow thinks Godfrey and Sindy are working together, "Something it up Ash.. like really up"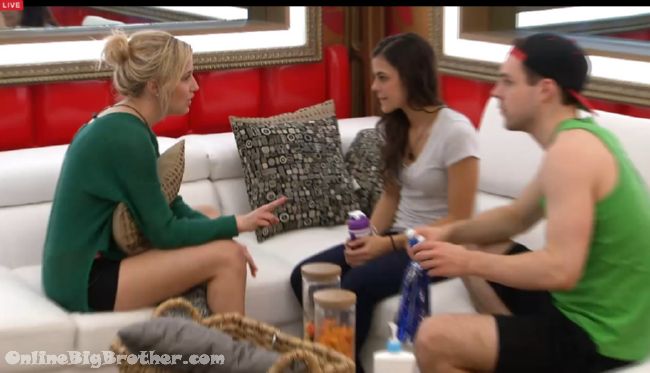 11:44am HOH Pilar and Kevin
Pilar tells Kevin that she feels horrible for believing Sindy. Kevin doesn't think she should what Sindy said was true but Zach and ASh are loyal to them.
Ashleigh tells Pilar about the beginnings of the Chop Shop.
Willow comes in starts saying how good Ashleigh, Zach and her are . Kevin leaves.
Willo – who scares you the most
Pilar – I don't know anymore
After some long silence Willow leaves.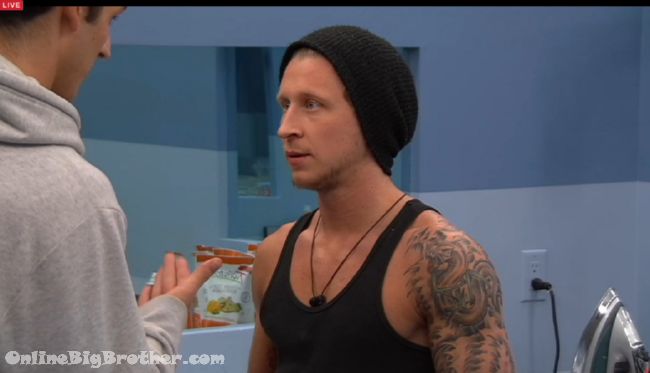 11:58am Storage room Bobby and Zach
Zach giving him a debrief of the HOH conversation. Clears up that Sindy, Brittnee and Sarah tried to form a 6 person alliance to go after the Chop Shop.
Zach – Kevin and Pili are not buying it.
Zach adds he was pushing that Bobby and Bruno are going after Sindy and the other girls
Bobby – DENY DENY DENY till the end
Zach – I did
Bobby – we got this final 5
Zach – f***g rights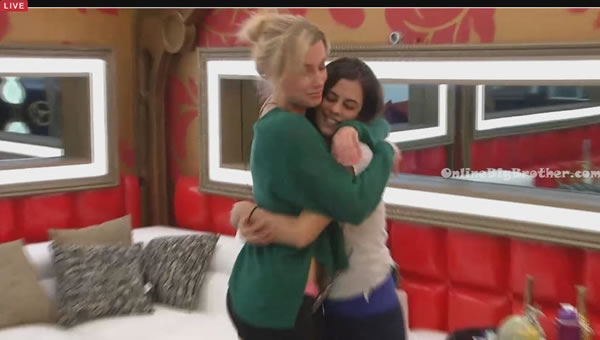 12:02pm Ashleigh and Pilar
Pilar – I'm putting up Godfrey and Sindy .. I want Sindy out
AShleigh asks her who will she put up if Sindy wins the Power of Veto
Pili isn't sure, says she can't wait to see the look on Sindy's face when she gets nominated.
Pili wonders if she should put up Willow instead of Godfrey. Ashleigh suggest she uses Willow as the replacement nomination.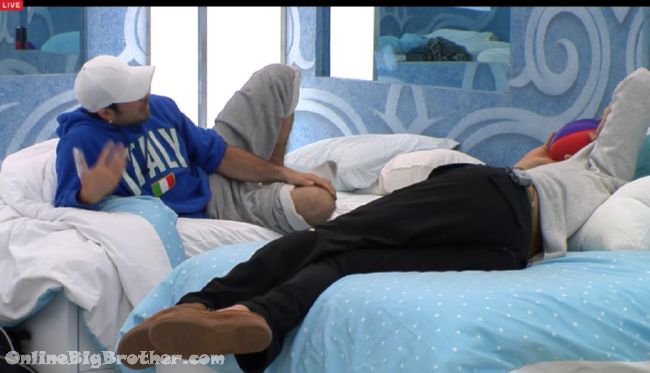 12:15am Zach and Bruno Bedroom
Zach tells Bruno not to Deny the Chop Shop just downplay it, "I said Graig was forming all types of sh1t". Zach did his best to push the targets off Bobby and Bruno and onto Sindy. Brings up that he made it clear to Pilar that Bobby/Bruno are targeting brittnee, Sarah and Sindy. They agree the girls are latching onto whatever they can to pull them apart.
Zach – "They'll grab anyone they can"
Bruno says Sarah is crazy dangerous calls her poison. Zach knows agrees she's very dangerous.
Zach – I'm not telling her a f**G thing anymore
Bruno – I know she's the poison I can say one little thing to her and she'll twist it
Zach – Sending JP out is the best thing for my game I realize how much he was playing me
Bruno – Playing everybody
12:41am Feeds blocked Have not competition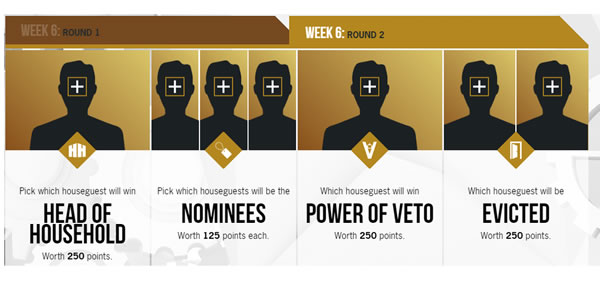 FYI This week is going to really clear out some houseguests..
Round one (Pilis round) is 1 HOH, 2 noms, 1 veto winner, 1 evicted
Round Two (not sure when) is 3 noms, 1 veto winner, 2 evicted
ALLIANCES IN THE HOUSE
There are always a lot of Alliance but we've tried to make sense of it all.. Read our alliance help guide
[polldaddy poll=8819718]