POV Holder:
Emmett
Next POV
?
POV Used
?
POV Ceremony
?
HOH Winner:
Alec
Next HOH:
?
Original Nominations:
AJ & Suzette
Current Nominations:
?
Last Evicted Houseguest
Tom & Liza
Have Nots
?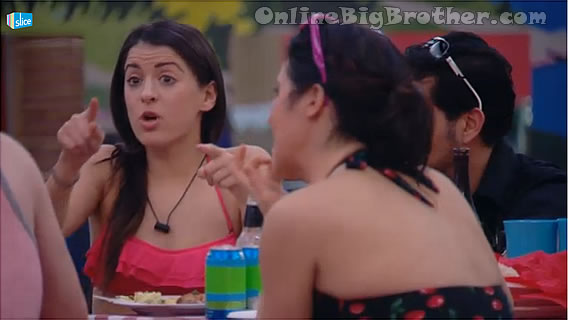 9:32pm Backyard AJ, Topaz, Andrew, Talla, Jillian
Talla talking about how awkward Suzette is getting. Jillian: "I hate talking to her"
Andrew: 'Hate is a strong word"
Talla mentions that Suzette called Emmett out for being such a physical player.
Andrew: "That's what you get when you have a couple jars.. What the hell does she expect this is a game"
Talla says that this morning suzette said "Now I don't have to deal with the f**** cleaning.. you guys have to deal with it"
Andrew: "It's like you don;t think we know how to clean up.."
They all agree that Suzette has been flipping from being a "B1tch" to being friendly and happy.
Generally they are talking about the hypocrisy of Suzette.. Topaz tells a story about when Suzette got pissed off and threw her Mic pack on the floor then she got called into the diary room.
(They are all having drinks Aj comments on how warm their drinks are)
Topaz mentions that Suzette was going around telling everyone that the girls in the showmance were "S****ing D!ck and rubbing up". Topaz doesn't think that is far because it wasn't happening and who knows what people thought that were watching the show. Topaz is worried they will edit it badly for her.
Talla brings up how Suzette goes around slandering all their names then constantly talks about Respect from the other players, "Where do you think respect comes from"
Andrew asks them why is Suzette walking around asking "Whose D!ck do I need to su**.. when she's married " Andrew: "I'm sorry but you are here to play a game.. i'm not looking to s*ck anyones d!ck .. AJ give it a couple weeks I might take you out for a lollipop su*k"
They discuss about how Suzette is always saying that she deserve to be in the game more because she has kids. Topaz: "The first time I felt sorry for her.. but not after the 5th, 10, 50th 100 hundredth"
Talla says they all deserve to be here. Topaz: "We don't have kids yet but we will.. "
Topaz: "This game isn't about who deserves the money more it's about who plays the game"
Andrew says if come Thursday Arisa is saying there is a twist i'm going to punch through the screen and hit her in the face.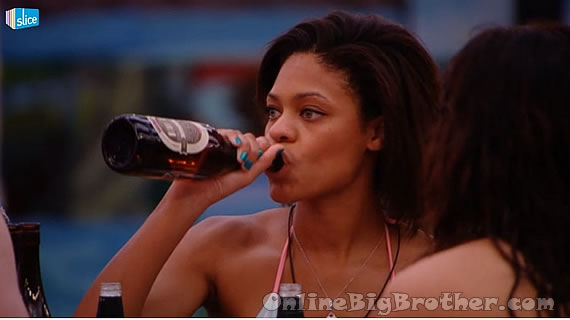 9:03pm Gary joins the backyard bunch.. (Gary is very grumpy)
Gary says that Big Brother has given them 10 bags of Milk, "It's for Emmett because he drinks like 4 a day"
Andrew brings up a story about Tom saying "A-P-R-E-S" it means after in french. When Tom first said it he pronounced it "A-Press" and told everyone it meant "Retro"
Andrew: "I was like .. I want to take a screw driver and stab it in my eye"
Jillian: 'I know"
Gary: "Why didn't you say something then Andrew.. when he was tehre" (Biam loving Grumpy GAry right now.. stir the pot)
Andrew: 'Cause i'm not as honest as you Gary"
Gary: "Oh you would rather him watch you now talking about him"
Andrew: "Hey Tom how are you it's called APRES you dumb ass.. Believe me when he see my good bye message he isn't going to be my friend.. and guess what ohh SHOCKER i'm OK with that"
"my message was.. Hey Tommy boy you worked out everyday you were here and the only thing that got bigger is your head.. big players make big moves and sadly you're not one of them.. Peace out Bro"
Big Brother tells them to stop talking about production.
Andrew isn't here to make friends.
During the backyard chit chat the bros and Suzette chatted it up in the hot tub.. This conversation didn't make the cut.
(FYI Talla and Suzette are tanked)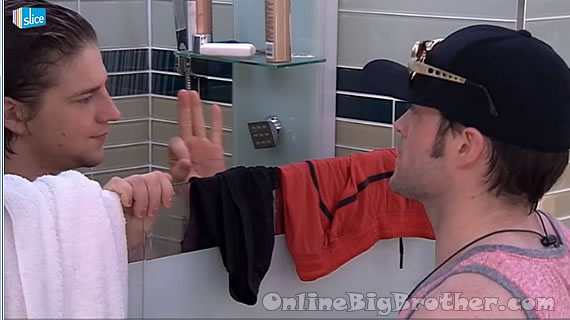 10:15pm Bathroom Emmett and Andrew
Hard to hear Emmett because of the shower.. Andrew is talking about Who he will put up if he wins HOH. His plan is top put Gary and Topaz up but Topaz is just the pawn. Andrew: 'Gary is pissing me off and is a threat.. Peter.. I love Peter he gave me a beer he's coming to final 2 with me" Emmett: "Perter may not have won a competition yet but he's a very smart guy"
Andrew says that whatever Alec and Topaz has it's not going to last after the show ends.. Andrew mentions how Suzette is ready to blow.. she's had a couple drinks and is starting to get on peoples nerves. Andrew: "I'm about to call her out on things.. but I know it's not good for the game"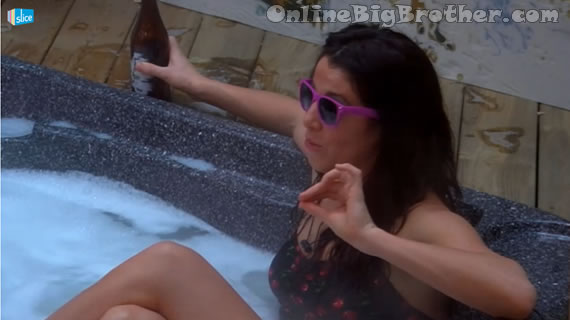 10:40pm Hot tub Jillian and Topaz
Topaz is saying that the girls she didn't care about was Liza, Suzette Danielle and Kat. Jillian says at one point she liked Liza but liza screwed her over really bad. Topaz: "She screwed everyone over" AJ and Talla join them chit chat starts..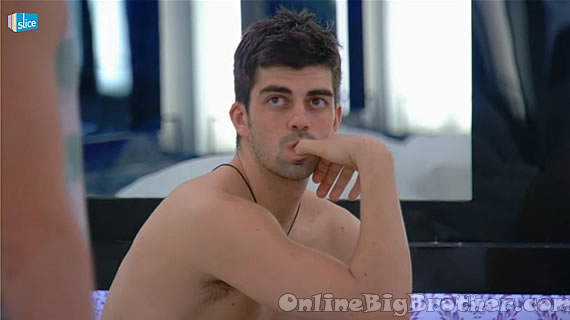 10:45pm Bedroom Peter, Alec and Emmett
Alec is saying that Topaz is mad at him. Emmett points out that Topaz is acting like she's trying to defy Big Brother.
Alec says at first he liked her but now he's finally seeing that she's not his type of person. Alec: 'At the same time I'm in this position that it doesn't help me in the game to distance myself from her"
Alec says that there might be a play to get Topaz out next week through Jillian. Peter: "It would make sense next week could be endurance.. I would throw it to Jillian.. I have no problem with that"
Alec: "I won't do it.. GAry would come after me"
peter: "I can't do because of my relationship with Him (Alec) "
Emmett: "I could put her up"
Emmett telling them that Topaz brings Alec and Peter down. Alec agrees says that they should get rid of Gary first though. Alec adds that Topaz isn't his "Cup of Tea" but he would rather go further in the end with her than with a Gary or a Talla.
Alec: "The one thing is Topaz is pissing me off.. but that's not a good reason to get rid of someone that is loyal to you"
Peter seems confident that he will be able to get Talla no problem. Alec: "Then lets get Gary out followed by Topaz"
Alec: "Gary hates Talla.. "
Alec: "You think if this was me real life I would be with topaz.. I would be out the door"
Alec adds that topaz isn't a person he wants to associates with in his life.. let alone be in a relationship with but this is a game.
Emmett says if Andrew wins he might put up Topaz..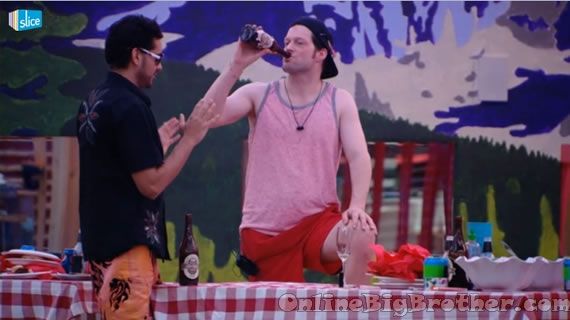 Chugging the rest of his beer..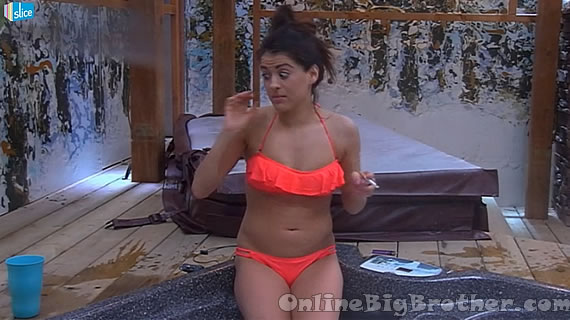 11:10PM Suzette, Talla and Topaz. in the hottub getting tanked..
Suzette keeps talking about respect and how she can leave the game with her head held high.. She also bring sup how close she came in a couple competition. basically the same shit she says in every conversation. (Suzette is now the most annoying person on the feeds)
11:20pm Gary slaps Emmett in a head lock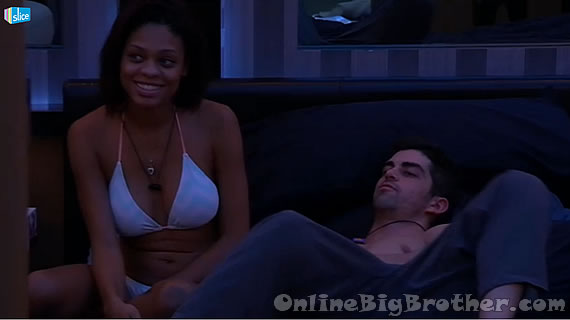 11:45pm HOH Topaz and Alec
Topaz got the HOH's iPod taken away and now Alec is all upset about it. He might start crying because he's sad, According to him he really wanted to listen that music.
Big Brother Calls them to the living room, "It upset me but it never seemed to bother you that I was upset"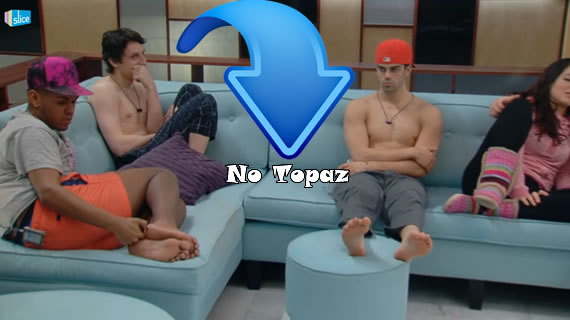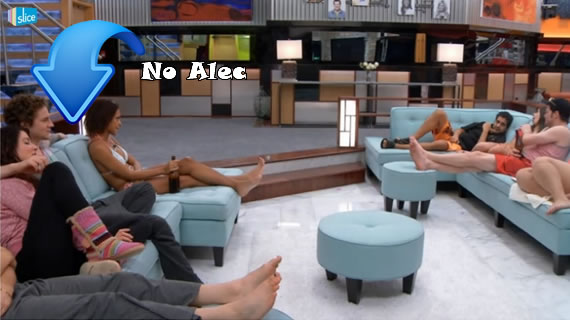 11:50pm Houseguests gather around in the living room.. Alec and Topaz are not sitting together anymore. This showmance is starting to break apart. (Good I want to see Gary and Topaz start ripping though this house)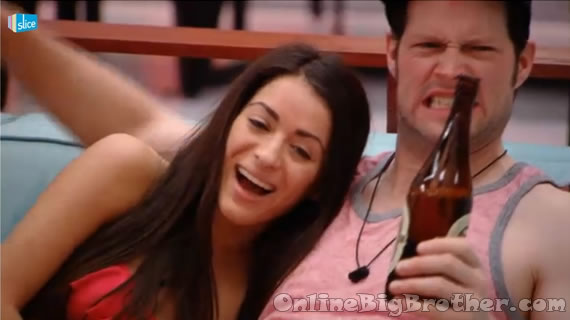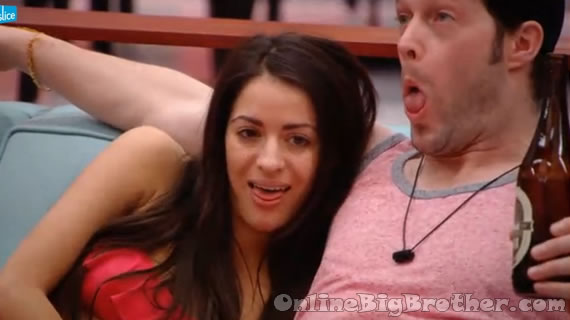 Team 3stooges
12:00Am Feeds Cut
[polldaddy poll=6985048]
Stay connected and interact with other Big Brother Fans on our Facebook page.
And Follow: @BigBspoilers and @Dawgsbigbrother on Twitter for the most up to date spoilers.
Share it YO!
Tweet