POV Holder:
Emmett
Next POV
?
POV Used
?
POV Ceremony
?
HOH Winner:
Alec
Next HOH:
?
Original Nominations:
AJ & Suzette
Current Nominations:
?
Last Evicted Houseguest
Tom & Liza
Have Nots
?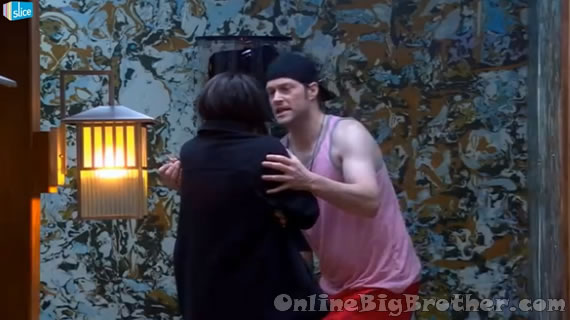 12:00AM Hot Tub Room 3 Stooges AKA dream team
(AKA powershift dream team)
Talla starts off in her Bikini with Andrew in this shorts and muscle shirt. Andrew is shivering his ass off but Talla seems too intoxicated to care about the cold. Aj goes to get Talla a jacket.
All three are smoking..
Talla: "so Gary says he wants me out"
AJ: "honestly he told me about it and it make a s lot of sense by the way Gary is playing"
Andrew solidifies their alliance calls them the 3 stooges says that they are together and they are on the outside looking into the game. Aj: "It's a beautiful place to be" Andrew tells Talla to keep everything they told her inside.
Andrew: "We know know how they…actually we don't know shit.. but the HOH always goes in a cyclical way.. all of a sudden we go to endurance and you (talla) are a strong light girl".
Talla mentions that Gary came up to her and asked her if they are good. Talla: "He's nervous because we haven't talked game in awhile"
Andrew: "Talla promise me this look at me in the eye.. Don't say this to anybody about us or Gary.. because if he wins (HOH) you have to go back to him.. play your social game"
Talla: "What do I say to him"
Andrew: "So say anything be all like HEY Gary good work"
Aj says they have to get Gary to take out one of the other strong players in the game
Talla says Gary is too scared to make a big move.
Andrew and Aj drill into her that Gary wants her out because he is playing the social game and so is she.
Talla:
Andrew: "You have to be cool"
Aj: "you have to be cool like a little Fonzie"
Talla: "What if you guys win HOH and he wants you to put me up"
AJ: "We tell him to go F**** himself"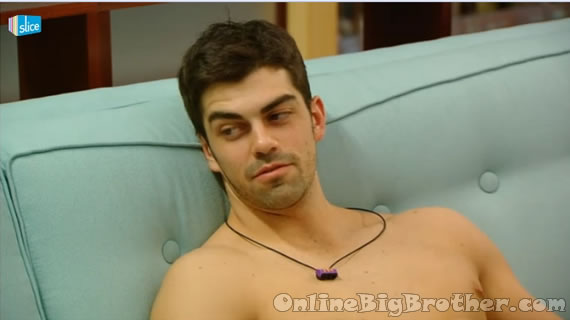 12:05AM Couch Gary and Alec
Alec brings up what happened with his iPod. Topaz was listening to the music and fell asleep which resulted in the iPod being taken away.
Gary says he's been hearing his name being thrown out there, "I'm hearing Andrew and AJ.. but this is what I'm hearing from Talla"
Alec asks him if Topaz, Gary and Peter do not win the HOH.
Gary: "I would go up"
Alec: "I don't think Jillian and Emmett will do that"
Gary :'I still think i'll be the pawn.. I don't want to feel like the
Alec: "Topaz is making herself a target.. being pissed off at big brother.. people don't like that it's bringing her down"
Gary: "Ohh i know I told her that"
Alec: "I just want to find out why she's acting like this"
Alec: "Ya.. I want my music back." Alec adds that he doesn't put blame on topaz for losing his iPod because nobody knew Big Brother would take it away if you fall asleep. Gary asks if Topaz did actually fall asleep. Alec: "She claims she didn't but Big Brother wouldn't fabricate something like that "
Gary: "Did she apologize"
Alec: "She never apologized.. that is the worst part.. she threw out a half ass i'm sorry" Alec adds that it was from the heart that music meant a lot to him, "It made me feel like shit.. now I find myself running around asking her if she's alright.. doesn't make me feel alright.
Alec: "Obviously other people are noticing because she's not coming down for the party.. it's been a weird day"
Gary: "It's a weird day"
Alec: "Right now I would be up there listening to music.. I don't think that is a very fair punishment" Gary agrees, "You have nothing to do with it.. maybe they are trying to stir something up"
Gary says next week they need to take Andrew out because they cannot control him. Gary: "I want Talla and Andrew up next"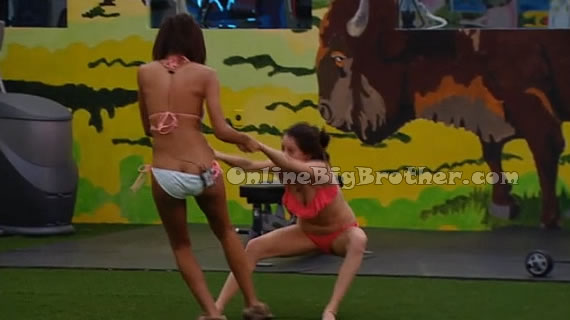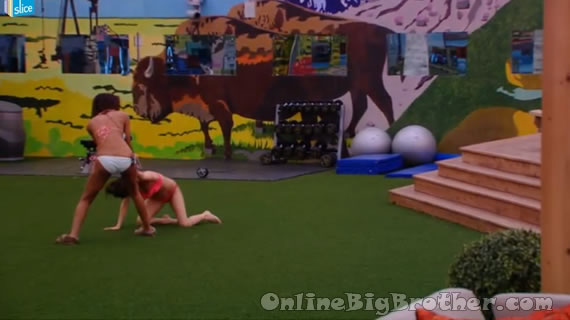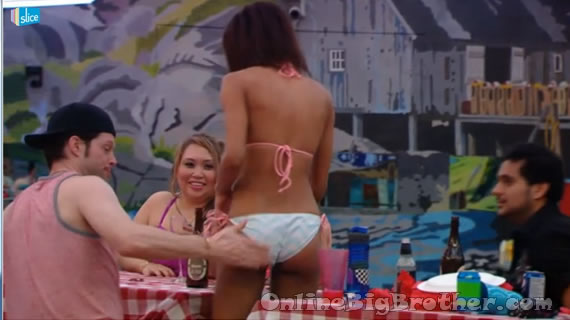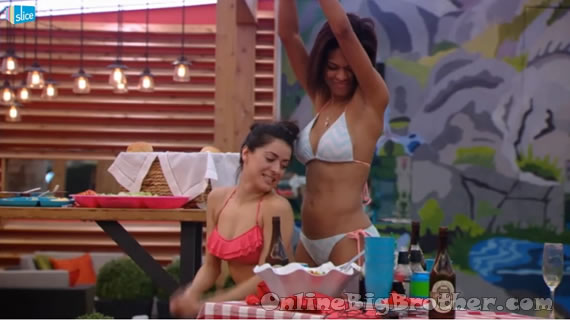 12:30AM Girls Drunk and getting out of hand (Watch the video it's pretty funny.. Plus we now have Alec's and Topaz' side of the iPod fiasco)
(Video uploading.. its a big one)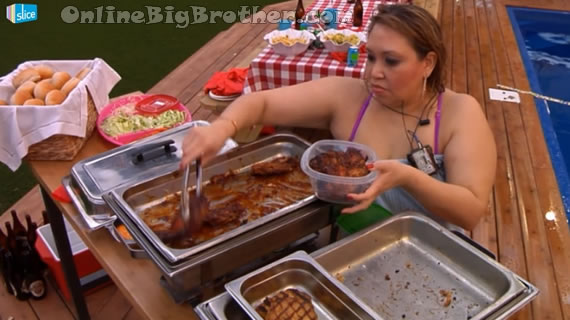 1:10AM I think Suzette is the only one that put the BBQ away (Of course like all of us would she took the opportunity to get seconds)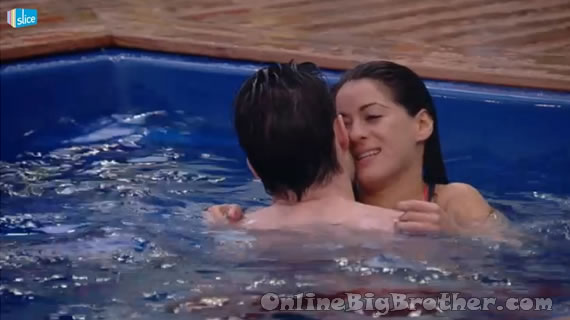 1:15AM Andrew and TAlla getting close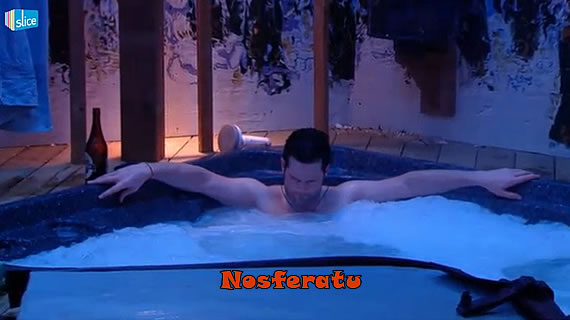 1:20AM Talla, Aj and Andrew share another smoke and conversation about Gary's target really nothing new it's all been explained above.
Talla is pretty drunk she heads to bed, Aj helps her out leaving the vampire alone.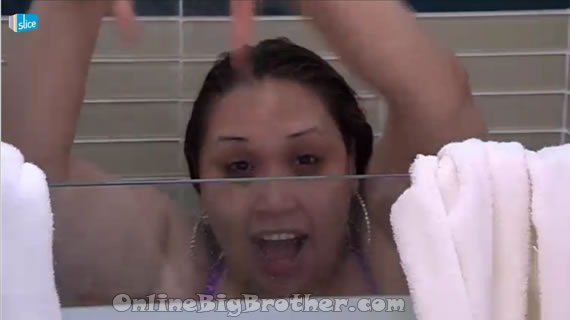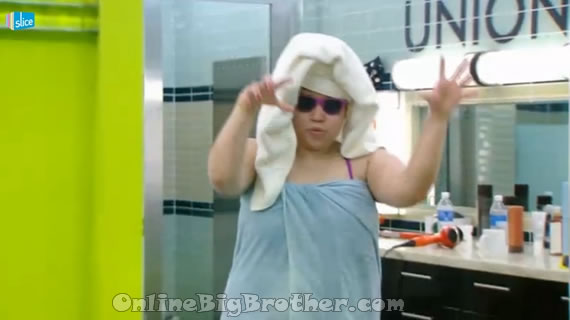 1:40AM Suzette showering and doing the monster claws
Here's a short video.. pretty funny stuff.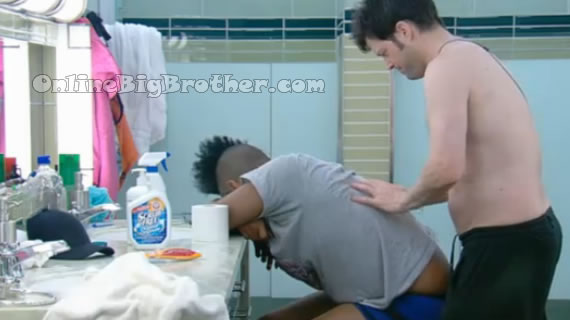 2:00AM BathRoom Adnrew and Gary
Andrew is drunk.. slurring his speech like crazy.. He keeps rubbing Gary's back, the rub turns into a back massage.. I think "Gar-bear" is sick Andrew keeps massaging him and tells him to get lots of water and rest.
Andrew gives Gary a kiss goodnight..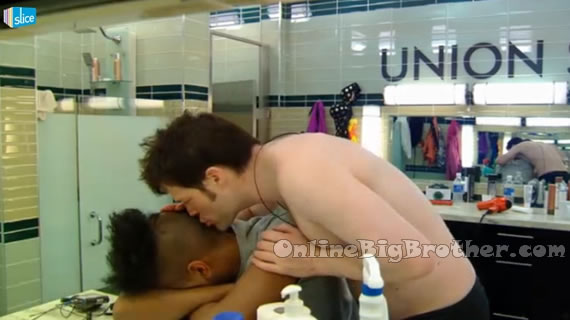 2:06AM Everyone is now in their beds..
2:13AM Everyone is now in their beds..
Stay connected and interact with other Big Brother Fans on our Facebook page.
And Follow: @BigBspoilers and @Dawgsbigbrother on Twitter for the most up to date spoilers.
[polldaddy poll=6985048]
Share it YO!!
Tweet