POV Holder:
Emmett
Next POV
?
POV Used
?
POV Ceremony
?
HOH Winner:
Alec
Next HOH:
?
Original Nominations:
AJ & Suzette
Current Nominations:
?
Last Evicted Houseguest
Tom & Liza
Have Nots
?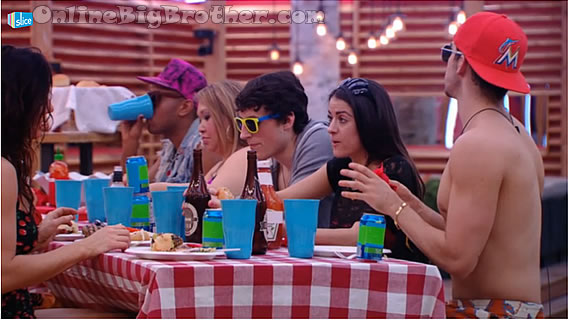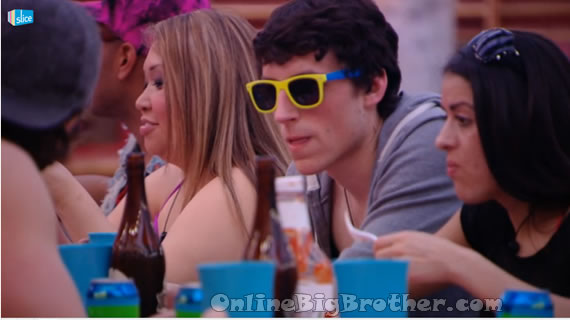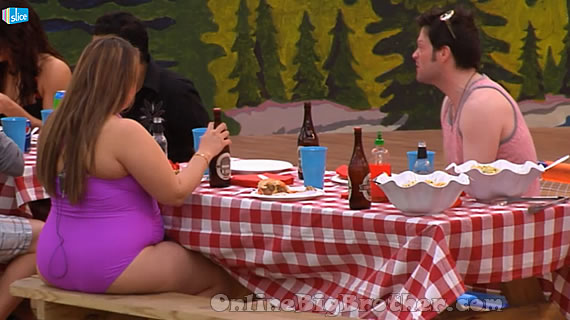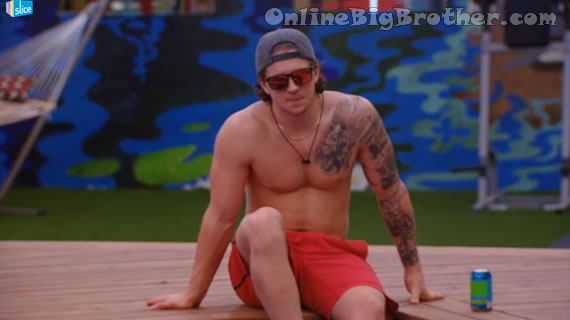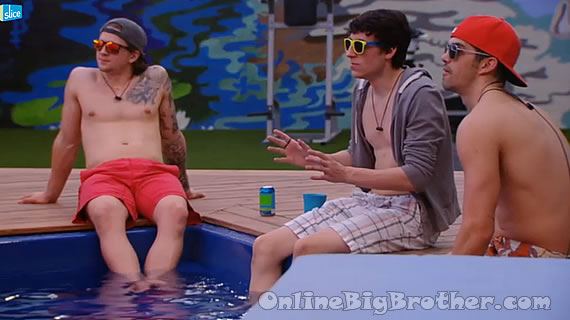 8:05pm Backyard Houseguests eating burgers.
Looks like they got a burger BBQ as a gift from Big Brother
Emmett saying that all the food puts him in a coma.. (Last week he said it was the lack of food that put him in a coma)
Andrew: "That burger is a MONSTER"
Andrew comments that they really limit the alcohol in the house. Suzette says it's a 2 drink limit. Andrew: "2 DRINKS that is what I have for breakfast"
Looks like they also got some pool games, Volley ball etc etc
Jillian: "I'm glad I didn't wear a bikini because I ate the biggest Burger in existence"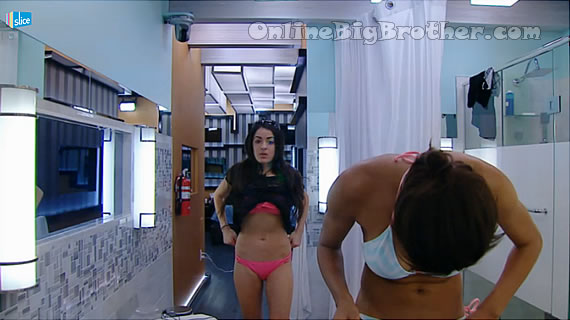 8:15pm Talla goes up to the HOH to get Topaz.. Takes a pee and fills Topaz in on what is going on outside.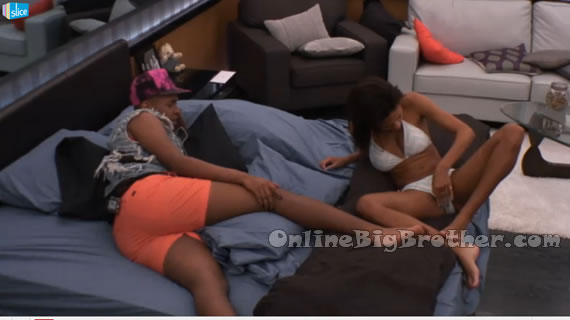 8:27pm HOH Gary and Topaz (Major rants.. worth watching this one)
Gary is pissed at Andrew, "He's like 40 and acts 25"
Gary mentions how whenever there is alcohol Andrew is all over it like a freak.
He doesn't win anything he has no value in this game.. he doesn't even deserve to get to jury, "I would rather keep Talla than him.. I know Alec won't do that.. I just can't live with him"
Topaz agrees she would like Andrew to be the first person in Jury
Gary is also pissed off at Alec.. "I know you're f**** slick alec but I see you I see through this game"
Gary: "I'm not a fu**** idiot.. the kind of person he is like I know what he's like he doesn't want any blood on his hand"
Gary: "Don't fu***ing fu*** with me I'm so sick of this shit.. I know I'm in an alliance with him but f***/*"
Topaz: "Don't yell that out loud"
Gary :"Aj has no value in this game"
Gary: "These people are pissing me off it's a fucking game.. these people have to do things they don't want to to"
(Gary is going off)
Gary mentions that Alec never mentioned Liza or Tom once and now she's saying all this shit about them left and right.
Gary about Talla: "she's riding her d!ck everywhere jillian is Talla is right there"..
Gary: "Oh you are so big and bad Alec.. after tom exposed him he was apologizing to Tom.. and now you want to talk shit by the pool.. "
Gary: "Honestly I hate everybody here.. the only person I like is you.. but I can't be on your Dick like that because everyone is ohh Topaz and gary.. topaz and gary"
Topaz brings up when the house was talking about Big Brother 11 Chima and how she left the game. Peter apparently said that Chima was useless, whiny and didn't listen.. a lot like Topaz but a bit more extreme.
Topaz: "He basically said I was useless like Cemo " (Yes she called her chemo)
Topaz: "He calls me useless.. and what have you (Peter) done in this game other than host a compeititon"
Gary: "All Peter has done it talk to the right people at the right time"
Topaz: "And fall in love with the trifling whore.."
Gary: "ANDREW is a fuc**** alcoholic.. he makes me sick.. MAKES ME SICK"
Gary: "Emmett is getting too f**** cocky.. I use to like him but Shut the f*** up Emmett "
Gary is pissed at Jillian because apparently she asks him to do her makeup which meant that he couldn;t get his done in time then after everyone was talking about Jillian's eyes looking like she got punched.. "Do your own f*** makeup b!tch"
Gary points out that Andrew is always complaining about no alcohol "Sure they put a cork in it they know you'll drinking it all and kill us all"
Gary: "with Talla I can be like Talla go bark somewhere else"
They head down to the bathroom. Topaz warns Gary to keep the Andrew hate on the down low just in case he wins HOH.
Gary and Topaz are freaking out about Peter, AJ, Alec, Emmett, Jillian, Andrew.. Topaz tells Gary they are in a good alliance..
Topaz finally start clueing in that Alec is playing them and he's in this game to win. They still want to go final 4 with Alec and Peter but are arguing about who should go first Alec or Peter.
(worth watching this rant)
(Video Uploading)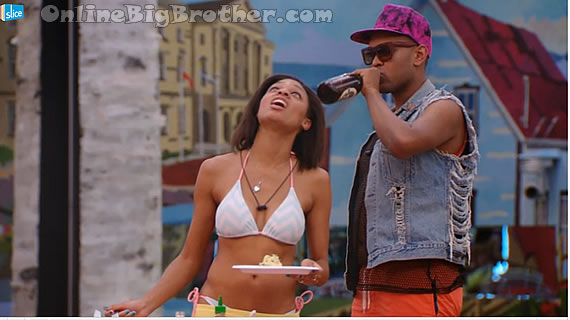 9:04pm
Topaz and Gary decide to join the rest for the BBQ.. Gary looking 80's gangster. (These two are going to bring us the drama.. just need them to turn on Alec and the house will get interesting.. )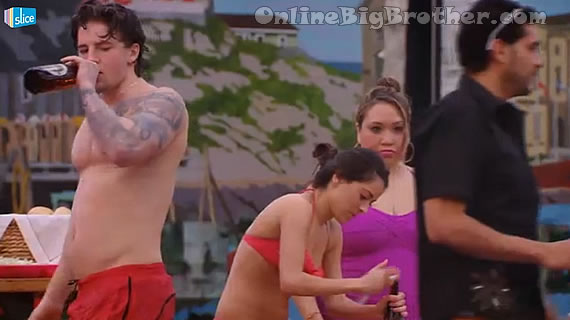 9:10pm They get more beers enough for each person to have a 3rd bottle.
[polldaddy poll=6985048]
Stay connected and interact with other Big Brother Fans on our Facebook page.
And Follow: @BigBspoilers and @Dawgsbigbrother on Twitter for the most up to date spoilers.
Share it YO!!
Tweet