POV Holder:
JohnnyMac
Next POV
July 13th
POV Used
Yes
POV Ceremony
July 6th
HOH Winner Team 1:
Becky
HOH Winner Team 2:
Shelli
Nominations 1 :
Steve, Jason
Nominations 2:
Day, JohnnyMac
Battle of the Block Winner
Steve & Jason
Next HOH/ Next BOB
July 9th / ?
Original Nominations:
Day, JohnnyMac
Current Nominations:
DaVonne, Meg
Have Nots
Steve, Jason, James and Meg
TRY the Big Brother 17 Live Feeds FREE for 1 WEEK:
Click here to ensure your live feed subscription supports OnlineBigBrother.com at no extra cost to you.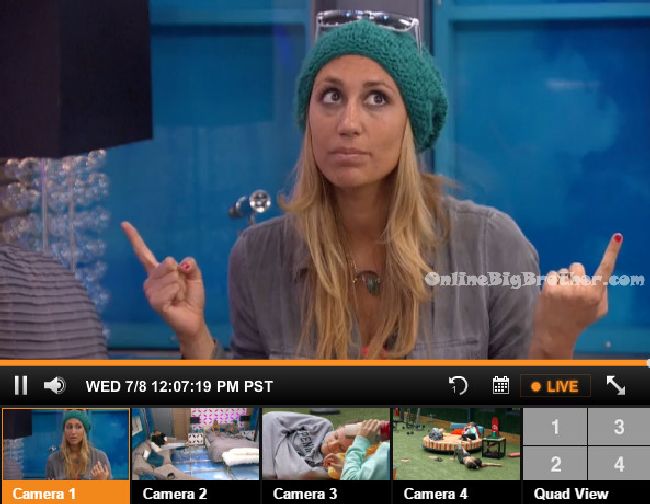 12pm – 12:40pm
Vanessa and Shelli head back up to the HOH room. Vanessa says my word is my word and Audrey made me give it to her but if you betray my trust then I don't feel bad. Vanessa says this is her plan. Create an alliance and then create distrust within so that she is trusted the most. She is pitting everyone against each other. She wants to pit me and Austin against you two. She made us swear that you made a deal to protect Jeff and James. Vanessa says I know you guys have a hierarchy of loyalty and I hope I'm at the top. Shelli says you are at the top. Clay says we just talked about this last night. I asked Shelli who do you trust more Jeff or Vanessa? Shelli says and I said Vanessa and Clay said me too. Vanessa says that she thinks Jeff is trying to pull an alliance together. He actually tried to pull me into it and then never asked me about it again. Shelli says I really feel good about us 3. I think Jeff is the male Audrey. He said at the lockdown that you approached him about an alliance. With him, you, Austin, Liz, Jackie and Shelli. And that you did not include Clay. That you wanted to reconvene and talk about it with him later. He said it might be a problem because he didn't come to you later and so he thought you might think he wasn't serious about it. He said she asked me about an alliance with those people but honestly I want those people to go home. Vanessa says honestly I want to call his a$$ out! Vanessa asks you know me .. you know I would never go up to someone in a group of people and mention an alliance. I have yet to even talk to Jackie. Shelli says I think he is trying to figure out how much we (Clay, Shelli and Vanessa) are working together. Shelli says she (Audrey) is good. He (Jeff) is good! Vanessa says he started the conversation with me! Shelli says all I know is that he is no longer hard core gunning for Audrey. Shelli says I think we need to talk very little about Audrey. She talks to everyone and they will tell her that Clay & Shelli told me x, y, z. Vanessa says we need to get rid of Day, then keep Audrey feel safe in Sleeper Cell. Clay says that Jeff has made numerous comments that he wants Austin to go after Audrey. Austin needs to be careful about Jeff. Clay says I trust Austin, I'm just scared about his loose lips. Vanessa says Jeff is like Audrey but plays on gossip a bit more. Shelli says I've been trying to trust Jeff but he is very smart. He is the male Audrey. Shelli says she's worried about putting Audrey and Jeff up. The thing is they are so good about saving themselves. Vanessa says I could put them up. Jeff has nothing on me. Shelli says I just find it so suspicious that Jeff and Austin have become friends.
Shelli says we need to protect Meg. She can't go home. Shelli explains who knows about the Liz Twin Twist. Shelli asks do you think they switched? Shelli says I think we've had a good conversation between the three's company. Vanessa says I like that name .. "Come and knock on my door!" Shelli and Vanessa head out of the HOH room.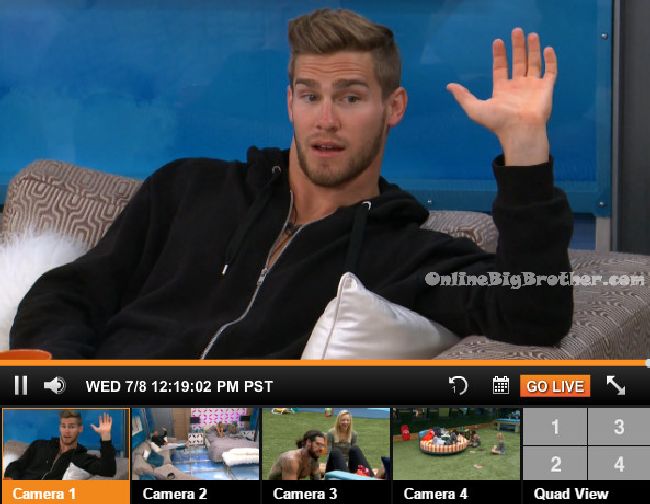 12:45pm Hammock – Liz and Meg are talking. Liz says I was so scared that I was almost going to go up and I feel bad that you're up there. You definitely have me, Austin and I think Vanessa. Meg says Vanessa said she will vote for me to stay. Meg says if I win HOH you guys are clearly not my target. Liz says you're obviously not my target either. I want to get rid of the people that give the nasty looks. Meg says that Steve has said he would vote my way. Liz asks do you believe that? Liz says I don't know. Meg talks about Audrey trying to start sh*t last night. Big Brother puts them on an indoor lock down.
12:55pm Up in the HOH room – Clay talks to Shelli about having talked to John. Shelli tells Clay not to talk to John about Jeff. Jeff is the reason Johnny is in with us. He trusts Jeff. Anything you tell John he will tell Jeff. If it gets back to Jeff about not to tell him something .. you can't do that! Shelli says just let them do what they want to. Austin joins them and asks what is all this bullsh*t with Audrey. She is starting all this sh*t again. Does she think no one is going to talk and figure all this out again?! Her big thing is that everyone is playing for jury. Telling Meg that I'm going to save Day.. REALLY?! She is saying that Me, Liz and Vanessa are going to vote for Day. Shelli tells Austin that Audrey is saying you're trying to flip the house. Austin says that she is saying that you're protecting Jeff and James. Austin says she swears she's not going to talk game and then she starts all this again. Shelli says she is trying to pit us all against each other. Austin says I've stayed out of it all week because I didn't want to be a part of all this. I went to Meg immediately and told her she has my vote. There is no way any of us would vote for fricking Day! Jeff joins them. Clay changes the conversation to talking about the last laugh twist. Shelli asks are you voting to keep Meg here? Jeff says yes! Why would you ask me? I'm pretty sure I'm closer to Meg than anyone in this room. Jeff says that Audrey told Meg that she overheard Johnny Mac talking with Day about how Johnny Mac is going to vote out Meg. She then took that information and told Meg. Jeff says if there was anything being plotted against Meg I would know about it. Jeff tells Shelli I know you might be worried about sending home an innocent person but you're not. Don't worry about it. Jeff says the only people I could think would vote for Day would be Jason and Steve. They head out of the HOH room.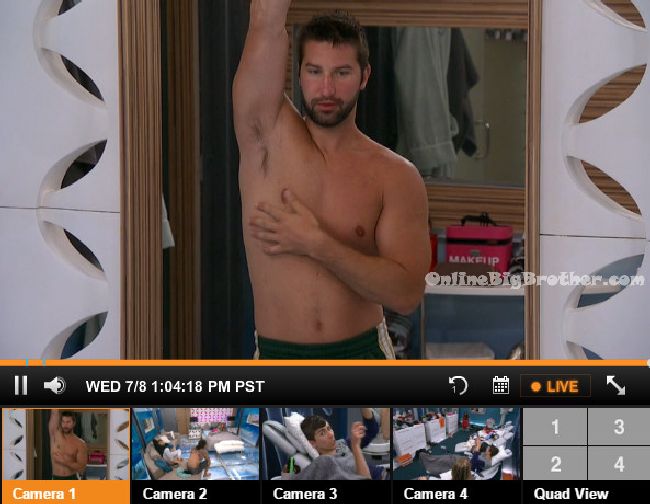 1:10pm In the havenot room – Jason, Meg and Day are talking. They notice the hole near the ceiling and Jason gets up on the chair to eavesdrop on Audrey and James talking in the next bedroom. Jason says James is talking about Saint Patrick's day.. Why would they be talking about Saint Patrick's Day.
1:25pm In the havenot room – Day asks Johnny if she has his vote? Johnny says I don't think I can at this point because the whole house is going against you. It would look really bad on me. Day says trust me I have the votes. I know who has the power. Trust me. I'm good. I need your vote! Johnny asks who's voting? If that's okay? Day says I can't say. I'm scared. To make you feel confident I can tell you I know who has the power. Johnny asks and they're not going to use it on me? Day says no. Johnny asks I'm not going to get in trouble going forward? Day says no, nobody will know. I've got you going forward. Johnny says all right lets do it.
USE the FLASHBACK feature to watch all the drama you've missed: FREE Live Feed 7 Day TRIAL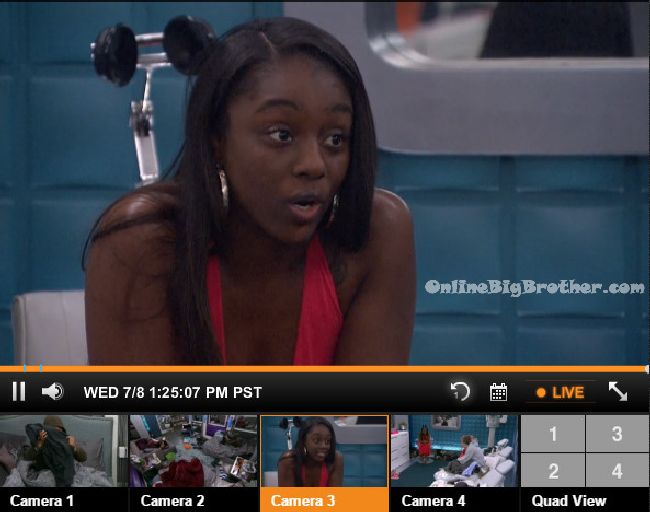 1:45pm – 2pm In the bedroom – Day confronts Audrey – Can I ask you a question. Did you run outside and tell everyone I was trying to flip this house to stay? Audrey says she didn't. I went out and talked to Steve then immediately went to bed. Day says people said you went outside saying I was trying to flip the votes. Audrey says no. Before we talked I told her that Liz told me that she was going to vote for you. Day says well that's news to me. All I knew was that I had Jason. Day says so you never went to Meg and said you need to up your social game and that I was flipping the house. Audrey says that was before. I went to Meg and said that. Day asks you said I was flipping the house. Audrey says no I told her she needed to up her social game and that Liz was voting for you. Day says I am having a really hard time to trust you. Audrey says we can go get her. The only person I told that to was Meg and Jeff. Someone is exaggerating. Day says someone is dragging your name though the mud so maybe you need to go out there and squash that. Audrey says my name has already been dragged through the mud. Day says even if I did have her vote why cant you just let me have that. Day and Audrey bring up their past drama. Audrey says at the end of the day the chips will fall where they may. America sees. Day says I'm on the block and going home because of your bullsh*t! I am in this position because I called you out for this house! Audrey asks why are you mad at me, the whole house hates me. Day says the whole house does not hate you because if they did you would be sitting up here on the block and not me. You're sitting pretty. Audrey says I feel like you're upset at the wrong person. Day notices the others are eavesdropping on their conversation and tells them they can come in here. Clay says I don't think you two are going to understand each other. Days says we did last night and then I wake up today to some bullsh*t! I put the game on pause and I didn't have to do that. I didn't have to come talk to her. I am too much of a woman for that! I can't, I can't! I am not a coward. Day leaves the room. Audrey says I don't understand why it always comes back to me. Clay tells her to drop it. Don't make a target on you. Audrey says I already have a target on me.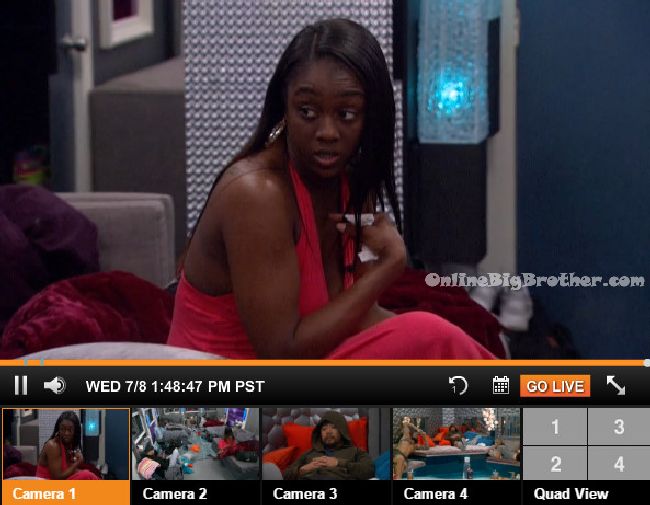 2:10pm Day is crying in the bathroom to Vanessa. Day says they're going to let me skate week after, week, after week. Vanessa says they won't.
In the kitchen – Jason talks to Clay about how Day is upset. Jason says this chick (Audrey) would set all of our houses on fire and we're sending Day home. Jason says its a different game this year .. we don't have the Victoria's and Jocasta's. Jason says I'm going to go check on Day to make sure she doesn't burn the house down. Day tells Jason to stop because you have to stay here and make it for us. You have to let these people say sh*t about me. You can't pop back! You came too far to get here. These people are cowards!! Day says you f**king watch James because he will throw your a$$ up to protect his own game. Jason says I know that. Day tells Jason that she told him she knows how has the power and I have the votes. I didn't tell him that I have it just that I know who has it. I think he will think James has the power. I told him I couldn't tell you so that crosses you out. I don't think he is going to do it, I think he's going to get scared at the last moment. I know for sure Austin isn't going to vote for me. Days says I have no more options. America done thrown me a bone. I appreciate it. I don't know what else to do. I almost want to go into the diary room and tell them I want to go home .. rather than let these people have the privilege of sending me home. Jason says don't do that. Day says I can't give them that pleasure. Day says she (Shelli) is blinded.. he (Clay) does not even like her! He even vouched for it. Jason asks what does that mean? Days says he wrote it in his journal (Diary room session). Day says thickems (Liz) knows the tea .. this one (Julia) doesn't. Jason says she knows the game, the other doesn't. Day says Ya'll sent the wrong one in this week.

2:15pm HOH room – Audrey heads up to the HOH room and tells Shelli that Day just ripped my head off. Clay joins them. Audrey / Clay fill Shelli in on the confrontation. Audrey says karma is doing its own things. And her big dose of big brother medicine is doing its thing. Clay tells Audrey to just drop it. Shelli says Day has a right to ask you about what she heard. Audrey says I don't owe her anything after she did that to me. Audrey asks can you not just sleep in the purple room tonight? Clay says I mean I can. Shelli asks do you think there's going to be a blow up tonight? Audrey says she's a time bomb. Audrey tells Shelli and Clay that they (Diary room) asks questions like how does it feel when Clay says stuff like this, does it feel like he is on a power trip, like is trying to take over this HOH. Shelli says that's not nice. Clay says I don't give a sh*t.
Share it YO!!
Tweet