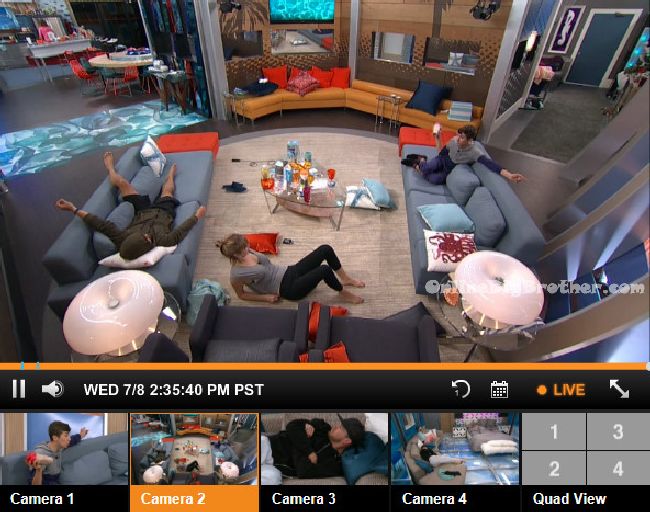 2:35pm – 2:55pm Living room –
Meg, James, Jason and Becky are sitting in the living room. Meg says she's (Liz) been in there (Diary room) for a while. It's probably happening (Twin switch). Meg says man I'm so curious to see what comes out of there. Meg tells James she (Liz) doesn't know that those are her underwear. Everyone else knows those are her sisters. James says those are thickems underwear. I don't think cruella (Julia) fits them. Day joins them. Meg says Becky, Me and Liz all did laundry together. James says all I know is they have turkey tracks on them. Gobble Gobble! Day tells them to get her (Audrey) out. Send her a$$ home. She is going to slide all the way through. Clay joins them. Day says that we're all anticipating it too much .. cruella is going to come back out. Day brings up the drama she had with Audrey. Day asks Clay why not put up Audrey instead of Meg. Clay says that Shelli didn't know if you would come after her. Day says I don't have any bad blood. My focus was never Shelli. We weren't talking because of her a$$. Clay says everyone know she (Audrey) is full of sh*t. She was up there spinning the story to look like the victim. Jason says I know where she (Audrey) is taking a shower next week. Everyone can put there hands up to be havenots .. If I get to choose she is getting it. That bitch is not coming up even to say hello. Liz comes out. Jason says its Cruella.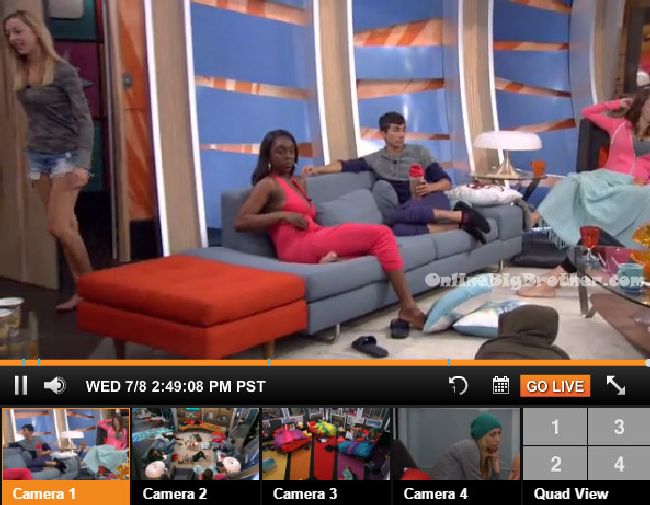 3pm In the kitchen – Day tells Liz thank you for voting for me. Did you tell Audrey that you were going to vote for me? Liz says no. Day says that Audrey says you walked up to her and said I'm going to vote for her. Liz and Day head to the bathroom to talk. Liz says that really pisses me off because I was half asleep and she called my name. Audrey asks if the show was weird .. the podcast. She asked what do think about your vote. Liz says I don't know. DaVonne gave me the fast forward and I said I'm not sure what I'll do.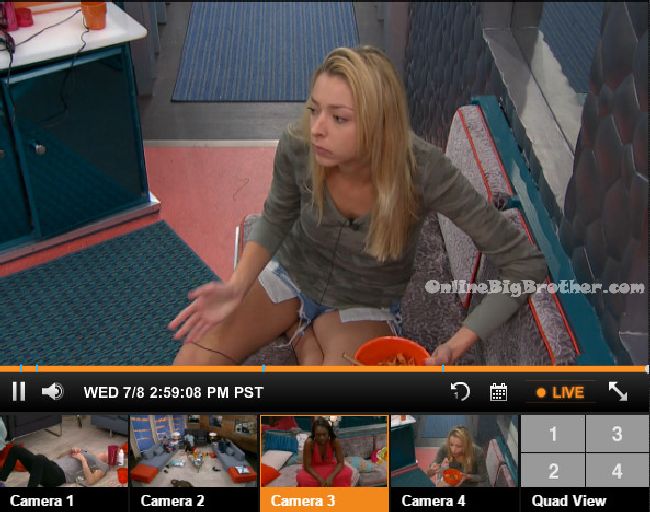 Live Feed subscription gives you CBS All Access thousands of archived shows. Live Shows like Big Brother, all the Big Brother Seasons, and 24/7 coverage of what is happening inside the Big Brother House. Plus there's flashback that lets you go back to any second of the feeds and rewatch what happened. Simon and Dawg will index the season just watch the parts worth watching. All this for $5.99 a month try it out 1 week free. Support our efforts and get your feeds via a link on this site. Live feed subscription Sign up
[polldaddy poll=8961340]
Share it YO!
Tweet