POV Holder:
JohnnyMac
Next POV
July 13th
POV Used
Yes
POV Ceremony
July 6th
HOH Winner Team 1:
Becky
HOH Winner Team 2:
Shelli
Nominations 1 :
Steve, Jason
Nominations 2:
Day, JohnnyMac
Battle of the Block Winner
Steve & Jason
Next HOH/ Next BOB
July 9th / ?
Original Nominations:
Day, JohnnyMac
Current Nominations:
DaVonne, Meg
Have Nots
Steve, Jason, James and Meg
TRY the Big Brother 17 Live Feeds FREE for 1 WEEK:
Click here to ensure your live feed subscription supports OnlineBigBrother.com at no extra cost to you.
10am
Big Brother wakes up the house guests. Up in the HOH – Shelli tells Clay she had a dream her brother was in here and won HOH. You've got to get the ball in the hole Clay. If you don't win there will be no talking. Shelli says people tell you that you look like Ryan Reynolds. Clay says no. Shelli says he's so dreamy. Clay gets called to the diary room. Shelli heads down stairs. In the living room – Audrey and Vanessa are whispering. Audrey says Day pulled me aside last night too. She said she knew she was going home but wanted to be friends outside of the game. I thought that was weird. Audrey tells Vanessa that she talked to Liz and she said she promised Day her vote because she gave her the fast forward. Vanessa says maybe we shouldn't talk game right now.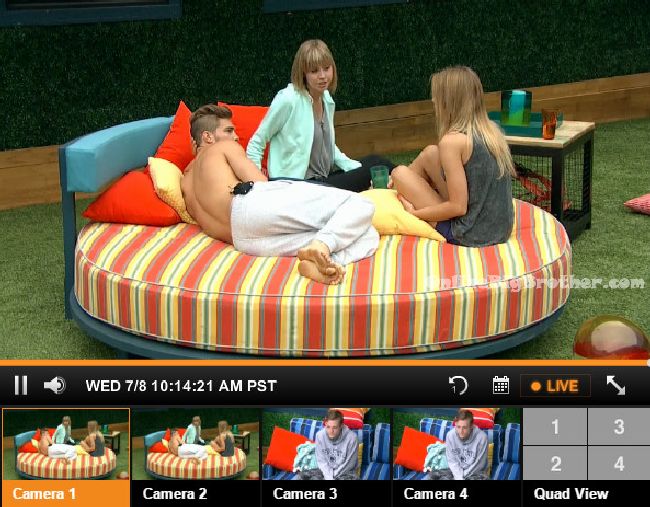 10:20am In the bathroom –
Meg tells Clay I need to talk to you and Shelli. They head out into the backyard to talk to Shelli. Meg says that everything has been started again. She came out last night and talked to Jeff and then talked to me. She asked if I knew were ever one stood in the house. She said that Liz, Austin and Vanessa are flipping the house. Clay says she came up to me and said please talk to Austin. Meg says I talked Becky last night and she said she is going to gun for her. Meg says the thing that bothered me was why did she pull Jeff aside when it had to do with me. Meg says Becky is not .. I have Becky's vote. Meg wonders if Audrey has the power. If she does she might have the votes. Shelli asks why would Audrey vote to keep Day. Clay says she doesn't. Shelli says Meg she is spreading rumors all over again. Meg says it is freaking me out. I went to bed last night thinking the whole house was conspiring against me. Shelli asks who is she telling this too? Meg says me, well she told Jeff first. Clay says she is a paranoid schizophrenic. Meg says When I sat down (With Audrey) the first thing she told me was "You need to step up your social game!" Shelli and Clay are shocked. Shelli says Audrey is something to do with the twist. Meg says that Jason is pissed hearing his named dropped. He is annoyed that he promised his vote to Day and now might be the vote that sends me home. Clay says that people are just telling Day what she wants to hear. Shelli brings up how Jeff was saying he wanted Liz to go next week because of the twin twist which is weird because he's been gunning of Audrey. Meg says that makes me feel better because this is crazy talk but I wondered if Jeff was trying to work with Austin/Liz/Vanessa. So hearing that makes me think he isn't. Meg says I think I will have to throw Audrey under the bus with Vanessa. Clay says we just have to make people aware that she (Audrey) is a threat in this house. Shelli brings up Audrey getting upset last night about Day. Clay says I saw Audrey whispering to Vanessa this morning .. she is definitely trying to flip her. Shelli says I am legit mad! I am pissed! Shelli says I will talk to Vanessa to find out what they were talking about.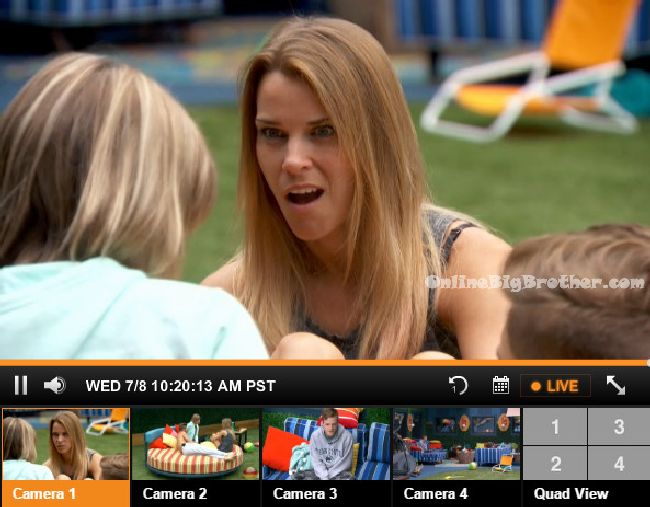 10:35am Backyard couches – Jason, James and Johnny are sitting on the couches talking. Jason tells Johnny about the Liz Twin Twist. Johnny says wow! Jason talks about the questions others had asked Liz and then after the switch had happened they asked her the same questions and she gave different answers. Jason says every time they call her to the diary room, I go and sit waiting for her to come out.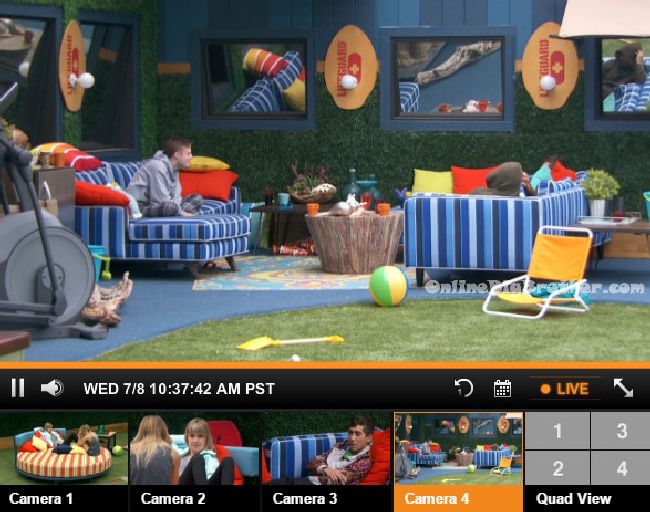 10:40am Backyard – Meg talks to Austin and tells him that she obviously wants to stay. Meg says that Audrey told me that there are people trying to flip the house. Austin says that Audrey is starting sh*t again. Meg says your name was brought into it. I think Audrey has the power (to nullify 3 votes) The names that were brought into it were You, Liz and Vanessa. Austin says we need to get together with Jeff. Jeff and I have been trying to work together the last week. Austin says she gets stuck in the trees and can't see the forest. Nothing has happened to me and she makes up all these lies about me. Austin says this has to be stopped. This is ridiculous. Don't worry you have my vote. Liz won't vote for Day either. Austin says she need to go next week. Unreal I am pissed!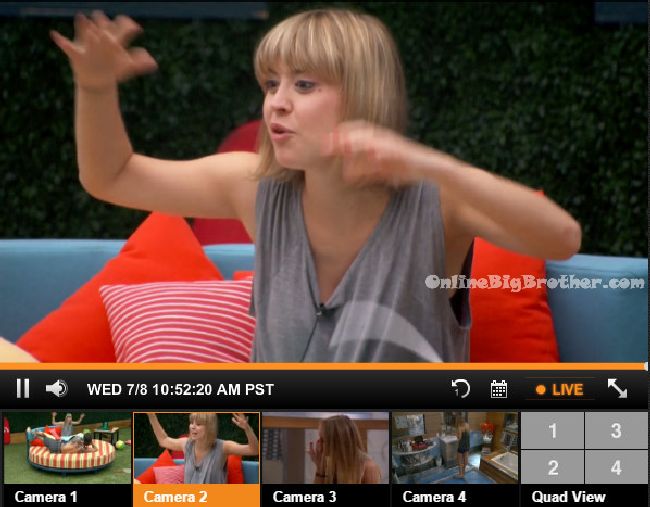 10:45am – 11:25am HOH room – Clay and Shelli decide to bring up Vanessa to tell her about the Liz Twin Twist. Vanessa joins Shelli in the HOH room. Vanessa tells her about how Audrey came to her and told her Liz said she was going to vote for Day because of the fast forward thing. Shelli says I trust you so much and if I come to regret telling you this… Vanessa says you won't regret it. Shelli says when I see you talking to Audrey I am a little concerned. I'm wondering how genuine or ungenuine your relationship with her is. Vanessa says I was just listening because she was giving me information. Shelli says your mind is about to get blown. You have to remember who did she tell you she had the votes for Day. Vanessa tries to remember which 5 votes Audrey said Day has. Shelli tells Vanessa about the Liz Twin Twist. Vanessa says I thought the same thing! I thought she was drunk. Shelli says one is warmer, louder and more engaging. The other one has to play under the radar and less engaging. Clay says we just noticed this one has a birthmark on her back. We're waiting for the other one to come back in. Vanessa asks is this one skinnier? Clay and Shelli say yes. They start telling Vanessa all the differences between the two twins. Clay tells Vanessa you cannot tell Austin this. Vanessa wonders if Austin is trying to get them in. The conversation turns to Audrey turning everyone against each other so she can sit in the middle and have us go against each other. Shelli says that she is starting to get suspicious of Jeff. Jeff was all on board with getting out Audrey and now he's switched to wanting Liz out.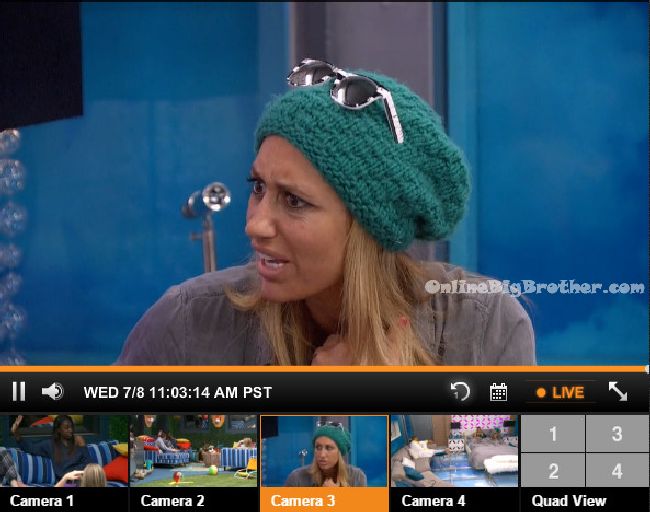 11:25am – 11:55am Meg joins them in the HOH room. Meg says I've been talking to Austin and Johnny and I already feel better. Vanessa says I like Day a lot. But if you promise to keep me safe next week then I will vote for you to stay. Don't tell Day because its better for you if she thinks I might vote for her and then she won't campaign as hard. Meg tells Vanessa she will promise to keep her safe next week. Meg brings up how she thinks Audrey has the power to nullify 3 votes. Vanessa says I will vote for you to stay if you promise if you win HOH you won't put me up or backdoor me. Meg says you have my word on it. Shelli says if Day stays there is an alliance between Audrey and Day. That is very dangerous. Vanessa says I think I can play up on Audrey's paranoia of Day coming after her. And that people are voting for you to stay. And play up how much she can trust you. Vanessa says its risky because if she was dumb and doing this it would be easy but she is Steve smart. They end their conversation and leave the HOH room.
Watch the next week for FREE: Big Brother 17 Live Feed Trial!
12pm Backyard – Clay and Johnny Mac are talking. Clay fills Johnny in on how Audrey is starting rumors again. Johnny says she is very convincing. Clay says always ask more questions before you bring it forward to someones attention. Clay tells Johnny you proved a lot last week. Meg joins them and tells them she and Shelli talked to Vanessa about Audrey. Johnny asks how did Vanessa take it? Meg says she is pissed .. fool me once..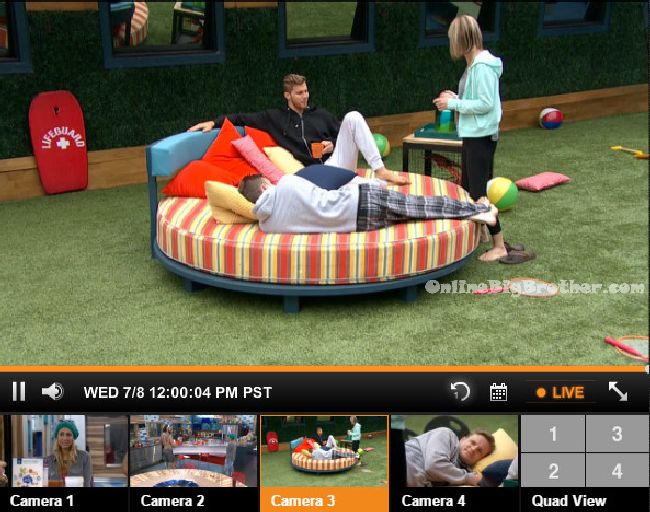 Live Feed subscription gives you CBS All Access thousands of archived shows. Live Shows like Big Brother, all the Big Brother Seasons, and 24/7 coverage of what is happening inside the Big Brother House. Plus there's flashback that lets you go back to any second of the feeds and rewatch what happened. Simon and Dawg will index the season just watch the parts worth watching. All this for $5.99 a month try it out 1 week free. Support our efforts and get your feeds via a link on this site. Live feed subscription Sign up
[polldaddy poll=8961340]
Share it YO!!
Tweet