POV Holder:
Shane
Next POV:
?
POV Used
YES
POV Ceremony
Sept 10 (Monday)
HOH Winner:
Ian
Next HOH:
?
Original Nominations:
Jenn and Shane
Current Nominations:
Jenn and Danielle
Last Evicted Houseguest
Frank And Joe
Superpass Big Brother 14 Live Feeds: 3 Day FREE Trial!
3:30pm – 3:45pm Dan, Ian and Danielle continue to talk in the pool about random stuff. They talk about genetics, blood type, and biology. Ian says that before coming in here he was looking into applying for PhD school. Danielle tries to catch him and asks wait don't you need your masters before you apply for that? Ian says no sometimes you can skip your masters and go straight for the PhD. Ian continue to talk about schools and classes. The conversation turns to talking about Big Brother 5 – Project DNA. Ian explains the twist of the season to Jenn and how Nakomis and Michael "Cowboy" were half brother and sister. Ian tells Jenn about how when it got down near the end Cowboy ended up giving the deciding vote to evict Nakomis. Jenn says that she would flip out if she was in the house with a half brother or sister and no one told her. The conversation turns to talking about what to make for dinner.
4pm – 4:25pm
Dan and Shane are in the kitchen starting dinner. Dan asks Shane if it was weird having people know him. Shane says yeah. Dan talks about how this time it feels like he isn't on camera. He says that first time he was really aware of the cameras. Dan tells Shane that he has been really good at keeping his emotions under control. Shane says that he knows that people can use it against you if you snap so he has tried really hard to keep them in. He says that he thinks that is kind of what happened to Frank, he let his emotions get the best of him. Dan says that this season he has snapped way more than he did in BB10. Shane says yeah but you did apologize twice on live television. Dan says that he is disappointed that he let it get like that. Shane tells Dan that he will go down as one of the best players in this game. Shane asks so do you think if they do another all stars it will be not next season but the next. Dan says yeah, next will probably be an all new cast and then an all stars after that. Dan says that this will probably be his last time though. Shane asks if this time was harder. Dan says yeah way harder. Shane talks about how good Frank was… Dan says you are a better player than her is.. Shane says I wouldn't say that.. Dan says you made if further than him. Dan asks do you think the three of us will make it through to the final three. Shane says yeah, Ian can't play for HOH this week.
FREE 3 Day Big Brother Live Feed TRIAL: Join Now!
4:30pm – 4:45pm Dan comments on how Shane's sister is cute. Shane says that his friends used to come over and dig in her underwear drawer. Dan asks would you get mad. Shane says yeah, that's not cool, that's an invasion of space. Shane starts eating chips as Dan continues to make dinner. Jenn joins them and starts making her dinner. Meanwhile out in the backyard Ian continues to swing in the hammock. He farts and says sorry .. that was Frankish.
5pm – 5:15pm Big Brother tells the house guests to head inside, this is a lock down. Shane and Jenn wonder if the lock down is to clean the pool. Dan says that now we can't BBQ! They all hope the lock down isn't for too long. Danielle and Shane start talking about nutrition. Shane and Danielle mention that when they were out of the house they were asked if they wanted to stop to get food from MacDonald's or Burger King but that they just wanted to eat at Starbucks. Dan asks how could you turn that down. Shane says we didn't know where we were going and didn't want to not feel good after eating it. Shane says that they didn't want to get the s**ts.
5:45pm Dan continues to make dinner as he talks with Danielle, Shane and Jenn. They talk about random things and Dan continues to joke with Danielle about how she passed up Burger King. Ian finishes his shower and is now sitting on the HOH couch by himself. Ian comes down from the HOH room. Dan asks Ian if you wanted a burger and a coffee, would you go to Burger King or Starbucks. Ian says Burger King, Starbucks doesnt have burgers. Shane then asks Ian if you ate at burger king right now would you get the s**ts? Ian says oh yeah.
5:55pm Ian goes into the living room and starts playing with the lights behind the wall. Big Brother tells him to STOP THAT! Big Brother ends the indoor lock down. Ian goes out to swing in the hammock.
6:05pm Shane and Danielle are in the bathroom fixing the bandages on their cut up hands. Shane comments on how a couple of his cuts are infected.


6:10pm In the bedroom Dan talks the photo of wife Chelsea. He tells her how much he misses her and that he is down to the final four.
6:15pm – 6:25pm Ian, Shane are Danielle are in the backyard. They all start quacking. Shane comments on how Danielle's quack wasn't very enthusiastic. Ian tells her it better be this Thursday. Danielle says that she hopes she stays. Shane tells her that she is good. Ian tells her that she is good. Ian tells her that Dan knows it wouldn't be a good move to vote you out because then it would make it really easy for us to nominate him this next week. Ian says that he would be incredibly foolish for him to vote you out. He would lose every single jury vote. Ian talks about how he told Dan he would rip Dan's face off if he voted Danielle out. Shane says that he wished he was there to see that. Ian talks about how he did it before too. Shane tells Ian, you are a man of your word you do what you say you will do. Big Brother announces that they are on an outdoor lock down. Jenn and Dan come outside.
6:35pm Dan opens up the BBQ and finds that Joe left salmon skin on the grill. Ian says that's sick, that so gross are you kidding me. Danielle starts talking about how unhygienic Joe is. Dan starts cleaning the BBQ.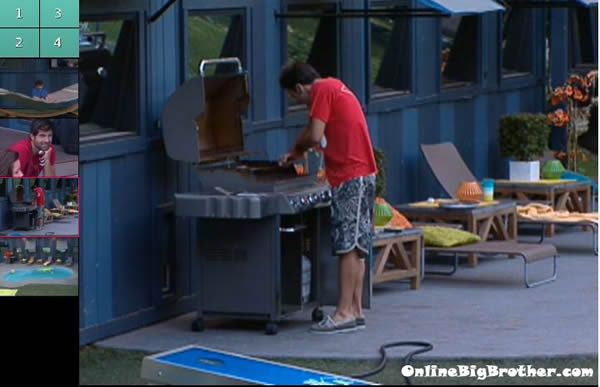 6:50pm Shane, Jenn, Dan and Ian are all sitting around the backyard waiting for the lock down to end so that they can finish making their dinner.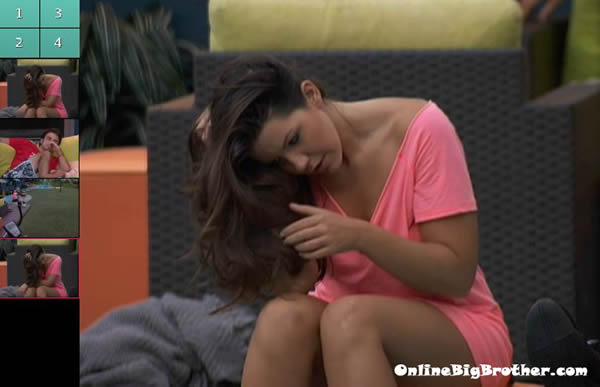 7:25pm – 7:35pm All the house guests are still in the backyard, no one is talking..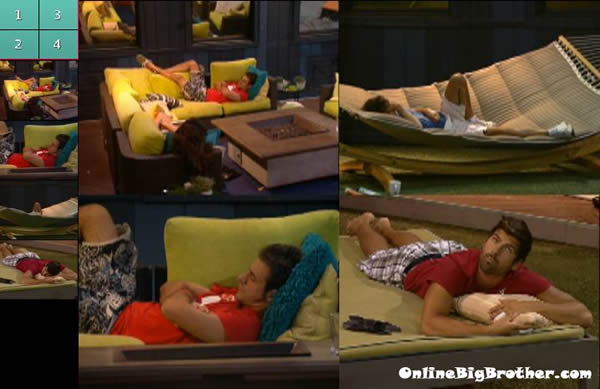 7:40pm – 8:20pm All the house guests are sitting talking about random things. They are annoyed that they are still locked out in the backyard and speculate on why they are locked down. They wonder if BB is planning a party for them. Ian says they wouldn't do that, they only do a half way party. Jenn comments that she would pee in the backyard if BB gave her beer. Danielle is pissed because she has to go to the washroom. They start reminiscing about past competitions.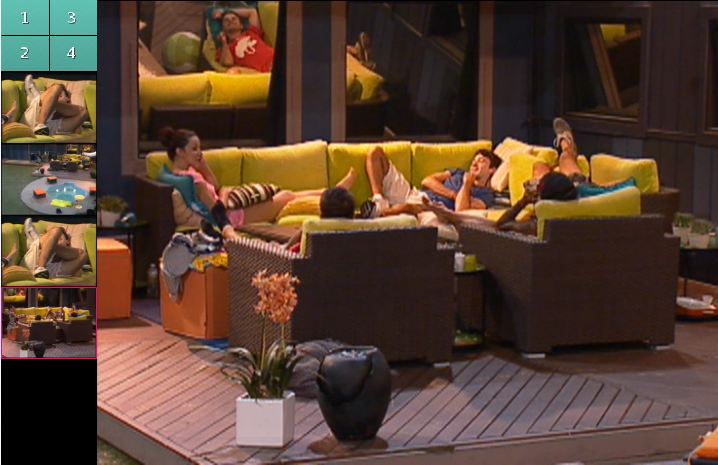 8:30pm Shane asks Ian if anyone has ever talked game in the bathroom toilet area. Ian says no, not this season. Danielle says yes there has. They try and get her to tell them who. She doesn't at first and then says that Janelle and Britney talked game in there. Big Brother ends the lock down and all the house guests race inside. Ian looks inside and says great it was f**king for nothing! (The lock down) Ian heads up to the HOH room and starts eating his HOH snacks. Danielle, Shane and Dan start making their dinner that they had started before the lock down.
8:35pm – 8:45pm Dan and Jenn are talking out by the backyard while Dan puts the chicken on the BBQ. Jenn is campaigning to Dan. Dan tells Jenn that she still has a couple days to hustle. Jenn tells Dan that she thinks she has more game left in her than Danielle. Dan says yeah. Dan tells Jenn that he would be super disappointed if she just gave up. Jenn asks did you say that they only way I could get through is if Shane didn't use the veto. Dan says no, the only way that we could all (Jenn, Dan, Danielle) get through is if he didn't use it. Dan and Jenn head inside. Then Dan and Jenn head back outside. Danielle comments to Shane ..you know why she is helping him right?! Shane says yup. Danielle says I will f***ing lose it! Shane tells her just a few more days. Jenn comes back inside.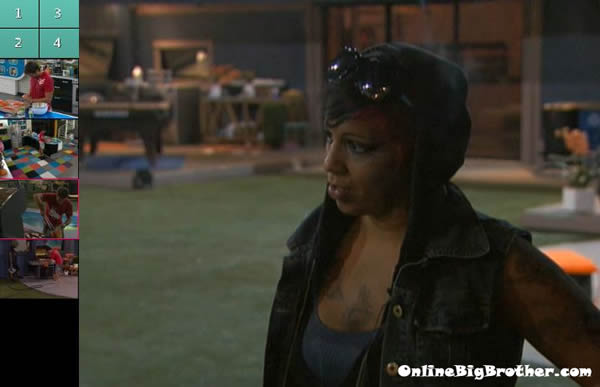 Simon and I work 24/7 all season long to bring you all the live feed updates and spoilers, please consider donating. Any amount is greatly appreciated, your donations go directly to paying the server and bandwidth fees needed to run this site. Donation Link
Share it YO!!
Tweet