POV Holder:
Shane
Next POV:
?
POV Used
YES
POV Ceremony
Sept 10 (Monday)
HOH Winner:
Ian
Next HOH:
?
Original Nominations:
Jenn and Shane
Current Nominations:
Jenn and Danielle
Last Evicted Houseguest
Frank And Joe
Superpass Big Brother 14 Live Feeds: 3 Day FREE Trial!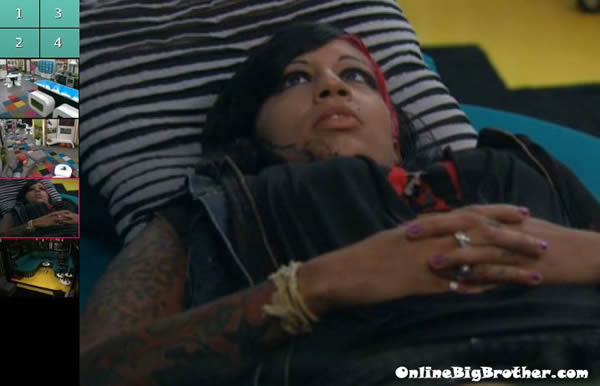 12pm Ian is talking to Jenn. Jenn is pissed about Ian putting up Danielle. Jenn wonders why Ian wouldn't put up Dan. Jenn says that Dan has won the f***ing game before, you know what I mean f**k. Jenn ask Ian if he has a deal with everyone or something? Ian says no, he just really didn't want the couple to have all the voting power. Ian says that he is thinking about possibly breaking up that couple. (Shane and Danielle) Jenn tells Ian that she is sorry for getting loud with him.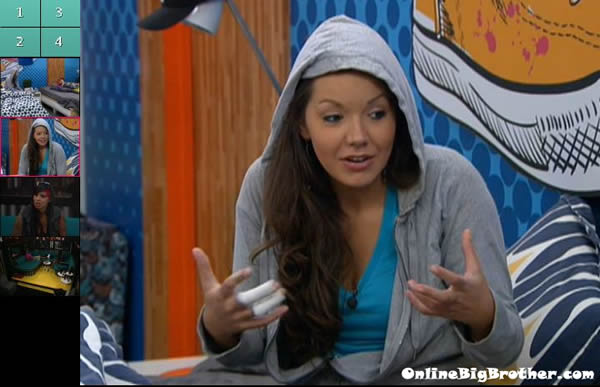 Dan and Danielle are talking in the kicks room. Danielle is nervous. Dan tells her she shouldn't be worried. She says she is a little but not really. You never ever feel safe. Would you? Dan says that he would. Do you think I would vote against you. Danielle says no. If you try and pull something on me it will be unforgivable! Unforgivable! I would do anything for you and you wouldn't do that same for me. Danielle says that when Dan is on the block makes you crazy. Danielle and Dan start talking about the jury votes. She says that no way in hell would she want to go up against Ian. I don't think I have the votes against him, he will get sympathy votes too.
Watch it ALL on FlashBack: Big Brother 14 Live Feeds – FREE 3 Day Trial!
12:20pm Meanwhile Shane and Jenn are talking in the arcade room. Jenn is campaigning to Shane. She talks about how loyal she is. Jenn says that she knows Danielle and him are tight, but I do really want to stay here. She says that she can't take this lying down. Jenn says that she knows that you and Ian are working together. Shane is a little surprised and asks me and Ian? Jenn says that he was helping you with the puzzle Shane, c'mon! Shane says I doesn't know why he did that, and she said well it was obviously to get me or Dan out, but with Danielle out I guess it's me. Shane says that he will keep an open mind. He says that he and Danielle will be fine outside of this house. Shane says my decision isn't made yet. They hug and leave the arcade room.
12:35pm Ian and Shane are in the kitchen talking about his conversation with Jenn. Ian says that the easy answer was that I didn't want to give the couple (Shane & Danielle) the power. Shane says good. Ian says yeah I thought through all the answers to all the possible questions. Shane tells Ian about Jenn was asking if we all just wanted her out and if we were working together. Shane says that he told her no. Ian says good, good we don't want her to know.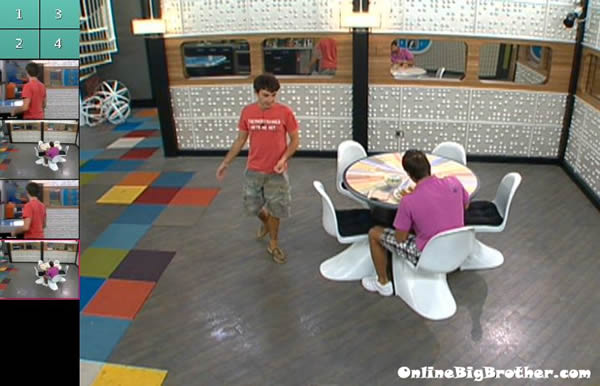 12:45pm Ian goes into the kicks room to talk to Dan and Danielle. Ian tells them his conversation with Jenn. Ian talks about how mad Jenn was and how she swore a few times. Dan asks if she was mad that I didn't go up. Ian says yeah. Dan asks did you tell her she was the target or not. Ian says no. Dan asks does she think she has his vote? Ian says that he told her well Dan's a loose cannon, it could go either way. Ian says that he will rip their heads off if its 1-1. Dan says you mean faces. Ian says yeah I'll rip your faces off. (Referencing what Dan told Ian during the live double eviction.) Ian says that the season will be over because I will murder everyone. Ian says that she swears people was to get rid of her and that no one is talking to her lately. Ian and Dan talk about how that's not true we spent the whole day with her yesterday. Ian leaves to go out to the backyard hammock.

12:50pm – 1pm Ian is talking to Jenn in the backyard and says that he could have tried to get back Dan for the live show night when he put him up or I couple break up a showmance couple. Jenn says Oh my god! Oh my god! Who would have thought being in a showmance would come back to bit you! Ian says yeah. Jenn asks so do you have a final two deal with Dan? Ian says no can't trust him, he is too wily. Ian says that Dan is much closer to Danielle than he is, they have been together since the beginning. Ian brings up the fact again that he can't deny the chance at getting out a power couple. Jenn gets called to the diary room.

Shane comes into the kicks room and tells Dan and Danielle that Jenn told him she f**ked him. He says that she thinks Ian and I have a deal because he helped me with the puzzle. Shane says why would he nominate me then?! They laugh. Dan gets called to the diary room. Danielle and Shane are in the kicks room alone. Danielle says that Dan makes her nervous, you better vote to keep me. Danielle tells Shane about how Ian came in and threatened Dan and told him if he doesn't vote to keep my he will rip his face off. Shane laughs. Shane says that the only problem is, is that the only person he can bring to the final two and win is Jenn. He wouldn't win against Ian or us. Danielle tells Shane that she trust him (Shane) 100%. Shane says that it was a smart move on Ian's part because then he decides who goes home.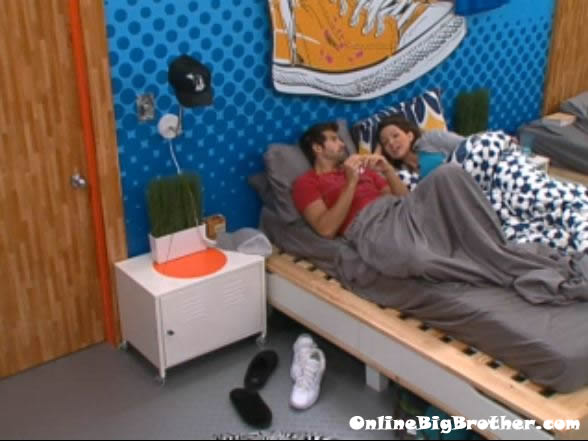 1:20pm Dan and Jenn are in the storage room. Jenn says that she doesn't want to campaign against Danielle but she that is not going to lay down and die either. Dan asks what do you think Ian will do if the vote is 1-1? Jenn sayshe will evict Danielle. Jenn says she needs Dan's vote. Dan tells Jenn that Ian is expecting me to keep you and for Shane to keep Danielle so that he can make the decision to evict her. Jenn says yeah it will bite her in the a**. Dan asks do you think they have something, Shane and Ian? Jenn says yeah I do. Dan asks do you think you can get Shane? Jenn asks Dan do you really want to get Danielle out the door? Dan says that he is willing to do anything.
1:35pm – 1:40pm Dan tells Danielle that he really doesn't think Jenn will go there unless you go there. That Jenn won't get ugly unless she does. Danielle starts to tell Dan about how she has breast implants. She says that she went from an A cup to a D – DD cup. She says that she was so unproportional before and that she wouldn't even wear a bikini before. She talks about how no one can tell. She says that Shane has even laid he head on them and he didn't even know.
Sign-up for the Big Brother Live Feeds and get the MOBILE Feeds for FREE!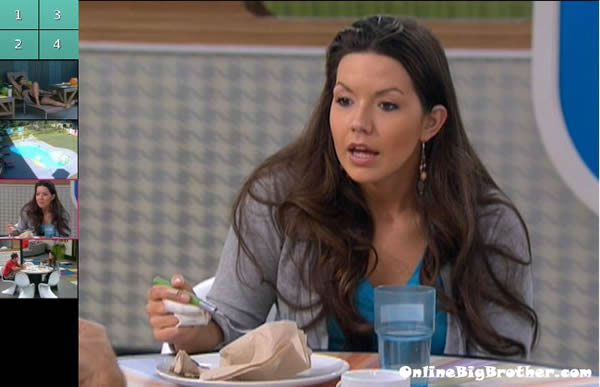 1:55pm – 2:05pm Danielle and Ian are in the kitchen. Ian says that Jenn already asked why I didn't put up Dan. He tells her that he wanted to break up the couple. Ian says that she bought it, hook line and sinker, she thinks she is staying. Ian says that Dan better vote her out. Danielle says he better, or Shane will MURDER HIM! Dan joins them. Ian heads out into the backyard. Dan tells Danielle that Jenn thinks I am voting to keep her. Dan says everyone's got to go… Danielle tells Dan that she doesn't want Shane to know that she has fake boobs. Dan jokes that on Thrusday's eviction he will stand up and tell them she has fake books, is a nurse and a model. Danielle says that she has done more modeling than the Harley Davidson. Dan asks what like Penthouse? Hustler? Smutt? Danielle says no, she did bikini modelling before she came into the house.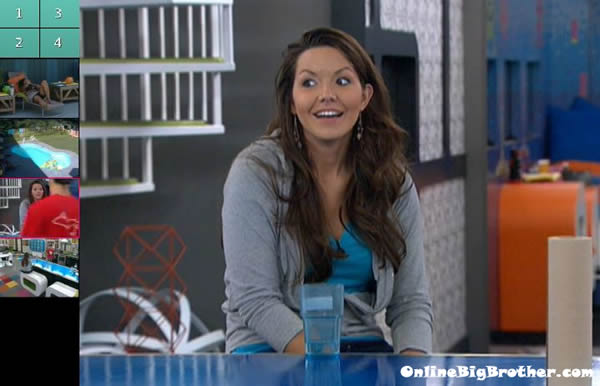 2:20pm Dan comments about being concerned that Danielle will go with her showmance rather than him. Danielle says that she wouldn't do that. Dan says he is kidding. Danielle says that she can tell he isn't joking saying that she can tell he has been seriously thinking about it. Dan tells her has been paranoid for a few days. Dan says well you were out all day with your prince charming. Danielle says that she had a great time on the date out of the house but that she is with Dan. Danielle says that if she wins HOH she might just put Dan up for s**** and giggles. He says you should, put up me and Ian. Dan tells Danielle that if the HOH is an endurance there is no way Shane will drop before me. Danielle says that she thinks she could get him to drop. Dan and Danielle start talking about the final three part HOH. Danielle tells Dan that there is no way she can beat Shane in the physical part of the final 3 HoH. She says that she could get the first, but not the physical competition. Dan wonders if Shane will throw that comp to her, but says that there is no way he will throw two of them to you. Dan heads out into the backyard.
2:50pm Jenn and Danielle are sun tanning. Ian and Dan are talking about Pokemon. Dan keeps asking Ian questions about Pokemon. Shane is sleeping.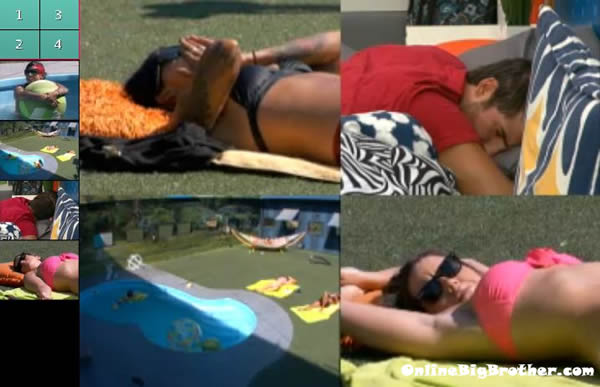 3:15pm Dan, Ian and Danielle are in the pool. Danielle is asking Ian about the periodic table of elements. She asks him what his favourite it and he asks her what her favourite is. Jenn is sun tanning not talking. Shane is still sleeping.
Simon and I work 24/7 all season long to bring you all the live feed updates and spoilers, please consider donating. Any amount is greatly appreciated, your donations go directly to paying the server and bandwidth fees needed to run this site. Donation Link
Share it YO!!
Tweet