POV Holder:
Shane
Next POV:
?
POV Used
YES
POV Ceremony
Sept 10 (Monday)
HOH Winner:
Ian
Next HOH:
?
Original Nominations:
Jenn and Shane
Current Nominations:
Jenn and Danielle
Last Evicted Houseguest
Frank And Joe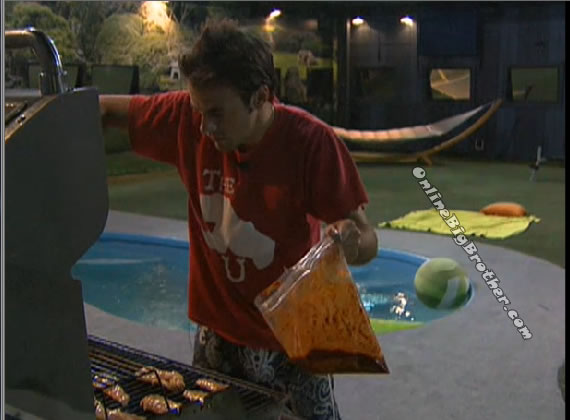 8:35pm – 8:45pm CAm 3-4 Dan and Jenn are talking out by the backyard while Dan puts the chicken on the BBQ. Jenn is campaigning to Dan. Dan tells Jenn that she still has a couple days to hustle. Jenn tells Dan that she thinks she has more game left in her than Danielle. Dan says yeah.
Jenn says that earlier today she feels Danielle had a little 'Slip up" Danielle said "I hope I don't get Nominated after this". Jenn also feels like Danielle isn't acting too upset. Dan: "She's inferring that she's automatically staying" Jenn mentions that Danielle realized what she did and started to backtrack int he conversation. Jenn: "I was like C'mon guys please don't do me like this".
Dan tells Jenn that he would be super disappointed if she just gave up. Jenn asks did you say that they only way I could get through is if Shane didn't use the veto. Dan says no, the only way that we could all (Jenn, Dan, Danielle) get through is if he didn't use it. Dan and Jenn head inside. Then Dan and Jenn head back outside. Danielle comments to Shane ..you know why she is helping him right?! Shane says yup. Danielle says I will f***ing lose it! Shane tells her just a few more days. Jenn comes back inside.
Jenn adds that after her talk with Shane she feels better she's really surprised how well it went. (Let me guess he said 50/50 leaning one way). Jenn: "When your number is up your number is up I Have no problem with that"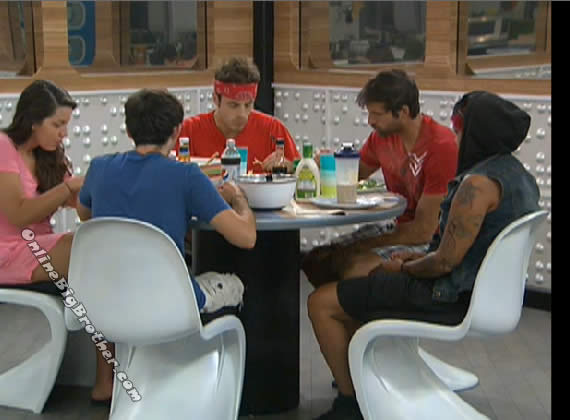 9:01pm Cam 1-4 Dinner time at the tiny table
9:10pm Jenn leaves to work out .. Ian and Shane start to quack "Quack Quack Quack" (LOL)
Ian says he was almost positive he was gone after Britney left.
Shane: "We got your back"
Dan: "We got your quack" (lol)
They start talking about Frank getting benched for a week and how it was such a stupid move.
9:34pm Cam 1-2 Ian mentions that Frank would piss all over the seat. Ian retells a story about week one when boogie told him Frank pissed on the seat all the time and they needed to stop bringing it up.
Ian adds that Boogie starting making a big deal about the dishes to put the heat on Danielle.
Danielle: "Oh my God.. I don't want to hear it anymore it pisses me off"
Danielle: "I wish Frank had farted in the first couple weeks like he did after… would have gotten voted out"
Ian and Shane mention how he farted on Jenn and she was pissed almost voted him out week one.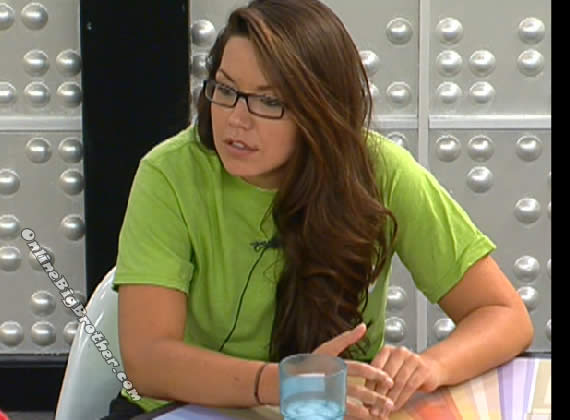 9:57pm Cam 1-2 Dan and Danielle
Dan: "Whats Wrong.. give me 3 words"
Danielle: "Jenn… Block"
Dan: "Thats 2 words"
Danielle: "I just don't want to talk about it"
Danielle: "It sucks… being on the block sucks.. she (Jenn) smiles at me when she walks by.. it's hurtful.. and now you are BFF with her and I can't even talk to you"
Danielle starts questioning him about what he's going to do. Dan asks her if the Diary room has asked her questions about him.. (Feeds cut)
Dan says he's going to try and win HOH it's the best plan..
Danielle: "Ian cannot win veto.."
Dan: "Nope"
Danielle: "It's going to be the faces"
Dan : "you think?"
Dan keeps telling her she's in a really good position she has 2 people that will take her to the final 2 and he only has one.
10:20pm Cam 3-4 Bedroom Danielle and Shane Danielle tells Shane that they're best chance to get to final 2 is to take Dan. Shane agrees, adds that Ian has to go next. Danielle feels like she cannot trust Dan and the game has really gotten her down. Danielle mentions that Dan told her she was in the best position. Shane thinks Dan is right, she's everyone's final 2 of choice. (everyone wants to take Danielle to the final 2 but Ian)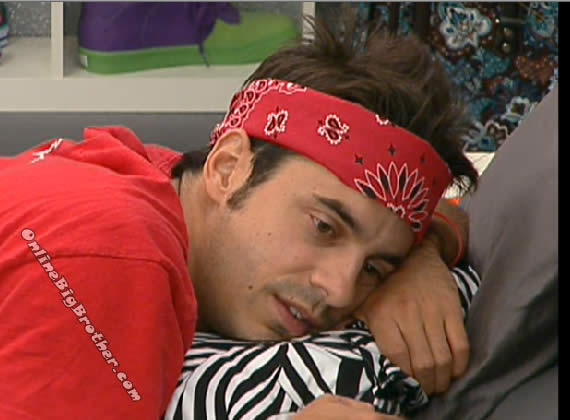 10:42pm Cam 3-4 Dan and Danielle
Dan tells her she has 3 people taking her to final 2 there is nothing to be worried about. He's not going to flip his vote and neither will Shane.
Danielle: "ya ya.. it's so hard to be on the block"
Danielle says that she's been trying to hammer it into Shane that Ian cannot get to final 2 if he does he wins the game.
Danielle brings up that Shane just told her he would throw the endurance to Danielle. Dan: "He thinks he can beat me in the physical" Danielle: "Ya"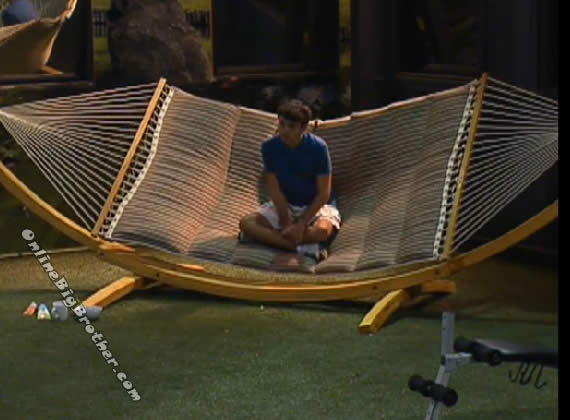 11:02pm Backyard Ian rocking the hammock mumbling ..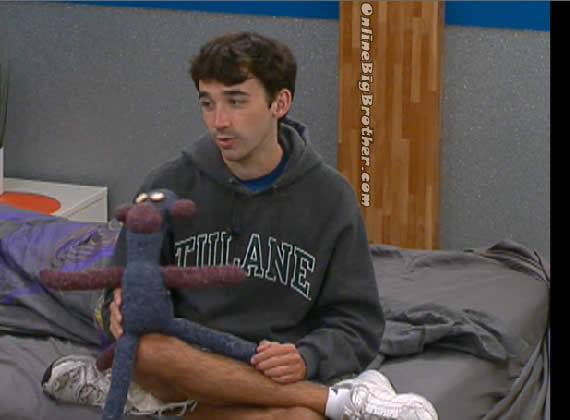 11:32pm Cam 3-4 Shane, Danielle and Ian
Talking about Ashley saying "I just wanted to be part of something" Danielle can't believe that Ashley sided with Frank who was on the block. Ian recounts during the live Veto when he has HOH he got only 1 shamrock, He thought he was doing OK but he looked over and Frank won it all his hopes were gone.
Danielle says Frank told him he had a "Full bush" downstairs. They all think this is gross.
Shane: "He says the ladies loved it"
Danielle: "In what world do women love that"
Shane: "Caveman world" (lol)
Ian : "I remember when I said Shane has the best looking guy in the house and he told me F**** O**"
They start talking about people that didn't make it on the show.. Dan joins them.. Ian says the monkey is professing his love to Danielle.
11:46pm Production told Shane to take off the pukka shells beccause apparently they messed up the lighting..
12:00AM Bedroom talking about how poor of a player Frank was.
Dan mentions he took the Chum bath, Carrot suit and benched for a HOH and in the end got DQ'd for talking to Britney. They all laugh, Ian mentions that the game is not only about winning challenges maybe Frank should go on "The Challenge"
12:22AM Chit chat crew still chit chatting about past players
Ian ranks the girls in terms of dating them.
Jodi (Least)
jojo
Ashley
Janelle
Danielle
Kara
Britney
(Jenn playing bags by herself right now)
12:31AM
talking about Frank again.. This time about how confident he was that he actually thought he was staying. Dan mentions Franks eyes were HUGE when the votes were counted. Shane says you could see the muscles in Frank's jaw clench up.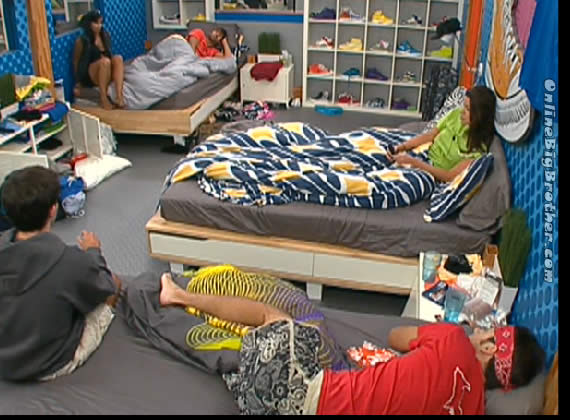 12:36AM Jenn joins them in the bedroom Comp Talk
12:53AM Ian saying that Boogie said some really rude things about Ian when he took the dog outfit.
Ian defends his reasons to get the dog outfit over prizes.
A) he didn't want to piss people off and that is what the POV was about
B) He didn't feel like he had to "scarf" up every prize in this game
C) He won something that he can sell plus if game him camera time. (Danielle suggests the Camera Time as a reason and Ian agreed)
1:00Am Cam 1-4 Jenn, Shane and Ian talking about Frank cheating in the competition and getting caught once.
1am They start talking about the Frank in the carrot suit. Ian talks about calling him carrot top. Jenn laughs at Ian saying f**k you to a carrot.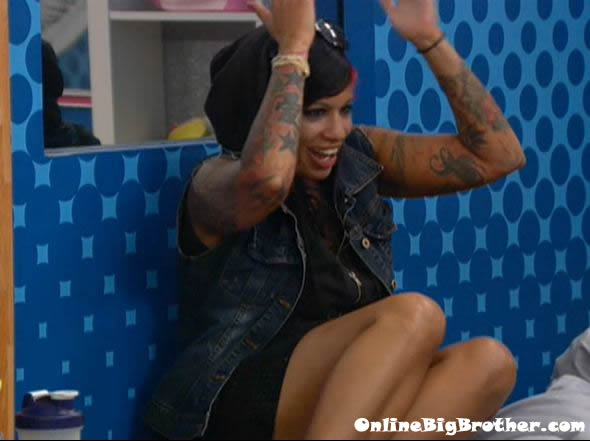 They all laugh at Frank having to still wear the carrot top in the hot tub. The conversation turns to talking about past competitions, which ones they liked and didn't like. Ian talks about how he misses pillow talk, just lying in bed with the lights out and talking till you go asleep. Shane says yeah unless it's with Jojo, she just moans. They all leave the room to start getting ready for bed. Meanwhile in the bathroom Danielle is reapplying Dan's bandages on his hands. Ian heads out into the backyard to swing on the hammock.


1:30am – 1:55am Dan and Shane are in the kicks room. Dan is hanging his red shirt up on the wall. Shane asks what the shape is on his red t-shirt, is that the shape of Michigan? Dan says no it's the lake we live near. Shane asks is that what it's called, the u? Dan says yeah the U, the union lake.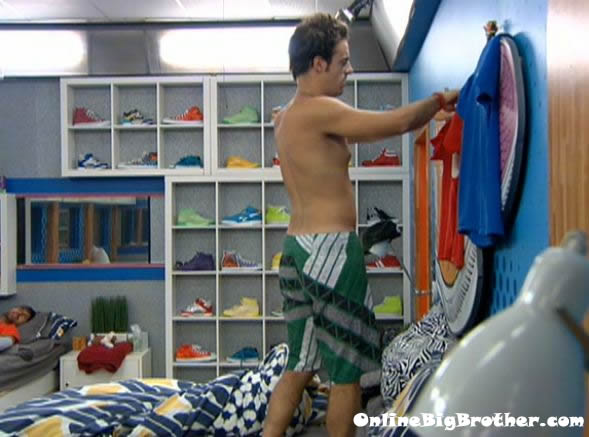 Dan starts reading the bible. Danielle joins them. Dan starts reading a verses from a bible. Danielle turns out the light and they all go to sleep. Meanwhile Ian is up in the HOH room bed with the lights off and listening to his cd. At 2:35am Ian goes to sleep.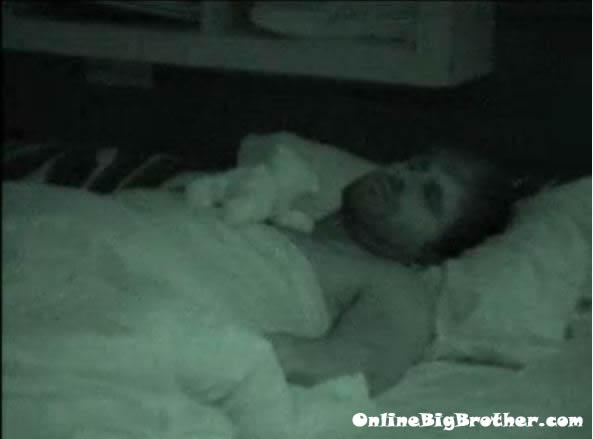 3:37am Jenn is back up and out side by the hot tub, she then finishes her laundry. Jenn says to the camera I misses New York, I know it's 9/11, wish I could be there. Jenn says so do something good for yourself today, do something good for a stranger. Please remember 9/11 it was a tragedy, it was the worst thing ever to happen on planet earth …or to this country rather. Not on planet earth, but you know what I mean. Alright, good night!
8:15AM Sleeping
Share it YO!!
Tweet