POV Holder:
Frank
Next POV:
Aug 18 (Saturday)
POV Used
POV Ceremony
Aug 20 (Monday)
HOH Winner:
Shane
Next HOH:
Aug 13 (Thursday)
Original Nominations:
Boogie and Frank
Current Nominations:
Have Nots
No Have Nots This Week
Last Evicted Houseguest
Wil
HOH temptations
Britney Safe this week, Boogie gets 10grand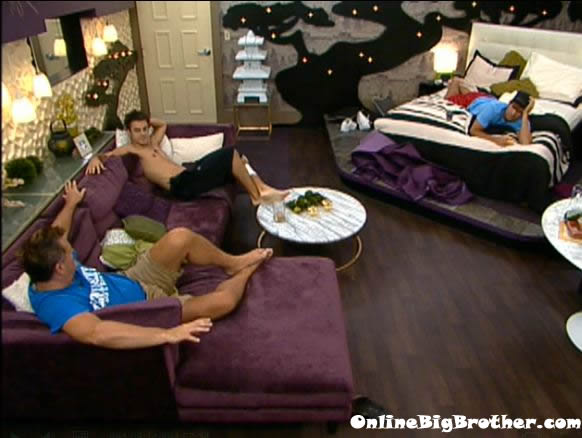 1:05am Joe heads up to the HOH room to talk to Dan and Shane. Joe tells them that he has their back for the rest of the season. As a person, as a human I have got your back. If anyone starts fu*king with you I am going to take them out one way or another. I want a HOH just as bad as then next, but it would be worth it for you to win and to see the look on their faces. Joe says that the line is drawn, he knows Ashley is with Jenn, Boogie and Frank. Joe talks about how he walked in on them talking and he heard her tell Frank that she is just trying to help him and that they totally stopped talking. Joe tells them how Boogie told everyone to come up to talk to Shane one by one to try and convince Shane to nominate Dan. Shane says that he will tell Jenn to take a seat. Dan jokes that Shane should say Dan.. you're not the replacement nominee. He says he really shouldn't do that. Shane says that he is not going to tell Boogie what he's going to do. Dan agrees says that Shane doesn't owe Boogie anything. Dan says that he will refuse to participate in a house meeting if Frank or Boogie calls one. Dan says that he will say great, have a good meeting, and that he will go outside and relax in the backyard. Shane says that he likes how cool and calm Dan always is. Dan says that's how he plays this game. Joe says that Ashley and Jenn can't be trusted with any information anymore. Dan says that's good, at least we know that they aren't floating. Shane asks where his breakfast in bed is? Joe jokes and says that it didn't work out so well last time. The conversation ends and Dan heads down stairs. Shane laughsthat Dan is now going to sleep in the same bed as Frank. Shane laughs and says that the HOH photos will be different on Tuesday. He tells Joe that it will mostly be photos of the final 5. Shane says that he just won't believe anybody that comes up to talk to him tomorrow. Danielle says that sh*t is about to go crazy since there are so many people still in the house. She says that there will need to be two double evictions in order to make the finale.
Watch it ALL on FlashBack: Big Brother 14 Live Feeds – FREE 3 Day Trial!
Up in the HOH room, Danielle starts listening to the cd while Joe and Shane continue to talk. Shane asks Joe why would Ashley do what she did by siding with Boogie and Frank? Joe says that same reason that he sides with Shane. He says that they just must connect. Shane says that Ashley told him that she absolutely hates Frank. Joe says really, that's weird. Shane says she must be playing me.
1:50am In the arcade room, Frank and Britney are talking. Brit tells Frank that she doesn't know what Shane is going to do. She says that she wants to work with Shane because she trusts him but that she doesn't appreciate that he threw her under the bus earlier. She says that she doesn't want to know on the front end so that it doesn't come back to bite her later. Franks says they don't hold anything against her now since they know it came from someone else. Frank asks Britney who does she want to work with in this game going forward. Britney says that she knows that Boogie didn't appreciate that she wasn't gung ho to be with an alliance early in the game, but that's not how she works. Britney says that she is happy to be with the HOH group. Britney says that it bothered that her that her name has been brought up by Boogie, but she says she actually thinks that Frank is trustworthy. Britney says that she feels betrayed from all sides. She says that she was happy to be in the Silent 6, but that then she finds out Dan had something going with Boogie and Frank.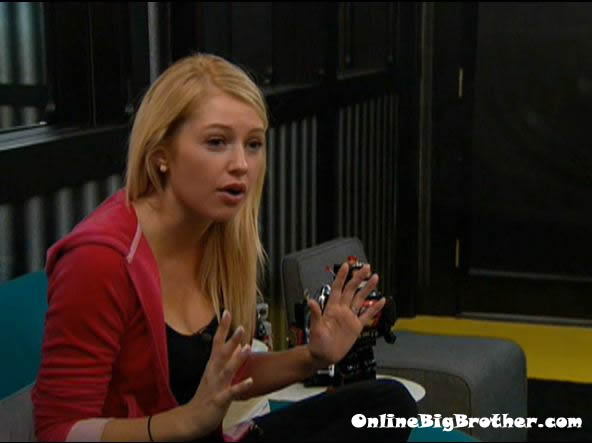 Britney says that she wonders why Boogie and Frank come talk to her that Dan was in a good spot. She says that she doesn't appreciate that Shane threw her under the bus, but he wasn't being malicious or manipulative. Britney says that she feels hurt by everyone and that she doesn't want to look like an idiot. She says that she was burned before in the game and that she doesn't want it to happen again. She says that she will be on board for whatever Shane decides but that it's not going to be her responsibility. Frank says that Boogie told him that Dan was willing to get rid of Shane first, but then threw out her name out also. Frank says the first chance he gets; he is going to get rid of Dan. Frank says that he wants Mike to still be around, but if not, he's going to need to work with someone.
2:10am Up in the HOH Shane and Danielle are talking. Shane says that he wonders if Britney is talking with Frank and Boogie in arcade room. Danielle talks about falling sleep in the HOH bed. Shane tells her that she should go ahead, but that she needs to make room for him. Danielle turns over on the HOH bed with her butt up in the air. Shane says welcome live feeders. Danielle's booty, open midnight till 2am.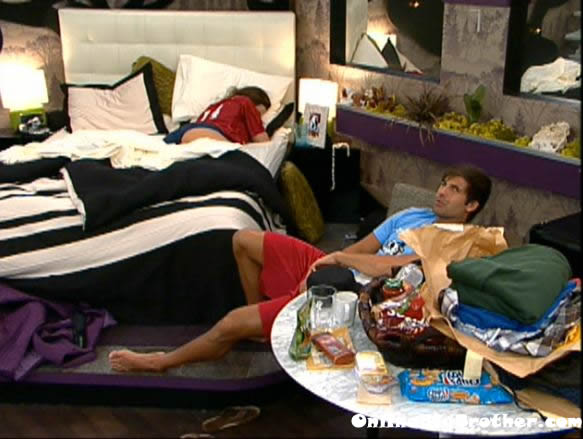 2:20am – 2:50am Frank says that he would prefer to keep Mike as a safety net like how Britney has Shane. Frank says he has never trusted Dan ever and that he thinks that Dan has always wanted to work nostalgically with Boogie, which would have left him as the odd man out. Britney says she felt the same way about Janelle at first until she realized everything Janelle does is a game move. She says that she wasn't even on Janelle's radar and she was on board to send her home. They start to talk about if there is going to be a luxury competition. She says that it is really late in the season to not have a luxury competition. They talk about the power of veto competition and about Wil. Frank explains to Britney that obviously he wants Boogie to stay and if she helps him stay that they will be indebted to her. He says that she can bring in Shane too if she wants and that Boogie and Frank can be her shield going forward. They agree to talk as the week goes on. They leave the room.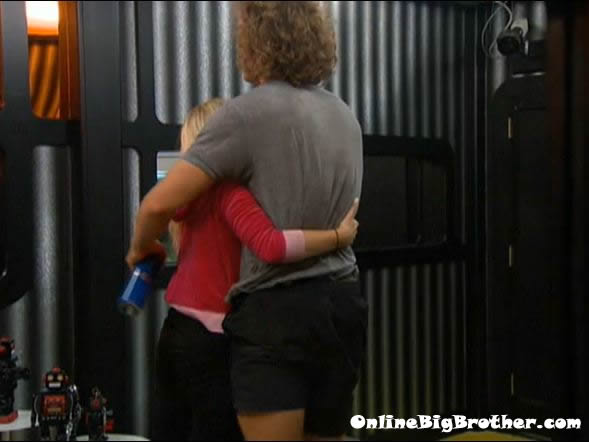 3am Joe is in the pork chops out on the grill. Ian talks about how he thinks Big Brother just scrapped giving them a luxury competition and just gave them a grill. Ian heads over to the hammock and starts swinging. They head inside and head to bed.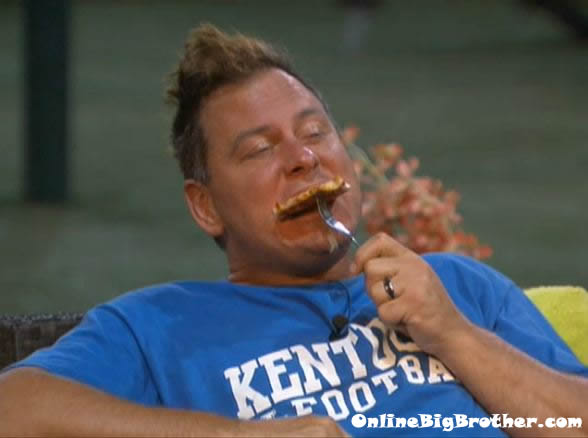 5:30am All the house guests are still sleeping..

Share it YO!!
Tweet