POV Holder:
Frank
Next POV:
Aug 18 (Saturday)
POV Used
POV Ceremony
Aug 20 (Monday)
HOH Winner:
Shane
Next HOH:
Aug 13 (Thursday)
Original Nominations:
Boogie and Frank
Current Nominations:
Have Nots
No Have Nots This Week
Last Evicted Houseguest
Wil
HOH temptations
Britney Safe this week, Boogie gets 10grand
9:15am Frank and Boogie are out in the backyard talking. Frank says that Britney told him that Shane is doing what he wants, not what she wants. He says that she didn't like getting thrown under the bus, she really trust Frank but she didn't like that Boogie keeps bringing her name up. Frank says that he told Britney that this won't be the last time that Boogie and him are on the block together if they stay this week. Boogie says that he has to buddy up with Joe to get his vote. Boogie says that they need another target so Britney doesn't think that they are coming after her or Shane. They talk about how they want to get the target off of him and on Joe somehow by the end of the day today. Boogie is going to tell her that he has seen the light and he realizes that it was Shane and not her and he is sorry about throwing her name out there. Frank saying that he got upset when Ashley brought up Willie and his name in the same sentence . Frank says that he doesn't agree with the comparison and says that he did not bully anyone. Frank says that he was only upset that he was being lied to and wanted to make that clear. Boogie says do you think Jenn is going to be able to say who the HOH was in week two if a competition like that comes up, no fu*kng way. Frank comments on how ackward it is sleeping next to Dan. Frank says when he got in bed he thought keep your friends close and your enemies closer, very close when you sleep with them. Boogie says that he thinks he can get Ashley, Jenn and Ian to vote out Eagle Eye. Boogie talks about how easily manipulated Shane is in this game. Boogie says too bad we don't have Danielle this time. Frank says fu*k Danielle. Boogie says that obviously that they want the full Monty to put up Dan up but says that he is not sure they can do that.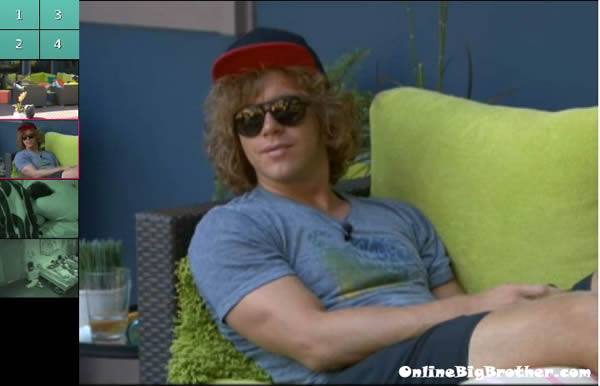 9:40am – 10:30am
Frank says that the driving point for Britney is knowing that she doesn't want to feel like she got duped. Frank then explains the conversation he had with Britney last night. Boogie says that is a lot we have to work with today. Boogie says that honestly the person that talks to Shane last might be it. Boogie explains they can sell it to Shane saying how as long as we are still here, we are the targets. Boogie says if Shane did it to us, then he has the balls to do it to Dan. Boogie and Frank continue to talk about sports. Boogie says that he would really rather be up against Joe, because he really doesn't want to have to talk to him. He says that he thinks Britney would vote out Joe. Frank says that he thinks we can work with Britney moving forward. Frank says that if they don't do what we want them to do, we can tell him that we will put up Shane and Dan and tell them to fight it out for the POV. Boogie says he thinks it will work if they can get Britney to co-sign it. Boogie says that he needs to humanize himself to Britney because he heard her say that I'm not as bad as she heard I was. Frank says that every time he has to stop and think about who he has to work with it kills him. They talk about Dan throwing competitions. Boogie says what they can tell Shane that Boogie and him can tell Shane that he and Dan are good friends outside the house and was even invited to his wedding. What do you think he will do to do if he could do this to a friend. Boogie says I would rather go out swinging and firing than suck up to their a$$es. They talk about how Dan will have to live with the choices he made inside and outside the house. Boogie and Frank talk about how they need to explain to Shane how Dan used to play the game.
11am Frank says that he thinks if we pull of getting Dan out she will tip her hat at us. Boogie says oh for sure. Frank and Boogie head inside to make breakfast. Frank goes to the bathroom. Just as Frank gets out Boogie runs to the bathroom and tells Frank he needs to BM bad! Frank says no problem bubba. Big Brother then wakes up the other house guests. When the feeds come back Frank and Boogie are finished eating breakfast. Boogie and Frank head back outside and talk about working out and exercises. Ian joins them outside. Boogie tells Ian to get to work this week if he doesn't want to be the other nominee. Ian says that he is worried if he pushes too hard if thinks he might be the replacement nominee. Frank says we are going to need some help Ian. Ian says that he can definitely get Ash. Your best chances are against Joe or Dan, then me, then Jenn or Ashley. Ian says that he heard from Danielle that Joe was throwing his name (Ian) under the bus. Frank says that he will call Joe out and say I heard you were throwing someone elses name under the bus and we told you to go after Dan. Frank says that he will call a motha fu*ker out! Ian weavers on how hard Joe was throwing under the bus. Frank says make up your mind if he was throwing your name under the bus hard then I will go at him hard but if not then I'll go a little lighter.
Watch what happens, AS it happens: Big Brother 14 Live Feeds!FREE for 3 Days, then ONLY $14.99 per month!
11:30am – 11:45am Frank is talking to Ian about him giving magic 8 ball answers. Ian says that he has been giving straight answers since the reset. Boogie comments on how he hopes if he and Frank get booted out of here that Ian will get revenge and go after Dan. Ian agrees that Dan is a dangerous player. Mike brings up how Dan is his friend outside the house and he did this to me, just imagine what he will do the people in this house. Jenn joins them. Frank explains to Ian that if they can't get Shane put a replacement nominee like Joe or Dan then Shane will be the target next week right along with Dan. Frank and Boogie comment on how they all need to go up and tell Shane to put up Dan or Joe as the replacement. Ashley joins them. Mike explains how he needs her help trying to get Shane to nominate Joe or Dan and that they need to enlighten Shane on how dangerous Dan is in this game. Ashley says that if it was you and Joe, I would definitely vote Joe out. Ashley talks about how Joe is making deals with her name and she doesn't even know about it. Boogie says its like rolling into a club with a fat sweaty dude. Ashley says yeah. Boogie says just please when you talk to Shane tell him how you have watched the show and know how dangerous he is.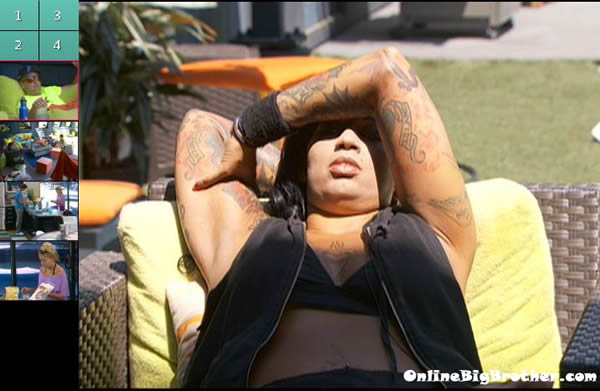 11:45am – 12pm Boogie tells Ian you have got to get off Dan's bandwagon. Ian says that he is nice to everyone, but that I am not game nice to everyone. Ashley asks if Ian would tell Shane to nominate Dan. Ian says yes, I would. Ashley says that she thinks it would be huge coming from Ian because you and Dan are good friends. Ian says again that he is friends with Dan but that he is not game friends with him. Boogie starts going at Ian again about why they need Dan out and then stops and says I already told you all this. Ian gets up and goes to the hammock. Shane joins them on the backyard couch. They talk about how Shane thought the POV ceremony was today and that he was annoyed that no one has talked to him yet. They asks Shane if that is why he got dressed up in his jeans. Shane says yeah and wishes he had slept in.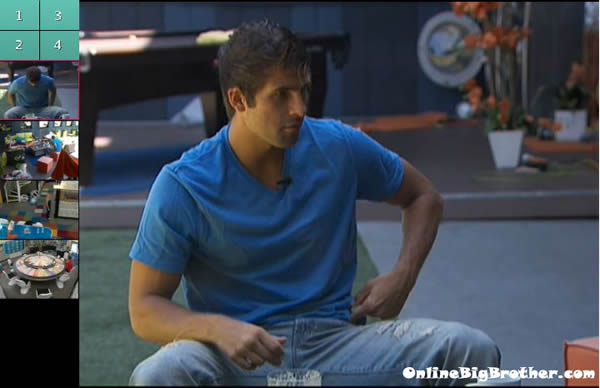 Frank, Danielle and Britney are in the bathroom. Dan comes into the bathroom. Frank ask Dani what time she went to bed. Dan says that he went to bed around one or two. Frank says I was actually asking Danielle. Dan says oh. Danielle starts talking about how they are like rats in a house being watched. Meanwhile out in the backyard Joe talks about running and owning restaurants. Joe heads inside. Jenn joins them. Boogie talks about how the other day before nominations Joe was talking to Ashley about going to a sports game with Ashley. Boogie says he was thinking yeah right like that would happen. He says that he nudged Ashley and she asked what. He says that he said oh I was just adjusting. Jenn, Ashley and Boogie laugh.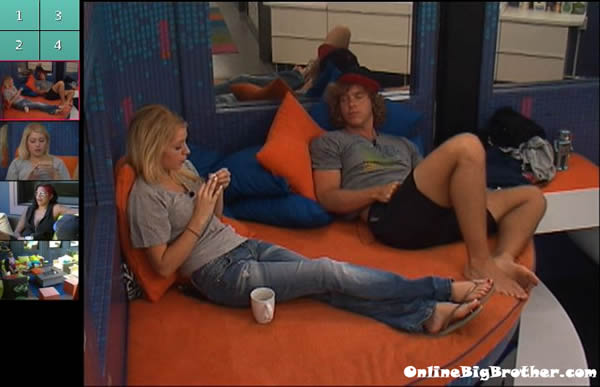 12:50pm Frank and Britney are in the bathroom talking. Frank talks about how he and Boogie spoke to Ian this morning and how he has done so much to mess things up for him and Boogie and that he needs to help us. Frank says that Ian says that he will try and get Shane to put up Dan. Britney says that she thinks Ian will do whatever he and Boogie want forever. Frank says that he isn't so sure Ian will stay with him if Boogie leaves because I give him tough love. Frank and Britney start talking about if there will be a pandora's box. Britney says that if it is a pandora's box they will lock us either inside or outside. Frank says maybe they are already set up and just need to put a question mark on the door. Britney says no, they need to lock him out of the HOH and clean it. Big Brother cuts the feeds. When then come back, Boogie is in the bathroom and comments on how maybe Joe just needs to sh*t out that clue. They laugh.
Watch what happens, AS it happens: Big Brother 14 Live Feeds!FREE for 3 Days, then ONLY $14.99 per month!
Share it YO!!
Tweet