POV Holder:
Frank
Next POV:
Aug 18 (Saturday)
POV Used
POV Ceremony
Aug 20 (Monday)
HOH Winner:
Shane
Next HOH:
Aug 13 (Thursday)
Original Nominations:
Boogie and Frank
Current Nominations:
Have Nots
No Have Nots This Week
Last Evicted Houseguest
Wil
HOH temptations
Britney Safe this week, Boogie gets 10grand
9:31pm Cam 1-2 Ashley and Ian Watch with FlashBack FREE TRIAL!
Ashley tells him that they both love this game so much and she would never throw the POV competition.
Ian: "I think it will be OK ASh"
AShley: 'Whatever happens I think it will be the same outcome.. Boogie goes home"
Ian: "Ya.. he'll see his kid"
Ashley: "Like Janelle"
AShley : "I kind of feel bad.. but what can you do.. thats the way the cookie crumbles.. it's just a game"
AShley is worried about the nominations. Ian tells her all she can do at this point is hope for the best Monday morning. Ashley wonders if they luxury competition will be tomorrow. Ian doesn't think so he's thinking some bodies need to leave first before CBS pulls the luxuries out.
Ashley mentions that there is a lot of stuff being said about Dan. Ian doesn't believe it Ian likes Dan.
Britney Joins them.
They start talking about sixteen and pregnant Britney brings up the one couple that liked to smoke pot and hang out at the video arcade while her mom looked after the baby. The Dad's name is Keifer Delp.. Britney impersonates the couple on the show. "Keffa..I'm smoking pot with Keffa…Keffa" She says "Matt watches it it's his guilty Pleasure" . Ian says he refuses to watch it.

Britney: "You are so california.. you are Avocado Goddess"
Ashley: "Ahhh i'm the Avocado goddess"
Ashley: 'I know this is kinda silly I think Danielle is made at me because I never ate dinner"
Britney: 'Are you serious"
AShley: 'No.. but ya I am.. I can tell from her facial expressions"
Britney: "Don't worry about it.. Danielle can be sensitive sometimes"
Britney brings up the restraining order comment she made the other day to Danielle and she was insaley issed about it. Britney had to apologize a lot about it.
Ashley says that the stories that Janelle was spreading about JOJO was mean because it was never said. Britney: "I know I tried to Danielle that"
Britney: 'I feel awkward in the house right now"
AShley: 'I know what you mean"
Britney: "I feel if I talk to Dan and dANielle frank and boogie will be mad and vice versa"
Ashley: "I know"
Britney brings up that she told Shane she doesn't want to talk to Shane until after the nominations because she doesn't want to be held responsible for his decision.
Britney: "Why do I want to know.. so Frank and Boogie can yell at me in bedroom.. It's like they are the only 2 allowed to work as a team"
Britney: "Where's Jenn at?"
Ashley: "I don't know"
Britney: "Can he count on her for a Girls alliance"
Ashley: "Not until next week"
Ashley brings up last night when Boogie and Frank were ranting around the house about a house meeting. She saw a total different side from Jenn.. she was acting paranoid and really sketchy.
Ashley :'I'm surmising here.. Jenn has been Boogie and Frank's Spy.. I want to trust her of course absolutely.. I don't think we can trust her until one of Frank and Boogie leave.. I feel we can only trust her then.. does that make sense?"
britney: 'I don't know I really never talk game to her"
Ashley: 'I wish it was fast forward so bad.. "
Britney: "Agreed.. are you getting to the point where it's getting tiring"
AShley: 'no.. It's going really fast.. I think after this week is over i'll be back to my self"
10:21pm Shane, Danielle, Frank, Boogie, and a girl with tattoos chit chat about southern accents.
10:36pm Cam 3-4 Hammock Brintey and Ashley
Ashley telling her that she already already promised to Shane she'll vote whatever way he wants this week.
Britney: "How about next week.. I think the girls really need to work together.. if we want to make it far"
Ashley: 'We're giving them half a million dollars"
Britney: 'We need some of these guys to take
Ashley: "if I win HOH I will never put up a girl"
Britney: "You can win HOh this week.. it's going to be a quiz"
Ashley: "Any of us can win"
AShley mentions about what Janelle was telling her about if you go to the end with a bunch of guys you will always lose. Britney agrees cites BB12, BB10, BB7 as examples of it.
Ashley asks Britney about her husband what he would be doing right now. She says he should be studying for his professional engineer certification. She mentions how he's probably spending a bunch of time working out. She jokes that he needs to start doing things that furthers his career instead of working out. (Perhaps she wasn't joking.. this is Britney after all ;) )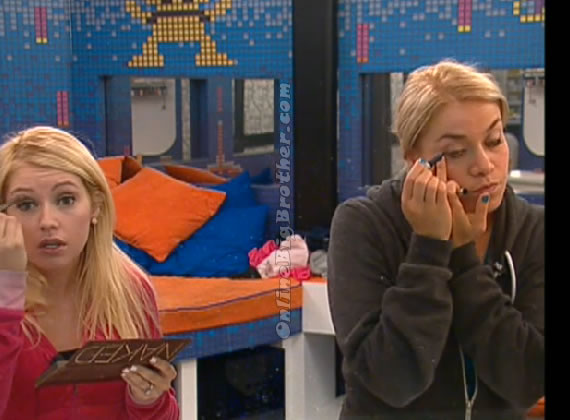 10:51pm cam 1-2 Britney and Ashley
Britney going over parts of her conversation with boogie when Boogie and Frank started blaming her for being put up on the block. Britney: "he kept saying.. Just safe it.. just Safe it.. sweetheart you made the big moves.. "
Ashley: "that is so fucked up.. "
Britney mentions that Shane did kind of throw her under the bus but she understands Boogie and Frank can be intimidating.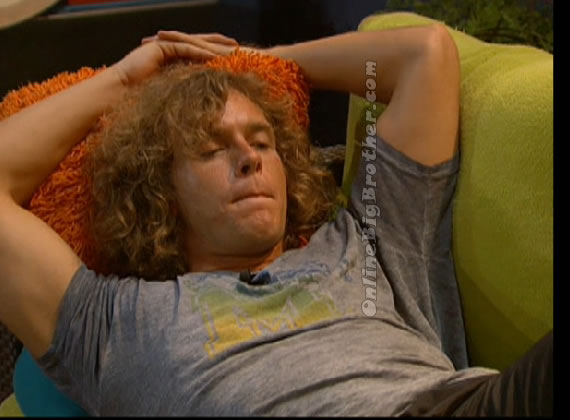 10:56pm Cam 3-4 Boogie and Frank
It's obvious that Boogie is starting to get pissed with Ian. He's noticed how Ian's been very close to Dan after the POV.
Frank: "If we can't get anyone on our side.. I'm going to be the a one man wrecking crew next week.. "
Britney walks by carrying a GIANT COFFEE
Boogie: "I want to slap that coffee out of her hand.. That f**king b!tch.. "
Boogie has had it with these players, tells him he's not going to be like Wil. Boogie: "If they are going to tiptoe around all week it won't fly with me I will Demand an answer you are with with me or you will face Franks wrath next week."
Frank and Boogie laugh and start talking about working out.
Frank says his dad told him a great post workout meal was ice cream. Frank: "He use to eat Half a gallon of ice cream a night.. when you are that big you can eat like that and not worry"
Boogie: "I don't know if it's going to happy but take some eyeliner.. do you know your boys zebra cake and jungle juice.. Feeds cut"
Boogie says the worse thing about leaving now is there is so many weak players in the game and one of them will make it to the end. Frank: "Even Dan is shitty.. I'll get him out next week"
Boogie: "We got to get him in that Hot Seat next to me.. I gotta go to work tomorrow big time.. tomorrow we divide"
Boogie plans on confronting Ian the kid is pissig him off.. buddy up with Dan all night.
Frank :"i mean get a fucking game already.. "
Boogie wants to be optimistic but he'll plan for both outcomes on Thursday. The only good thing about getting taken out This week is he gets to go home.
11:20pm Cam 3-4 Arcade Boogie and Frank
Boogie says how full of shit Shane is. Boogie can't believe they keep casting these meatheads that have no clue about how to play the game. Boogie says that Shane is underwater on a bunch of mortgages because some guy talked him into buying a bunch of places on credit. Shane wanted to come in this game and win the money.. he never even watched a finale.
Frank: "Britney doesn't know how to play this game"
Boogie: "She does and she doesn't"
Frank: 'I'm not going to vote for a fucker that lied like dan did or not play this game like the castaways"
Frank: "Ian knows so much about his game yet he has no idea what to do"
Boogie says once MOnday rolls around he's going to Ride Ian HArd. Boogie is going to give him assignments to do throughout the house. (Boogie thinks Ian will be 100% on his side and 100% reckless because he'll be guaranteed Jury)
Frank talks about when he was in the Diary Room after the POV " I told them My goal is to make dan cry this week and they gave me this great line." FEEDS CUT
Boogie: "I can't fucking stand it I wish I could sleep 20 hours a day.. These people are so stupid" Frank: 'I told them in the Diary Room the POV meant nothing because he's losing his best friend in the house"
Boogie says when the votes are cast and they break for commercial he's going to "bring the heat.. If i'm going out I want to be able to sit at home and watch the damage I did"
Boogie stresses how absolutely useless so many of these players are in the game and it makes him sick that one of them can win Big Brother 14. To drive home the point he impersonates Jenn's walk. Hilarious
11:20pm Britney and Danielle wrestling
Here's a series of 6 image of it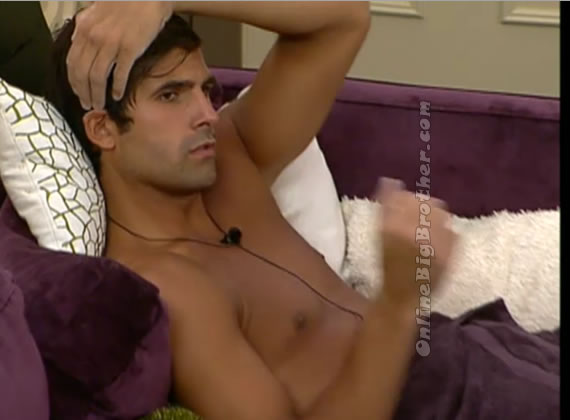 11:35pm Cam 1-2 HOH Shane and Britney
Shane asks her what his nomination speech should be
Britney: "DON"T BRING UP MY NAME"
SHane sure I wasn't going. Shane wants to be straight up and tell them he's not putting Dan or Britney up like they want.
Britney: "Don't mention my name"
Britney tells him to say that he'll always be the third wheel to boogie and you guys are very strong.
Shane is worried that Boogie is going to be pissed.
Shane says he's 100% confident he's getting the votes so when he talks to the pawn he'll tell them they are safe and it shouldn't cause a problem.
Britney: "I know he's not getting the votes.. Ashley told me she's not going to put up a girl and she's not going to go against shane this week"
Dan comes up
Britney tells him that AShley is goign to vote Shanes way this week.
Shane explains what he'll say to Boogie and the Pawn (Pretty much what Britney told him to say) . Dan thinks its a good idea but suggests they don't even get into reasoning. they want the line to be drawn in the sand so it now will be . Ask him who the pawn is. Shane says it will be Jenn. She's the closest to Boogie and Frank and since they can count on Ashley's vote they are guaranteed to send Boogie home. dan asks hi what he'll say to Jenn. Shane: 'I'll tell her she's 100% safe"
Dan ;"But that will expose Ian"
Shane: 'oh"
Britney adds that with Boogie and Jenn up on the block Frank is going to be campaigning for Boogie which will piss Jenn off driving a wedge between them.
Danielle joins them
11:53pm Cam 3-4 Backyard Jenn, Ashley, Frank, Ian
Jenn is worried that one of them is going to go up
Ian: 'It's me.. my Key was the last one pulled:"
Frank: "Shane isn't thinking that deep into it.. to be honest we want it to be Dan"
Jenn chimes in that she agrees.. Frank: "If it's not Dan then it's HIM.. he's the least close to our group"
AShley: "Oh if it's not Dan than who"
Frnak: 'Eagle YEe"
AShley: "Ohh duhh"
Ashley mentions how she feels like she cannot win anything
Frank reminds her that she came in twice in two POV competitions. Frank: "Nobody here is a inferior Player.. " (LOL 40 miutes ago he was calling these people idiots and sheep)
12:27AM Cam 1-2
Britney, eagle eye, Shane and Danielle
Joe: "I'm telling you now you don't have Ashley.. the house has turned into 5 vs 5 now"
LOL good old eagle eye is back to his same games. Eagle eye tells them that Frank, Boogie, Ashley and Jenn are out on the backyard couches talking some deep shit"
JOe: 'Ashley has just opened her mouth about everything.. Everything.. it's inevitable they are losing someone this week"
Britney heads down to hang out with Boogie and his group outside. Dan comes up Joe tells him about what he saw downstairs. Joe: "I think he's moved to the darkside" Dan: "I don't think she knows she's on the darkside"
12:38am Joe: "Frank's single mission is to take out Dan"
Danielle points out that as long as they get four votes Boogie goes home. Daniele counts Britney, Herself, Dan and Joe is all they need.
Joe sys he's getting really mad at Ashley for this.. why would she make a run with Frank. Shane says if he puts up Jenn then Ashley can decide who she likes better Jenn or Frank.
12:44am
Joe is going off about his loyalty to Shane
Joe: "I never thought I would become this close to a group in this game"
Joe: "I would Die for you"
Joe: I would crawl under the bus"
Joe: "you are going to watch this show and you'll be like that mofo is a tight dude"
(LOL)
12:53AM Danielle has gone downstairs. Shane is saying that once Boogie is gone Frank will be all alone they can take him out the following week.
12:55AM Cam 3-4 Ian and Dan
Ian heard from danielle that Joe was up in the HOH telling them that Boogie was trying to get rally the troops against Dan.
Ian says the only game that was spoken by ashley and himself was that they thought they were going to get nominated. Boogie and Frank mostly told them they need to get Dan up on the block or they need to get Joe.
Dan: 'Did ashley says… I'm just trying to help frank"
Ian: "When"
dan: "When you were outside with them"
Ian : "I don't recall her saying that.. she thinks she's being nominated"
Dan: "That is what Joe is saying"
Ian: "apparently joe is slagging me off to you all.. thats what Danielle said"
Ian is scared if Joe gets the head of household he'll put him up. dan says not to worry they control the votes.
Share it YO!!
Tweet