POV Holder:
Elissa
Next POV
Aug 24th
POV Used
YES
POV Ceremony
Aug 26th
HOH Winner:
Aaryn
Next HOH:
Aug 22nd
Original Nominations:
Elissa and Helen
Current Nominations:
Helen and Spencer
Last Evicted Houseguest
David, Nick, Jeremy, Kaitlin, Howard, Candice, JUDD, Jessie
Have Nots (head cheese and habaneros)
GM, Amanda, Helen and Elissa
9:00pm Specner, Aaryn, Andy, Amanda, McCrae
Talking about what they will do with the money
Spencer will give back a bit to the community he wants to get an activity bus for his school. Aaryn is surprised the community doesn't have an activity bus.
Spencer wants to send his parents on a trip to the D-day landing beaches. Amanda says she's going to travel after the show regardless if she wins or not.
Spencer: "New windows in my house.. I might buy a duplex rent it out"
MC: "I would like to make a movie.. a really cheap one.. I just want to tell a story"
Aaryn would like to hire a videographer and go to some exotic place.
Spencer points out that Andy has gone to the diary room a lot today. Amanda: "That's because they are portraying him as the swing vote.." Amanda laughs "I'm also in production"
Amanda: "Today was boring.. the morning was exciting"
MC: "You guys ever see Westworld.. today was like Westworld.. "
Spencer: "how so"
MC: "One of the animatronics went rogue and went on a rampage throughout the house"
MC: "I would love to make a cheap ass movie.. like 10 thousand dollars."
Spencer: "I would like to name a dog althea after Larry flynt's dead wife… Shake Althea's hand.. shake Althea's hand" (you have to watch the movie the people vs larry flynt.. Spencer talks about the movie a bunch)
Amanda says Nick uhas is going to be afraid to go to the finale.
Spencer doesn't think he will. Andy thinks Nick will humour GM and take her on a date. Amanda thinks Nick has gone into hiding, Aaryn agrees.
Aaryn:" Why did Jessie share her shower story"
Amanda: "For attention"
Spencer: "She let me smell her finger"
Aaryn: "Oh my god Marilyn"
Amanda: "Smelled like butterscotch":
Amanda tells Aaryn: 'I'll scissor you in the bathroom.. I'll scissor you right now"
(they start to scissor See image)
Aaryn: "Why is it so warm"
Spencer: "Please centre your v@g!na"
Amanda:' How do you guys like to be f*** I liked to be f**** hard"
Amanda: "I like to be pounded f*** hard.. not like a jack rabbit.. hard"
Aaryn tells her that this is airing on Big Brother After Dark. Amanda: 'No.. that sh!t will be shown on TVGN"
Spencer brings up his conversation with Elissa, "it was the most normal conversation he's ever had with her.. but still is was f**** ing weird" Spencer says Elissa doesn't want to talk about cartoons she wants to talk about serious things like starting a ministry.
Amanda says Elissa always tells her "I don't care what any of you guys have to say"
Spencer says Elissa referred "the others" he doesn't know who they are. Amanda says it's all them.
Amanda says the problem with Aaryn and Elissa is She's uncontrollably jealous of Aaryn. Amanda lists off the things Elissa is jealous of, Age, Beauty, smart and a strong competitor.
Amanda says downstairs Elissa was talking non stop sh!t about Aaryn and Helen was trying to get her to stop.
Andy is looking forward to when he can tell Elissa what he really thinks of her. He's pissed that he had to apologize to Elissa when she was the one that was supposed to apologize.
McCrae: "She's a master at doing that"
Amanda: "her life can be summed up with what she did today"
Amanda: "She took the entire Vaseline and threw it away" (a new unused tampon was put in a new jar of vasoline. not sure if this was a prank probably was )
Amanda: "She has a game long vendetta against you and it will not go away for no apparent reason"
Amanda: "It doesn't make sense why she hates you so much"
MC: "it makes sense.. she's a f*** nutcase"
Amanda: "THere has to be a reason"
Spencer: "Jealous"
Amanda: "there's a reason"
Aaryn: 'I was a rachel superfan.. I'm not anymore I can't stand her.. I use to think she was so much fun to watch so entertaining"
Amanda: "I'm so flabbergasted how she thinks she can do no wrong"
MC: "Is that a god complex"
Aaryn: "It means she's 12 years old"
Amanda: "She said I looked liked a stripper that works at the spearmint rhino"
Aaryn: "Remember when you are 10 and you never made a mistake.. that's what she reminds me of"
Andy says the next time they get in an argument with Elissa one of them should run to the Diary room and just sit there. MC: 'He will go crazy"
Amanda starts making a growling noise. Spencer: "Thats your chewbacca sound" Amadna gets called to the Diary room.
Aaryn: "What percentage chance if ELissa goes out she'll come back in. MC thinks it's a high percentage says he's always thought one of the first 4 jury members would come back.
Aaryn: "Everyone knew this was a unlevel playing field coming in"
MC:" Who said that"
Aaryn:" My friend.. and clownie"
MC: "How many viewers do you bring in on average"
Aaryn: 'i'll tell you how many Facebook and Twitter followers .. Less than a thousand"
Aaryn: "Somebody is telling her what we say.. she says so many things to me That i hear other people say about her when they are talking shit"
Aaryn: "For example today she goes.. I should be paid to be here"
MC: "Sarcastically"
Aaryn: "Seriously"
Aaryn:' I should be paid to be here because if Rachel had told me I was susceptible to these types of people I would have never done this"
Andy:' Oh my god that enrages me so much"
Spencer:" Me to"
MC: Theres no one telling her to say that.. thats out of her own dumb a$$"
Spencer:' She's brain dumb"
Andy: "Ahh Jessie's last story" (Jessie was trying not to say retarded so she said brain dumb)
Andy: "She feels her and Helen above everybody else.. we're all peasants beneath them"
Aaryn says Elissa told her to threaten Andy and if she didn't Elissa is coming after her. Andy:" She used the word threaten then I claimed I was threatened and she made me look nuts"
MC: "Dude there is no f** way you seemed nuts"
Aaryn: "They made me cry…" Aaryn lists off all things Helen told her this morning, They would have never put her up, final 2, Elissa wants to work with her, Stupidest move Aaryn could ever make is getting rid of Helen, You're making Amanda's moves for her you HOH's mean nothing.
You can re-watch ever second on the feeds using the flashback feature.. It's just like a DVR and is super easy to use. click this link for a Free Trial —> Subscribe to the Big Brother Live Feeds
MC: "What is pissing me off they are putting words in my mouth"
Aaryn: "They said you want to get me out because it will be good blood for a jury resume"
Spencer points out that in the last 72 hours they have thrown out every single conceivable Alliance and deal you can think of.
Aaryn says Elissa thinks if any of them are up on the block against her they will go home because everyone wants Rachel's sister here, "It's way more fun than any of us because we're nobodies"
MC:" She's so much fun.. she has big idea"
Specner: "HUGE ideas"
Andy: "I want to do a Ragan Vs Rachel fight with her.. I wish I could do it and not be worried she wins HOH tomorrow"
Spencer: "Wait until Saturday night"
Aaryn mentions how Elissa was telling her that McCrae was trying to start a fight between her and Elissa.
Andy:" Elissa's exact words.. I can't believe they are making me sit next to Aaryn And GM they're freaks"
They start talking about the endurance competitions from season past. They are convinced that the HOH will be "the Wall"
Helen joins them.. Andy tells them he is going to go to bed super early tonight so he's rested for tomorrow.
10:25pm HOH Helen, MC, Spencer, Amanda
(Elissa Sleeping)
Helen telling them how expensive it is taking her husband and two boys to McDonalds says a the bill is 18 dollars.
Helen: "I can get a week of groceries for 18 dollars
Helen: "Chicken, Rice, lettuce, cucumbers.. "
Spencer: "Damn"
Lots of TV and movie talk
11:02pm Elissa and GM sleeping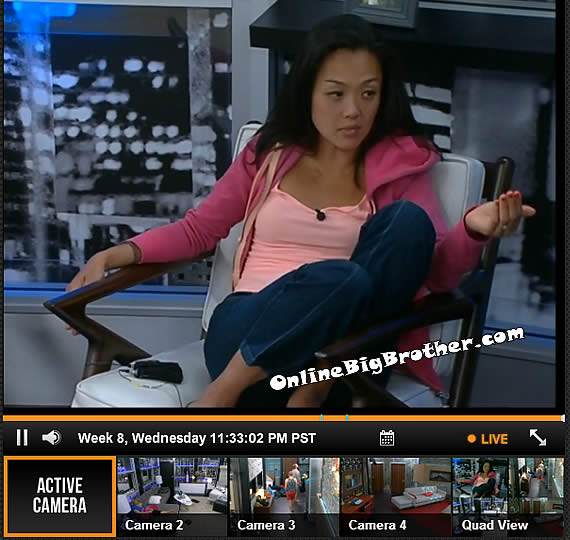 11:19pm HOH Helen, McCrae, Amanda, Aaryn
Andy telling Helen that Elissa wronged him today and in the end he had to apologize to her he feels that at least with Jeremy he would bully you then apologize to you on the end.
Helen: "She's just really stressed out with me leaving.. on her behalf I apologize"
Aaryn: 'No one will vote her out of the house because she Rachel's sister she's cool"
Helen: "If she thinks that she will be sadly mistaken"
Aaryn say Elissa thinks the only reason why she is in this house is because she's rachel sister
Amanda:" that is why she is here"
Aaryn explains that Elissa was meaning the reason why she still in the game is because she's Rachel's sister and that is cool.
Feeds cut..
Amanda: "Has she ever apologized to you"
Helen says she apologized for threatening to leave jury, "She apologized on her own because she saw I was really upset by that"
Amanda: "when she's wrongs me she never apologizes"
Helen: "When she says things she doesn't realize she rubs them the wrong way"
Amanda: " she calls me a stripper.. somehow I ended up Apologizing to her.. that was weird"
Amanda tells Helen it was obvious that Elissa was threatening to Andy why did he have to apologize to her for that comment.
Feeds cut..
Helen says Elissa acts a little but entitled.
Aaryn: "She's 30 years old she is who she is.. nothing is going to change"
Helen starts explaining that Elissa was coming into this game trying to live up to her sister because Rachel did such a "bang up job" on the show.
Spencer: "Rachel went out 5th the first time she played.. it took her 2 stabs at it"
Aaryn: "She said I am no one I do not exist to Elissa… she belittled all my wins."
Helen: "I'm sorry she said that.. I do not know why she would say that to protect me.. Elissa is Elissa.. "
Aaryn:" She said If I made it to the end nobody would vote for me because everyone hates me"
Everyone leaves the HOH except for Aaryn and Helen.
Helen says she wishes Elissa, Aaryn and her could have worked together.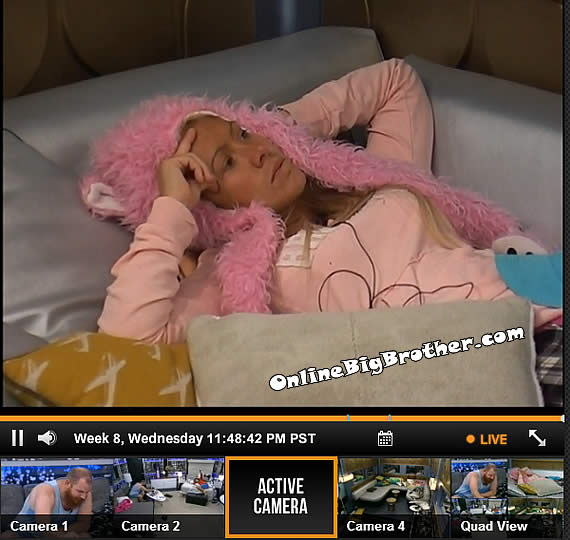 11:53pm Cockpit GM and Aaryn
Aaryn says she has to win HOH then they can do whatever they want. GM is saying she ready to win the HOH competition, she's been taking cold showers all week. Gm doesn't like seeing McCrae and Amanda being lovey dovey.
GM:' I feel bad Helen is going home"
Aaryn: "Elissa is a c**t"
GM wants to keep Helen because she thinks Helen will go after McCrae and Amanda whereas Spencer will not. Aaryn says that Elissa is coming after them they have to weaken her.
GM: "I'm going to vote Helen out.. you'll see"
Aaryn: "I feel the same way as you but ELissa is toxic.. "
GM is worried that Elissa will go on Amanda's side GM notices they are so friendly to each other now.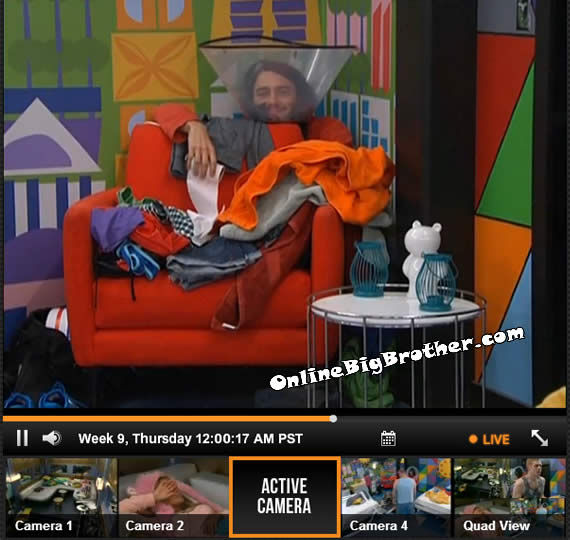 12:00AM surprise party for GM Everyone but Elissa participates.
She's 33 today. They demand a speech.. She's really glad to be here.. yadda yadda.. Loves them all.. etc etc.
GM says when she marries Nick she hopes they all come.. pauses.. screams "it's my f*** birthday"
12:07am They all share favorite GM moments.
Spencer – my favorite GM moment was after the scary dairy when GM was jumping around yelling This is for you NICK after she came in second in a have nots competition
Amanda – when Gm was first walked into the house I was scared.. the MC of the big brother house.. I thought this b!tch f***g runs this beast.. and to be honest she does.. so Happy Birthday we love you.
Helen – my favorite GM moment.. GM's HOH day and it was Helen, Elissa and GM in the HOH taking pictures modelling.
Andy – my favorite GM moment before we even walked into the house i was standing there terrified.. and I looked over at GM and she winked at me and I knew I had a friend..
MC: My favorite moment was probably the night Nick got evicted.. . not because Nick got evicted because but because GM was screaming cockroaches and they were scuttling around like cockroaches. I'm scared shitless and GM is running around quoting scarface.
Aaryn – my favorite was Gm gave the nomination speech about Candice and how she is the scum of the earth it made Aaryn's life complete. They all start laughing..
Big Brother 15 N*de flashback times here
[polldaddy poll=7329443]
Share it YO!!
Tweet