POV Holder:
Elissa
Next POV
Aug 24th
POV Used
Yes
POV Ceremony
Aug 26th
HOH Winner:
Aaryn
Next HOH:
Aug 22nd
Original Nominations:
Elissa and Helen
Current Nominations:
Helen and Spencer
Last Evicted Houseguest
David, Nick, Jeremy, Kaitlin, Howard, Candice, JUDD, Jessie
Have Nots (head cheese and habaneros)
GM, Amanda, Helen and Elissa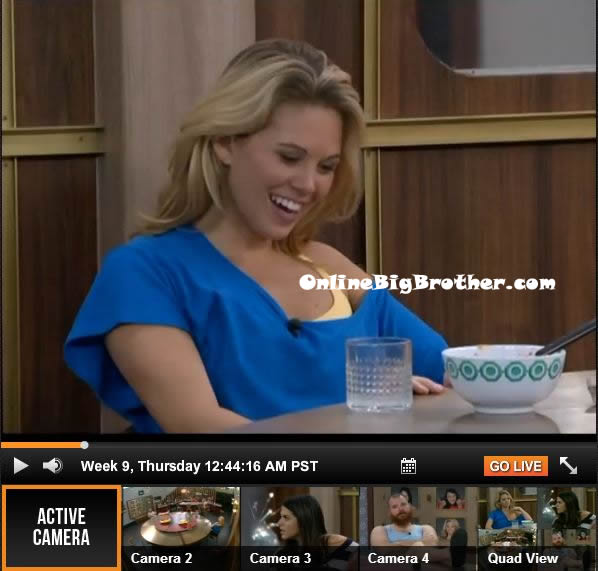 12:40am Spencer, Amanda, McCrae Ginamarie and Andy are in the kitchen talking about random things. They're all hanging out laughing. Aaryn tells her family had a bunch of Llama's and she saw one give birth. She says her dad named one Martin Luther. They start laughing. Spencer asks what colour was the Llama? Aaryn says black. Aaryn says she had a white baby? Spencer asks what did you name it, something like James Earl Ray? (Assassinated Martin Luther) Aaryn says that one day some hunters that her dad let use their road as access shot half of their 10 Llama because the hunters were drunk and didn't know what they were. Aaryn says probably Martin Luther. Andy says you had a Llama named Martin Luther? Aaryn laughs and says I didn't name it Andy, my dad did. Aaryn laughs. The conversation turns to talking about dogs.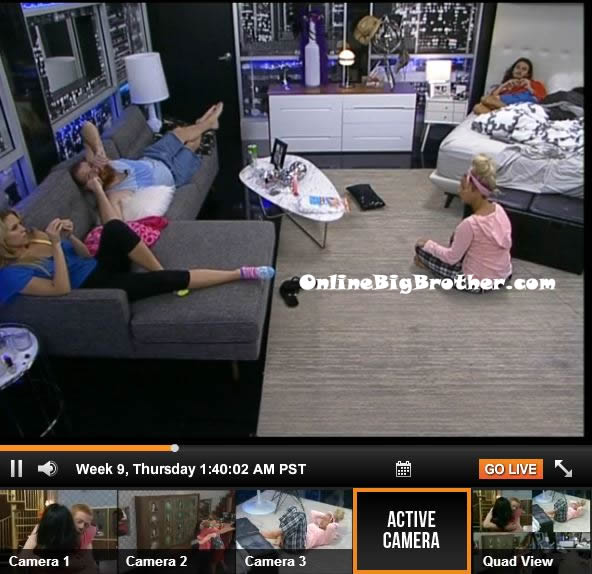 1:20am Up in the HOH room – Ginamarie, Aaryn, Spencer, Amanda and McCrae are hanging out talking about how they think the HOH competition will be endurance. They talk about how the people with muscles always fall off. Aaryn comments that she doesn't know who Elissa would put up. She thought originally that she would put up her and Spencer with Ginamarie as the replacement. Aaryn says but now because she is mad at Amanda and Andy she could put up any of us. They all hope that Elissa drops off and that they can all breath when she falls off. Aaryn says Elissa won't drop she know she is going home if she doesn't win. Gina says I will stay up there till Sunday. Aaryn says just lie and tell her she is safe. Ginamarie says who should I say I'll put up Amanda and McCrae? McCrae says yeah. They all talk about how nervous they are. Ginamarie burps and says I will do that right in her face. Andy joins them. Andy says that he is going to be crying during the live show tomorrow having to evict Helen. Aaryn tells him he can't let it get into his head. Andy says oh yeah I know. They talk about different clothes they will wear for the competition. Andy says that he will super glue his arms to the bar. Aaryn says she hopes something cool happens next week. McCrae says he think it might be Pandora's Box. Aaryn says she thinks Zingbot might come. They talk about hopefully getting a luxury competition soon. Aaryn says did you all know that her mom (Elissa/Rachel's mom) called last season and complain about something one of the girls said that wasn't true and said that they couldn't use it. No one heard about that. Aaryn says that her mom was pissed and asked they why they let that play on the live feeds. Spencer looks at the camera and says to Rachel's mom you did a successful job at raising two psychopaths.. Big Brother cuts the feeds.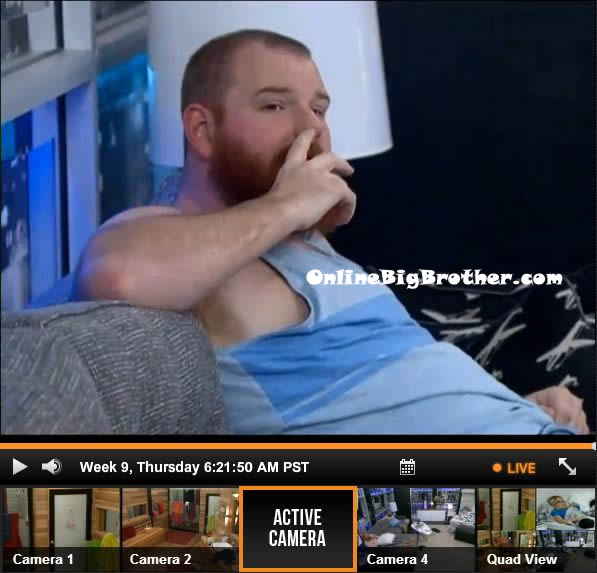 Andy says that he hopes Helen explodes on Elissa during the live show tomorrow. Andy says he hopes she calls Elissa a c**t. Spencer says of all the crazy things that happened today I think poopy (Aaryn) drinking the nail polish remover took the cake." They talk about how they think the live feeders freaked out seeing it. Spencer says that she couldn't believe his eyes! They all laugh. Aaryn says that the dairy room asked her how much she drank and asked why she drank it. Aaryn says she thinks there will be a segment on it. Andy jokes that he had to do a segment about it. McCrae heads to bed. Aaryn says that the person that gets Elissa evicted will be a legend. Aaryn talk about how she is impressed with herself for getting Helen out. Spencer says that he liked Helen but she was two faced and says that he hopes Helen will hold it together when she is evicted so she can go out and have a good interview with Julie Chen.
Big Brother 15 Live Feeds: FREE 2 DAY TRIAL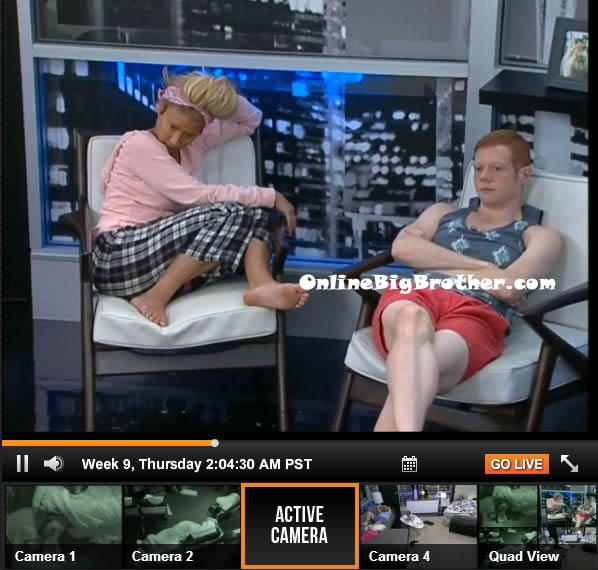 2:30am – 2:50am Up in the HOH room – Aaryn, Andy and Ginamarie are talking. Ginamarie says that if she wins the whole thing she will give a chunk of the money to whoever the second place person is. They tell Ginamarie happy birthday. Andy heads to bed. Aayrn and Ginamarie talk about the HOH competition and holding on and not letting go. Aaryn says I don't know why Andy said I was a shaddy f**k. Gina says he was just joking. Aaryn says next evicted will be Elissa, Spencer, McCrae and then Amanda. Aaryn says Spencer has been doing better than McCrae and Amanda can't win anything. Aaryn says that she thinks there will be another double eviction this season. She says that she thinks they will bring someone back and then have a double eviction. Gina heads to bed.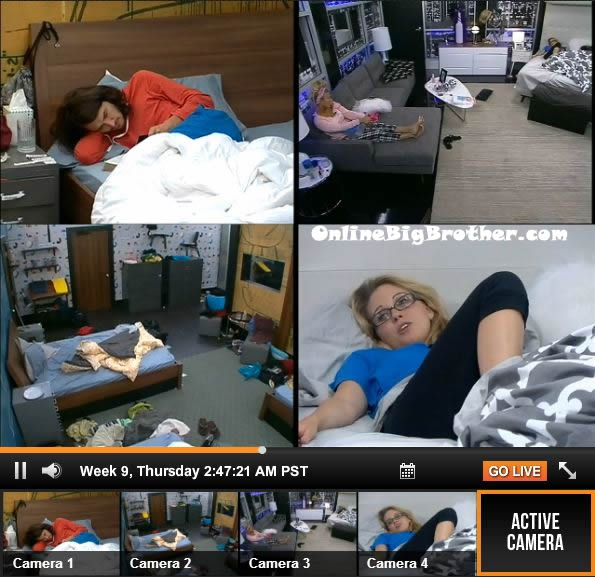 3:20am – 3:50am In the bedroom – McCrae and Spencer are talking. Spencer says that he doesn't want Amanda to go but if it's between McCrae and Amanda he wants McCrae to stay over her. McCrae says I would have to work on Andy's vote. I don't know where his head is. Spencer says that he thinks Amanda is a bigger target than McCrae. McCrae agrees and says that is a reason to keep him over Amanda. McCrae says that sometimes it seems like Amanda wants to be here but other times she talks about wanting McCrae to go far. Spencer says it would help having Amanda in the jury working the votes. McCrae says that he would like the final four to be me, Amanda, Spencer and Andy. McCrae says he would choose Spencer over Amanda. McCrae says that he thinks Amanda would understand. McCrae says doesn't want people to think Amanda carried him through the game. They talk about how Aaryn is controlling Ginamarie and how that's good for them. Spencer says that he hopes someone doesn't return to the game. They talk about how they would have another double eviction soon. McCrae says that if someone did come back they would compete in the HOH and it's not fair because they had the advantage of being rested. Spencer says he is scared if Ginamarie were to win HOH because she could nominate me and Elissa. He says then if Elissa won the veto and came down and Amanda could go up. McCrae says that Spencer would probably stay if that happened. Spencer asks if Amanda would fall on her sword for McCrae if she would try to get evict so that McCrae would stay. McCrae says that he thinks she might. Spencer and McCrae decide to go to sleep.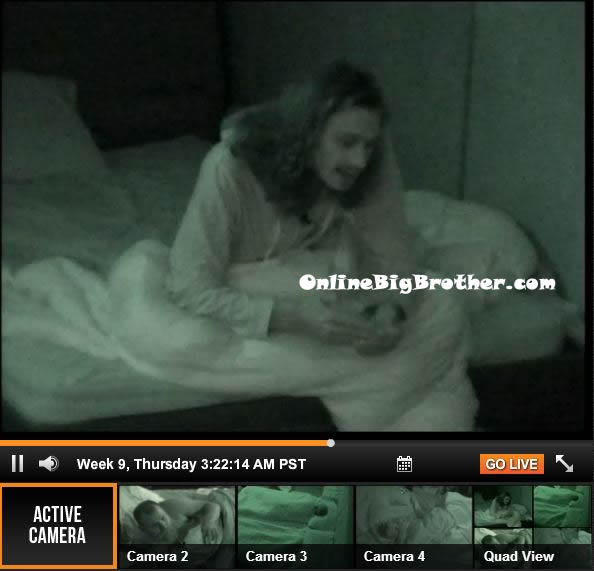 10am – 11am Big Brother wakes up the house guests.. Helen, Ginamarie, Elissa and Aaryn are awake getting ready for the day.
Use the Big Brother Live Feeds to FLASHBACK to SEE what they can't show you on TV:
[polldaddy poll=7329443]
Share it YO!!
Tweet