POV Holder:
?
Next POV
Aug 10th
POV Used
?
POV Ceremony
Aug 12th
HOH Winner:
ANDY
Next HOH:
Aug 15th
Original Nominations:
Spencer & Jessie
Current Nominations:
Last Evicted Houseguest
David, Nick, Jeremy, Kaitlin, Howard, Candice, JUDD
Have Nots
Aaryn, Helen , GM, Elissa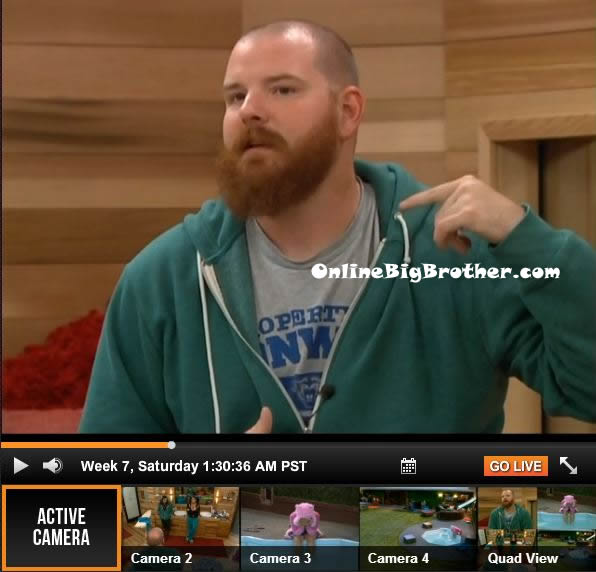 1:30am In the bathroom – Amanda, McCrae and Spencer continue to talk. Spencer asks Amanda so if I get House Guest Choice during the veto players pick, who should I pick? Amanda says everyone is keeping it the same, so it really doesn't matter. You would just pick someone that would win it. Aaryn is a good competitor. Spencer says well I thought about Helen because I know she won't change it and it would be interesting to see what she would say to me to not use it. Amanda says that's too risky. McCrae says I worry about Helen. Amanda says that's too risky. Spencer says okay, okay, fair enough. Amanda says give it to McCrae, he is not going to use it. Spencer says yeah I know. Amanda says he is not going to use it and you're not going home. Spencer says I hate to say I don't care about winning it but when she (Jessie) is out my care of winning it drops. Amanda says the entire house is with it, I am telling you there is no f**king way you are going home. NO WAY! If either one of us wins it we cannot use it but I am telling you, you will not go home. Spencer says yeah I know you can't use it. Amanda says Don't ever throw it. If Andy has to get a little dirty.. Spencer says yeah I know I am more worried about my safety than his hands. I won't throw it but my worry will be eliminated once she is gone. I will just have more fun with it when she is gone. Everybody I have confided in, in this game, has f**king gone behind my back and f**Ked me. I do feel that I can trust you guys. Amanda says we all need to stick together, we are all targeting the same people. Spencer asks where does Andy fall? Amanda says we talk game with him when we need to. Spencer asks but where is he long term, is he more with Helen or ya'll. McCrae says that he thinks he is more with Helen. Amanda says I am sure Andy wants to do what's best for his game and he doesn't want to make enemies. Spencer says my fear is that everyone I have confided in has f**ked me. Amanda says if you have our back, we have your back. Spencer says I just get funny looks from Helen and Elissa. Amanda tells Spencer to keep Gina close. They head to bed.

1:40am Amanda and McCrae head into the rainbow bedroom. Amanda says if Jessie wins the veto, I really f**king want to push for Helen to go up to back door her and get her out of here. She needs to go! McCrae tells her that would be too early. Amanda asks who would care besides Elissa? We could make something up. McCrae says it would be on Andy's hands though. Amanda says but only Elissa would be mad. McCrae says but he won't do it, there is no way. DON'T EVEN PUSH IT! I am already worried about. I am worried that we've already pushed it. Amanda says we haven't pushed it. McCrae says that Andy is already kind of split. He doesn't want to blood on his hands there is no way he will put up Helen that's asking too much. That's his vote in the end, it would make him look bad to everyone. Amanda says we just need to make sure Jessie doesn't win it. How many people play in the veto, 6? McCrae nods. McCrae says he hopes it hold em, fold em. McCrae says all I would need to do is fold every single time till the end. She will probably hold on some of them and be wrong on one of them. As long as one person folds every single time until Spencer and Jessie are out. McCrae says don't push Andy. Amanda says I haven't brought it up until right now. McCrae says Andy would never do it and you should never say it. Amanda says I still don't 100% trust Spencer. McCrae says he doesn't either but he has nothing. McCrae says I am worried I would go up if the veto is used. Amanda says you have to trust this four, I can read people Andy is loyal to the final 4. I have not made a final two with Andy or Aaryn. McCrae says I could talk to Andy about it. Amanda says no. McCrae asks do we have a final 3 with him? Amanda says yeah. McCrae says that he wants to wake up early and talk to Andy first and then talk to Helen and say this is what we need to do. McCrae says I look like the biggest f**king pu$$y on national tv. Amanda says you don't look like a pu$$y, you looked compassionate. Amanda says Spencer should go before Ginamarie. They agree to take it week by week and to not over think it.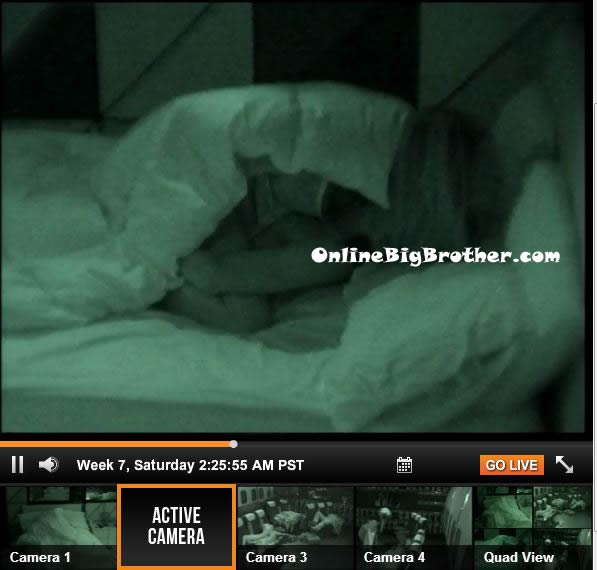 Big Brother 15 Live Feeds: FREE 2 DAY TRIAL
2:15am – 2:47am They turn off the lights and start making out. Amanda climbs on top of him and they start to get all hot and heavy. He then tells her no I don't want to look like that. They continue making out and then Amanda takes off her underwear and the camera zooms in on it. She then climbs back up on him and they start having $*x.. Big Brother then switches the camera to that havenot room. Then 10 minutes later the cameras switch back and Amanda is looking for her underwear. She then goes and turns the light on to find it. Turns the light off and goes back to the bed and drops the sheets showing her bare b*tt. She then asks McCrae for that towel and cleans herself up and put the towel on the night stand. She then gets under the covers and gives him a b**w J*b. Amanda asks McCrae do you have any water? He hands her his water bottle. Then says oh gross when she goes to take a sip. Amanda says did you just say oh gross? Amanda then says I need more water and takes another sip. Amanda asks can I have a kiss goodnight? McCrae says no. Amanda laughs. They turn over and go to sleep.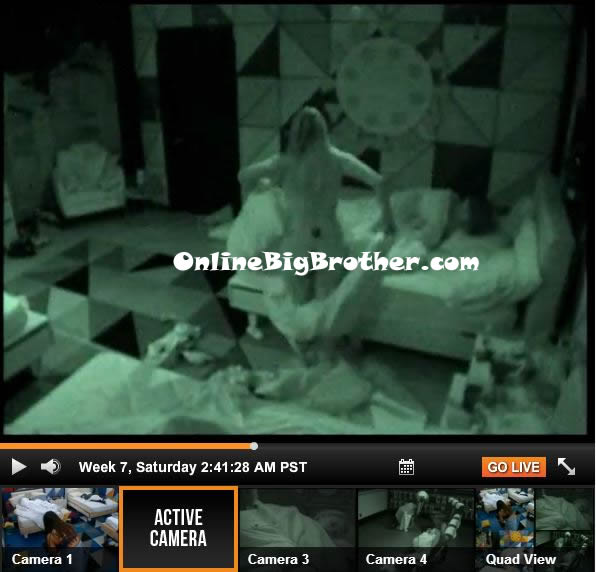 7:10am All the house guests are still sleeping..
10:20am Big Brother wakes up the house guests.
Use the Big Brother Live Feeds to FLASHBACK to SEE what they can't show you on TV:
BB15 N!p Sl!ps / N*des
[polldaddy poll=7309671]